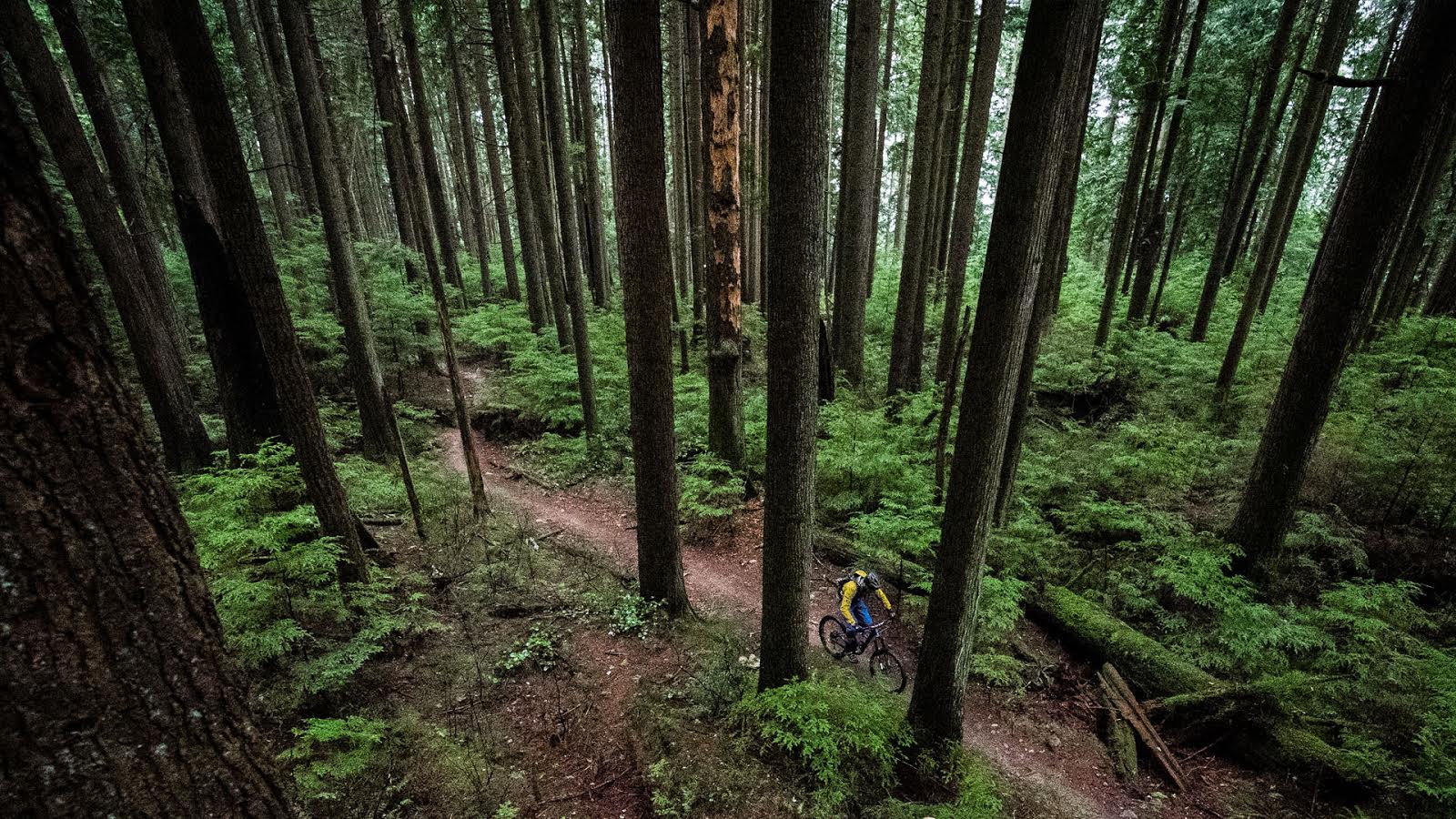 Uncle Dave Eats (27.5 +) Crow
In life, it is important to have convictions. But it's one thing to have convictions and a another to demonstrate convictions. So stay tuned as I eat crow, backpedal and embarrass myself. Ahem…Press junkets. Boost. Plus bikes. Tubeless. Maybe a few others thrown in there. It's all going to come crashing down.
Junkets
Utah is a strange place for a junket. Anybody who doesn't ski, snowboard or ride bikes looks a bit confused when you say that's where you're going. And that's understandable, because the place is weird. Anywhere that brags about having bars and refugees is pretty special.

Uncle Dave unleashed in the wilds of Utah.
Deer Valley is what would happen if you took all the normal people out of Whistler and replaced them with rich, white people. No. That doesn't go far enough. You'd need to take the rich people and replace them will really, really rich people. The place is insane, with empty mansions scattered about like discarded designer clothing.
More emptiness.
The emptiness extends to the slopes the bike park, where things are reminiscent of Sun Peaks, circa 2005. The trails are rough, rocky, loose and sketchy. And you're lucky there are so few people, because you're more likely to encounter people coming back up the trail as you are to find them descending it, as many of the trails are multi-directional and open to hikers. The trails themselves are bizarre, with uphills scattered about, an incredible number of switchbacks, and trails intersecting themselves in Kramer-stuck-at-the-corner-of-first-and-first style insanity. The maps are no help and often lead to more confusion, with plenty of false starts following the trail that you think heads down, but doesn't.
So it's near perfect for testing all-mountain bikes.
Top Of Mountain.
Bikes
I rolled in a half day ahead of most of the others so I was able to wander over and annoy the folks hard at work trying to get set up. The bike set-up was ridiculous. There were at least 150-200 straight-out-of-the-box, XTR and Dura Ace encrusted machines for us to beat the crap out of over the next few days. Everything from fat bikes to XC bikes to whatever roadies ride. Oddly, they didn't have the newest version of the Genius LT or any Gamblers.
Genius? Check. LT? Yep. Plus? it is indeed. Those are 27.5 x 2.75″ tires.
"Wanna try one of the Plus bikes?!"
I rolled my eyes. "Maybe on day two" was my reply.
I grabbed a regular Genius, sat on my ass while they worked feverishly to set it up for me, and then hit the slopes.
And promptly scared the shit out of myself. As above, rough, rocky, loose and sketchy don't adequately describe these trails. Death awaits at every corner. Traction is non-existent. Things are not quite Whistler in late August levels of blown out, but everything is rough and bumpy. The Genius dealt with the bumps quite nicely, but the tires conspired to ruin my day. The only reason I did two laps was because I felt too guilty to make the poor guys stuck down in the demo tent immediately setup another bike for me.
That gives you a better idea about the 2.75″ tires.
I went back to the bike compound and wandered around a bit. They had the Voltage, but a freeride bike didn't seem like the right tool. They had the old Genius LT, but the Scott folks weren't super excited about putting me on old product. So. Well. The 2.75" tires on the Genius LT+ didn't look too bad, actually. I took the plunge.
Plus Bikes
It's funny explaining the shitstorm over plus bikes to people who know nothing about bikes. "Well, there's these new bikes and the tires are a bit fatter and the hubs are different and nobody has ridden them but everybody hates them on principle."  It's pretty weird.
Looks a lot like a mountain bike.
But really think about it for a minute. Nobody has ridden these bikes. A few journalists have swung a leg over them, but you get the feeling most of them rode them around the parking lot and called it a day. Scott had another massive launch over in Europe a month or so back, but I don't really remember any of the articles that came out of that and don't feel like any sweeping conclusions were drawn. So we've all gotten really angry and written these things off as an industry conspiracy based on…based on something.
Anyhow. I'm really just delaying things a bit because everybody is going to hate me in a few seconds.
I took that plus bike. I took it to the top of the lift. I overshot a few corners while the brakes burned in. And then I proceeded to have the most fun that I've had on a bike in a really, really long time.
How much fun did Dave have? Did he feel like Brendog?
This bike. This bike is amazing. This bike goes wherever you want it to go. It does whatever you want it to do. It has boatloads of traction, even when it shouldn't. It's supple and lively and feels like it has about 20-30 mm more travel than the actual 160mm that it possesses. It steamrolls braking bumps and chatter. It cares not about loose rocks. It just quietly goes about its job of kicking ass.
I went around for another lap.
My cocky confidence got the best of me. Right under the lift, within the first 30 feet of trail, the "berm" that I put my faith in evaporated back into the dust and debris that it was composed of. I hit the ground and slid across some jagged rocks on my side and on my head. I jumped up like nothing was wrong (of course) and got the hell out of there, cursing myself for being the idiot that hurts himself on the first day. I was in a lot of pain. Walking hurt. I couldn't really lift my arm all that well. My back hurt. My testicles hurt. It all hurt.
But I went around for another lap.
I mention this because it is important. I'm kind of a baby about crashing. I don't like it. When something like this happens, I tend to confine myself to a couch and plan out how I'm going to liquidate my equipment and quit this stupid sport. Usually.
Does this look like a regular bike to you? It's a 'regular' Genius + rather than an LT.
But I couldn't do that. Even though I was dripping blood and it looked like somebody had tied a cheese grater to a 2×4 and whacked me in the shoulder a few times, and my thigh was all purple and yellow and had all these weird lumps and indents in it, I wanted to ride. I spent the afternoon sourcing pills and ice and trying not to bloody up the hot tub, towels and sheets too badly. I limped over to dinner and then limped back and iced myself some more. I slowly climbed into bed and set my alarm clock because there was no way in hell I wasn't riding one of those bikes the next day.
Morning came and I grabbed a regular Genius+. I wanted to see how it handled compared to the skinny tired Genius of the day before. I hooked up with Sean from Tread and Neil at Spoke and chased them around the mountain for a good many hours.
The brand new Fox 34. I guess we'll assume Dave liked it.
The amazing thing was that even with only 140mm of travel, this bike was owning the trails. It made the non-plus Genius seem silly and archaic. The most surprising thing was that it didn't give up much in capability relative to the longer travel brother. It still had amazing amounts of traction. It still steam-rolled braking bumps. It still was an amazingly fun bike and was doing things that I wouldn't normally expect out of a bike with so little travel.
And when we hit the uphills (because Neil is the kind of guy that really likes riding his bike uphill), it still worked really well. Because of all the traction, it scampered up roots and rocks. And it just felt…normal. It didn't roll slowly. It didn't feel like it was sucking up my energy. Uphill, it just felt like a normal 140-150mm travel bike.
To put it simply, this is the most versatile bicycle that I've ever ridden.
Very quickly, except for some of the lycra clad weirdos, most of the journalists migrated to the plus sized bikes. We'd bump into one another in the lifts and exchange knowing, shit eating grins. And we all just blasted around the bike park, moving at a pace beyond the rest of the schmucks on their stupid non-plus sized tires.
You may notice there are no photos of 'normal' sized tires in this piece. Dave fell so hard for plus bikes it seems they were dead to him. Here's a full frontal of the non-LT Genius.
Everybody felt it. Everybody was on the same page. The three plus sized bikes on offer were what was important. The rest of the bikes were irrelevant. The only decision to make was how over-the-top we were going to get once we got home and had to write about it.*
The Bad Stuff
I get it. Things are going to suck for a while. We've got all these new standards and your hubs aren't going to fit and the tires probably need a bit of development (more on this in a second), and as a consumer, this sucks. I bumped into one guy at the top of the lift on a pretty much brand new Lapierre with all the fancy electro gizmos and he looked at us and his face just dropped. He saw our smiles and our manic glee and our stupefying pace and he said to me, "But I just bought this bike!"  I didn't have any words to comfort him.
I'm pissed off about this too. I wish this could have been done in a way that was better for all of us and I'm sick of the industry crying wolf all the time. But occasionally, very occasionally, they hit the mark with their hype (blah blah bad metaphor for there actually being a wolf this time). And just so you don't feel too horribly about things, I found myself sitting with the head engineer at lunch one day. I asked him some questions about the development of the bikes, because they'd indicated they'd basically turned the whole project around in a year. I asked him if it had been a challenging project. His reply surprised me (Please note, I made absolutely no mention of Boost to prompt him).
Riding off into the sunset with his plus-sized babe.
"For us it was easy. We're using the same front triangle so that was done. And with Boost, the rear end was simple to design. Without Boost, it probably wouldn't have been possible."
I really want to take Boost and fire it into the ocean with a cannon. But if the head engineer on this project tells me that it is the only thing that allows a bike like this to exist, I'm willing to suck it up and let my old wheelsets die on the side of the road. And I'm marginally happy to know that the idea did come from a place designed to help us, not just enrage us.
The Details
With the hyperbole out of the way, let's talk a bit about the details. How do they make it happen?  I mentioned above that they've carried the regular Genius and Genius LT front triangles to the plus sized bikes. They've taken those, slackened the head angle by a degree, dropped the travel by 10mm (compared to the non plus versions) and added an aluminum, Boost sized rear end. Throw on a Boost fork and 2.75" Schwalbes and you're done.
The rest of the numbers carry through quite closely from the regular bikes. The Genius+ chainstay length actually drops to 445 mm compared to the 449 mm of the regular bike. The LT+ grows to 448 mm from the 438 mm of the regular bike. Bottom bracket height on the Genius is identical between the plus and the regular (335 mm), and drops by a mm to 345 mm on the LT. The weight as well is very close. It seems to depend a bit on frame size, but Scott claims the weight only goes up by 3-500 grams.
How much do these rims weigh, Uncle Dave?
The rims are another area of focus, and Scott used their in house brand Syncros (still feels weird saying that) to design a rim to suit their purposes. The rims have a 45 mm external/ 40 mm internal width and bring back memories of DH rims past. Sorry, forgot to ask about rim weights.
Of course, the key to all of it is the tires. Scott has played around with both 3.0" and 2.75" tires, but are moving forward with the smaller option. Tire weight is around 825 grams each. 12-15 psi seemed to be the best operating range. At this pressure, they feel very solid and I don't think they need much more in the way of structural support. However, they could probably do with some improved flat resistance and durability. The bikes were set up with a mix of tubes and tubeless. All of the hardtails seemed to get tubes, and flats were common. A group on a gnarly morning adventure experienced a number of gashes and rips in a rock section, but managed to limp home. My only issue was a burp at one point. But even with a large drop in pressure, I was able to finish the lap at about three quarter speed.
TwinLoc allows you to adjust the attitude of your front and rear suspension without removing your hand from the bar.
I also probably should mention the Scott proprietary Twinloc "lockout" system. With no front derailleur, the system fits nicely under your handlebar. It has two positions, and with one lever stroke it adjusts both the front and rear suspension. I'm not sure exactly what is happening in the front. It feels firmer than the standard Fox CTD adjustments. The rear limits travel and firms things up by upping the compression damping and reducing the shock volume which causes the spring rate to ramp up. The system is very easy to use and provides a firm lockout. The rear shocks also get the new EVOL air can, which flattens out the spring rate somewhat and improves early travel suppleness.
That is an EVOL air can that Fox Shock.
Other random notes of interest…There's no Q factor increase. The tire contact patch increases by about 21%. Rolling resistance goes up by about 1%. And snakebite resistance goes up by about 8% (not sure how you measure that…but this seems low to me). And lastly, if you buy one of these things and hate it, you can just slap in a regular (Boost compatible) 29er wheelset, with minimal geometry changes, and gobs and gobs of tire clearance.
Conclusion
So I've drunk the Kool-aid. I'm in on the industry conspiracy. Even I hate myself a little bit right now. I'm hoping that you're willing to tuck your hatred away for a few months until you get a chance to ride one of these bikes yourself. I can almost guarantee that 2-3 years down the line, your bike is going to look more like these bikes than the one you are currently riding. These bikes are way, way too good to not catch on. These bikes will let you ride faster and better with less effort. There're probably a lot of locations where it might not make sense and types of riding where this doesn't mesh. But for so, so much of the riding that I do, that 140mm Genius+ would be perfect. Perfect. I look forward to seeing what other companies come up with.
*Judging by some of the articles out there that have appeared since I wrote this, not everybody felt it. I have to admit that I'm surprised by this. I guess in my jubilance, I missed the people scowling in the corner.
---
What the hell happened to Dave?