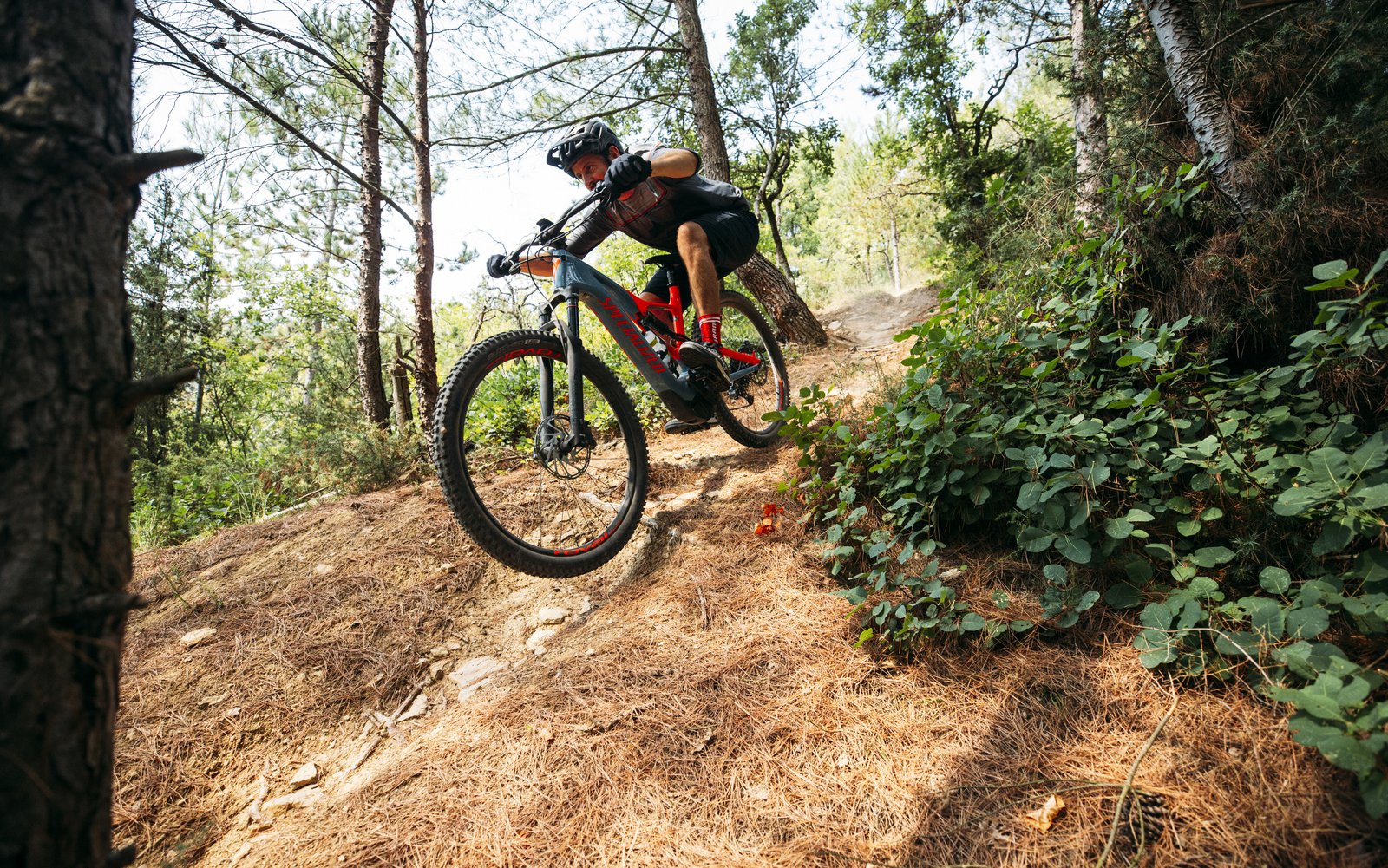 Uncle Dave went to Croatia and you're absolutely going to hate the conclusions he formed while there - Part 3
Uncle Dave E-Explains Himself
In taking on this challenge, I've had to think very hard about what I am doing.  I read back through my previous commentary on e-bikes and thought long and hard about what people said in the comments.  My first impulse is to drag myself out into the back yard so that I can repeatedly punch myself in the face for deciding to talk about this again.  My second impulse is to wonder if I am helping pave the path towards mountain bike Armageddon.  You don't have to read very far before you begin to feel that way.
Sometimes it does feel like we've stumbled upon a glorious secret and it seems baffling that everybody isn't out there with us, getting dirty on their bikes. I can totally understand feeling protective of that. Things are pretty great.  Why would we want to screw that up?
I really do have respect for the opinions of those that hate these things and want to see them die. I understand why they may feel this way. It's just that I don't necessarily agree with them. I firmly believe that every place is different and nobody benefits by shutting down the conversation. I believe that only by talking about these things, the good and the bad, can we start to develop some way for dealing with them. Yes, that may mean banning them from areas where they can't/won't work (or other possible solutions that don't go quite that far). You may live in just such a place, but that doesn't mean that the rest of us can't talk about it.
The crazy thing is that I've come away from the experience with the remarkable predicament of not having many negative things to say. I mean... My dropper post did a few weird things over the course of the two days. I still think that riding e-bikes is a bit of a kooky thing to do, and I look a bit sideways at anybody astride one. As well, there were a few situations where our massive group unleashed minor bits of mayhem on our way up a trail, where mayhem had never been unleashed before. It's not all endless descents and buckets of wine and kittens playing in a vineyard. There are very real consequences to unleashing this sort of thing on the masses. I'm in no way advocating blowing everything up and e-biking the shit out of every local trail. Indeed, I don't see myself owning one, or being able to ride it on any of my frequent trail haunts, anytime soon.

I look at my recent Wyoming trip again, and I think back on it, and I felt some of the same enthusiasm I'm feeling now.  There's just something magical about going someplace far, far away and riding bikes down fun trails. Could it be that I'm just a really big fan of that? There was nary an e-bike in sight, that entire weekend, and we had a great time. But then again, half of one day we rode a chairlift, and on the other day we had a marketing executive shuttling us around in a jacked up Sprinter van. It's interesting the things that we have decided are acceptable, and the things that are not.
I left for this trip excited to go to Croatia, dreading having to write about e-bikes for the privilege.  I return, not "pro e-bike" (though many will beg to differ), but most definitely interested in exploring what part these things could play in our future.
My attitude hasn't really changed all that much from before, but I feel a bit more comfortable now that I have firsthand experience with what it looks like to ride an e-bike on a trail. Once again, with respect to the places in this world where trail access is extremely touchy, I'm going to step into the void and dare to discuss some of the potential positives. Sometimes, even the worst of things have something good to offer.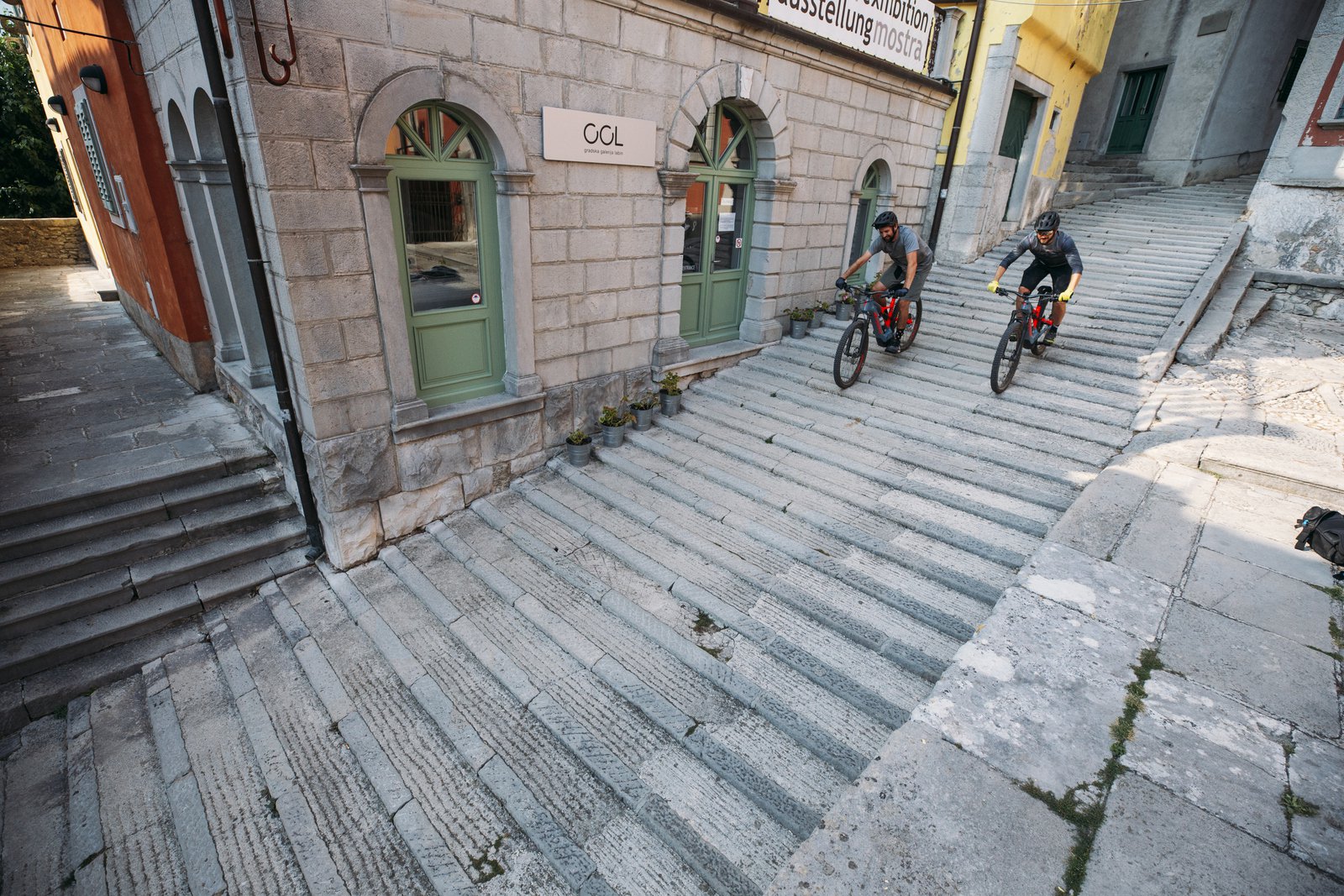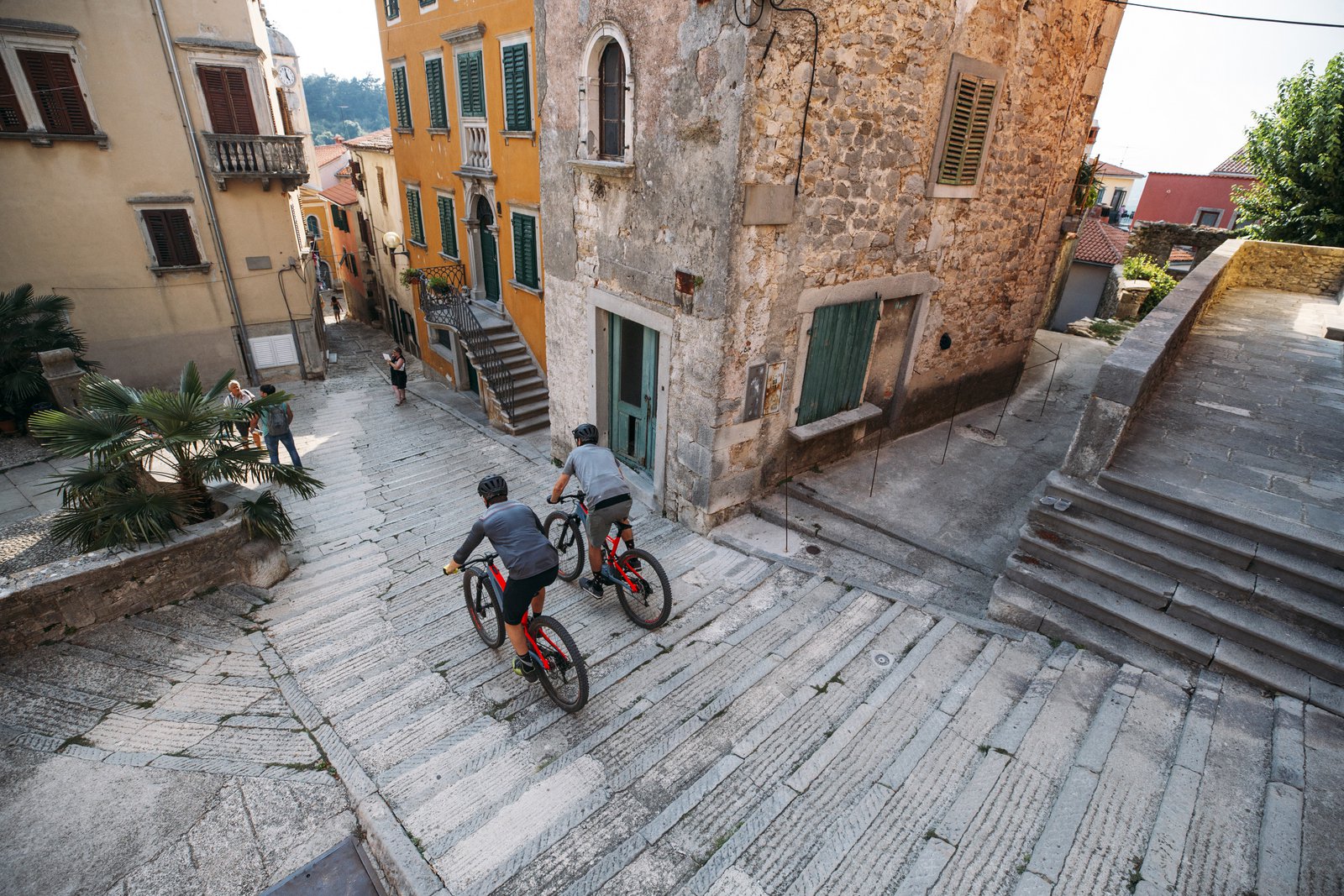 Not that we shouldn't keep our eyes on the challenges. Hell, I'd be out of a job pretty quickly if I started advising people to not worry about potential negatives and consequences, so I'm in no way trying to prevent you from talking about potential issues.  I'll listen, all day, if you want to calmly and rationally talk about those (forgive me if I shy away from engaging in the comments below).  But please, just stop for a moment and think about some of the good things that might exist in some ludicrous mirror world where e-bikes exist harmoniously beside regular mountain bikes.  Here's a few:
1 – Rather than loading my bike onto my truck in the morning, and then driving out to Fromme in the evening, instead, I ride my mountain bike to work in the morning and then hop on the Skytrain/Seabus and pedal up from Lower Lonsdale to hit a few trails, before riding home.  I remove a car from the road and a car from the parking lot, and I'm potentially riding on a side of the mountain that doesn't see much traffic.  Or;
2 – I still drive over, but I park way down on the flats somewhere, pedal up and ride something on the West side of the mountain.  Or;
3 – Rather than getting a few trucks and a bunch of people lined up, I park at the bottom of Cypress and self-shuttle up for a few laps.  Or;
4 – I can't take credit for this one…Sean Estes pitched me on a world where the Coast Gravity Park (hypothetically speaking...don't read into that) sells off their shuttle vehicle and turn themselves into the world's first ever e-mountain bike park, complete with a fleet of e-mountain bikes and a bunch of extra batteries that get swapped into the bikes…if that's even necessary.  Or;
5 – I head out on a riding vacation to the Okanagan. I stay in Penticton, start my day in OK Falls, and link trails all the way to Naramata. I pop in for some wine tasting and some dinner and casually pedal back in the evening.  Or;
6 - You head out for a long ride with your significant other who rides a lot less than you, and they keep up and there's no complaints about the climb being too long. You have a tonne of fun together and when you get home, you dust off that Marvin Gaye compact disc that's in the night stand beside your bed.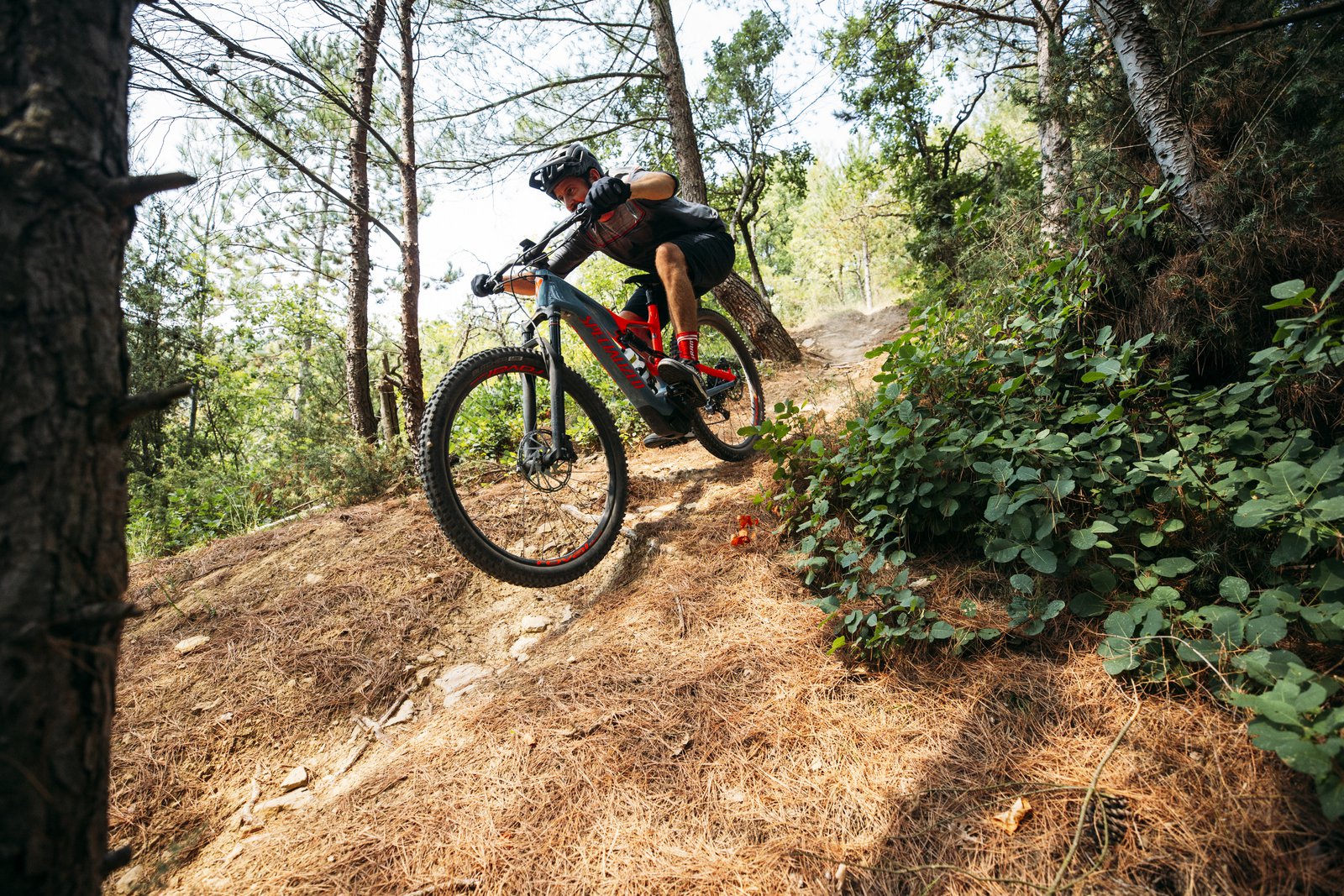 Yes. Many of these things are possible without pedal assistance. There's a group of hard men out there that scoff at the need, but for the majority of us, if we're being honest, multi-hour, long-distance rides are the exception, not the norm. What these bikes do is expand our range, reduce our speed discrepancies, and open up the sport to a host of additional people.
Now, for some of you, that probably sounds terrible. In fact, some will argue that's the entire point of banning these things.  It will be too easy for people to ride places where they couldn't before. We can all start to picture hordes of obese tourists, spilling off cruise ships, loading into vans to spend the day falling down Fromme on e-bikes.  So yes, increased accessibility could make things more crowded out there, or turn things into an untenable shitshow. But maybe you actually like some of those extra people that are out there? Maybe one of them is your significant other that gets pulled a little bit further into the sport. Or your lazy buddy who doesn't like to climb. Maybe things get a tiny bit worse for you, but a whole lot better for a bunch of other people who need an easier time out on the trails? Maybe you're closer to becoming one of those people than you realize?
I certainly don't have all of the answers. I don't know if these things are "right" or "wrong." All I know is that I see the possible world that might be unleashed, and if I'm being honest, that's a world I wouldn't mind living in.  I totally and completely understand the amount of shit I'm about to wear here very shortly. I'm certainly not working in my own favour in writing positive words about an e-bike. Maybe it says something that I'm willing to accept that?
Sorry,
Uncle Dave