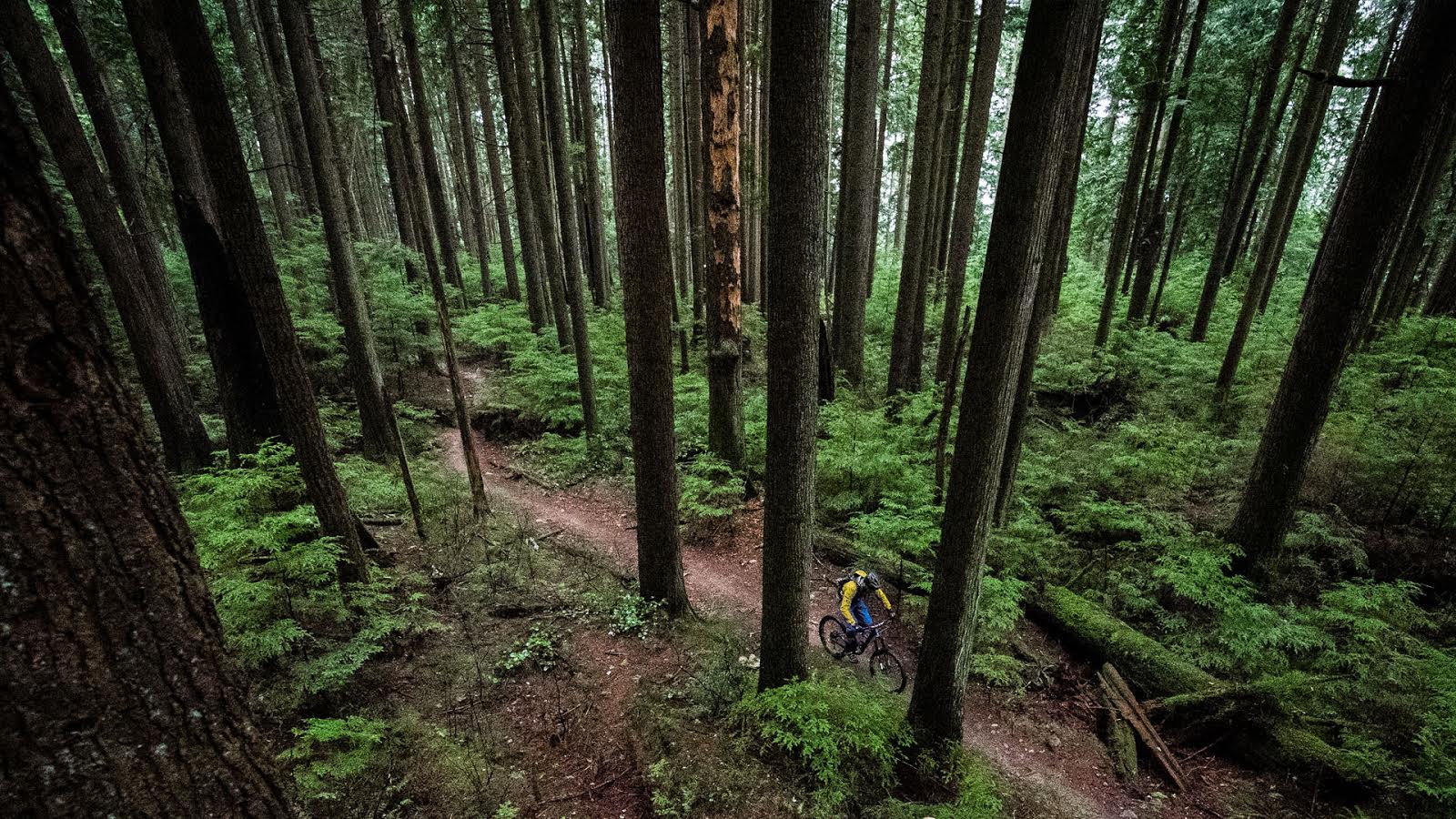 Uncle Dave Brings You Kona 2017
Due to limited time and resources, there was no installment of Ask Uncle Dave this week. Four or five people are really upset right now. The rest of you are happy that you get to find out about the 2017 Kona bicycle line-up.
They say that you can tell a lot about a bicycle company by the dealers that sell those bikes. They being me and that being something that I just thought up. Regardless, as I showed up in Squamish on a Sunny Tuesday afternoon and encountered a large group of lubricated Kona bicycle dealers hurling furniture into a swimming pool, I felt like I was glimpsing into the soul of Kona as a brand. Finding this in front of me, I was many things. Scared for what the evening would bring and curious as to why the hotel staff, looking on from the adjacent office, weren't doing anything to put a damper on the enthusiasm. Yes, many things, but surprised was not one of them.
Journalists take a lot of heat for junkets filled with "wining and dining." The reality is having to take a day off work and a drive up to Squamish, all to be locked in a hotel room for a half day with the blinds drawn. Please note that I am not one of the journalists carefully taking notes on a laptop.
Because wouldn't you be upset if you found anything else happening at a Kona dealer launch?  What would you think if all those aged white dudes had been sitting around a dinner table, quietly sipping Merlot while discussing the best brand of lycra?  You would be disappointed. You expect a certain amount of joie-de-vivre out of your Kona and you certainly wouldn't trust anybody trying to sell you one that emitted anything other than a harsh, old-school, in-it-for-the-long-haul, bro vibe. These are the stereotypes that we cling to.
There were bikes
So many bikes!  While the Kona line has been somewhat pared down to its essence this year, there were still a lot of bikes to work through. We're going to focus on a couple of key bikes in which we think you will be interested.
Kona Precept 150
I have personal experience with the Precept line. To summarize, these are bikes with great bones, but that perhaps had a few shortcomings in the parts department. Single ring drivetrain! Capable fork! Adequate tires! Dropper post! This bike is nearly a point-for-point rebuttal to the findings in my review. Even the brakes look like they are probably workable.
This is the bike that I feel the most excited about. All for the low, low price of US$2199/CAN$2999. Details.
All that and a Gulf livery inspired paint job. Please note that Kona is in no way, shape or form claiming inspiration or association with Gulf or any of their partners, subsidiaries, intellectual properties or paint jobs.
We can also use this bike to pick up on the theme of the Kona line for 2017. I call it supplier diversity. Scattered throughout the line is the most interesting collection of components that I have ever seen. This bike alone pulls from SRAM, Shimano, Race Face and Suntour, where we would normally expect to see half this number of suppliers. Kona has gone to interesting lengths to ensure that the bikes are getting the best parts for the job and for the money. I can't stress how much I love the spec of this bike. Is it perfect?  No. But it's a pretty great step in the right direction. Any complaints about value can most likely be directed at the Canadian Dollar.
One thing to note is that these bikes remain shorter than the Process line. The thought process (precept?) is to build a bike for the intermediate rider to grow into. "Mountain bikes to make mountain bikers" was the phrase that they used and that I scrawled across my tech book. There is also a Precept 130 and 120 at lower price points, but the 150 is the one that excites me.
Kona Big Honzo
The Kona folks seem really, really excited about the new Carbon Honzo. They talked about it at length. Todd already gushed all over this bike, so I didn't pay too much attention. Once they were done their impassioned sales job on that, they moved on to the also new Big Honzo.
The interesting thing is that I bumped into Dik Cox in the beer line the night before. I talked at him about a few things, including Plus bikes, because I couldn't really think of anything else semi-intelligent to ask him. He seemed interested in them and produced some borderline enthusiasm. He hinted at more things to come but suggested that Kona is a small company with limited resources that has to choose their battles.
Mike Ferrentino has just said something hilarious.
The vibe from the product managers introducing this bike was less excited (yet one of them rode a Plus bike on our ride later that day). Like many in the industry, Kona seems a little bit confused about this Plus bike thing. They see the appeal. They wonder where it's going. They hope for better tires. And this is them dipping their toe into the market.
What they have done is create a plus specific bike. Could you jam 29er wheels into it?  Yes. But your bottom bracket will go up a bit. Could you jam plus tires into the 29er?  Absolutely not. They shuddered at the thought of extending the chainstays of the regular Honzo and decided to optimize around a wheel size without creating compromise. I can't fault them for that and I can already hear the commenters who have never ridden a plus bike getting all excited about the stance that Kona has taken here.
The Honzo DL is available for US$2399/CAN$3199 and the regular old Big Honzo is US$1699. They haven't gotten around to posting a Canadian price on the website.
The Big Honzo is built around Schwalbe 2.8's, but will take up to a 3.0. They've made the right choice here and I wouldn't advise bothering to try to fit in a larger tire.
2017 Kona Process
We'd be silly to not talk about what is now the heart and soul of the Kona line. The Process should look relatively familiar. It still isn't made of carbon but it has lots of changes lurking under the surface. All of the models have gotten a bit longer and slacker. The Process 111 and 134 receive longer travel forks. The 153s receive the strongest brakes available for the money. The bikes will run you between US$2699/CAN$3599 and US$4599/$CAN6599, depending on model and trim level.
The Process 153DL represents the top end of the Process Line, and should look familiar to most of you.
Kona Hei Hei Trail
Similarly to the Carbon Honzo, all the Kona folks got pretty excited about the Hei Hei line. There's a lot of pride in the room about this bike. And there's a lot of different models to choose from.
You have the Hei Hei Race in two trim levels, for all the leg shavers out there. That's got 100mm of travel, front and rear, and 29er wheels. The regular Hei Hei used to be called the Hei Hei Trail, but is now just a Hei Hei. It gets a longer 120mm fork compared to the Race but is otherwise pretty similar. And bringing up the rear is the Hei Hei Trail, which gets more travel (140mm front and rear) and smaller 650b wheels.
Vernon Felton having an episode.
All Hei Heis get a carbon frame from front to rear (the 29er models share a frame, while the 650b versions have their own tweaked molds). You'll notice the lack of a seat stay pivot, as the movement here is accommodated via subtle seat stay flex. All bikes also receive new metric, trunnion mount shocks and boost spacing front and rear, so that you can feel superior to your past living friends. Another touted feature is the cable alignment which guarantees easy cable access and hides a spare derailleur hanger. Pricing ranges all over the place depending on trim and model. The cheapest Hei Hei Trail is US$4199/CAN$5599 and you can go all the way up to US$7499/CAN$10,499 for the Supreme.
The Hei Hei Trail DL. Carbon rims and an XTR rear derailleur for the spec shoppers.
I've left this bike for last because once they were done talking about bikes, for the rest of the day I got to ride the crap out of a Hei Hei Trail DL.
Riding the Kona Hei Hei Trail
These quick little one-day test rides are both a blessing and a curse. In this day of knobs and air springs, it's difficult to get a bike totally dialed within such a short time frame (not to mention, the demo bikes are almost always too small). But at the same time, with the designers and product managers at your disposal, you can learn a lot about a bike and see if what they have to say plays out in the real world. Take that as my grain-of-salt/don't-read-too-much-into-things disclaimer.
However. Even with just a 'short' ride, I feel pretty good about this bike too.
Does this look like a man excited about climbing bikes?
As a rule, I tend to do quite poorly on industry rides. My climbing legs kind of suck. Throw in high temperatures and blazing sun and I wasn't certain I was going to make it all the way. I honestly believe that had I been on a longer travel bike with poorer pedaling abilities, I would have been in trouble. Score 1 point for the credibility of the Kona Product Managers. This bike does indeed pedal and climb very well. There was little bob and the bike felt composed throughout all the steep bits and awkward switchbacks. but even on the climbs, the one shortcoming of the spec started to shine through. More on that in a minute.
See my expression as the front tire slips out as I awkwardly make my way around this uphill switchback.
While I give up a lot to pretty much everybody on the way up, I can generally gain some of my pride back on the descents, where I shoot up the ranks from bringing-up-the-rear to solidly-middle-pack-without-holding-too-many-people-up. And the Hei Hei Trail allows you to seamlessly switch into descent mode. Can you push it as hard on the descents as a Process 134?  Probably not, and Kona knows this. But for such a pedal-able bike, it's a lot of fun on the way down. I found myself easily riding beyond the capabilities of the tires, which hopefully Kona addresses as a mid-season spec change, or you can talk your old school dealer into swapping out for you. The Maxxis Tomahawks just don't seem up to the quality of this bike.
Shortly before the heat stroke really set in, I managed to roll this subtly challenging move. Some of the Kona guys managed to nose wheelie in.
I'll be curious to see what this bike brings long term. But for the all-rounder that does a lot of pedaling up but loves his descent, this could be a very intriguing option. Spencer Paxson uses a similar bike to race XC World Cups. But he also spent the day both out-pedalling us and hitting the big gaps on a 26″ Process 167, so maybe you shouldn't use him as your guide.
Like a monkey humping a football, excitement set in as we neared the end.
---
Is there a Kona in your future?