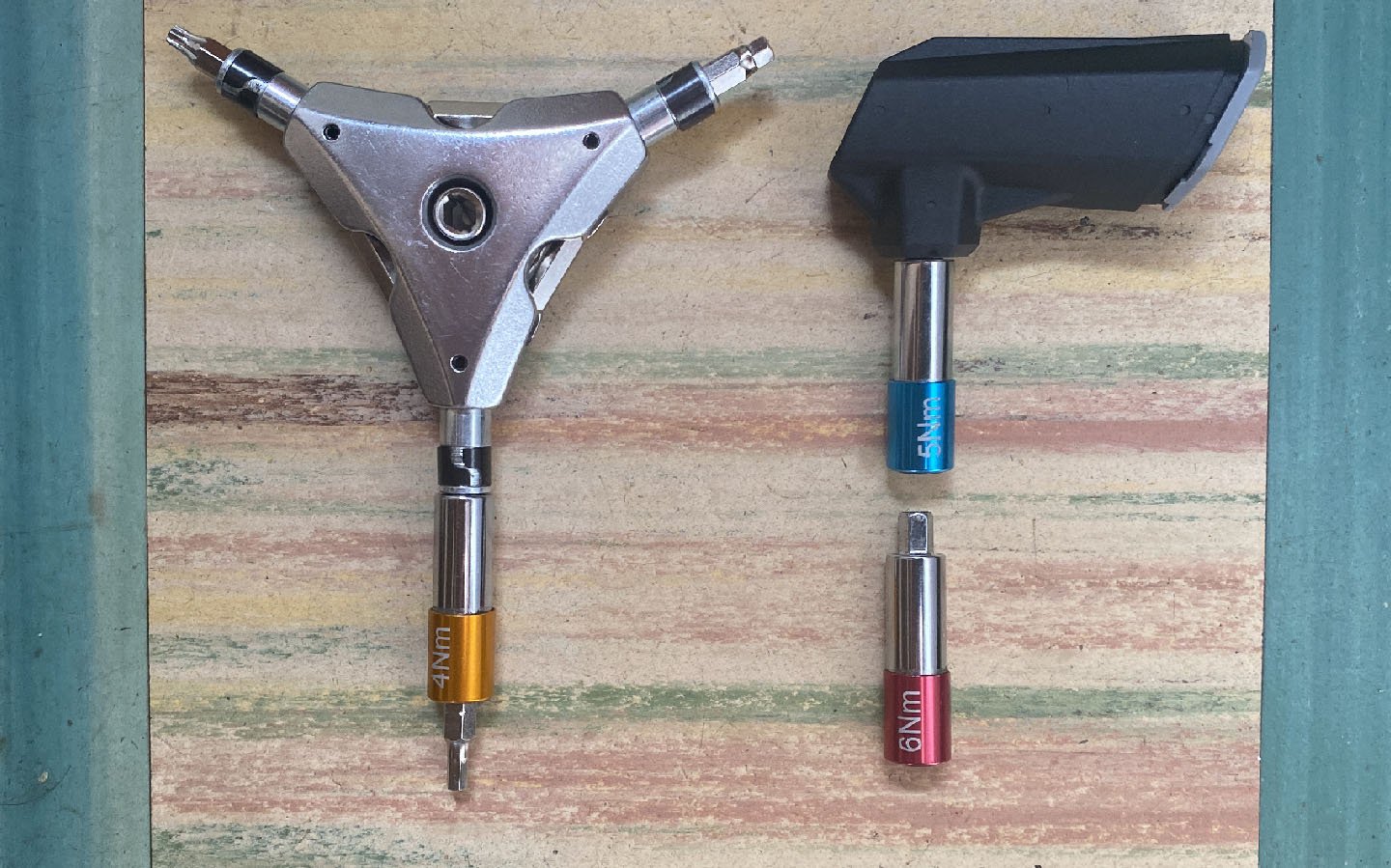 Tool REVIEW
Two Tools and a Floor Pump from Pro*
*Pro is a wholly-owned subsidiary of Shimano
It's probably a symptom of age, but I'm beginning to appreciate quality tools almost as much as nice bike parts. Good tools have much to recommend them; they often last a lifetime, they can save time and they often pay for themselves many times over in labour costs. I purchased the box end wrenches on my tool bench over 30 years ago, and they work perfectly and still look great.
Low quality tools on the other hand can create more problems than they solve. Soft hex wrenches can round out fittings, at worst ruining parts, and at best causing extra work and headaches. It's often difficult to find good quality versions of certain tools, like Y wrenches and L-bend hex wrenches. I have a nice set of T-handles but I hadn't found a good set of L wrenches until I read Uncle Dave's piece on the Wera 'hex plus' tools he's been testing. I bought a set immediately after reading his praise and they have exceeded my expectations. They are excellent tools at a reasonable price, if you follow Dave's advice and buy the right set.
Pro Team Delta Wrench
There are mechanics who don't appreciate the modest Y-wrench in hex form. The one I use most has a 4,5, and 6mm hex heads, but as mentioned earlier, these are rarely good quality implements, which makes the smaller version of 2, 2.5, and 3mm virtually unusable. What I have always coveted is a high quality, customizable Y tool with interchangeable bits. Pro saw that need as well and they produced a tool that meets a lot of my needs.
This is a hefty multi-pit tool that feels very good in hand. It's heavy enough to be impractical to take on a mountain bike ride, but I'm not sure why anyone would want to do that anyway. In your garage, workshop, converted cupboard, or reclaimed dungeon it's very useful indeed. There was a time when I was turning wrenches for a living, and had the excellent eyesight of a younger man, that I could glance at a fitting and know the size. Now I'm slightly better than 50:50, and I dislike having to reach back to the bench for the correct tool. With Pro's Team Y-Wrench you will likely have to simply spin the tool in your hand to get the correct size or type.
Most cockpits I have worked on recently can be dealt with using a T-25 Torx, a 5mm hex for the pre-load bolt in that pushes on your top cap, and 4mm for most everything else. Except or grips. Most lock-ons use either a 2.5mm hex (please make this stop!) or a 3mm (so good!). Which leads me to suggest that a 4-way wrench would be even better, but let's not be greedy. It wouldn't likely feel so sweet in your hand or have such easy access to the bits.
The bits! These are well-thought out for the most part. They are double-sided keeping the total number down, are held into the body of the tool with magnets that are strong enough to hold securely, but not so strong as to do battle with you. Once you've selected the bit you need and removed one that is redundant for the task at hand, you need to simple press it into the empty receiver which has a ball-bearing keeper. This operation can be a little awkward. The receiver holds so well that it can be tough to remove fittings even before your hands are greasy, and insertion sometimes requires pressure on the floor or bench to get the bit to seat perfectly. I expect this to improve over time and I'd rather have them slightly too tight than too loose, which is often difficult to correct.
The sometimes-maligned Y-Wrench has much to recommend it IMHO. It is easily to manipulate in relatively close quarters with a single hand, and can be torqued much higher than a T-handle or L-wrench used with the fitting on the long end. With this tool, a huge advantage is that your odds of not having the right tool for a mountain bike are very low indeed. Which leads me to one element I find strange with this tool. It shipped to me with two 5-6mm fittings, which isn't the worst idea because 5mm heads are often well-represented on bikes and while 6mm heads are becoming less common, axles often accept this size. What I'm getting at is that it makes sense to sometimes have 6mm and 5mm heads deployed at the same time.
When I looked at the website however, it's clear that there is only supposed to be one 5/6 combo and in its place should reside a Torx T30 and T40. I certainly can't say I have an accurate survey of all bicycles, but the only Torx fittings I've encountered on mountain bikes that I recall are T25 and T10, the latter for SRAM brakes mostly. You'll also find a T20 on the other end of the T25. It may be that these three sizes are well-represented on E-Fat Bikes (Fat E-Bikes?) or single-speed gravel grinders, or maybe even dual-suspension tandems, but for mountain bikers they are a waste of space. If they do exist on other bikes, and are actually useful, that's great, but that still leaves an absent T10. This is hardly a deal breaker but it isn't ideal either.
Otherwise I have been very pleased with the quality, hardness, and size-accuracy of every fitting I have used, and this is a tool that immediately went into my heavy rotation. If I was a fussy guy, and I am, I'd ask for at least one head to ratchet, but the simplicity of fixed heads is hard to argue with.
Team Delta Wrench Features as outlined by PRO
Premium Y-Wrench tool with 13 bits
Laser cut, extra durable heat-treated, hardened steel bits
CNC machined alloy body
Larger body for increased leverage
Hex: 2, 2.5, 3, 4, 5 and 6 (actually there is an 8mm as well - but don't tell PRO)
Screwdriver: PH2 and SL3
Torque: T20, T25, T30 and T40
PRO Team Tools are 12-speed compatible
Pro Mini Torque Wrench
I have a nice digital torque wrench that almost never gets used. I keep it in a case, which makes it a pain to access, and it just slows down whatever it is I'm trying to speed up. As a retired bike mechanic, I'm also likely a bit overconfident in my ability to hand tighten fittings to an adequate torque setting. And yet I always feel better about a completed job when I have checked the torque numbers, and for certain jobs, like tightening shock or pivot bolts, I'm more careful about nailing torque numbers.
A torque wrench without the hassle would be a beautiful thing, which seems to be just what Pro was thinking with this Mini Torque Wrench. Rather than having to read a dial or a digital display, you only need or feel for the tool releasing when the chosen head reaches it's preset Torque value. The three bits are set to 4,5, and 6 Newton Metres* of torque. These numbers won't cover every fitting on your bike, but they will do a good job for most frequent tasks, like checking your stem and seatpost bolts, changing a rotor, or adjusting and then tightening your brake calipers. You'll need a higher torque value to do many tasks however, like installing your derailleur, cranks or pedals
* the force of one Newton on a one meter long lever
Clearly this is a tool meant for efficiency and ease of use, because for many mechanics this won't replace a quality digital or analog, click-type torque wrench or even a beam-type instrument. For those who want to know there torque values are close for performing basic tasks, this could be a valuable addition to the bench or tool kit. It's not cheap, at 65 USD, but when you consider Pro's Team Torque Wrench retails for 250 USD, it might seem a little more reasonable.
Mini Torque Wrench Features
Compact 3.5-Inch Design
Magnetic Handle Closure
Preset 4, 5, 6 Nm Inserts
Six Tool Bits
MSRP $65
Pro Team Floor Pump
I've had a spotty history with floor pumps with analogue gauges. Until recently I hardly owned one that was even accurate enough to bother looking at. My experience with Topeak's Joe Blow Mountain X made me realize that an accurate non-digital gauge is a possibility for a quality floor pump. The tricky part is that the mechanisms that translates air pressure into numbers, a Bourdon Tube, are often quite delicate. If you have a floor pump with an old school gauge, you are going to want to treat it nicely to keep it reading well. You can reset the Bourdon tube but it's much better to keep it working properly.
This pump has continued the accuracy trend and I happily rely on it for relatively small adjustments to tire pressure. This process is helped along by the dual stage gauge. The first 40 PSI have a larger scale than the roadie increments beyond that reading, making accurate pressures possible even at the low end
The barrel splits the difference nicely between a narrow gauge high pressure pump and a high volume MTB only cylinder; you can reach your desired pressure quickly without having to jump on the handle.
Dual Gauge Technology
Alloy Pump Body
Universal Head for Presta or Schrader
MSRP $115
For 115 USD this is a very nice pump, but many riders are going to prefer the accuracy of a digital gauge in the era of pressures in the low 20s or even in the teens. Armed with a good hand. held gauge for fine-tuning your pressure, this is a great pump to have around.