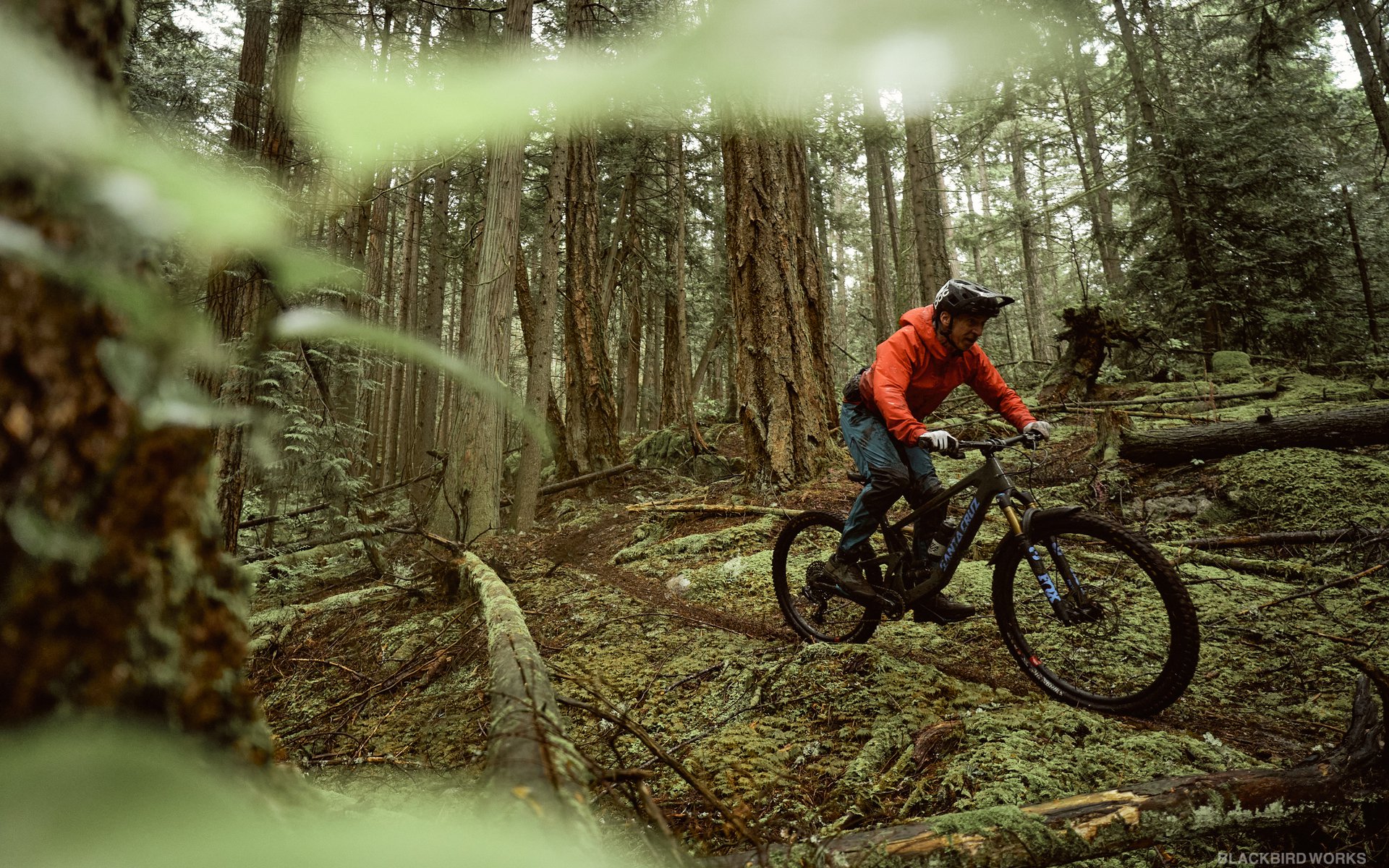 Bike Intro
Two Rides: The 2022 Santa Cruz Bronson CC XO1 AXS
While life is starting to return to normal in small ways in many places, the bike industry won't be vaccinated for a long time. With production being hampered by shortages in parts and raw materials, shipping containers in short supply, and demand up, it will likely be a couple of years at least before we reach something that resembles a pre-COVID equilibrium. With that in mind, I shouldn't have been surprised by the unannounced delivery of a fresh Bronson late last week. It all happened so fast that by the time I heard it was coming, it had already been delivered without my knowledge. I didn't even know what size it was or what size I would have chosen because I generally fit an XL in 27.5 Santa Cruz bikes and large for 29ers. What size do I choose if a bike is both? Fortunately Santa Cruz chose the size that feels great - a 497mm reach (high setting) XL.
I'd already scheduled a ride, on a trail that scares me, for the next morning, so there was nothing to do but saddle up the Bronson and bed in the brakes. I didn't have much time for knob twisting but it turns out I managed to get things pretty close before pedalling up to a couple of the steepest descents in the neighbourhood.
2022 Santa Cruz Bronson Highlights
27.5" rear/ 29" front wheel
150mm travel/ 160mm fork
.9° slacker/ 15mm longer reach/ 20mm higher stack than previous Bronson
C and CC carbon
Size specific chainstays
Refined VPP Suspension
Sizes XS-XL (XS sizes get dual 27.5" wheels)
Lifetime Warranty
Two Rides
Santa Cruz seems to make the bikes I'm most likely to feel comfortable on out of the gate, perhaps because I've ridden so many different models in the last few years, and I rode competently right away. I didn't however have either the comfort or the edge required to tip into a few of the moves that were on the menu. I felt okay but I was riding tentatively despite the perfectly dry conditions.
Toward the bottom of our second descent, I was putting more lines together and getting a feel for the kind of inputs required to make the Bronson dance. I haven't spent much time on mixed-wheel bikes but I've ridden enough that I was prepared for how well the bike corners. It's not quite as easy to tip over as the current 27.5 Nomad, but it holds a line perhaps a little better. I have to confess that I missed the nimbleness shared by the Nomad and the previous Bronson; one big wheel was enough to make the bike feel a little more planted and less eager to get off the ground. Speed comes at a cost. #RIP650b
With time for only two rides before I needed to come to some conclusions about this bike, I knew I had to make a change before my next ride. I've been testing and riding inserts pretty much non-stop for a few years, on my personal bikes and on test bikes, and saddling up without a bumper sloshing around in the sealant isn't a fair test. I like being able to drop my pressure a little and have a smaller (effective)* air volume and excellent sidewall support, so I stuffed in a mis-matched pair of Tannus Tubeless.
*Because Tannus inserts create a secondary air chamber, the overall volume doesn't change much unlike most other inserts
This turned out to be an excellent choice because the next day was soggy and cold. When we arrived at the top of the mountain Junuary had returned; it was 3º and the rain was a little slushy. There was some singletrack climbing required to get to the trailhead and the bite of the rear wheel combined with the steep seat angle and long rear end allowed me to scuttle up every rooty pitch my legs could handle.
As we started to head down a steep and somewhat loamy line, I began to get a feel for the bike. It started to become light underneath me and I began to let it run through rough sections as I felt it get up on a plane. Despite the rain, I was happy to give most every line a try, and soon I was looking for harder options.
Compatibility
Shock: Any 230x60mm coil or air shock
Max tire: 2.6
Boost 148mm spacing
Post mount brakes (180mm rotor)
ISCG05 chainguide mounts
Threaded BB
SRAM UDH
IS Headset (44mm upper, 49mm external lower)
There are several states that each allow me to reach a higher plane on a mountain bike. Sometimes I feel as though my ability to interpret and smooth out the terrain becomes so easy it seems innate. Other times the bike seems get light and almost disappear, leading to the corny but apt 'flying' description. Another state, that used to be very rare, but is becoming less so, occurs when I seem to be more in control of the bike than usual; finding braking points more easily, allowing me to point my digits and release the levers, grip feels predictable and plentiful and at first the sensations make me a little uncomfortable.
A big part of what attracts me to mountain biking is approaching the edge of control and good sense, and sometimes pushing a little beyond. (This is an aversion to my own personal level of comfort, to be clear) In response I push back and eye up harder lines, lift the bike off the ground as much as possible, and explore the edges of the trail, and the limits of adhesion. At its best this rowdy state gives me a heightened awareness of the capabilities of my side knobs, occasionally so much so that I can push a little past and allow the bike to drift. It's unlikely anyone riding behind me would notice much difference, or be able to tell my tires were sliding ever so slightly, but internally there are few better feelings on the bike.
The wet conditions, after a long stretch of mostly dry, undoubtedly helped me get a little looser and allowed me to push past the grip threshold more easily, but I can't think of many bikes I've ridden where I got anywhere close to feeling of controlled chaos I achieved on the New Bronson with only one ride under my belt. In fact it was early on in the second day's descent when I started to notice how crisply the wheels communicated information about the trail surface to my hands and feet, despite the suspension not being as dialled as it could be, and barely broken in. The planted feel encouraged me to angulate the bike more sharply and I was emboldened by the predictable break-away point. I took high lines over roots, and chose inside lines, putting more and more faith in the magic the mullet.
After returning home I decided I should check to make sure the bike was, as I assumed, in the low setting. In fact it was not and I expect the bike to rail downhill even harder now that I have flipped the chip.
The mixed wheel set up likely gets part of the credit, particularly the feeling of getting loose in the corners, because the rear wheel takes a slightly narrower arc around the turn, encouraging you to dive in deeper and over steer. I'm not entirely convinced the moto setup is preferable for everyone, particularly taller riders who need less ass-to-tire clearance, but my experience on both this bike and the mix wheel Bullit have made me mullet-curious.
Parts Spec.
This is probably the most baller spec'ed bike I've ridden. And for 9849 USD it should be. There are always places you could spend more money, but with this bike you're going to have to try a little harder. This is also the first bike I've tested that comes with AXS wireless shifting out of the box. The rest of the drivetrain is XO1, and it shifted very nicely indeed over two rides.
The rims are Santa Cruz Reserve, but rather than DT Swiss they are paired with Industry 9 1/1 hubs. Some riders will immediately want to jettison the Exo Maxxis Minions (DHF MaxxGrip 29 x 2.5 front and DHRII 3C 27.5 x 2.4 rear) but they work great for me - at least while riding inserts. The fork is a 160mm Fox 36 Float with a Grip 2 damper, while a Rockshox Super Deluxe Ultimate deals with the 150mm out back.
Final Words
After only a couple of rides it would be premature for me to say much more, but my brief yet passionate time on this mixed up machine was very satisfying and it made me lust for more. Sadly it looks like I'll be handing this super bike off to another tester since my dance card is completely full. It isn't finalized and it may take a Battle Royale to decide who is worthy; two testers enter, one tester leaves...
For more on the refined VPP, the new Santa Cruz handlebar, and the details of each model of Bronson - head to Santa Cruz Bikes
For all that information and more on the Roubion - head to Juliana Bikes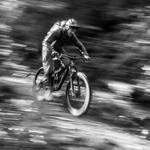 Cam McRae
Age - 55
Height - 6'/183cm (mostly legs)
Weight - 165lbs/74.5kg
Ape Index - 0.986
Inseam - 34"/86cm
Trail I've been stoked on lately - Fifth Horseman
Bar Width - 760mm
Preferred Reach - 485-500mm (longer with 27.5 wheels than 29)