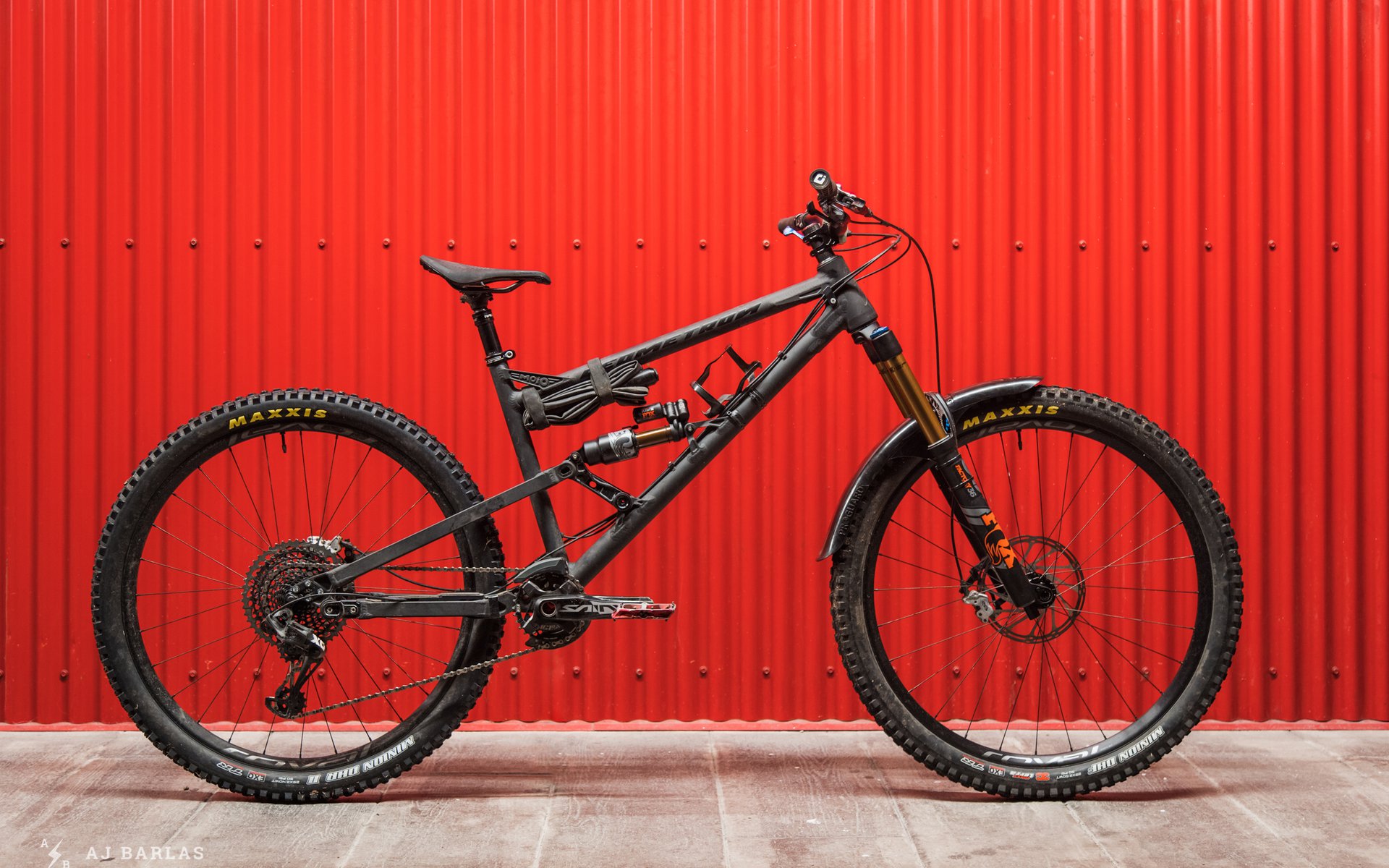 Same Same But Different
Twelve Months Later: AJ's GeoMetron G16
It's been a long time since I held onto a bike beyond twelve months, perhaps because of the rate of change and cost. In fact my eyes often wander well before a year is done. At first the "insert fancy new bike here" is the best thing since sliced bread but it's typically not long before that feeling subsides.
About twelve months ago I shared my personal bike, a GeoMetron G16, and more than a year later it remains my do-everything weapon of choice. Built for function over fashion, most of the budget was spent on frame and suspension. From there the bike mostly came together from parts laying around. A pair of Frankenbrake Avid/SRAM Codes from 2009/2011, an old Easton ARC/DT 240 wheelset with Wolftooth Boostinator adapters, Race Face Turbine dropper, etc. The bike was built with a mix of parts that work for me that I already owned.

More surprising than still owning the bike is that my eyes aren't wandering.* It's not carbon, in fact, there's very little carbon on it currently. It looks strange and it has things strapped to it, making it even more unsightly. But I don't care. It's a pleasure to ride and it has almost everything I need. I can ride shuttles or pedal all day comfortably, returning home tired but without the back pain I experienced for years on more conventional mtb shapes.

*That was until Nicolai and GeoMetron released the G1…
That said, it's a different bike now. The biggest change is the switch to 29-inch wheels and adjustments to affect hand position. Because of questions from readers and Joe Public on the trails, I've decided to discuss my current build. 
The Wheel Change
The low BB of the G16 makes it versatile. Running the bike with 29-inch wheels is common and on the other side of the pond, many G16 owners ride hybrid 29-inch front/27.5 rear setups. After years of switching between wheel sizes on different bikes, this was the first time I was able to swap on the same frame. Aside from the increase in BB height, the shape remained the same, making this an opportunity to evaluate how wheel size affects performance with few other variables. 
On the trail the first thing I noticed with big wheels was the extra force needed to preserve momentum at slow speeds. A side effect of this was even more obvious; in crux situations when applying more power, I often spun the rear wheel. This was on the trails I ride almost daily on a setup that was otherwise identical. Once I learned to finesse power output in these situations* everything was back to normal.  
*Note that this is with flat pedals and while I don't completely agree that flats contain the disadvantages many argue, I believe these situations highlighted a weakness to my pedal technique that had to be fixed.

Going down, I also noticed the differences often touted, but they were glaringly clear. Riding the same bike with larger wheels shone a light on the speed and momentum 29-inch wheels can deliver. On the very choppy, high-frequency terrain of my Squamish home trails, there was a noticeable increase in momentum. The bike didn't get held up by the same features and there was less feedback.* A downside was slowing for corners. On trails I ride often, my braking was completely off. Entering corners too hot is always a surprise but thankfully the second attribute helped smooth out the problem. More on that in a second.
*A caveat is I now had the 2019 Fox 36 fork and it contributed to the reduction in feedback from the trail to the rider.

I have a theory regarding feedback and my issue with braking and speed that stems back 18 years. A close friend in Australia hated riding in full face helmets. Spending the majority of our time in half shell lids, he found putting on a full face (usually at a race where it was required) made it hard to gauge how quickly he was going. For him the air moving past his ears and face was critical to judging speed and removing that feedback forced him to recalibrate.
Moving to 29-inch wheels on the same bike was a similar experience for me. The bike felt identical in terms of cockpit and shape, but it now moved along with less feedback at a given speed. Speed had to increase for feedback to be equal. Rather than reacting consciously I was interpreting the sensations the bike transmitted. This resulted in struggling to slow down as expected in the same distance. Were it on trails that I didn't know well, the outcome would surely have been different.

The second attribute, one that got me out of trouble in those surprisingly quick corner entries, was the tracking of the larger wheels. They want to rail and they comfortably hold ample traction. It's like cheating. A downside is they aren't as easy to break loose and square up a corner as a 27.5-inch wheel. Now more than ever, the 'smaller wheels are more fun' comment rings true. Those same characteristic can be had on a 29-inch wheel; bikes like the new Ibis Ripmo or Giant Trance are obvious examples, but on the same bike there will be a calmer demeanour with a larger wheel.
These attributes were obvious initially and the intoxicating added composure and stability explain why the big wheels remain. And the G16 was already the most comfortable and calm riding bike I've swung a leg over. I'm still able to play with the bike but it's more controlled than when it had 27.5-inch wheels. I've also found that pedal clearance with the 29-inch wheels is much better, preventing issues with certain trail features caused by the low BB combined with the 27.5-inch wheels. 
I had planned on throwing the 27.5-inch wheel back in the rear to check it out but haven't yet. because there are a couple of attributes with the current setup that I find maxed out. Throwing a smaller wheel in will only exaggerate these. One thing I would like to change on the current bike is the BB height; it's a fraction high with the 29-inch wheels. I run the bike in the 155mm travel mode (216x63 shock) and I can lower it by flipping a chip in the seat stay/rocker mount pivot to the longer, 222mm stroke position. Nicolai calls it the ET Key and it lowers the BB 4mm and I've found the height is excellent here. But…
When flipping the ET Key, the head angle gets slacker and I found it too slack. Stock, the static head angle is already 62.5 degrees, which I find excellent. With the slacker angle, I found weight over the front wheel too light and it began to push in corners. On steep trails I had no issues, surprise surprise, but as my all-around trail bike, it was too much. The bike needs to perform well on a wide variety of trails and the stock angle does this very well.
Another thing I want is a steeper seat tube angle. At 77-degrees the G16 is among the steepest currently available, but there are steeper and a seat angle of 78 or 79 degrees would great. Maybe steeper? Coincidentally this is where Nicolai and Chris Porter settled with the new G1.* Slinging a smaller rear wheel in the bike is going to negatively affect both the head angle and seat tube angle for me. That's not to say I won't try it and when I have a chance and some consistent conditions (certainly not happening at the moment) I'll give it a go.
*Pole bikes are around the 78–79-degree mark and I found it quite good combined with the long rear centre.
Hand Position
I built the G16 with a 31mm Renthal Apex stem and a 25mm rise Deity Blacklabel handlebar. Originally I had planned on lowering the stack to get some extra reach, using a taller rise bar to bring the height back up. But I still wanted to see how it was with a shorter stem and average bar rise. Seated, the smaller combination was too short and didn't allow me to position well for mild climbs. Lowering the shorter stem and swapping to a taller bar improved things but it wasn't enough. Tossing the 40mm stem on with the taller bar hit the sweet spot and has been remarkably comfortable. As it sits currently the BB centre to bar centre at the end measures ~913mm. It feels great and has allowed me to climb and descend comfortably.
*I've been using 800mm wide bars for a couple of years now. 

Other Changes
Although there have been plenty of test parts over the course of the year, the bike remains very similar to the original build. The SRAM Eagle drivetrain has been really durable and I'm running the same cassette and derailleur as twelve months ago. There has been a cycle of chains on it to keep things running smooth and while I fear it's coming close to the end, the cassette is still shifting well. Many others have had positive experiences with the new 1x12 system.

The old SRAM Code Frankenbrakes continue to perform. I actually prefer the lever ergonomics to the new Code brakes and if I were to update to the new Codes, I would see if these old levers could be transferred. I originally used DMR Deathgrips but once they wore out and despite spending a large portion of the year testing others from Ergon and Giant, I landed back on ODI. Any time spent on a test bike with these was a reminder that I like them. My thumb issue seems fine and has been for the year; perhaps it just needed more time than predicted. My hands haven't been this happy since riding Ruffians years ago and my arms/hands seem to prefer a little lift at the end of the bar. If these were to change I would opt for Andrew's direction and glue on some push-on grips. The Chromag Wax grips on my dirt jump bike always feel so darn good.


Most of the time in the 29-inch wheel guise, the G16 has rolled on Santa Cruz Reserve 30 wheels. More recently I began riding these alloy Roval Traverse wheels and have been very pleased. They've been great in the soft, slower speed conditions we're subjected to during the late autumn and winter but need some rough stuff to complete testing. Look for a review in the spring. 
Another new item that was just reviewed is the OneUp Axle F. You may remember my article about stash-able multi-tools rendering QR levers redundant and I've been running the Fox Kabolt through-axle all year. It seems OneUp are on a similar page and, based on demand, they've made a through axle option for a number of forks.


Another rather large change this year was ditching the chamois. After years battling chaffing and a distaste in having to wear them to begin with, I've been able to comfortably forego them altogether. Unsuccessful in doing so previously, it took finding the right seat. That seat is the Specialized Power saddle currently on the bike and I've been successfully riding sans gooch-pad for the better part of the year.



While the parts slowly change, for now the bike will remain the same. The G1 is very appealing, especially because the mutator chips allow you to lower the BB without changing the head angle. But for now I'm really happy and for the moment, ignorance is bliss.
---