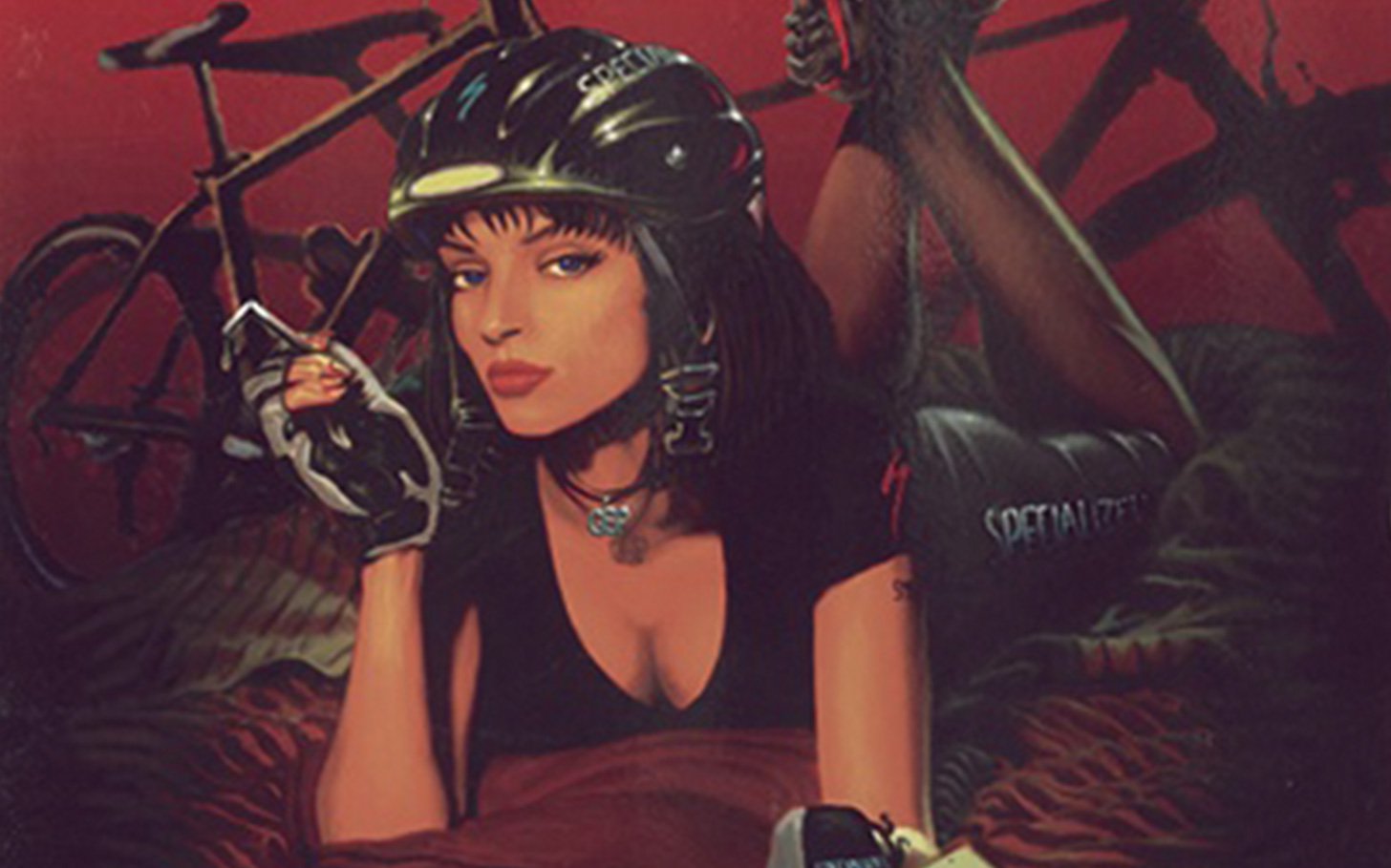 Alternate Facts in Mountain Biking*
The True Story of Pulp Traction
ATTN: When this was first published, it was difficult to get hold of a copy of Darcy Turenne's excellent film; The Moment. Thankfully it's now free to stream on Redbull.tv and you can see it right here. If you plan to watch the film I recommend you read this article after your first viewing. If you've already seen The Moment, please dig right in.
---
Both Greg Stump and Christian Begin are baffled when I point them to the beginning of their film, Pulp Traction on Youtube. Something doesnt't quite add for them or for me.
I interviewed each of them about a badass tale from Darcy Turenne's excellent film, The Moment, which chronicles the raucous early days of the freeride scene here in B.C. Greg had hired Christian to collect footage for a film commissioned at the recommendation of then Specialized president Steve Meineke, who had come to the bike industry from Salomon. Steve apparently loved Stumpy's ski flicks and thought he might be able to pull mountain biking out of the lycra-encrusted dark ages.
*Originally published 2018-02-14
I first saw Pulp Traction years ago because my friend Tunë gave me a bootleg copy, which I still have. Tunë worked on the very first NSX film with Digger and he has become a sort of legendary figure in our lives. Tune, who by chance called me last week for the first time in about five years, always has an excellent story or two and they are often a little too good to be true. Fortunately he tells them so well I am always willing to listen. What's better than a good story, fictional or not?

So when Stumpy told me, 'I want you to shoot a segment,' I said this in my head, I said, 'I'm going to fucking blow your mind!'
According to Greg Stump, there wasn't much of a brief for Pulp Traction; "I really had no direction from them at all other than events. And there weren't that many you know so it was going to be a little 20-minute movie. And I charged pretty heavily, 80 grand budget and they gave me 40 up front."
Christian Begin had bullied his way into a job shooting for Greg Stump's ski films and had shown Stumpy some MTB footage he'd shot in Rossland with Dave Swetland. This was enough for Stumpy, and Christian landed in Kamloops with a stack of film and some bikes from Specialized, letting riders know that whoever rode the burliest lines would get to keep a bike.
Christian had some unique Kamloops experience; "I knew the sandpit in Kamloops because I was sent to film Brett Tippie for Adventurescope Films. He was on the Canadian snowboard team and I was sent to film him at Tod Mountain but when we got to Tod, there was no snow. Tippie said, 'oh man it's my big chance of being in a snowboard film, there's no snow." He said, 'but I know a sandpit called Tod pit. And I snowboard, I train in that pit.' So basically I went there with him and I filmed him sandboarding and that made it into the film."


And he said, 'you can't even show the tire scraping any dirt.' And then I'm starting to realize he's serious and I'm starting to get pissed.
This was Begin's inspiration for filming a mountain biking segment and he was fired up. "So when Stumpy told me, 'I want you to shoot a segment,' I said this in my head, I said, 'I'm going to fucking blow your mind. We're going to do something like you've never seen before.'" Richie Schley had a way into the film as well. "Stumpy's girlfriend back in those days was Ace Mckay Smith from Kamloops and she knew Richie Schley because he was a Canadian BMX Champ. Stumpy said, 'oh, I got one thing to ask you. You've got to shoot that guy called Richie Schley.' And I didn't know Richie. I give him a call and say, you know, 'I don't know who you are, but apparently I'm supposed to shoot you'."

We did a few warm-ups, you know steep ones, where it's steep single track and we said we're going to go freeriding and do a really gnarly one that we've done for years but Christian didn't believe that we were going to ride down there
From there riders like Derek Westerlund, Craig Olsson and Keith Elliott rounded out the crew. Christian shot it the way he had shot ski footage; he directed the boys to the top of a gnarly ridge and told them to send it. No trails, no rules, and certainly no fucks given about what IMBA would think. This was in the days that racing was king and freeride didn't even have a name, but Christian knew what he had to do: "I'm not saying racing is boring, but just put it this way, watching people cross country race in the movie is not as exciting as seeing people launching themselves."

It's cleary not Redbull Rampage 2017, but the Kamloops footage from Pulp Traction remains impressive today. It's evident these are burly lines by any measure, and when you see the tiny, short wheelbase XC hardtails with long stems and narrow flat bars plummeting down burly chutes, there's no question these dudes gave it all for the cameras. In fact, Keith Elliott, a BMX compatriot of both Schley and Wade Simmons in Kamloops, augured hard in the film, breaking his neck. Elliott, an old friend of mine, spent a year wearing a halo but made a full recovery.
There were some extrinsic motivators at play according to Brett Tippie; "the big treat back then filming for Pulp Traction was that if we filmed well we got dinner bought for us at Earls, and there were tons of pretty girls that worked at Earls and we're all young dudes so we were all stoked!"
Tippie's got a sharp memory and he recalls the shoots in surprising detail. "After Richie did his 360 we said 'hey let's go ride some steeps,' because that's what we called free riding back then. And so we took them to the Valleyview Arena where the (Kamloops) Bike Ranch is now." In the intro to Pulp Traction the riding is said to be done in Lac Dubois, an area popular with motos and ATVs, but Tippie said this was simply misdirection to keep IMBA from getting their pants in a wad.
Unfortunately Specialized had only sent two bike sizes to be ridden. There was a size small and medium Specialized Stumpjumper M2 (and a duallie that was broken early on). And eventually there was only a small after Tippie had his way with the medium... "We did a few warm-ups, you know steep ones, where it's steep single track and we said we're going to go freeriding and do a really gnarly one that we've done for years but Christian didn't believe that we were going to ride down there. Craig dropped it and I grabbed this little bike and went up to the top and I'm like, 'what are you doing up here on this tiny thing?' And I'm like, 'you know what, I'm doing this for a Stumpy movie and I've watched Stumpy movies for years and loved them, I'm fucking doing it. I don't care what happens I'm staying on this bike though. I'm just sure I'm riding this mother fucker out.' And so I dropped in, picked a fresh line to the left which has a little steeper entrance and I end up breaking traction and flying down this thing and bouncing around and I rode it out and then I dropped the bike in the ditch, and bent the bike and totalled the fork, the Judys, right then and there."

A week of filming in Kamloops as well as some footage from Rossland with Dave Swetland were Christian's contribution to the movie. "I think I shot about probably 15 rolls of film, it's basically almost three minutes and a half a roll. So I film maybe let's say an hour of footage altogether." The footage was then sent to Greg Stump to be developed and transferred, a time-consuming process back in the mid-90s. "And so, I think two weeks to a month later, I get a phone call from Stump and so the guy who makes extreme ski movies is watching some of the other footage of cross-country racing and all that and he's going, oh fuck, how am I going to make a film with that? And then he gets to see our footage from Kamloops and he fucking lost it!"
It was clearly the sort of thing Stumpy was looking for; "I saw the footage. I'm like, OK, well we got a movie now because without Christian's stuff. I'm just going to have, you know, pablum footage." The 20-minute event film morphed into something different. According to Begin, "I calculated that we shot about 75 to 80 percent of the film." There were a few mountain bike movies released before Pulp Traction. There is some footage of the Repack race in Marin County from the mid 70s, Tread with Greg Herbold and Hans Rey from 1994 and Canadian filmmaker Wolf Ruck made Freewheelin' in 1985, but Pulp Traction, made in 1995, is likely the first film that gave riders a glimpse of what mountain bikes were capable of.
You could say that Pulp Traction, with the help of Greg Stump's former business partner, gave birth to the collaboration of Christian Begin and Bjørn Enga that resulted in the Kranked film series. Bjørn describes the moment where it all crystallized; "Both Christian and I went and we're like, 'Stumpy, let us make a real film. Like we got the chops let's do it,' and he sent us his business manager or something and we met with him. I remember this, at Granville Island. It was kind of a seminal moment where they're like, 'yeah, you could do all the work and uh, you know, you can get five percent'. We just looked at this guy and we're like, 'what the fuck?' Me and Chris just looked at each other. And we're like, 'dude let's just do it, fuck these guys.'"
And here's where things go a little haywire. I'll let Greg Stump tell this part of the story without interruption.
"So you know, I get the movie done and it's time to debut it. And we debut it with Specialized down in Squaw Valley in California and the owner of the company's there. And he was a nice enough guy and the theatre was packed and we showed the movie and the crowd was just screaming and hollering, just going apeshit, loving Christian's footage. You know the rest of the movies, you know, just kind of built up to that. And so I, I'm thinking to myself 'whoa! Fucking home run.' And we were all partying that night. Nobody says a thing to me, but the next morning the marketing guy calls me and says, 'we got to pull the film.' I just thought he was joking because I knew he was at the same theatre. I was there the night before and people were screaming, they were going apeshit.
I thought he was joking and I slowly started realizing he's not joking. Like, 'why do we have to pull the movie?' 'Because you can't show people destroying the trails like that.' Oh, well that's good to know at this point because we've already made the film. And he said, 'you can't even show the tire scraping any dirt.' And then I'm starting to realize he's serious and I'm starting to get pissed. And I'm like, 'dude, don't you think that would've been something that you might want to tell me at the beginning of the project?' And I'm just like, 'are you serious?' And he's like, 'you can't show the tires on the dirt when they're doing any kind of trail damage. That's it. I can't see one rock moving.' And I'm like, 'you're kidding' And in my mind that just like, 'Oh God, I'm fucked.' And he's like, 'you got to go reshoot the movie.' And at this point, he still owes me 40,000 bucks U.S. And I'm just like, 'this is ridiculous.' So I go 'this is so bad, you didn't tell me this before. I've already shot the movie and now we've already spent the first 40 grand on film.' Film cost money back then to get it developed and telecined, you know colour corrected. We spent the money that first half of the money so if I was going to re-film. I was going to make nothing."
And here's where the tale turns badass. The renegade filmmaker staring down one of the largest bike companies in the world. Stump continues; "I decided what I was going to do and this is the single worst thing I ever did in business to anybody because I lied to him and I said; tell you what, you wire me that other 40 grand and I'll go reshoot your fucking movie. I didn't say fucking. I'll go reshoot your movie. And he wired me the 40 grand. And I called him up and I said, fuck you. I didn't say fuck you. I just said, 'I'm not going to reshoot it. This is ridiculous. I'm not going to make nothing out of this whole thing. which is what'll happen if I take the 40 grand I'm not going to shoot the new movie. if you want a new movie, you can give us another $80,000 and we're starting from the very beginning." And I said to them, 'this is the equivalent of like hiring somebody to make a ski movie and forgetting to tell them that you can't show skis on the snow.'

After the filming was done the next battle was over the cover image. "And then we did a really cool thing with the Uma Therman rip off, which was an issue with Specialized. Yeah. All their legal was just losing their noodle over that one but I somehow won that battle. I even remember how I did and I was like, well, you guys don't make the logo. This is the like... Pulp Traction get it?"
Greg and Christian believed that the film was never released, and this meshed with the VHS copy I had since it was a bootleg, but other elements pointed to an alternate reality. On my VHS copy and the version on YouTube, the film starts with a disclaimer. It's not your typical disclaimer though, it's dripping with sarcasm and infused with humour, but I wasn't sure why this would be included in a film that was never released, and then it got stranger.
While still on the line with Greg Stump I pressed play on the YouTube copy of Pulp Traction so he could hear the voice over and asked him about this part of the film. "That's my voice. That's probably... That's one of the things I gave in and did because I probably felt really shitty that I took 40 grand." That made sense to me, but it seemed like a lot of effort to go to for a film that was never released, and it was possible to find copies on Amazon and ebay as well, with the original cover, so I reasoned that perhaps a few were produced and managed to survive. And Greg began to remember a little more; "That would've been after the screening for sure. And probably after I got their 40 grand, and I said, 'I'm not shooting another movie.' And so I, I forget how, like how it went, but the guy must've got me to at least put that on the front of it. I tacked that on later. That was part of our settlement, our compromise because my voiceover is so fucking sarcastic."
How did this all go down at Specialized? Did heads roll? Did Mike Sinyard threaten legal action? I wanted to find out. I've also learned the hard way that getting both sides of the story isn't just recommended; it's mandatory. First I tried to find Steve Meineke and before long I found an email address and sent him a message and connected with him on LinkedIn. He accepted my LinkedIn request but never responded to my messages or emails. The next was Chris Murphy, who was the marketing director at Specialized who worked with Greg Stump on the film. He proved harder to find but with the help of Kevin Franks, who occupied the same role at Specialized not long after Chris was there, I found him on LinkedIn, took a few guesses at his email address and crossed my fingers but held little hope. I really didn't think he'd want to talk to me.
I was blown away by getting a response from Chris almost right away, and he was keen to talk so I set up my recording equipment and called him. Chris almost immediately identified himself as an informed fan of Greg Stump's work; "Stump's movies are still the best ski movies ever, you know, friggin' P-tex, Lies and Duct Tape and Groove Requiem those are just the greatest ski movies." And then he alluded to some of the issues that came after the premiere. "I don't know if he told you about the frustrating part at the end. You know, when Specialized was really involved with IMBA with trail access and everything."
He did indeed tell me.
The premiere is what I really wanted to hear about and Chris remembers it well – and fondly. It seems they had quite a night. "We showed it that night in Squaw Valley and we ended up, I mean, possibly destroying a rental car. I can't recall. It's kind of hazy. It was just Stump and I. We had such a great time showing it and then you get responses like that, (IMBA complaints) it was like, are you frigging kidding me? And Stumpy was pissed." But Murphy's hands were tied; "If I wanted to get something out, we had spent a lot of time and money on it and Stump has gotten a lot of great work and we really wanted to have something that was fun and entertaining out there. So if it took making those edits to make it happen, just to get it out there, you know, that's what we had to do."
According to Murphy, re-shooting was never on the table. "There was no reshoot. It was like, was scrap it or clean it up. And so it was like 'this guy trenching down this stream so let's take this 10 seconds out of it,' you know, it was, it was more of a network censor thing, you can't show this four seconds you know?"
Pulp Traction was released to Specialized dealers. I've heard that it was to be given to riders who purchased Specialized bikes but likely most copies were put on shelves to be sold. And the movie didn't get the kind of promotion it might have had; "we put out the poster and the dealers all got it, but it didn't get the full push that, you know, after all the hoopla about it, you know, it should have been super crushing. Good movie, you know?" The movie was certainly distributed and sold, and continues to be sold (I just bought a copy on Amazon) online, and is destined to become a collector's piece.
Unfortunately Darcy Turenne's movie sustained collateral damage because of these revelations. By the time I spoke to Chris Murphy the film was too deep in production for any changes to occur, and the movie opens with Greg Stump retelling the very same story he related to me. I asked Darcy about her reaction after discovering there was an alternate version to Greg's story; "F_ _ _. Only repeated about 10 times. I found out a week after "The Moment" had been set in picture lock (i.e. no edits can be made) and it was almost en-route to the distributor… so it complicated things for me quite a bit because accuracy was such a huge goal of mine in making this film."
I never had a sense that Greg was consciously telling an inaccurate story and neither did Darcy. "He said he smoked too much B.C. weed in the 90's and forgot all about it! Haha. He apologized profusely and felt terrible because he is a filmmaker and knows that this kind of thing never turns out well."

Greg's story is so good that you want to believe it. And Darcy figures he fell victim to this same tendency; "I think what happened is that Stumpy started believing his own sensationalized narrative because he probably got a lot of positive affirmation from it. People liked the story (it's an AMAZING story), and he liked the story, and he started believing it exactly as he told it — exaggerations and all. I mean, when you meet Greg and speak with him it's impossible not to believe. He's a larger than life character and with that, you assume he has larger than life stories! And parts of it were true…just not as accurate as he thought they were. Other people like Christian started adopting the narrative like it was their own because they liked it and it suited their perception of who Stumpy was: a renegade filmmaker hero. I just read a study about how as humans we believe obvious false claims to be true if we tell ourselves that they are true repeatedly enough. I mean, how many religious doctrines are super engrained into our social fabric that are likely very untrue but people take them to be sacred? This is one of those cases I think."
There is a pleasing symmetry to The Moment with the addition of Stumpy's mea culpa and the original intro from Pulp Traction after the credits, but Darcy wishes it had gone differently. "I appreciate Stumpy really stepping up and taking the time to film a redaction immediately, but this whole situation was actually quite stressful and frustrating in terms of timing. I wish I hadn't relied on Christian as my primary fact corroborator for that story because his primary knowledge source had been Stumpy in the first place! However, everyone else we asked had the same story too (probably also coming from Stumpy or Christian…like a 20 year game of telephone). Next time I need to step up my fact-checking game."
"Moral of the story: If it sounds larger than life, it probably is ;) Even if it comes from a wildly entertaining individual."

Like my buddy Tunë, the source of my copy of Pulp Traction twenty years ago, Greg Stump is an amazing storyteller, and I for one hope he keeps telling great stories.
Long Live Stumpy.

---
If you'd like to watch Pulp Traction - check it out here...