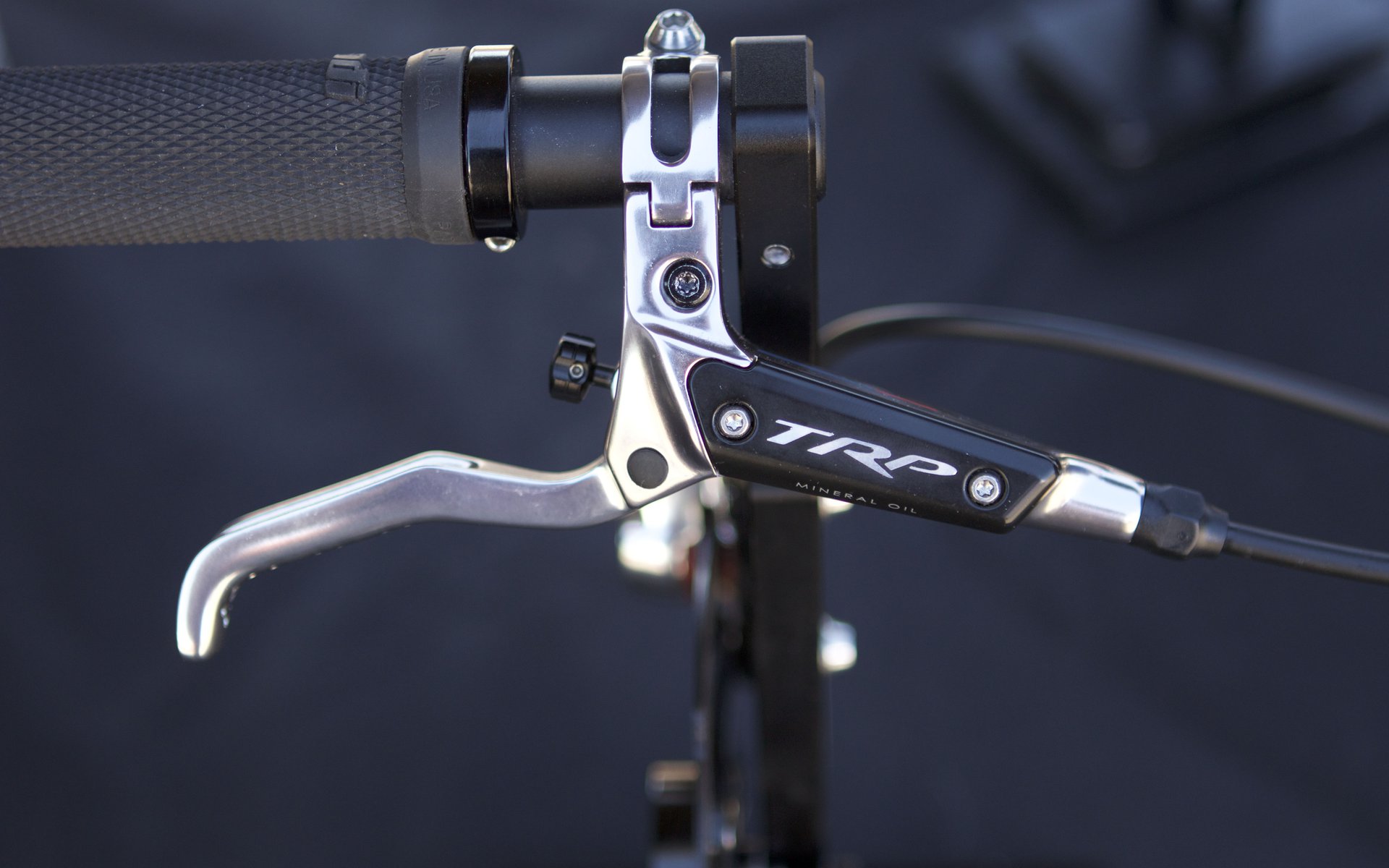 Aaron Gwin's Brake
TRP Quadiem G-Spec Brakes
It seemed to many of us that TRP brakes came out of nowhere. All of a sudden the best downhiller racer in the world was on a brake brand nobody had heard of. The way the guys at TRP tell it Aaron was trying a bunch of different brakes as he was going on his own and setting up his own program and, after asking for a few modifications, Aaron chose the TRP G-Spec Quadiem model. Knowing how business savvy Aaron Gwin is there was likely a dollar value attached to that choice. And considering he says he stands to earn a million US dollars this year, it was likely more than the average American makes from January to December.
There's no point being cynical about it though because without brakes that perform at the very highest level you aren't going to bang off a world cup top 20, let alone win the overall twice in a row. Since he's been running TRP brakes the lowest Aaron Gwin has finished in the overall is... 1st. 
So who is TRP? They are Tektro's AMG; the brand the Taiwanese brand launched to distance themselves from brakes found sometimes found on department store bikes or high end bikes for big box retailers. Tektro will tell you they have the kind of output required to push volume and consistency, but they also have the expertise to make an elite level product. In fact almost every part on these brakes is made in house; including the rotors, finish and engraving. 
Dave at Tektro was quick to give credit to Gwin for the current state of the product. Aaron is fussy about his equipment and the first thing he did was make changes to every element of the lever. The hook, the surface of the blade and every curve. The current lever on the top two models is Gwin's lever. 

When most companies bring a new version of a product to market, like XT brakes or XX1 cranks, that product remains unchanged until the next iteration is released. Because of Tektro's size and manufacturing power, their brakes evolve constantly. If a refinement is proven it's immediately incorporated, the way software is supposed to work. 
It turns out it's incredibly difficult to produce hydraulic disc brakes that perform well consistently. A dud set from the best manufacturers is not an infrequent occurrence and most of the best models from every brand have some sort of non-fatal flaw; overheating prematurely, failing to allow volume to adjust and accommodate pad wear, and the most frequent flaw of all, allowing air to enter the system fouling the bleed. If, despite all these common pitfalls, TRP has managed to make the jump to the top performance rung as seamlessly as it appears it's likely they could eventually be a market leader. 
TRP wants to send us some test product and we aren't quite sure what we'd like. The Quadiem, Gwin's model, has been tested by a few other publications but it would be interesting to see if they make mortals go faster as well. The Slate T4 appears to be incredibly good value so maybe that's the one?
Which would you like to see us test? Let us know and we'll pick one commenter to win a Stevie Smith sticker pack,