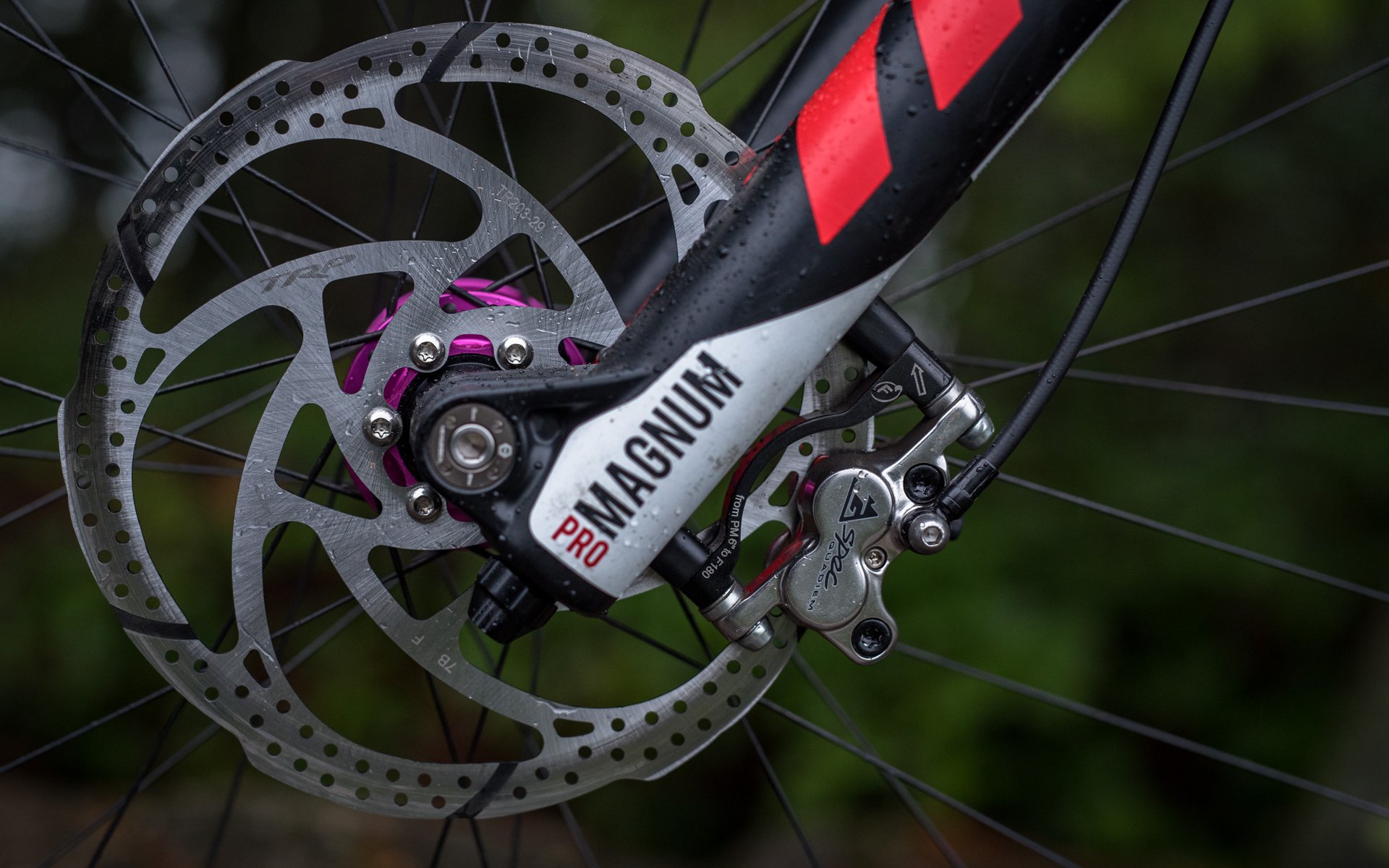 REVIEW
TRP Quadiem Brakes - (Gwin's Brakes!)
Deja Vu
From the early 'spy shot*' releases to my first gentle test squeeze of the oh-so-long lever blades, the TRP Quadiem is a product I lusted to try on the trail. It's a deja vu scenario dating back to some custom brakes a customer had built using Shimano Saint M800 (non-Servo Wave) master cylinders, generously hooked Straitline lever blades, and Saint M810 four-piston calipers.
I know it was a different time with different expectations but my brief experiences with those brakes, coupled with the complete teardown serviceability, obvious manufacturing quality, and adherence to proliferating mineral oil dogma** had me rubbing my hands together like a villain.
*<<all the laughter>>
**welcome to the party Hayes and Formula
Tektro is well known for manufacturing a plethora of good budget bicycle brakes including some very Shimano-esque disc brake systems. On the other hand, TRP, or Tektro Racing Products, has long been an industry joke along the lines of Huffy having bikes with 'Pro' in the name or Cannondale trademarking Freeride when locally they were known as 'Crack-And-Fail.'
I've been regularly noticing these brakes on bikes when I'm out on the trail with very positive feedback from riders. Between that and Gwin I'm sure the TRP marketing department has considered the slogan "who's laughing now?"
Teardown
Along with my friend Jeff of Bikeroom, and now WheelThing, I tore these Quadiems down to the piston bands back in November. I came away very impressed and if you missed it the piece is right here.
I had a couple key takeaways, both complimentary, that I carry forward to this review:
1) They look like original Shimano M755 4-pot disc brakes on steroids (a good thing).
2) The design and features could have been crowd-sourced from the crew I ride with (a great thing).
With the obvious exceptions of Hope and SRAM, mineral oil has become the brake fluid of choice in the bike industry. Tektro fluid is apparently interchangeable with Shimano (I mean heck, they're both pink, right?) and also available through stocking dealers and direct from Tektro.
These are easy brakes to bleed whether done Shimano-style using a bucket at the master cylinder, completely removing the master cylinder cap or Avid-style as Jeff used in our teardown.
For the record, following up from the teardown, I'm not saying there are non-TRP brake fittings that work with the system if factory fittings are not available.
Setup
Shimano and SRAM do themselves a huge favour with brake design when it comes to getting OE spec. They've come up with ways, Servo Wave and Swinglink respectively, to position pads further from the rotor for drag-free, but not necessarily optimized, setup.
Setting up the Quadiem was similar to my experiences with Formula's ROR and any Magura four-piston caliper. With the pads pushed back in the calipers, I center the caliper over the rotor and then cycle the brake, pushing back whichever piston is contacting first, until everything is retracting perfectly.
For my first ride, the wheels were spinning perfectly but there was still a faint pad-on-rotor sound which went away after the first good descent. Through my test period, I've had to reset the pistons on the rear brake one time which is at worst on par with any other four-piston caliper I've used out back. The TRP calipers are impressively out of mind when riding.
Modulation and pressure are both excellent. I have relatively small hands and with the brake levers positioned to my liking I did sometimes long for the more generous hook of Magura brakes. I compromised by adjusting the TRP lever blade reach out a little further than my usual preference and leveling the brake levers some.
Anyone who isn't wearing at least a men's large glove will want to test ride before committing to these brakes. On the flip side if you have big meat hooks, then welcome home. Once I had the level and starting position dialed I had no complaints.
Compatibility
TRP offers shifter mounts for I-Spec, I-Spec II, and MatchMaker. Additionally, I had no clearance issues with most dropper remotes and both SRAM and Shimano shifters.
The one exception that I came across was the stock shifter-style remote on the Race Face Aeffect dropper post I'm testing. In order for the lever to have adequate throw, it has to be positioned so far inwards that using the post becomes a very deliberate action.
This is probably a minor issue that would affect a tiny fraction of riders who own an Aeffect post, haven't upgraded to Race Face's much nicer Turbine dropper remote (or an equivalent option), and are buying a set of Quadiem brakes. Compatibility is however a potential issue so be aware that not everything works with everything.
Also, a note that with the levers being quite long, the master cylinders need to be positioned quite inwards relative to grips to achieve the best position for one-finger braking. I don't know anyone running bars so narrow, or who has so much stuff on their cockpit, that this would be an issue but I'm constantly surprised.
Upgrades & Whingeing
I'd pay good money to buy a carbon fiber version of only two bicycle products: Magura HC and TRP Quadiem lever blades. If I had to pick one it would absolutely be the TRP brakes.
I'm not trying to save 5 grams. Carbon brake levers are vastly more pleasant on really cold days. The silver polished TRP levers make these absolutely the coldest blades I've pulled on in memory.
The G-Spec Quadiems look amazing but I'd be curious to try the standard model on a below-zero day to see if I notice a difference. It could also be a matter of surface area but all the black levers (Shimano, SRAM, Magura, Formula) I've ridden are less painful in the cold.
Brilliantly, the TRP Quadiem brake pads are interchangeable with non-finned Shimano Saint and Zee pads. Big ups to TRP for giving up proprietary replacement part dollars to ensure customers can buy pads everywhere. Less brilliantly, the stock pads reflect poorly on the system. With my standard break-in procedure and a half dozen rides, there was still a disconnect between the pressure the system delivers and the amount of friction I was getting at the wheel.
I'm not going to simplify it as sintered vs. organic pads. Try a set of Magura 'Race' pads and tell me again how organic pads suck, but in this case, a pair of Shimano sintered pads up front brought braking to life. The TRP pads last impressively long and work fine out back so it's not like the set off the front will go to waste.
Lastly, it has never bothered me while riding, even solo at night when I can hear pine needles fall, but there is a lot of pad movement in the caliper when doing a standing brake check. It would not keep me from buying a set of Quadiem brakes, and I consider myself picky, but I have some truly persnickety friends who would go insane. Insane.
Potential Rider
Riders who don't care about brake fluid can stack the Quadiem up against fully rebuildable DOT fluid DH brakes like the SRAM Code and the Hope V4. Those brakes are both excellent. Hope does a legendary job of supplying small replacement parts and SRAM is certainly trying.
How does the Quadiem compare? I love the Hope V4 so brake fluid aside it would be my choice for a reasonable extra expense. I do most of my own work and I find mineral oil more pleasant to handle at home so the Quadiem comes out on top. Anyone who isn't in the practice of stocking wear items - like pads and rotors - is going to want to go with the Quadiem or Code for the sheer availability of last-minute replacement parts.
Also note the aforementioned warning for those who wear size large gloves are larger.

Definite Rider
Put a finger on that long-ass lever blade and give it a pull. No magic tricks, it's just the pads contacting a rotor and the harder I gank the harder my bike stops. There's no mush and modulating power is natural. It's a beautiful thing.
It's currently the only brake-system that ticks all these boxes: mineral oil, four-piston calipers, and fully rebuildable. Couple the serviceability, compatibility with Shimano pads and fluid, and the superior feel of non-Servo-Wave and that leaves only the slightly more involved drag-free initial setup as the only reason I see to buy Saint or Zee over these.

TRP could probably grab a few more customers, and simplify setup, by offering a 2-piston caliper that riders could run out back for trail usage and I'll reiterate the call for a carbon blade option for cold riders. I'd like to see a change in the lever shape or a second lever available before these brakes start popping up as OE-spec and I guarantee they are going to because they're awesome.
I've met a handful of people riding them and everyone has been equally impressed with the performance so I'm feeling comfortable recommending them as an option beyond my limited sample size of one great system.
For more information on the 400 USD TRP Quadiem G-Spec brake set please click here. For the same feel, power, and performance with a less Gucci finish please check out the 300 USD TRP Quadiem brake set here.