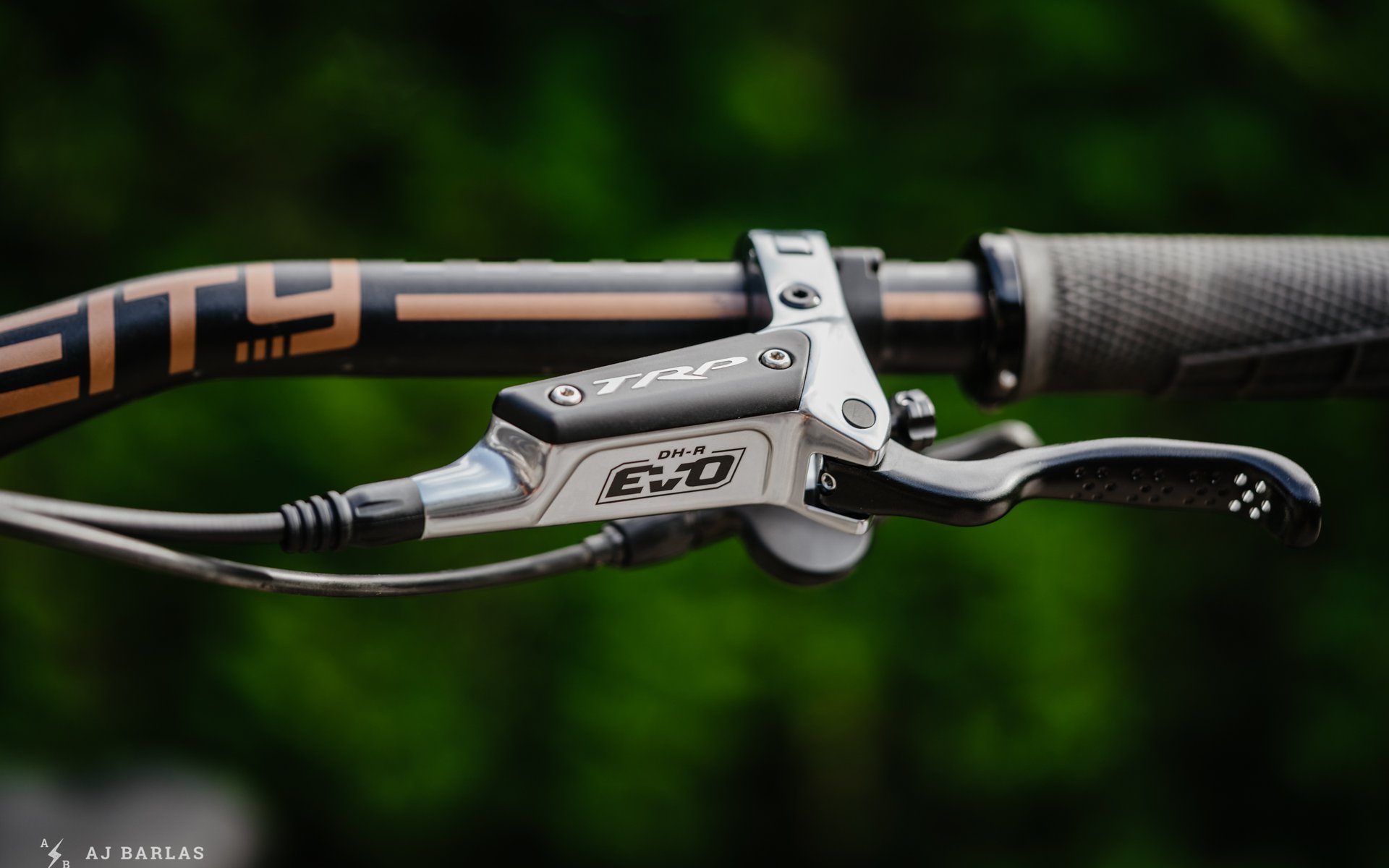 4-Piston Brake Review
TRP DH-R Evo Brake Review
TRP may not be a new name to you by this point. We've featured several of their brakes and they've been steadily building their presence on the World Cup Circuit. Aaron Gwin first brought much of the attention when he began using them and now he's been joined by his Intense Factory Racing teammates. But now TRP can be found on the factory team bikes of other World Cup teams, including Scott Factory Racing, The YT Mob and Commencal 100.
Their latest release, the DH-R Evo is the brake choice of these downhill teams. On the outside, they look almost identical to the DHR and don't differ much from the Quadiem but TRP claims there are quite a few differences. I enjoyed the feel and consistency of both the TRP Slate T4 trail brakes and Quadiem DH brake but they lacked initial bite and required more effort to pull power from. I was hopeful TRP's changes might fix those issues, while remaining consistent when things get wild.
Features:
Tool-free lever reach adjust
Four-piston calliper
Mineral oil
2.3mm thick rotors

Most standard rotors are 1.8mm thick

Thinner and stiffer, 5mm thick hose
Improved oil flow
New "performance resin" pads stock in brake

Metallic and regular resin pads available

Steel/ceramic hybrid piston material
Weight: 662g w/o rotors (full 1,900mm hose length front and rear)

Brake Lever – 133g/side
Brake Caliper w/ 1900mm Line – 198g
Rotors – 274g (223mm) / 244g (203mm) / 189g (180mm)

MSRP: 229.99 USD w/o rotors
The Updates
Development of the DH-R Evo brakes started after Neko Mulally of Intense Factory Racing got his mitts on a set of development e-bike brakes. They featured 2.3mm x 223mm rotors and Neko enjoyed them so much that Gwin had to give them a try. He got along with the performance as well and TRP began developing the DH-R Evo, working closely with World Cup Downhill teams and doing heaps of testing.
Two years later, what started as tweaks to their eMTB brake turned into somewhat of an overhaul for aggressive riding. You'd be mistaken to think all that's changed from the DHR or Quadiem is bigger rotors, which I wondered about when they first launched. Yes, the rotors are thicker and TRP is pushing the larger 223mm size but it's only a small part of the changes. To improve the brakes, TRP made the lever feel lighter, access to the power easier while increasing power and improving heat management. Improving cooling is something I heard many times when chatting with TRP and almost every update has some effect on it.
To improve lever feel, TRP started by moving to a smaller 9mm piston, down from the 10mm pistons in the master cylinders of the DHR and Quadiem brakes. I asked TRP why they went smaller here and was informed that the smaller piston increases the force in the system. In the calliper, the opposite is true; four 16mm hybrid ceramic/stainless pistons remain. This combination results in less pressure to bring the brakes to attention, something that was clear the first time I squeezed the lever. The new Hayes Dominion also features a 9mm master cylinder piston and similar, light access to the power.
At the calliper, oil flow was improved by smoothing out the path it travels through. This smoother routing helps prevent chokepoints as the fluid is pushed through and released. Removing some of the nooks also helps with the bleeding process, eliminating places for air to hide. It also translates to less drag through the system, improving piston response. The new calliper internals also increase oil volume, improving heat management. TRP also noted a new mineral oil formula has increased the boiling point and making it thinner allows it to move through the system with less effort. It may look the same as Shimano's or TRP's old stuff but I was told that's not the case.
Housing the new oil is a new, slimmer 5mm hose. TRP previously used a 5.5mm hose but found with internal cable routing, it could be trickier to feed through frames. The new hose is constructed with a new compound, consisting of a stronger nylon wrap. Together, TRP says these make the line stiffer, more efficiently transferring pressure to the calliper. The new nylon being used is also said to improve heat management. Initially I was concerned the thinner hose might display the flimsy feel and poor durability of other brakes with smaller diameter lines, but these feel tough and durable and have lived up to that in performance.
Stock, the new brakes are fitted with pads featuring what TRP is referring to as a "performance resin compound." I've removed resin pads from my bikes in the past because of a lack of bite and power but these are a different beast. TRP claims the pads were developed for a number of reasons, including a faster bed-in process to help with feel on shop floors. They also provide more initial bite with an even, linear curve to the power delivery. The material consists of smaller pours to improve heat management – less air being caught in the material – and is harder than their other resin (red) brake pads. TRP claim that outside of really wet races, most of their World Cup Downhill athletes are using the performance resin (blue) pad in the front and the sintered pad in the rear. This provides a mix of bite at the front wheel with the greater heat management required for a rear brake pad.
Lastly, and the most obvious update is the larger rotors. The DH-R Evo is designed around a 2.3mm rotor, which TRP claims provides a 47% increase in stiffness. Moving to a thicker rotor provides more material to dissipate heat to improve… you guessed it, heat management. The increased thickness also provides more stiffness so the 223mm rotor can withstand abuse. TRP says the brakes will work with regular rotor widths too if you need a replacement in a pinch and can't source a 2.3mm option.
Enough Tech: Practical Matters
Newer to TRP is their EZ plug system, which is supposed to speed up the initial setup process. The EZ plug allows TRP to provide customers with a full factory bled brake that when carefully installed, should provide a great experience. I took care during installation to maintain the factory bleed and with minimal purging at the lever during installation, achieved excellent feel. Over the past three-plus months and 700km on the Evos, there's been no need for a follow-up bleed. The stock resin pads wore down enough before switching to the sintered option that if I had continued with them, a fluid top-up would have been necessary to keep my preferred lever feel. The resin pads are at about 50% and most of the testing was done with them.
If I'd had to perform a more involved bleed since installation, I would have said the initial care during setup outweighed the benefits. But given my success with the brakes since, it's worth trying out. From the start, the lever feel has been excellent, the most notable characteristic being the light action. Before getting touchy-feely with Hayes Dominion levers and now the DH-R Evo, I didn't have any problems with the lever feel of Shimano or SRAM brakes, but the light actuation is great, especially considering the power it harnesses.
And power there is. Coming straight from the excellent Shimano SLX four-piston brakes (M7120) to these, I wasn't expecting the Evos to offer a large benefit but they offer at least as much power. The delivery of that power is where these excel but it's quite different and took a few rides to adjust to. During my second ride with the new brakes, I hit Somewhere Over There in Squamish where I'd ridden on my last outing with the Shimanos. Conditions were dry and loose and the light lever action combined with the power and bite caught me off-guard on one memorable occasion.
Motoring into a section with excess confidence, I found myself having to dump speed quickly or I'd be getting uncomfortably familiar with the trees lining the trail. The section featured some roots that tossed the bike about and my overly enthusiastic approach meant braking heavily on a hard, dusty rock rather than the usual sticky granite found around Squamish. With the dust on the surface and the hurried grab at the lever, I thought I was doomed, but the bike quickly slowed to a manageable pace. If I'd been on other brakes, I wouldn't have stopped and most definitely would have broken traction. Not only that, the brakes allowed for a smooth continuation, as if nothing had happened.
The power and light lever feel of the DH-R Evo made me change my braking strategy. I have a habit of lightly dragging my brakes longer than needed as I approach corners or features, before fully jumping on them. I'm not sure why I do it but I know others have the same issue. With the TRP Evos, I found myself coming into corners and features I know well, too slow. I began focusing on a more on-off approach to my braking, which has been great. They've allowed for more confidence when riding committed, braking purposefully when needed and staying completely off them anywhere else.
Before the SLX brakes, I'd been on the TRP Quadiem and I've also been impressed by the smaller, less expensive TRP Slate T4 but neither of these offered easy access to loads of power, and required more hand strength. Where they excelled was in consistency and feel. On the longest most demanding descents in high summer they were always there with no change in lever feel. This TRP brake retains that consistency but now there's bite and heaps of power to back it up.
Bring Out the Big Dogs
Until this point I'd been riding standard 203mm front and 180mm rear rotors. Before switching to the larger rotors, I spent a rather hot day – 30+C degrees – sliding down one of the steeper lines in my hometown of Squamish. This was a situation that required a more consistent drag on the brakes than I had been trying to achieve. The delivery and control of power was reassuring and I wanted to let go for longer, letting the speeds get higher between each jump on the anchors. Riding like this hasn't been possible for me on this trail before because hitting the brakes so hard in the loose conditions would cause chaos. The way power can be controlled with these brakes can't be over-stated – they're really flippin' good.
At the bottom of the trail, I briefly checked everything over and found discolouration on the front and rear rotors from excess heat – which usually happens at 250–316ºC. Amazingly, there was no rotor warping, and everything remained silent. The only rotor I've had that didn't discolour in these conditions has been the Shimano Ice Tech with the black alloy carrier, but they still rubbed the pads when things got heated.
After a few rides on the larger 223mm/203mm rotors I returned to the steeper line I'd ridden earlier, in similar conditions. After arriving at the bottom of the trail I looked down at the rotors to see if they too had discoloured. There was nothing. Performance with the larger rotors was remarkable. The seemingly effortless ability to slow the bike and control the power made riding the steep loose line easier than it's ever been. Conditions on the trail were actually worse this time around, with more loose baby heads and deep dust all the way down. Having the ability to control the speed so easily and effectively sold me on the brakes and bigger rotors solidified my conclusion.
A recent ride in Pemberton backed up my experience in the super dusty conditions. On lines where even in ideal, hero dirt conditions I'm normally stressed, I cruised down with little concern despite surprise ice and wet spots in lines that used to terrify me. This control and confidence has allowed me to drop into challenging lines and worry about the outcome as it happens. This, all with less stress on the hands and arms, allowing me to maintain strength down an entire run.
I've never experienced hand or arm fatigue with this brake setup. Non-stop runs of Misfire in the Whistler Bike Park fatigued my hands a little with the 203mm/180mm rotor setup with the TRPs, but I wasn't even able to pull a non-stop lap with the SLX brakes. Slapping the larger rotors on the TRPs allowed me to ride that same lap almost completely free of fatigue, although I'd still tire overall from the effort involved on the physical trail.
To be honest, I was hesitant to run the bigger rotors when I began this review and thought I would test them then roll back to the standard size I used to run. The quality and control the DH-R Evo's provide with my previously standard rotor size was excellent and I didn't think it could get much better. But the extra slack effort needed to control the bike with the bigger rotors, on top of the already sensational performance has changed my view; the big dogs are staying put. I was also happy enough with the performance resin pads that there was no hurry to toss in the metallic option. They're really good but the metallics provide a more positive response and less linear feel when hammering on the brakes. TRP mentioned that the metallic pads will deal with heat better but I haven't had any concerns with the stock pads either so for me it comes down to feel. If you're looking for more initial bite with a linear feel, toss in the performance resin. If you're looking for more solid feeling power throughout the stroke, choose metallic.
Conclusions
Each of the staple brakes from SRAM and Shimano provides excellent stopping power. While the TRPs offer at least as much power as the big players, the consistency and reliability of delivery makes these different. They're also easy to work on and there are heaps of setup options available with three pad materials and five rotor sizes to choose from. A set of Shimano pads can even be used in a pinch – though you may want to have a backup of the performance resin pads ready to go.
The TRP DH-R Evo brakes have surprised and impressed me in every situation. No matter what I've thrown at them, they've exceeded expectations. Their light feel, easy access to power and excellent control make them a joy to ride. TRP did their homework with the DH-R Evo and it shows on the trail.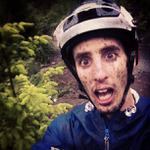 AJ Barlas
Age: 39
Height: 191cm/6'3"
Weight: 73kg/160lbs
Ape Index: 1.037
Inseam: 32"
Trail on Repeat: Changes as often as my mood.
Current Regular: Every test product spends time on Entrail