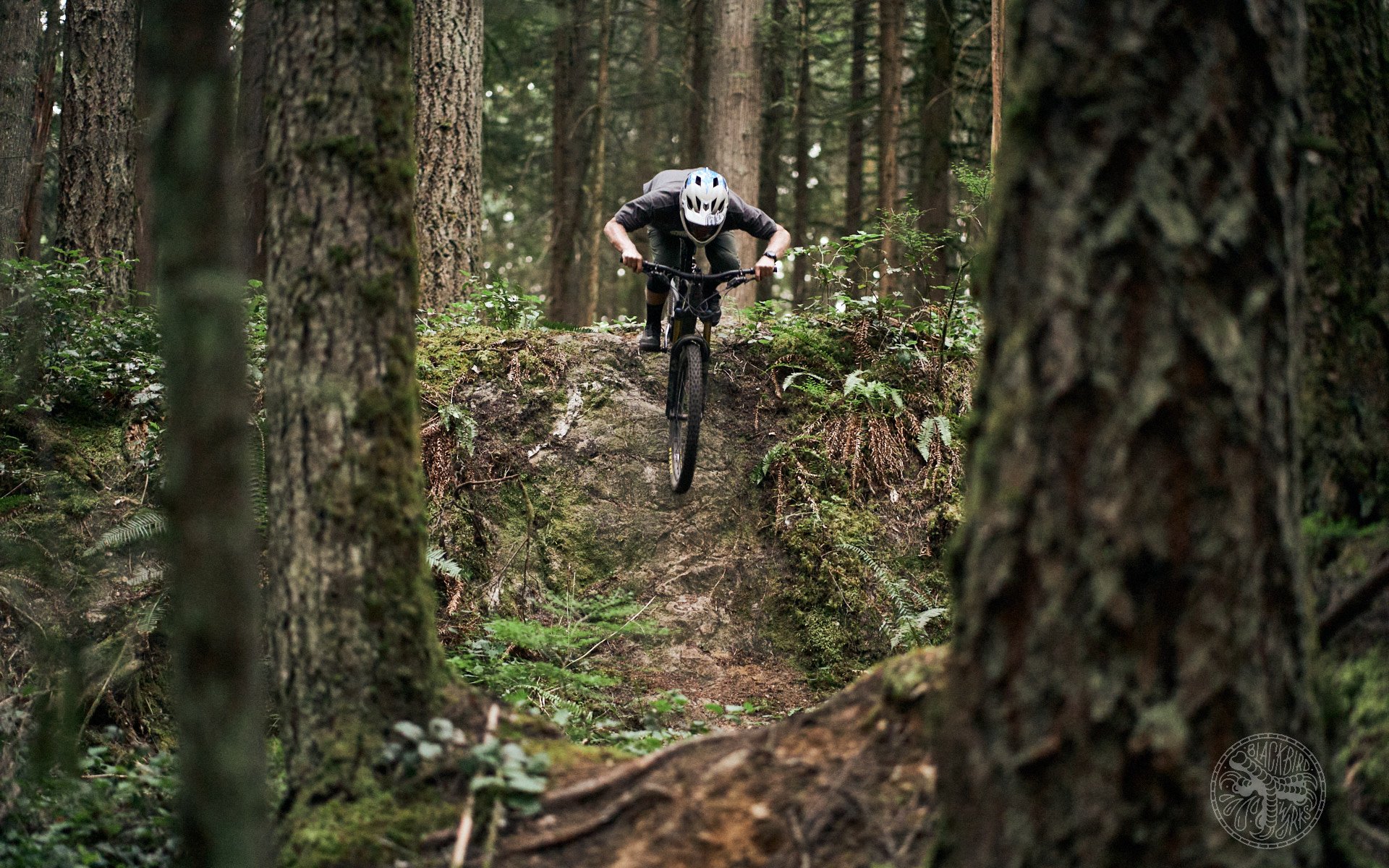 REVIEW
Troy Lee Stage Helmet
I recently reviewed Bell's convertible full face Super Air R and a couple years back I had a look at the Smith Mainline full face helmet. The TLD Stage full face is my favourite helmet of the three for a number of reasons which I will get into in this review.
I would prefer to not wear a helmet at all, which is obviously stupid, so my preference is a half-lid which is also obviously stupid on some of the gnarly stuff I tend to ride. Which brings me to what to wear to cover my scare. I have had concussions wearing both full face and open face lids. What I want the full face for is for my face. I have smacked my cheek on a log and got away with a bruise but I have heard so many stories of jaw breaks, dental work and cheek bone smashes that the fear of my face breaking has me reaching for the face cover. My face doesn't need anymore hindrances than it already has.
Other than the fact that the Stage has met all the right certifications, (CPSC 1203, CE EN1078, ASTM F1952, ASTM F2032, and AS/NZS 2063-2008) this helmet has two main features that make it stand out among the competition: it's light (TLD claimed 690g for M/L) and has ample venting (11 intakes and 14 exhaust ports). The helmet is intended for trail and enduro use with TLD recommending one of their DH specific helmets for downhilling and bike park riding.
The Polylite shell is fibre reinforced. It combines low density EPP with high density EPS. According to TLD, "The lower density EPP should increase the impact time of smaller hits, reducing the force on your brain and thus injury. In harder crashes the higher density EPS is intended to absorb the energy that the first layer can't handle." On top of all that material MIPS is used to deal with off-axis/rotational impacts.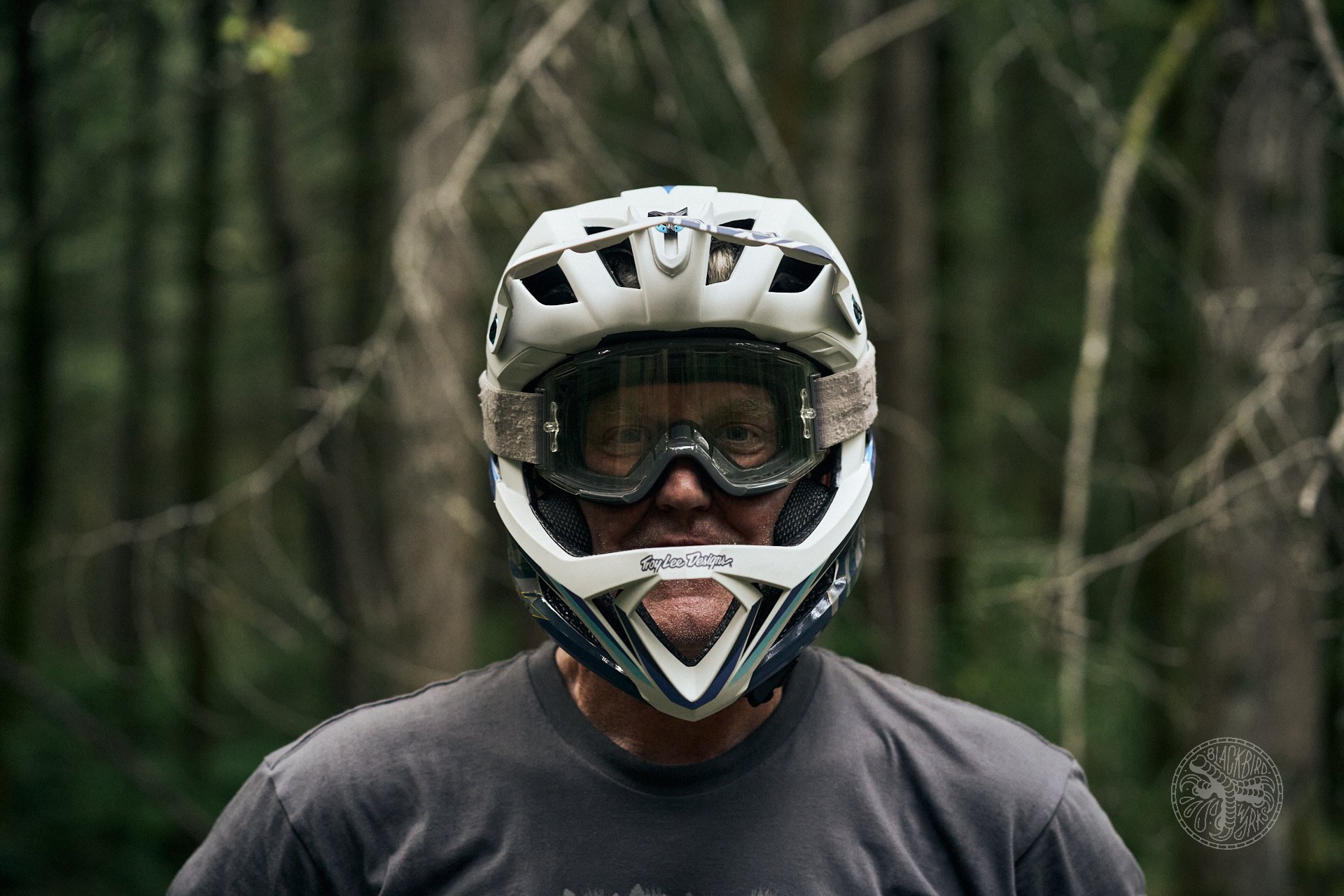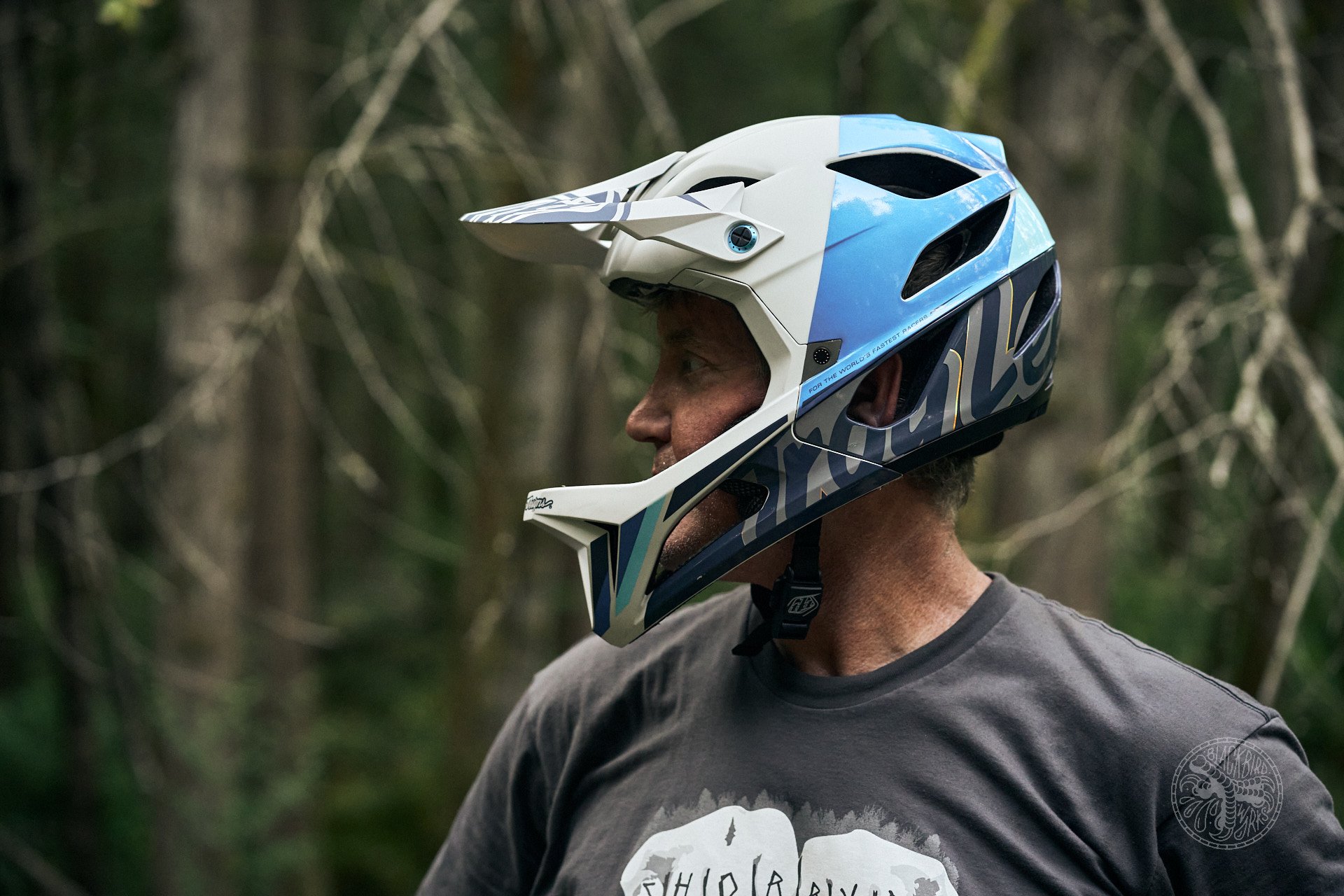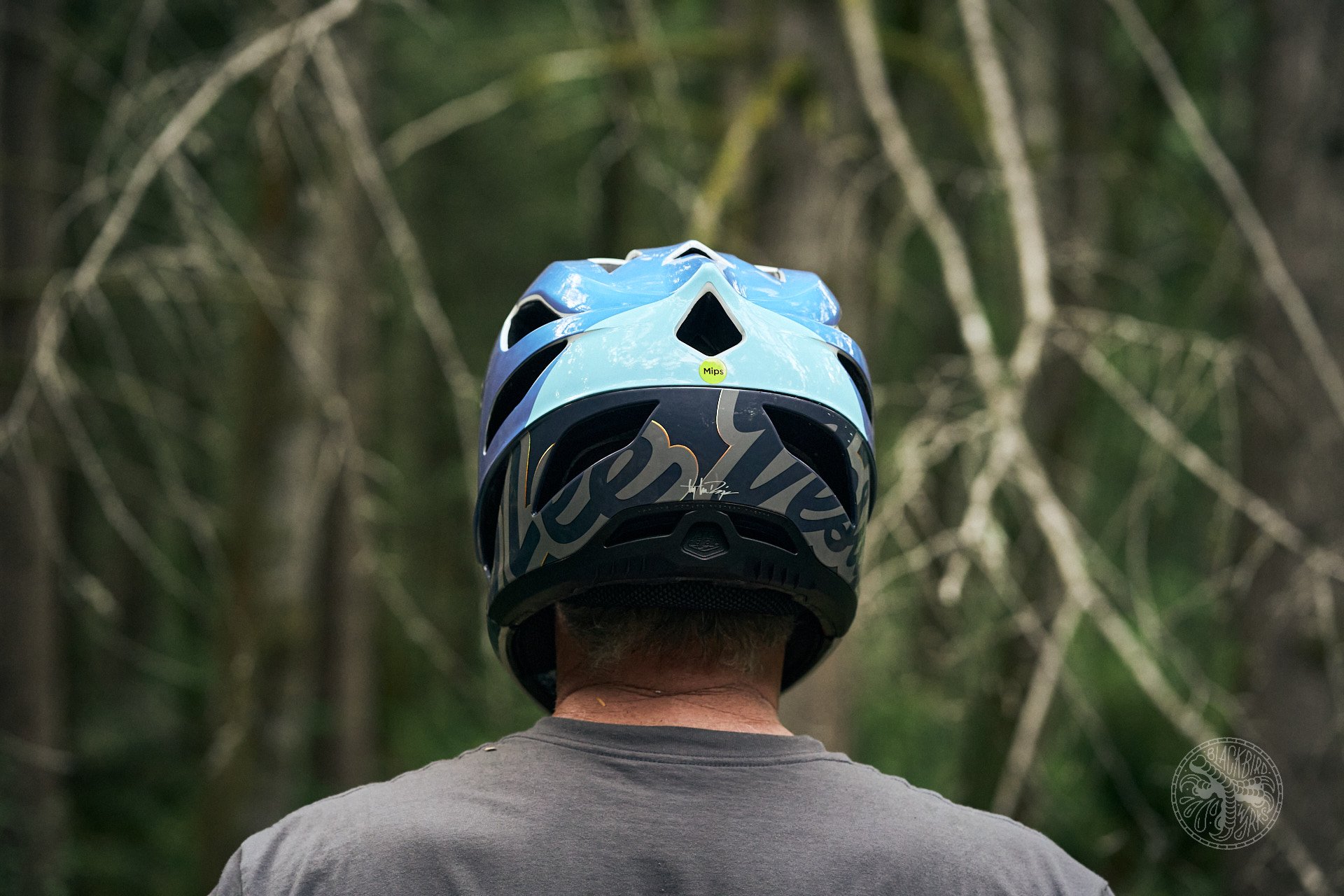 The 3 sizes work according to my LBS, Obsession Bikes, that sells a lot of them, however 4 sizes would make it an even better fit for those noggins on the cusp of each size. Not an issue for me as the M/L fit my 59 cm head quite well. TLD provides 3 jaw pads (15mm,25mm/35mm), two neck roll pads (25mm/15mm) and two liners (10mm/13mm): all to help with fit.
I wanted to use the 25mm jawpads because the 35mm pads push a bit into my cheeks. The problem was that when I pushed the helmet for and aft as well as side to side, the jaw piece contacted my cheeks and chin a fair bit more than with the 35 mm pads. Both pads rest over my earlobe which I found to be a slight annoyance at first but it became unnoticeable over the course of the ride. The pressure on my cheeks is a slight discomfort that also goes away as the ride gets longer.
Ex TLD global category manager and still legend Stickman has a comprehensive and useful fit and padding guide.
The pad and liner fabric is X-Static tech used to avoid static electricity. The material on the pads and liners is touted as moisture wicking and odour reducing. I had no issues with odour and the brow liner was okay with keeping sweat out off my face but like all brow liners, there isn't much that can be done with the amount of sweat my mug produces.
The 11 well-sized intakes and 14 vents really kept me cool. The large mouth vent that is 3 finger widths (ya I tested it) away from my gob made breathing on the climbs as easy and minimally obstructed as I need. One of the advantages of these vents is what TLD claims as enhanced acoustics. "In the early testing days, we had a set criteria of features, one is being able to have the same acoustics as an open face, being able to hear your friends on a longer ride, conversing, aka-being able to hear everything. Once we got the helmet on more riders, dealers, customers, they really like this feature, to hear, and give a feeling like an open face." Personally, I prefer to drown out the sound of some of my yack-too-much-on-the-downs bike buddies but this engineering for hearing is a distinct advantage of the Stealth over the Mainline and all DH helmets I have worn.
Ironically, the day after writing this I was wearing a beanie for the cold under the Stage and tequilla maestro/Nsmb writer Ryan Walters asked me a question while we were standing around. I didn't hear what he said which was," What's the hearing like on that lid?" I blame it on ADD and beanie over ears sound blockage because normally the hearing is great. Or maybe Ryan's voice is on the mute hit list for my brain?
The Fidlock buckle works so easily, it makes me wish all helmets had them. The D-ring fastener on the Smith Mainline is probably better in a crash but what a pain it is to fiddle with. It makes me appreciate the Fidlock even more. There were times while using a D-ring fastener on hot days that I would get a claustrophobic moment when I needed the helmet off immediately but the D-ring denied fast removal. This is not an issue with the Fidlock.
The visor is easily adjusted using a 3 pronged wing nut. The stock bolt that came on the helmet would not screw all the way down for some reason. I swapped it out with the spare that came in the box (bolt in a box) which solved the problem. The side screws are tagged 'Smart screws'. They are plastic breakaway screws with anodized alloy washers. I guess that seems like a smart idea. Should the Fidlock buckle be a smart buckle? The vents smart vents? Can you tell I am a little bit done with labelling products smart?
Bottom line
The helmet works great on the downs and the ups, it is light, breezy, comfortable, well-fitted for me, stocked with several useful features and personally I think it looks great.
9 different colours (my tester is called slate blue) are available.
Normal price: 400 CAD, some models are currently on sale at TLD: 225 CAD. More info at TLD.