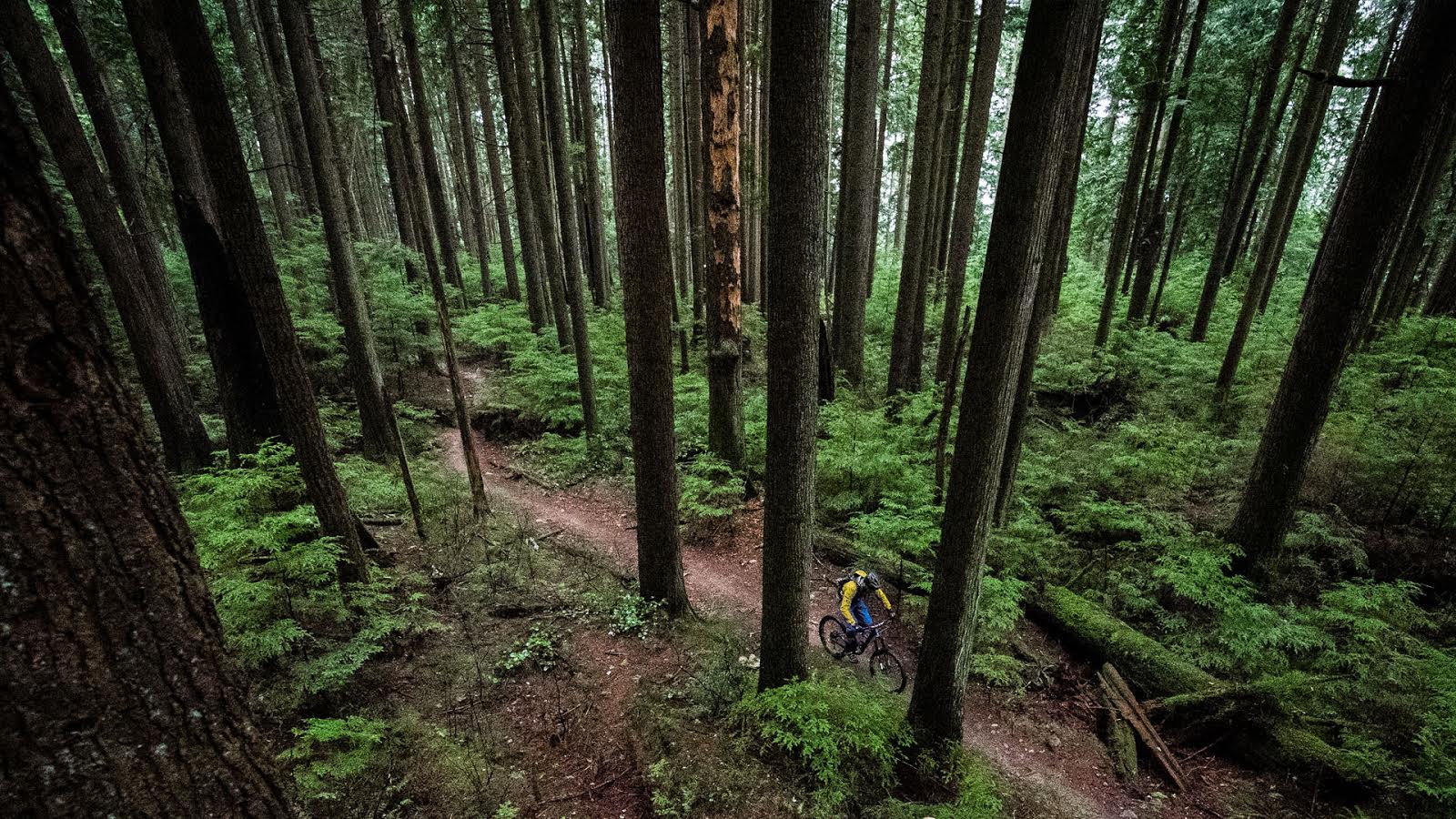 TLD Sprint Jersey and Ruckus Short
Troy Lee, as in Troy Lee Designs, signs off the introduction on his website with "peace and wheelies," a passive and playful tag line that massively understates the brand's influence on racers and riders – both those who want to go fast and those who want to look fast.
I don't fall into either category but I've long appreciated the year-to-year consistency of Troy Lee Designs fit as a rider. Working in shops I was always amazed what a huge percentage of riders were happy with the fit of their gear.
Post ride glow… or is that the highlighter yellow Sprint jersey?
Troy Lee Designs Sprint Jersey
TLD's racing heritage is well represented by the Sprint Jersey evidenced by the massive blank space to pile on all your sponsors' logos. The $65 CAD/ $50 US jersey is a little bright for my taste but you can also pick up the Sprint in all black or red & white . There is no arguing that it is distinctively Troy Lee whether being worn by Fairclough or Semenuk doing something impressive on their bike or me drinking a beer.
Sprinting in the Troy Lee Designs Sprint jersey. Great breathability vs. durability ratio.
Fit is personal but, in my experience, most riders appreciate the contours of TLD kit. With full-length sleeves that stay in place when you push them up and a subtly dropped tail for proper fit on the bike I had no issues with the cut of the Sprint. Strategically placed ventilation make it a reasonable choice for all but the hottest days in the saddle despite the full sleeves. None of my lighter weight layers look as close to new as the TLD after a number of washings and it has held up very well to a few crashes.
Front and rear of two of the three colour choices. There is also an all black version.
The sprint is a great choice if you're getting up to some shuttling or hitting the local bike park on a hot day.
Troy Lee Designs Ruckus Short. Great fit for all day pedaling.
Troy Lee Designs Ruckus Short
The Troy Lee Designs Ruckus short ($175 CAD/$135 US) is  a mic-drop to the All Mountain & Enduro crowd. The shorts feature very durable yet breathable and flexible material, a great cut for riding in and out of the saddle and huge inner thigh vents for days when you're looking for all the air flow your bits can get.
If the short fits – wear it! The Ruckus shorts have held up very well to repeated riding and washing. This is a full featured short with velcro-backed molded rubber waist adjusters and inner thigh ventilation zippers.
Personally I prefer a simpler short sans zippered air flow adjusters but when the long climbs teamed up with hot days, I appreciated them. If you live somewhere really hot I think you will welcome the thigh zips.
The fit of the TLD Ruckus shorts is excellent. I'd prefer a lighter and simpler package without the inner thigh vent zips but if  you live somewhere that really gets hot I completely understand why that's a go-to feature.
Nitpicks.
The velcro-backed molded rubber waist adjusters work entirely as advertised and at least as well as any other shorts using a similar retention system. In truth though I've mostly given up on velcro when it comes to bike gear. I find it often doesn't last as long as the functional life of the garment and it can trash other performance clothing. In a perfect world I'd trade the tabs for belt-loops.
The stock chamois, included with the shorts, was entirely okay. If you're used to a higher performance chamois you may not use it. If you're used to slushing around in cotton tighty whities for hours on end, they're a vast, vast, improvement. This isn't a fault on Troy Lee Designs; it is my experience with all the included chamois liner shorts I've tried.
No quite so bright in moody black and white. TLD Ruckus short and Sprint jersey are excellent in terms of quality and fit.
If you're looking for a well-vented long sleeve jersey that can take a beating – and many washings – the Sprint is a great product. Lots of room for your sponsors' logos as noted. It is not the first jersey that I reach for when I am getting dressed to ride, but I'm happy to wear it when I do.
The Ruckus short is a very good product. I would prefer belt loops and I personally don't  need the inner thigh zips but the quality of construction and the range of motion available is fantastic. These are worth having on your short (and jersey!) list.
---
Are you TLD size?