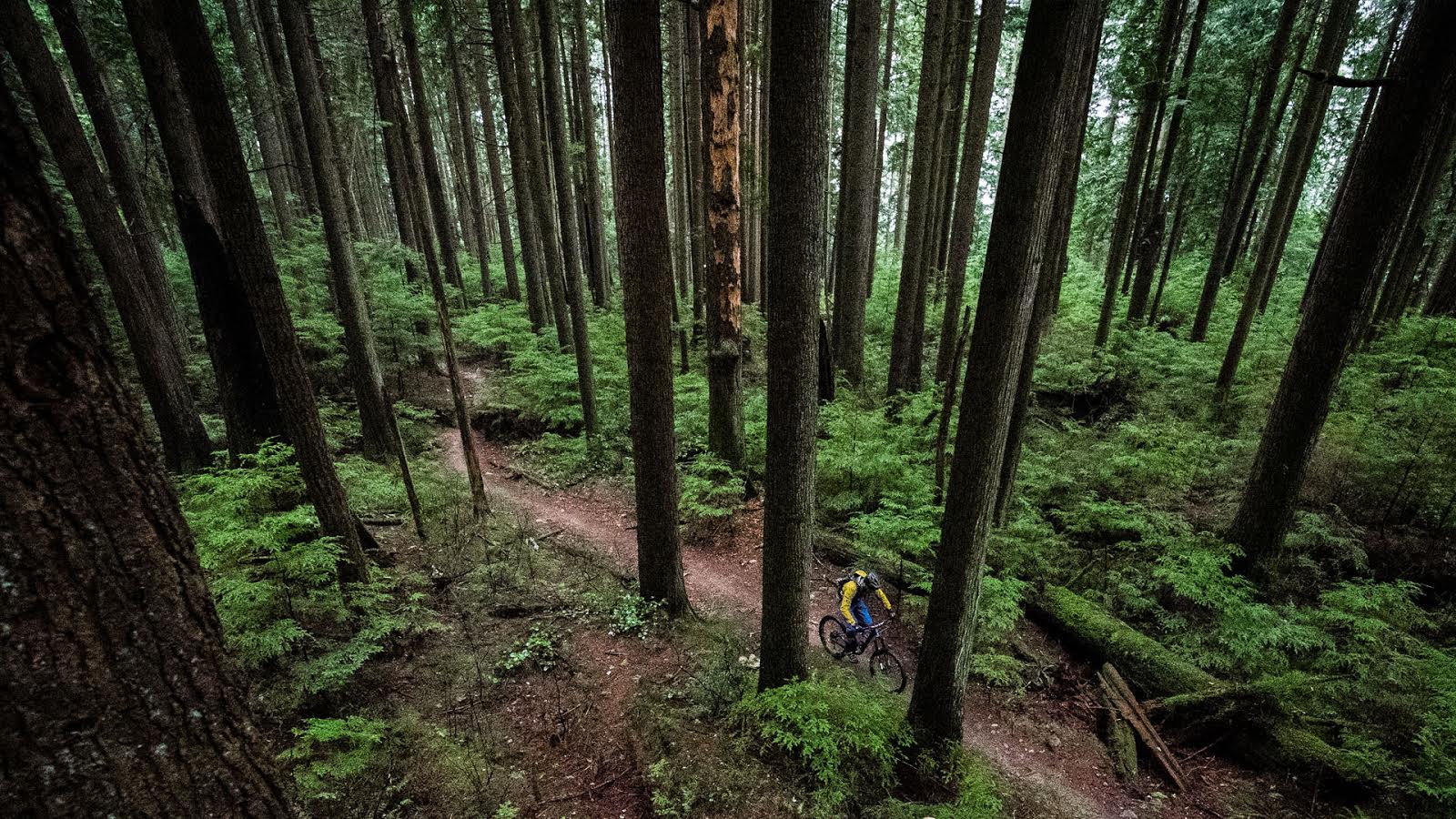 Troy Lee D3
I've always been drawn to Troy Lee helmets, in large part because I think they've always looked the best. In my opinion, Troy Lee has done well with their helmet shapes; they have some of the best paint schemes in the business and are comfortable to wear. I was recently asked to test the Troy Lee D3, in the Berzerk Green colour scheme, and met this opportunity with mixed feelings of excitement and apprehension.
Step one in making yourself look better; cover your face with a Troy Lee D3. Works for me!
Why apprehension? There's a little back story. I had a nasty accident in a D2 many years ago that left me with a concussion; I suffered some short-term memory loss and vowed to never ride my DH bike in a mountain bike helmet again. Truth be told all bicycle helmets in the early 2000's were a bit sketch for the speeds being done on DH bikes at the time. Since then I've had two Troy Lee moto helmets that have served me well for DH racing and riding. I've since had some horrendous accidents in those moto helmets, fully expecting some unplanned nap time, and been pleasantly surprised with the relatively gentle impacts. Maybe my brain is damaged goods, maybe helmets are getting better, my friends likely think it's the former.
Regardless of the angle I think the Troy Lee D3 Berzerk helmet in army green looks awesome
Since then mountain bike helmets have come a long way. Many mountain bike helmets borrow the shell and ample impact absorbing material from moto designs to reduce force transmission to the brain. The D3 has been out for a number of years now but offers substantially better impact protection than the older and slimmer Troy Lee D2. Rumour has it, if it weren't for the vents, the D3 would likely have passed the DOT tests. The standard Troy Lee D3 will set you back $375 USD, or $450 USD for the fancier carbon versions. The D3 now also comes in MIPS versions for even better cranial protection. Troy Lee claims the D3 exceeds the following safety standards; CPSC 1203, CE EN 1078, ASTM F1952, ASTM F2032, and ASTM F2040.
The two tabs sticking out the bottom of the helmet allow for easy removal of the cheek pads. Thus making helmet removal easier (safer) in the event of a neck injury. Hopefully you never need to use those tabs
The Troy Lee D3 offers a profiled rear surface that allows for increased head movement backwards when used with a neck brace. This is a welcome addition for most mountain bikers. I've looked for research material indicating if this increased motion negates the function of the neck brace in the backwards direction, but haven't found any. With my moto helmet and Atlas brace I am regularly bottomed out hard against the brace down steep sections and high load berms. With the D3 the extra range of motion sure is nice.
All padding in the D3 is removable so you can wash your stank out. The helmet strap is a titanium double D-ring, which I've always felt is more secure than a plastic buckle. Through and through the D3 feels like a high-quality piece of kit.
I've had nothing but compliments on the paint scheme of the Berzerk in army green. I'm certainly a big fan
Sizing on the D3 seems a hair smaller than most other Troy Lee helmets I've owned. I'm generally a snug size small in the D2 and moto helmets, but the medium D3 fits me perfectly. Once on my head, the fit is excellent. All of the padding is of high quality and absorbs sweat well. I tried the D3 with a number of goggles and they all fit the helmet well. There is a nice integrated goggle strap groove around back, and a well-sized goggle port.
Once on the trail the D3 feels light and seems to ventilate well considering what appears to be minimal cooling ports
I can't comment on how well the D3 absorbs impacts as I haven't hit the deck wearing it yet. It's hard to fault the D3 in any way other than price. It isn't cheap, but given its handsome looks, excellent fit, top class materials, extra colour matched visor and snazzy helmet bag I think it's easy to justify the price of admission. The D3 is easily my first choice for a full face mountain bike helmet.
I'm looking forward to spending the rest of the summer riding in the D3
---
Is the D3 your kind of bean bling?