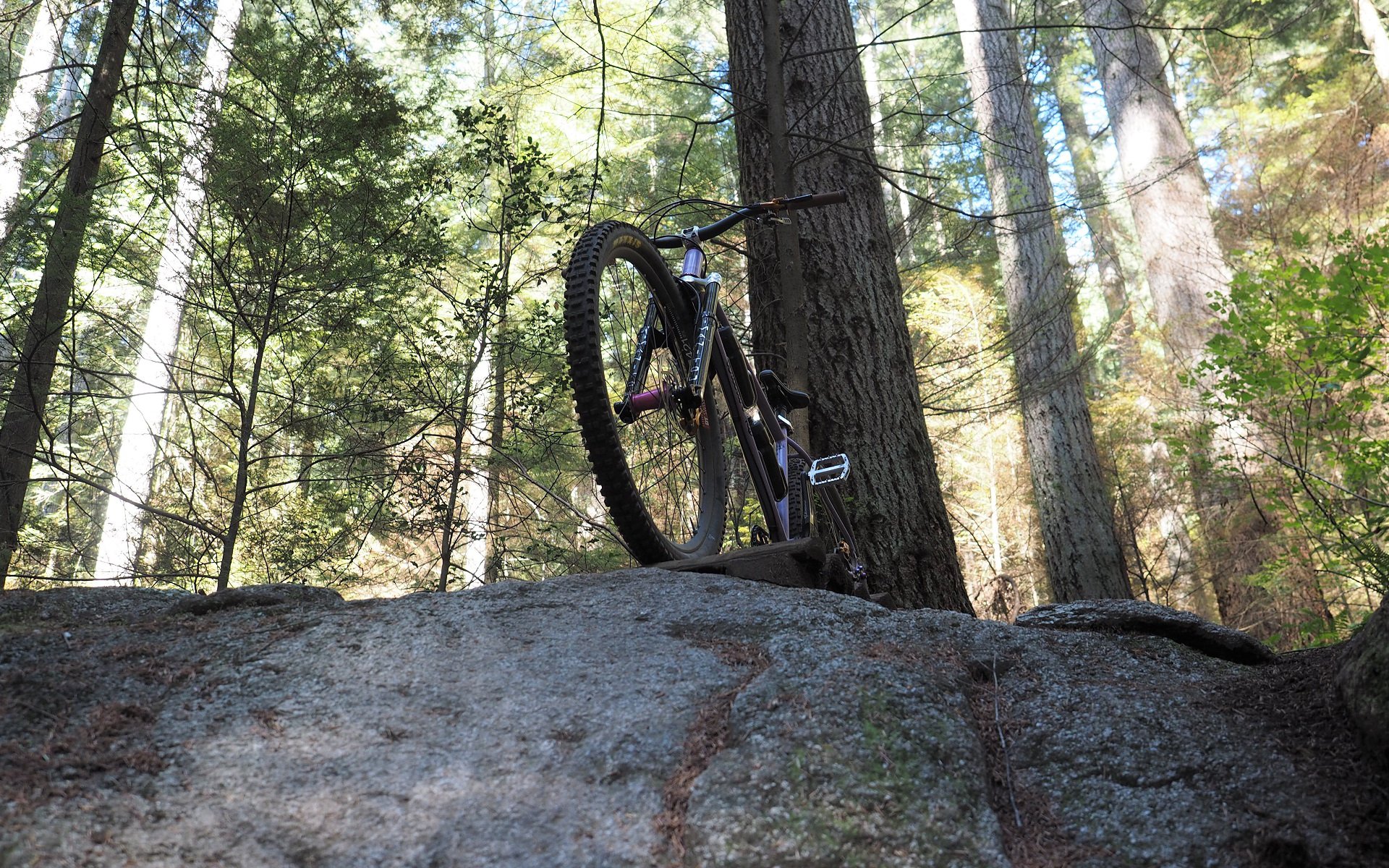 EDITORIAL
Trepidation
The Hunter/ed
Stalking low. Silent... I'll be upon my prey in seconds. It's an ancient and unwieldly plank that shoots out across a downed tree, mated to a steep second plank that will take me back down to the ground. I've ridden it many times and walked it a few as well. As a hunting strategy goes, I've long found the best way to bag this wee beastie is to catch it by surprise. Just roll up and tag it, I say. Usually, it's just a matter of fully committing for a moment, but not today. Today, I come to a halt with a long sigh and an overwhelming sense of trepidation. Chances are everything would have gone smooth-as-silk but apparently, I don't trust my percentage on the go/no-go graph.
I scan 360° to make certain the coast is clear before I begin the awkward act of disembarking. Now I skip plenty of features in a calendar year, so why suddenly so self-conscious? It's not just that I regularly kill this one; it's one of those moves that is impossible to walk without looking like a tool. Can't go around it, can't go under it, and so there I am clambering on to it, lowering my bike down and then jumping the few feet to the ground below. Ugh. The worst part is I know the next skinny plank is going to get the same treatment today. Sometimes, my rides are just like that.
I wish I had a solid reason. I'd love to just up and blame the AXS rear derailleur I'm pulling along, or the head angle of the bike I'm riding, or a lack of bike-body separation, or what I ate that morning, or drank the night before, or anything really. But the simple truth is I was feeling more like the hunted than the hunter at that particular moment on the ride.
Sure, I have written off a few derailleurs on moves like this, including one on my Titus El Guapo years back on the very plank I'm awkwardly navigating. It doesn't matter that I've ridden it many times without incident, it's still fresh in my mind. I really can't blame my bike as I cleaned it beautifully multiple times on my twitchy old Scandium Niner One9 with a head angle that gravel-roadies would call steep. This is mountain bicycling; awkward off-the-bikes happen all the time and, for me, that's especially true when navigating old-school jank.
I'm guessing most everyone is the same. Sometimes I attack a trail with all the confidence in the world and magically find traction on even the most treacherous and greasy parallel roots. Other times I'm strong mentally but simply unable to cruise and I pick a trail apart in sections. I'll walk a few bits, sure, but it's never a downer because they represent a few seconds of time over the course of a ride and I love mountain biking. But sometimes I get in such a funk, that repeatedly hitting my brain's reset button won't disengage the mode that has me taking my rig for a nice walk in the forest.
Physical Comedy
When I talk about the "awkward act of walking" I want to clarify that I'm not bothered by skipping a move or feature in someone else's presence. I mean, either it will be there next time or nature will drop a massive tree on it and gnomes will build an equally challenging line to replace it, and I've never been one for peer pressure, so who gives a hoot? My personal hang-up is hard-earned and entirely related to what can go wrong once I'm walking the awkward move itself. I suspect we've all told ourselves that a feature would be "easier to ride than walk." I like to imagine that I'm not alone in occasionally wishing I had stacked riding rather than slipped or tripped while portaging a section of trail.
Back when I was new to the North Shore, with only a few rides under my belt, the day finally came when I was having an awesome experience. It was an amazing outing: dark, dank, damp, and muted. I was actually feeling like I knew how to maneuver along the gnarled forest floor. I had ridden hard trails in other places - Burke, Eagle, Woodlot, Bear - but the weight of a moist and misty Fromme day on my psyche made every move tighter, steeper, and greasier than I had ever known.
Coming to the end of a really solid ride down 7th Secret, I somehow found myself standing on the long log ride that acts as an optional exit. The gents I was riding with had all done it and honestly, it looked like traction wasn't an issue at all. The Maxxis Mobster mounted on my D321 rim was fresh and the next thing I knew I was clipped in to my Shimano DX pedals and my internal dialogue was screaming "BREATHE!" At the end of the log, there's a tame exit ramp and at the end of the exit ramp, I stopped and silently congratulated myself. I remember it being such a big deal that I'd overcome my trepidation and conquered what was, at the time, a terrifying bit of mountain bicycling.
Back in the world, I realized two things when I heard the voices carried up from the road below. Firstly, a number of riders connected to my party had melded with us on their way up the gravel road and secondly, that I was not yet finished the trail. I clipped in and rounded the corner to find myself staring straight down an armoured wall. It looked slick and slimy. There were rocks missing. There was simply no way I was riding it and at that moment, I became prey for the forest.
I unclipped my Shimano dancing shoes, put my hands on the ODI grips bolted to my Easton Scandium bar, and took a single scintilla of a step forward. Suddenly only the top half of my body knew gravity and as my torso planked backward, my feet levitated above my head. I somehow kept one hand on my bike as I both slammed and skimmed the steep, rocked-in surface approaching the bottom in an unhurried hysteria. I collapsed in an Escher-inspired pile of body and bike.
There was complete silence until everyone, myself included, realized I was okay. The future bruises on my ass cheeks hurt but not as much as the gleefully twinkling eyes of my companions and the mirth in their waggish comments. At that moment it was either find a new group of riding friends or accept that I'm not going to hear the end of this tale of trepidation for a long, long time.
"Commit Or Eat Shit," as they say.