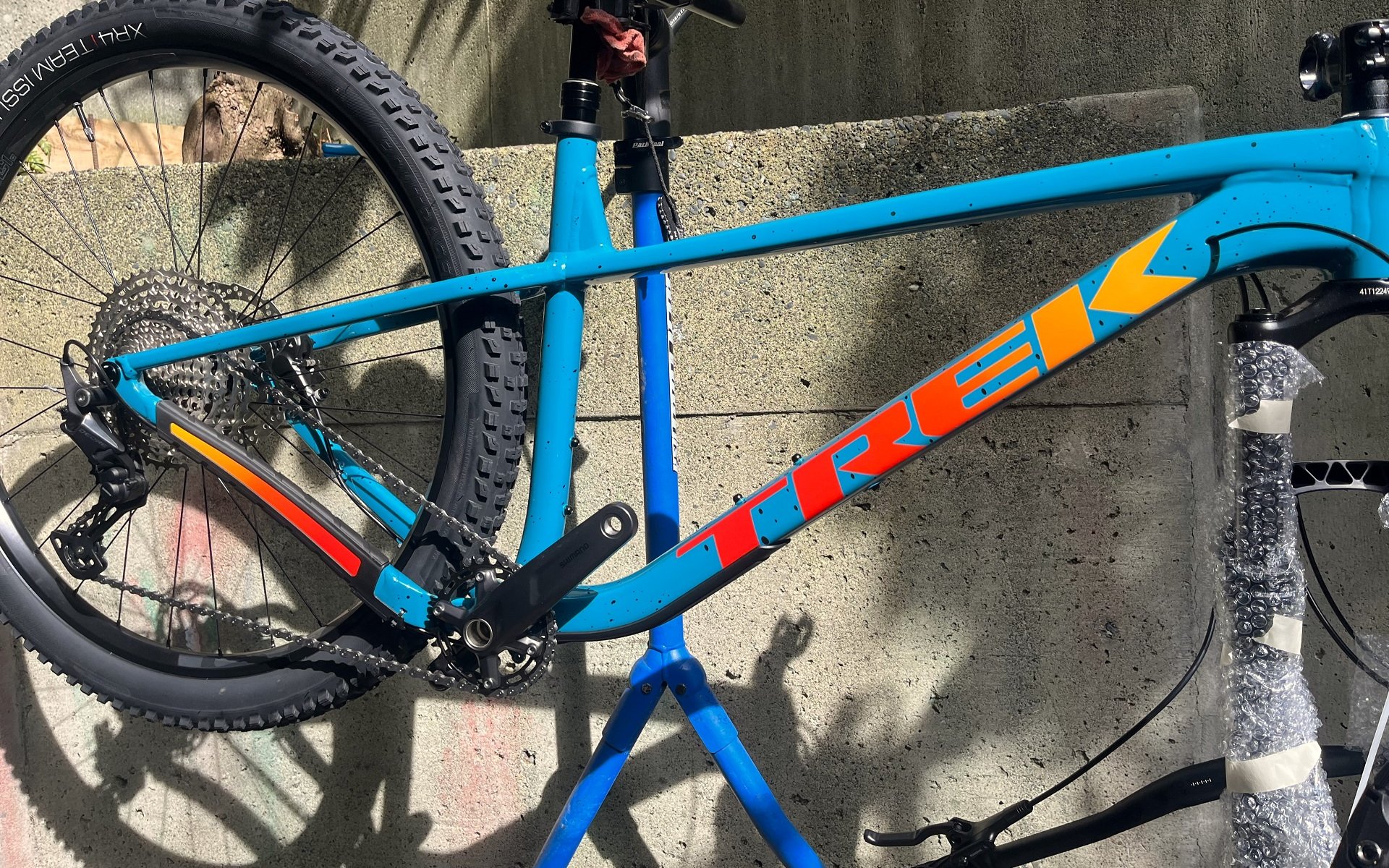 FIRST IMPRESSIONS
Trek's Roscoe 7 Is 1650 USD (1880 CAD), Complete!
Meet Roscoe
The Trek Roscoe 7 delivers balanced, modern geometry, a Deore M6100 12-speed drivetrain - including a Shimano crankset, a 150mm dropper post*, a 140mm suspension fork, and comes setup tubeless with good rubber for 1650 USD | 1880 CAD plus pedals and tax. Yep, it's a superb value in a fantastic looking hardtail.
*On this large - dropper post travel varies on the six frame sizes from 100mm to 150mm.
Now, of course, I have a pile more to say about the bike now, and will hopefully have some more interesting observations after I log some proper trail time, but I want to hedge any componentry criticisms right up front by reminding folks this is a budget-friendly hardtail that sells complete in the same price range as many wheelsets we review here at NSMB. Or, measured against mountain biking's latest comparative currency, about the same cash outlay as a SRAM XO T-Type Transmission.
I'll talk more about this in the final review but the key discussion with any bike at the level of Roscoe 7 is upgradeability. The frame is lovely with a thru-axle rear end, noise damping details, and a solid geometry package. This large is sporting a 65° HTA, a 470mm Reach | 644mm Stack, and a hardtail friendly effective seat tube angle of 74.7° (73° actual) for a 646mm effective top tube length. The rear center is not size-specific with 430mm chainstays on all sizes.
The Size Curve
For a size large hardtail, the dual 29x2.6" setup is perfect, so this doesn't affect me personally but I think Trek has missed an opportunity to optimize wheel sizing through the six-size Roscoe lineup.
They'll get no argument over the 27x2.6" wheels & rubber on the XS size, but jumping to a dual-29 setup for the small with a 140mm fork is premature. Even for the medium and maybe medium-large sizes there's a strong argument for a mullet setup. At the very least though, the small should not be a 29'er.
The XS, small, and medium sized frames should all also be able to run longer dropper posts than what comes stock. In 2023 a 5' rider on a well designed 27" hardtail can run a regular 150-160mm dropper without even having to run a super-short-stack option like OneUp's V2 or Wolf Tooth's Resolve.
Trek, let's split the difference and swap the 100mm droppers on the XS and small sizes for 130mm, the 130mm on the medium for a 150mm, and lets see a 170mm post on the large and XL. I'd also love to see 165mm crank arms on the XS and 175mm arms on the large instead of just the XL getting the longer option.
One more note on the size curve, relates to seat tube angles. The actual 73° is perfect for me, but as with chainstay lengths this dimension should be size specific and getting steeper with every size from XS to XL. XXL actually, as it would be nice to see a size with a Reach longer than the 495mm on the XL for the proper giants out there.
These are of course thoughts that are generally tempered by the very modest retail price.
Good, Not Great
The Roscoe 7 presents an excellent value. Not just in the upgrade-worthy quality of the frame but also in the package of parts hung on it for under 2K CAD. I want to temper any complaints about spec. with a healthy appreciation of the dance that Trek's product managers needed to pull off even at the previous pandemic-bike-rush price of 2200 CAD.
There are clearly parts like the Shimano MT-200 brakes and 140mm RockShox Recon Silver fork that wouldn't have a place on a higher end rig but deliver min-maxed performance that hits on the trail. The Recon especially is impressively smooth out of the box and surprisingly controlled given that turning the rebound adjuster each click shares the ergonomics and sensation of opening a can of beer.
The Recon uses a 42mm offset on the 29" version and a 37mm offset, combined with 27x2.6" rubber for the just the XS size.
The rubber compound on the Bontrager Team Issue XR4 tires is never appreciated on the trail bikes two, three, and four-plus times more expensive than this bike but they're fantastic stock rubber for a hardtail at this price. One consideration is that these are Trek's rims not mine. Given the how thin-walled these tires are, I'd be running at least a rear tire insert in my own Roscoe.
The stock Tranz-X dropper post goes up and down without complaint and the Bontrager Arvada saddle probably won't piss-off most riders regardless of anatomy.
I admit to being disappointed to see the Shimano hub spec, if only because that means Center Lock rotors and that in turn means Resin-Only rotors (ugh). You can do a lot worse than Shimano MT400/MT510 hubs at this price but Bontrager's fast-engaging Line Comp wheels are such a good performance-value I was hoping they'd trickle down this low.
Ugh-Level Grumbles
The plastic dropper post remote is absolutely going to snap if I breath on it wrong and what a PIA that's going to be in the forest. I was going to demonstrate this fact by breaking it in the shop but then I remembered I have to give this bike back to Trek at some point so I'm going to swap it out, and would recommend the same to anyone buying the Roscoe 7 who plans to mountain bike with it.
The Shimano Resin-Only rotors always require a mention because they suck for braking in the wet (and it rains a lot here) and limit pad choice. I'd be keen to upgrade the brake pads to a sintered compound and actually to upgrade the front caliper to a four-piston which means I'd have to buy rotors at the same time. I don't understand why Shimano can't just kill this product already and sell a proper braking surface at every price.
The grips also suck. But I can appreciate that everyone buying this bike has, or will have, a preference so it's cool that Trek shaved money here. I'd just hope the friendly folks at your local shop show you a few options before you leave.
Highlight Drivetrain
I saved the best for last, what a fantastic drivetrain spec on a bike under 2K. Deore M6100 HG+ shifts intuitively even with power going through the pedals and the all-steel cassette holds up better around here than the more expensive SLX, XT, and XTR options with their aluminum low gears.
M6100 delivers almost-XTR shifting on a complete bike that costs less than a high-end drivetrain. I'm happy to see the Shimano MT511 cranks and external bottom bracket here as well as it means the owner will never need to upgrade what's often a surprisingly expensive replacement for folks with lower-priced bikes.
This may be the perfect price point for a new LinkGlide Deore M5130 10-spd or CUES U6000 11-spd drivetrain and I could certainly imagine that being the spec we'll see next year. The LinkGlide option will represent a lower long-term cost of ownership with less expensive replacement chains, cassettes, and chainrings along with the promise of improved drivetrain life.
But, at the same time, the LinkGlide option would mean one or two fewer clicks at the shifter and a less sleek and top-end appearance that may not appeal as much to average person shopping the Roscoe lineup. Trek knows a lot more about selling to folks buying these bikes than I do and it's important to remember most people aren't min-maxing budget bike nerds.
Just Add Pedals (and grips)
Install the best pedals that fit the budget, upgrade the grips ASAP, and talk the local Trek dealer into a sweet deal on a dropper post remote that isn't an out-there mechanical failure waiting to happen and away we go. It's sweet that the tires are already tubeless because that really gets things rolling out of the box.
Even during the Covid-bike-price-craze, when I first put my hand up for the Trek, the pricing was a solid value at 2200 CAD | 1900 USD. If that was your budget before, I'd be tempted to still spend the same amount and grab pedals, grips, dropper remote, and a pair of rotors, which should all be doable at purchase time for the price difference with the drop to 1880 CAD | 1650 USD. Even just changing the front rotor and burning the Resin-Only options out in the rear may be a good option for most hardtail riders.
Maybe it's vain, but I love how great the Roscoe 7 looks and I think any of the three colour choices is a winner. Trek makes plenty of significantly more expensive bikes that don't look half as sweet. It's a bike that's rideable right out of the box, with a couple of semi-mandatory upgrades depending on the use case, and that appears worthy of upgrading.
My biggest complaint I have is probably that calling the paint finish "Teal/Trek Black" is a lame way of describing the sweet black splatter on cobalt blue with sunrising Trek logo finish. Actually, all three finish options for this bike look great to the extent that I'd ride any of them, and I can't think of a better looking bike under 2K CAD.
I'm stoked on the Roscoe 7. I think it's the best looking bike in it's price range, the fit works great for me, and the drivetrain is excellent. I'll be back with a proper ride review a little further down the trail.
In the meantime you can check out the Roscoe 7, and whole Roscoe lineup, at Trek.