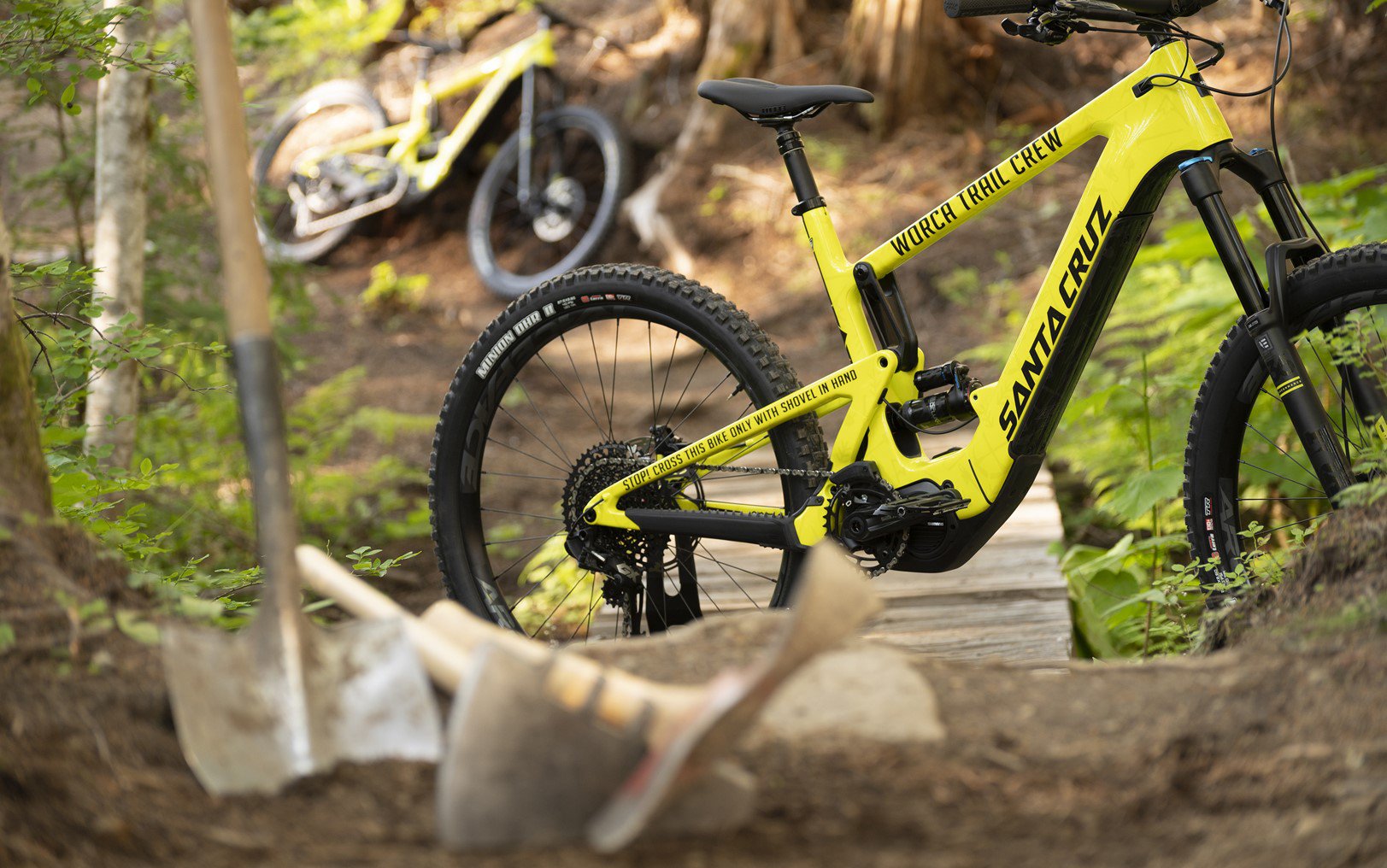 A CASE FOR SELECTIVE ELECTRIFICATION
Trailbuilding With E-Bikes - Another Tool in the Box
It's got the makings of a hot summer day, with the sun just beginning to rise above the mountain tops. The forest is peaceful and calm with morning dew still settled on the ground moss. You've prepared your gear the night before knowing you have a relatively small time window and a project site that is not easily accessible. With the contents of your hefty backpack, including a chainsaw, gas, oil, mini-sledge, a quarter box of nails, your trusty Pulaski and mattock, a first aid kit, and carefully planned portions of food and water, you are well prepared for a full day of manual labour hidden away on the mountain. The final tool you grab from the garage?… well, it seems that it may just be an e-bike.
Mountain bike riders are aware of the debates surrounding e-bikes for trail riding and the potential damage to trails. Worry not, this read is absolutely not more of the same. Instead, this is a search for insight from around the world, to see e-bikes are the new must-have tool for trailbuilders. Starting out back of our shop here in Whistler, where it seems that big elevation, steep climbs, and an insatiable demand for riding have encouraged the adoption of e-bikes by local builders.
Long time Whistler trail builder and current trails director for WORCA (Whistler Off Road Cycling Association), Seb Kemp argues that the e-bike allows builders to work longer hours on the trail itself and with more energy. With 10-hour days for 4 days a week of digging, one of the benefits Seb has realized is that trail crews might actually have the energy to ride their bikes on their days off. This spring in support of the WORCA trail crew, Santa Cruz Bicycles donated two Heckler e-bikes. Aligning with Seb's statements, the goal is to maximize the crew's day-to-day efforts.
While a debate rages on the internet, it seems that the community accepts e-bikes for building, even in areas where use by non-builders is not permitted. I am one half of the duo who built Dark Crystal, and I saw firsthand how attitudes change toward e-bikes when they are used by builders. I remember using a Kranked e-bike to deliver some nails to the top of Dark Crystal. My pack probably looked fairly empty, but it was an illusion with over 30lbs of nails in there. When I passed a group of people pedaling up, they were booing and telling me to F- off. When I went up later that day with a chainsaw sticking out of my pack, I got a bunch of cheers while passing people who probably realized I was heading up for trail work.
In the time of COVID-19, Tom 'Pro', famed Whistler builder of Gravity Logic, has even taken to riding his e-bike within the confines of the Whistler Mountain Bike Park where access has typically been via trucks and side-by-sides.

"I use it to inspect trails and to do work. We stash tools on the trail and access by bike to do the work, I access it with an e-bike. Currently, we are limited on how many people we can have in a truck due to COVID-19, so the bikes, e-bike in my case, make a perfect access vehicle." - Tom Pro, Gravity Logic
Whistler is a hub in the mountain bike community; Trails like A-line, Lord of The Squirrels, and Dark Crystal have all helped to set the global standard for modern day trails and trail building. Perhaps the local adoption of this tool will signal a shift in building kit globally.
Down the road in Squamish, I checked on the local message board to gather some extended information. It was clear the trail builder "double-standard" is alive and well and the community is wholly accepting of e-bikes in any restricted area as a tool for SORCA builders.

"Ya man, an ebike makes it what, 20% easier? Just get a trials moto, makes it 100% easier and it's a real access tool - and if it matters that much to ya, they make electric ones." - Andrew Norton
Andrew Norton provides an interesting point in regard to selecting an appropriate tool for the job. An e-bike is not a moto, it does not have a throttle, and you still have to input work to use it. In the case of maximizing efforts to the trail itself, it is a logical route. A quick inspection will tell you that a trials bike MSRP is ~$10000 CAD, right in the sweet spot of ever-increasing e-bike pricing and electrified versions are available, alleviating noise and legality issues in certain areas. Let's be honest though, once you build the trail, you definitely want to shred it, and the advantage goes to the e-bike on that one.
E-bikes are clearly used here, but it turns out this tool is also being put to use outside of our BC bubble. Stefan Falkeis, of Tirol, Austria, does a massive amount of work in alpine networks and he explains some of the benefits; "I use it to work at first daylight in the morning as it is quiet and inconspicuous as compared to motorbikes/quads and you are often working in sensitive environment/wildlife. As well, you are independent of lift operation times…"
Often working in zones that are distant and at high elevation, the ability to access terrain in a fraction of the time has proven a winner for Stefan, with the added benefit of some fun riding when compared to hiking. He notes that it makes him "twice as efficient collecting data" with the ability to ride up and down trails at twice the speed, making trail planning less taxing.
In Australia, Mark Turner does not use an e-bike for trail work. Currently he is using his feet, which most of us have forgotten how to use, and 4WD Kubota vehicles to access the building areas. He admits to being a critic of the category until he rode one. He sees a clear advantage as a tool and will look at one in the future to add to his kit; for now though, it's diesel and the old human-powered steed.
In California, younger generations of trail builders along with pro riders like R-Dog (Ryan Howard) have added the e-bike to their arsenal of tools. The dirt there is amazing for digging and the mountains provide plenty of vert, but with most of the trails in California being unsanctioned, builders are constantly venturing further into the bush to keep things discrete, making an e-bike even more critical.

"Saving up to 2 hours per day over the span of a week, month or year really starts to add up and benefit the trails and the builders. About half of the time spent on my Trek Rail has been hauling tools in and out of trails. Time saved getting to the spot adds more time digging, and if you do the math over the course of a project, that's a lot of dig time and that's a lot of trail!" - Ryan R-Dog Howard
This once controversial topic has evolved and it's a different story in 2020. With such high adoption, what will the future of e-bikes for trail building look like? Will there be 'builder spec' e-bikes featuring chainsaw racks, like Kona's Remote shown at Sea Otter 2017? What wild 'out-there' trail is going to get built? Are they a 'solution' or merely a band-aid to the growing need for trails and the labour to build them?
---
At RideWrap we pitched in to protect WORCA's new Santa Cruz Hecklers with our Tailored Protection™. Building trails is tough on equipment; tools, gear, clothes and bikes are all in the impact zone of grit and grime and are used frequently. Bike protection will aid in preserving these assets for future use.
Ride Wrap considered how these beauties might improve visibility for both the crew and the association, creating a custom 'trail-crew' wrap featuring a "trail under construction" notice. The wrap ramps up the visibility of the work WORCA contributes, potentially increasing memberships, while also warning users to steer clear unless they are there to help.