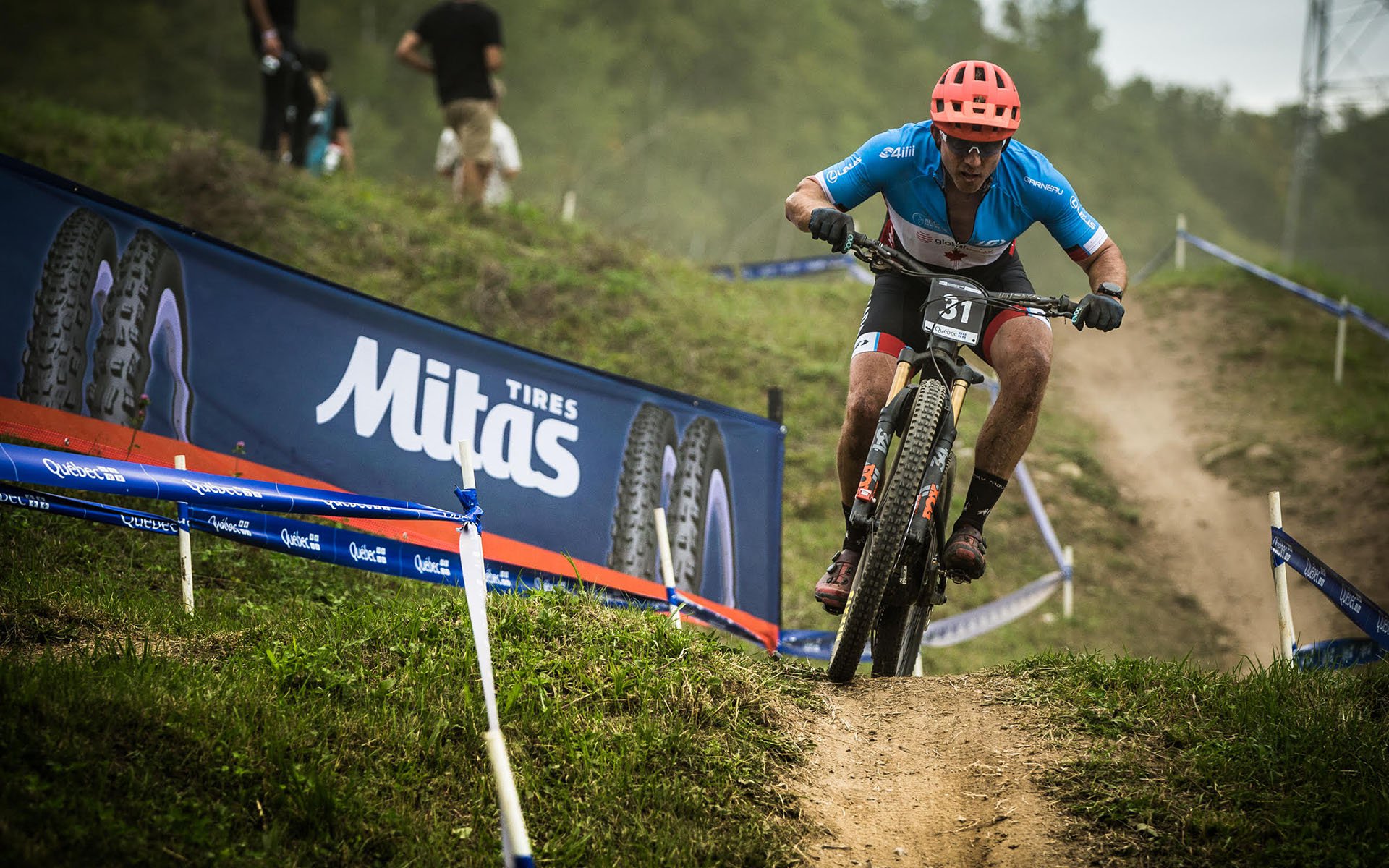 Why Are We Racing Bikes with Motors?
Trading Watts for Rainbows: Making Sense of eMTB World Champs
What the hell is the point of awarding medals for racers using motors? A step back makes it clear we could ask that question about racing moto, cars or even horses and, like those pursuits, eMTB racing absolutely requires fitness and skill, What it lacks is the elegance and purity of acoustic bike racing. You know, the sort where you can be certain the best rider has won on his or her own power, like Lance Armstrong in the Tour de France... Or the male side of the Enduro World Series...
Despite the dire predictions, the world did not end when the first-ever UCI eMTB World Championships were held at Mont Ste-Anne on August 28th. If you are like me, you may have had an instantaneous averse reaction when you first heard about electric bike racing. I think it was before I had ridden a bike augmented by watts, volts and amps, but at that point the concept seemed laughable. I get it more now and it's clear that the strongest rider who doesn't have a mechanical seems likely to come out on top, but it's still tough to get my head around. And why is the UCI involved anyway?
The UCI and eMTB Racing
The somewhat shadowy 119-year old Swiss cabal that runs the competitive side of mountain biking made it clear in April that if anyone was going to be in charge of eMTB racing, it would be them. On April 5th the UCI sent out a press release in response to news that the FIM, the shadowy* 115-year old organization that governs motorcycle racing in much of the world, and is also based on Switzerland, announced the E-Bike Enduro World Cup, which was held in France on June 1st and 2nd..
*To be fair, I have no idea if the FIM is run the way FIFA and the UCI seem to be
As expected, the UCI was not amused. "The UCI means to develop this activity which, as with other forms of cycling, comes under its exclusive jurisdiction," was how UCI president David Lappartient put it. The press release makes it clear their motivation is all about the good of the sport; "To encourage the development of this popular activity among cyclists of all levels, the UCI integrated E-mountain bike into its Regulations..." In fact the UCI announced that athletes who competed in this rival series would be punished, because punishment is a great way to encourage the development of this popular activity – and because that's how a cabal operates.
It makes sense that the UCI wants in because there is money to be made. Bike companies will be eager to put up sponsorship dollars in this fastest growing cycling market segment which, sadly to some of us, has the potential to grow far beyond our quirky, fringe human-powered activity.
The Race Itself
By all accounts the course was very challenging, both up and down, for both riders and electric motors. The men's field was lousy with former XC world cup winners, topped by Julien Absalon, winner of 5 World Championships, 2 Olympic gold medals and 33 World Cup XC races. Julien retired from meat-motor racing in May 2018. The 39-year old managed 3rd place in yesterday's race, 89 seconds behind South African winner Alan Hatherley who claimed his second rainbow jersey in a time of 1:04:53.*
*Hatherley won last year's U23 XCO World Championships
This is how the UCI described the race length and duration before the race; "In Mont-Saint-Anne the riders will tackle a 7.3km cross-country course for a duration of 1h30 to 2h." In reality, each of the 38 riders who completed all 4 laps of the course came in under 90 minutes. The last of these, 38th place rider Olivier Beart was 17:12 behind the winning time for a total of 1:22:15. The winner rode 29.2 kms in 1:04:53 for an average speed of 26 km/h, faster than the boost the motor provides. (Nino Schurter, winning his 5th consecutive acoustic XCO world title and 8th total, rode 29 kms in 1:27:05 for an average of 20 km/h).
Canada's elder statesman in the men's race was Olympic, World Cup and World Championships veteran Andreas Hestler. Dre, who is 49, still races a few local events as well as the B.C. Bike Race every year, but he hasn't raced at this level for some time.
I asked him to describe his race and the course for me:
"I thought the course would be neutered and toned down. It wasn't and that gave me some hope and provided a good proving ground, plus an enjoyable ride. I showed up with a toned down bike, and had I not been a North Shore style rider, would have been f'kd. As it was I had a blast but had to exercise a little caution on the full pin DHs. I went hard and was happy that there were only 4 laps. I was nervous to represent our Country and carry the flag, I didn't want to have a poor showing or a mechanical at the World Championships. There was more stress than I like and I'll be happy to get back to Fiver racing and high fiving with beers at the end of those. That's more my speed these days.
The course Gestev put together for this event is a course I would shudder to consider riding on a regular bike, while the downs were burly the ups were equal to the downs - imagine if you could turn your favorite DH track into an uphill and enjoy both directions equally - Neds UP and Neds Down - that's sort of what we rode. I don't imagine that the modern designs/geometry that comes from Acoustic or Muscle bikes will change as relates to Ebikes, it still needs to ride like a bike and our evolution has gotten us to a pretty awesome place right now."
Andreas Hestler's Bike
Dre built up an Instinct Powerplay for the race but next time he would beef it up a little. "As to the bike set up and the course, yes I would ride something more akin to what we normally ride here on the North Shore. I imagined they would neuter the course into XC style, but they didn't, it was burly, fast, gnarly and hard, both up and down - so I may have under gunned my tires, wheels and suspension.
Andreas' race spec:
"I ran an Instinct Powerplay with 140mm of travel, both front and rear, I usually build from Factory Team spec instead of production."
Race Face Carbon Wheels (NEXT SL)
Maxxis 2.3 Minion DHF 3C EXO 21LBS front and 2.4 Rekon 3C EXO 23 lbs rear
Race Face Carbon Bar (780mm),
Race Face Carbon Cranks RF (170mm)
Dynamo 3.0 Stock Engine modified by UCI to 25km max with a 672 battery
Shimano Saint Brakes 203 rotor front, 180 rotor rear
Shimano XTR 11spd Drivetrain
These are the Rules
As you can imagine, some rules were necessary so it would at least appear that riders had no electric advantages over one another. Bikes were limited to 250 watts, assistance up to 25 km/h only and only when pedalling, aside from starting assistance up to 6 km/h.* One bike and one battery only. Rules are otherwise similar to an XCO race.
*Nick Murdick, Shimano's MTB product manager, told me this was to get around the fact that most of these bikes have climb modes for situations where the bike must be pushed
Extra eDoping
In an age when riders are able to hide electric motors in conventional road bikes, and four masters cyclists were caught doping in a single event, eMTB racing seems like a cheaters paradise. From the outside it doesn't appear that it would be difficult to temporarily allow the wattage boost to extend beyond the 25 km/h limit. By all accounts however the race went off without controversy or accusations of doping, electric or otherwise. I asked Andreas Hestler about this and other issues related to the race and he felt that the results indicate everything was on the up and up; "I was where I should have been perfectly. The older retired guys were riding behind the fastest young guy. So to me there was nothing strange at all."
Nick Murdick, Shimano's MTB product manager who was helping out at the race, has given me some great info on the way the race was regulated and what potential there is to skirt the rules. I'll be following up with that later.
All the Love from MTB Fans?
The hatred online has been coming hard and fast. Riders who will never contest a world title of any kind are outraged... for some reason. The best objection seems to come from those who can't see the point. It doesn't seem that an eMTB race showcases any skills that aren't already on display. The race is simply a cross country event with a 250 watt boost. Most of the riders at the top were accomplished XC racers,* with optimal power to weight ratios. 5 of the top 10 finishers are Olympic medalists, 3 of them gold.
*Exceptions are 4th place rider Charlie Mullins who raced motorcycles - XC and enduro - until a wrist injury forced his retirement in 2014. Jérôme Gilloux doesn't seem to have posted significant results in any discipline
While I'm not an eMTB rider, the out of control vitriol I've seen online seems a little overblown, but I have a hunch where the hate originates for many riders. While it seems that few regular mountain bikers outside of Europe have much love for this event, the industry was incredibly keen to see it happen. Our wee sport, that started out with garage-built clunkers and rogue trails, managed to fly under the radar for far longer than most sports, is becoming increasingly corporate. The Olympics boosted the sport's profile first and Red Bull gets much of the blame or credit (you get to choose) for the extreme(!) sport image that has overwritten our lycra-clad roots. Manufacturers know that if these races gain momentum there will be no stopping the eMTB wave. And that means money.
Who Cares?
Despite rumours Bernard Kerr would make an appearance, Wyn Masters was the lone downhiller who tried his hand at E-XC racing, and he seemed to enjoy the experience and finished 27th, 9:54 back from the winner. Considering the high profile and influence wielded by top DH riders, we are likely to see more of that crowd racing in eMTB events 'for the fun of it.
Why should any of us, aside from those keen on eMTBs, give this any thought at all? The implications of sanctioned e-mtb racing at the highest level, remain to be seen, but it seems to me that a bunch of suit-wearing Swiss dudes telling us that eMTBs are legit and worthy of their governance, will increase e-bike acceptance, just as the Olympics did for mountain biking in general. Whether you think eMTBs are the devil or not, we should all lament the fact that the UCI is able to exert any influence in this little corner of 'our world."
It feels a bit like a bunch of bankers deciding how the future of surfing should look.