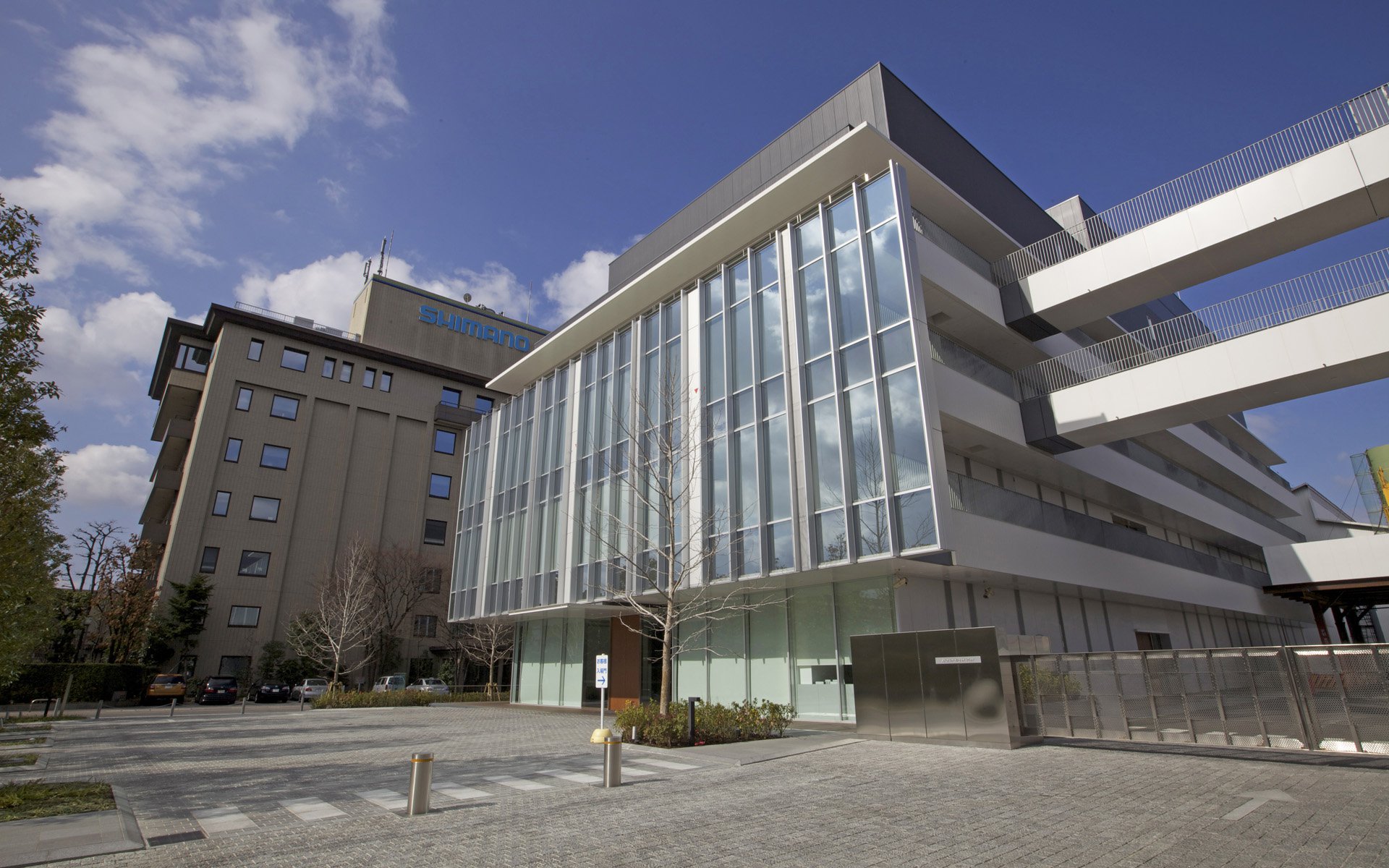 Literally Inside Shimano
Touring Shimano's "Intelligent" Factory in Japan
The bucket list trip for a journalist who writes about mountain bikes is an invitation to visit Shimano in Japan. Having never been to the Land of the Rising Sun, to have my first trip hosted by one of the most storied names in cycling was made to order. Stoke was high.
To understand Shimano, our hosts decided we needed to understand Sakai, the city within the Osaka prefecture where the company was founded in 1921, by Shozaburo Shimano. The history of metallurgy in the area dates back to the 5th century. The first stop was a group of Emperor's tombs dating back to the 5th century. The largest, the Daisen Kofun, covers an area larger than the largest pyramid and hundreds of thousands of craftsmen were required to build and decorate the massive mound, considered to be the largest grave in the world by area. In fact we were told up to 2 million workers were engaged in the 20 years it took complete the key-shaped structure. Interred within is Emperor Nintoku, the 16th emperor of Japan who ruled in the fourth century (AD 313-399 - although these dates are disputed by modern historians).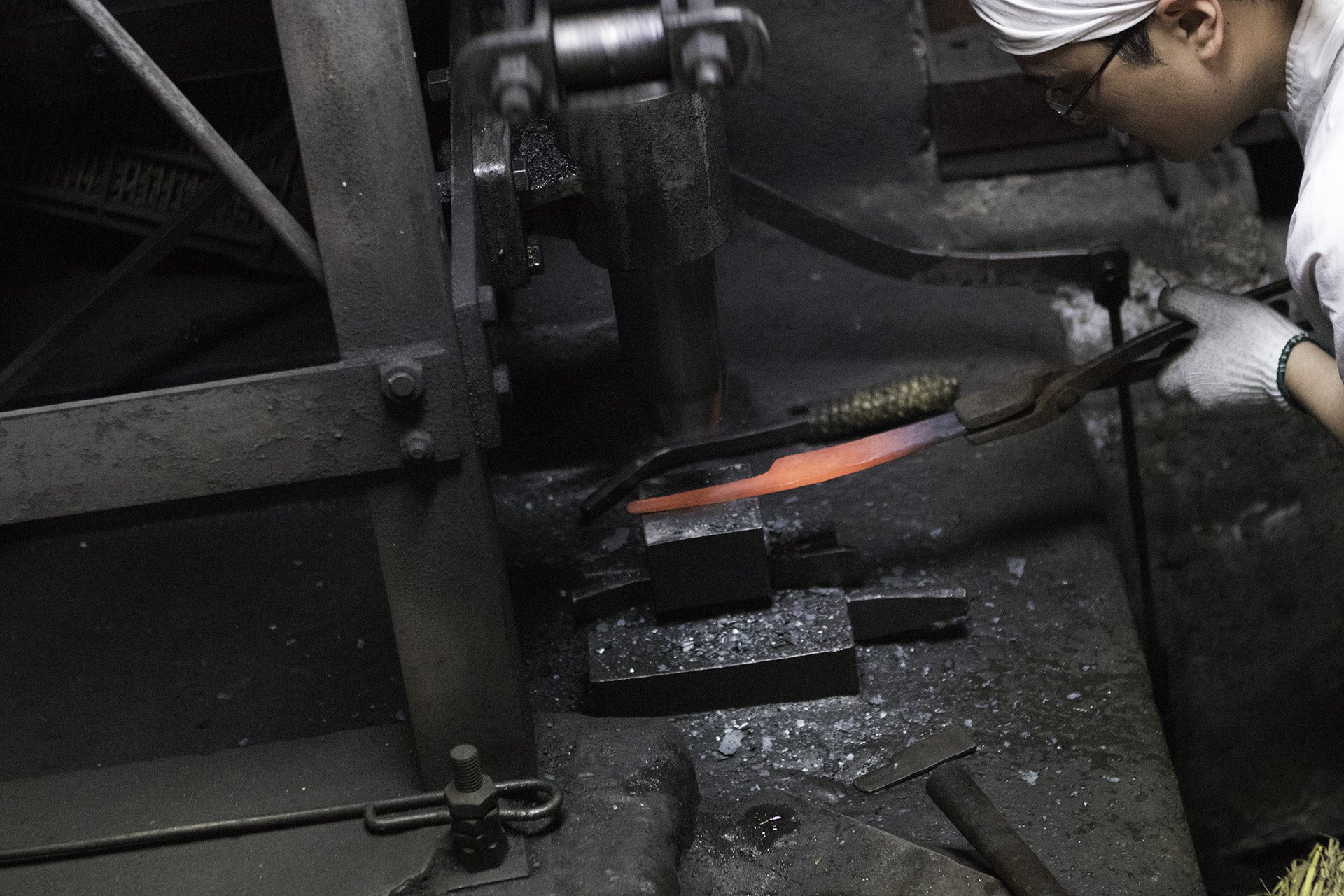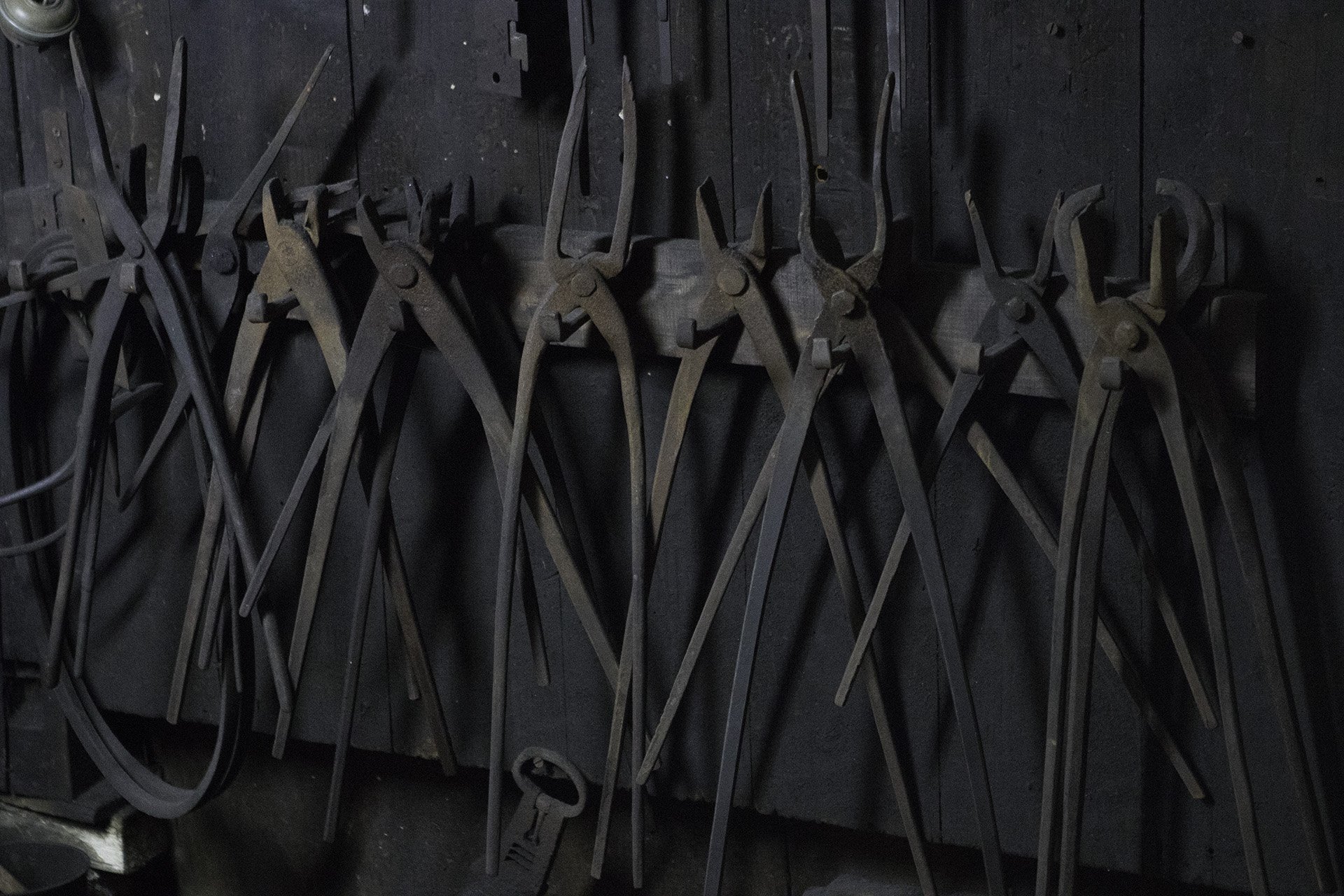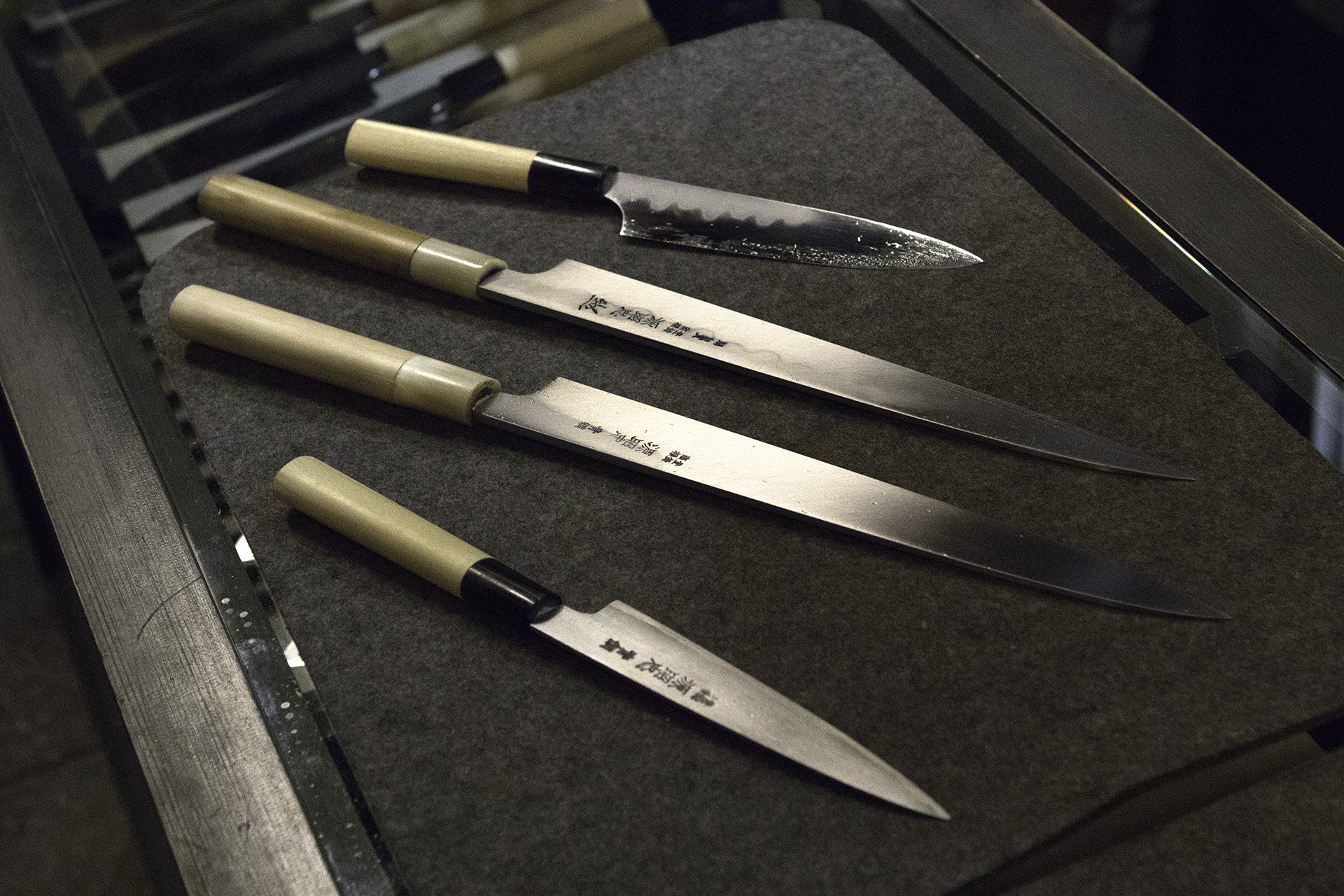 Our most fascinating stop was the workshop of one of these artisans who now makes some of the finest chef's knives in the world. Jun Mizuno is the fifth generation in his family to master the craft and they have made knives and swords in the same location since 1872. Today 70% of his production is shipped overseas and he produces as few as 15 knives per week. While we watched he melded two pieces of steel together using iron sand. The less precious steel is used for areas that are less crucial such as the handle and top of the blade while the hagane (or Tamahagane) is concentrated on the edge for a sharper blade. Pricier knives are made entirely from hagane.
European contact furthered the metal game. The Portuguese arrived in Sakai in 1543, trading guns and tobacco to the Japanese. Tobacco was a hit with the upper classes but fine blades were needed to fill the aristocrats' pipes. Local craftsman set about creating a blade for the task and these implements soon became famous for their sharpness. Firearms fascinated the craftsmen as well and they began to reverse engineer the imported firearms and even create new classes of weapon. We saw a locally produced gun that took three men to handle and could likely take down a herd of elephants,. It's unclear who the gun was used for considering the absence of pachyderms. 
We were getting primed; this is how Shimano became Shimano. The heritage of Sakai created the crucible from which the cycling and fishing powerhouse could emerge. But it couldn't have happened without Shozaburo Shimano, the company founder. The company began as Shimano Iron Works and the first product, released in 1921, was a modest one. That's B.S. actually. The venerable founder could have started with a crank, or a handlebar or even a pedal. Instead his instinct was to manufacture the most challenging component possible at the time; the freewheel. It was a single speed to be sure, but bearings and races and pawls and teeth were required. Tolerances had to be accurate and durability was essential. Company mythology suggests that Mr. Shimano made his name by offering free replacements in the event of failure.
After our day of indoctrination, which included a spectacular bento box lunch in the original but relocated home of the company founder, we were prepped for the factory tour. But this wasn't just any factory; we were touring the state of the art Sakai Intelligent Plant. This is where XTR, Dura-Ace, Ultegra and XT components are made, as well as bits and pieces from lower end groups and high fishing parts.
---
Shimano (Intelligent!) Factory Tour
I have visited a few factories over the years, the most memorable being the Marzocchi plant near Bologna Italy. Outside it was entirely unremarkable but within it was noisy, dirty, chaotic and beautiful. It smelled of grease, burnt rubber and a strong cleaning compound. I may have been wearing a hardhat (I don't recall) but I had my run of the place. I even witnessed a Bomber crown being super-cooled before being pressed onto stanchions. I spoke to workers, peaked behind doors and even saw new designs on computer screens. There was no grand entrance way, no meeting rooms of any size; the place was all business. The Shimano experience I just had couldn't have been more different.
Completed in 2010, at a cost of 18.5B ¥ (at the time this was approximately 200M CAD and USD) the place actually seems like a bargain. And it's no mystery why the PR and marketing corps decided to give us a glimpse behind the blue curtain. The 1258-employee facility is remarkable. The entrance is enormous. A monument of gleaming glass and wood, accented by white and blue splashes so you don't forget where you are. There are showcases with products exploded into individual parts and an enormous opening in the floor that appears to be an amphitheatre for company morale sessions. What does this have to do with manufacturing? It was already becoming clear that pride, ceremony and tradition are as important to Shimano as sales targets and production schedules.
It wasn't quite Willie Wonka's warning to Charlie, Veruca and co. but it was made clear that we were not to veer from the hardwood path and that photography, or recording of any kind, were prohibited. . 
We started off in the forging room. We were told that cold, hot and closed die forging* (for complicated shapes like brake calipers) were occuring before our eyes. Some of the machines were over 2 stories tall and they were apparently crushing metal ingots into the approximate shape of bike parts. There were remarkably few employees on this floor. I would have counted but that was prohibited too.** I saw one worker climb a ladder to the top of a forge wearing a tether before removing it to step inside the cavity at the top; rules are not suggestions in Japan. Everyone seems to follow. 
*forging is said to be superior to machining because massive pressures force the internal structures of the metal to align within the new shape.
**counting was allowed only in Japanese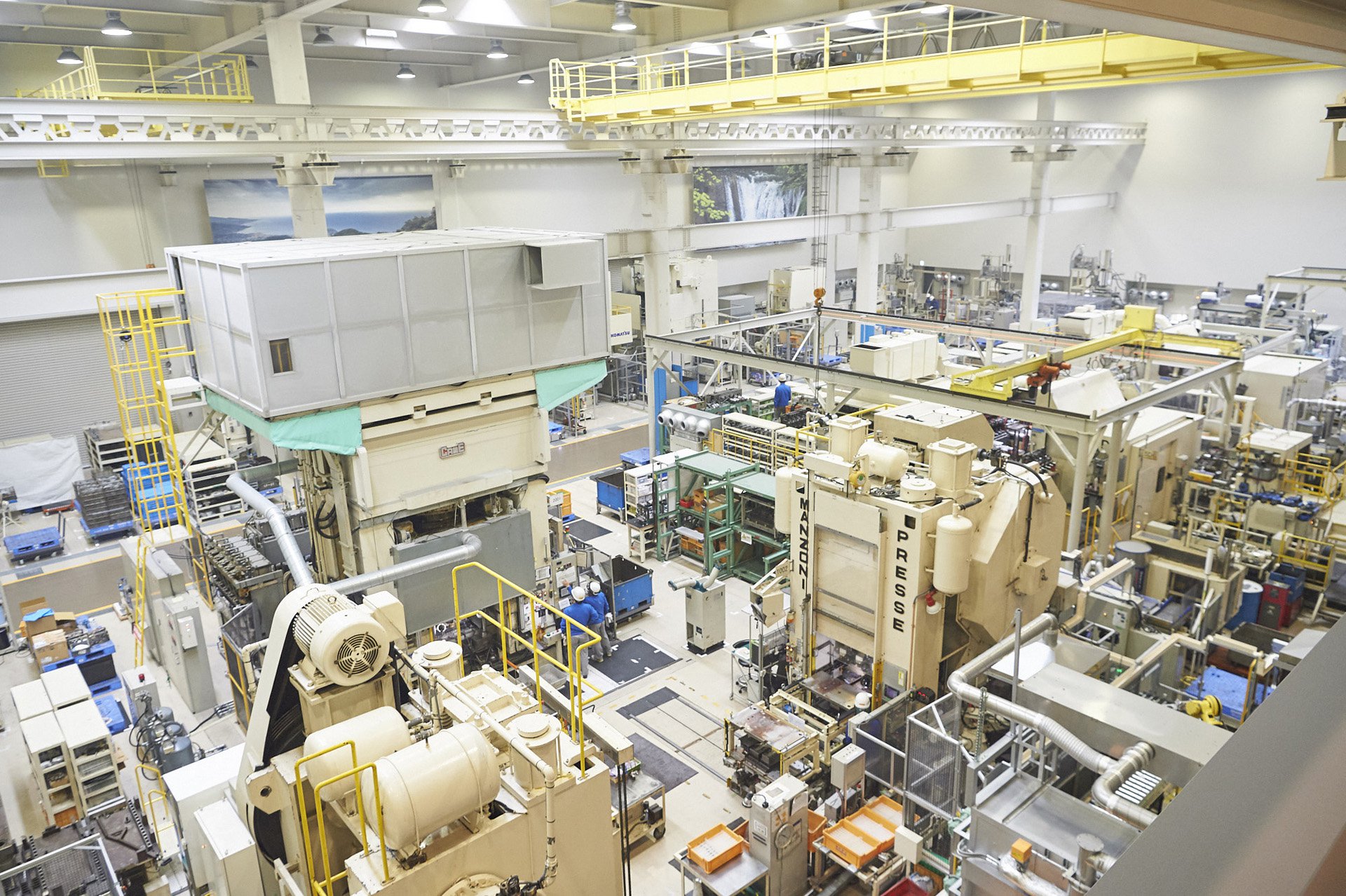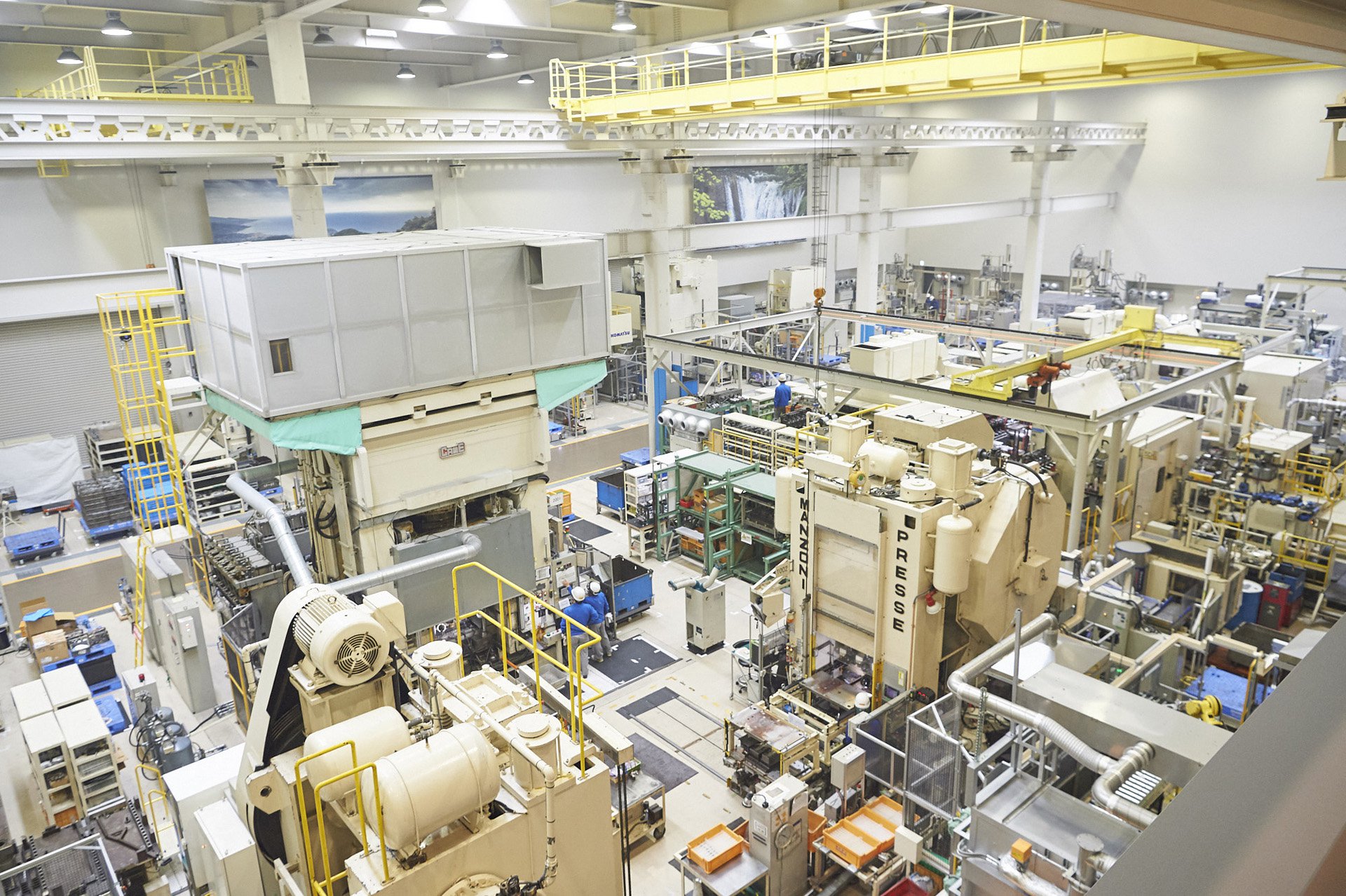 We were guided around the factory 10 metres above the playing surface on a wooden path, punctuated by viewing platforms and information stations called 'Factory Galleries.' These highlighted the processes we couldn't see occurring below. There were tablets with presentations and mockups of products in various stages of completion. It became clear that millions were spent making this facility presentable to outsiders. Our tour guide told me that 80% of the visitors were bicycle dealers and distributors and 20% were investors.* That final 20% cleared things up for me. Journalists are just a rounding error.
*Shimano has been a publicly traded company since 1972.
Not long ago much of the CNC machining in this high end plant was outsourced to a firm nearby but today there are 52 CNC machines, a broaching machine, 5 'special' machines and 21 others (turning? Milling? My notes are incomplete here). Having virtually all of production in house allows Shimano to closely control the minutiae and keep quality and precision in the sweet spot.
The next area of the factory was dedicated to surface treatment. Anodizing, heat treating and polishing surfaces makes components more durable and resistant to scuffs. It also makes them pretty, something Shimano takes seriously.  
The final room in the production area of the building was the "gluing" area. Please Shimano, call it the bonding area. We'll all feel better about your products. We know you aren't using Elmer's Glue but it sounds like it. Shimano uses bonding to allow for tighter tolerances and thinner walls. Cranks, brake calipers and hubs with races all require bonding... err gluing that is. 
The most impressive element of automation to me was inventory control. The system knows what dies and other heavy materials are needed on the shop floor and at what time. These items, often weighing several tonnes, are stored in an area without lights (they were turned on for us) or air conditioning. They happily go about their business, returning to docking stations to charge at regular intervals. Once the appropriate tool or material is sourced it is then passed to an Auto Guided Vehicle to be transported ice cream truck style to the correct location. And everyone is happy (or so the monitors suggest).
Shimano takes the culture of cycling seriously, holding group rides for non-cyclists and even creating pop up stores where the culture of our sport can be conveyed to the people. We visited one of these, Shimano Square in downtown Osaka, which is now run by a Shimano employee who, years ago, was planted on the North Shore for a season to absorb the culture. After that Hideki Ikemoto  became the project manager for XTR. Changing jobs, even from one department to another, is common at Shimano. 
You may be wondering why Shimano went to all the trouble (we were a lot of trouble) and expense of bringing 7 journalists to Japan right now. It's a good question but it's not one I can answer right now. Soon I'll be able to tell you why this was a very good time indeed.
In the end I left Shimano even more impressed than expected. This is a company that is always striving to make things a little better. The company that brought you index shifting, Hyperglide, SPD pedals, Dual Control shifters (they work for road at least) and Di2 has taken a back seat lately in the MTB sphere and it's pretty clear Shimano will do everything it can to get back in the game. And after seeing the operation, I'd hesitate to bet against them.