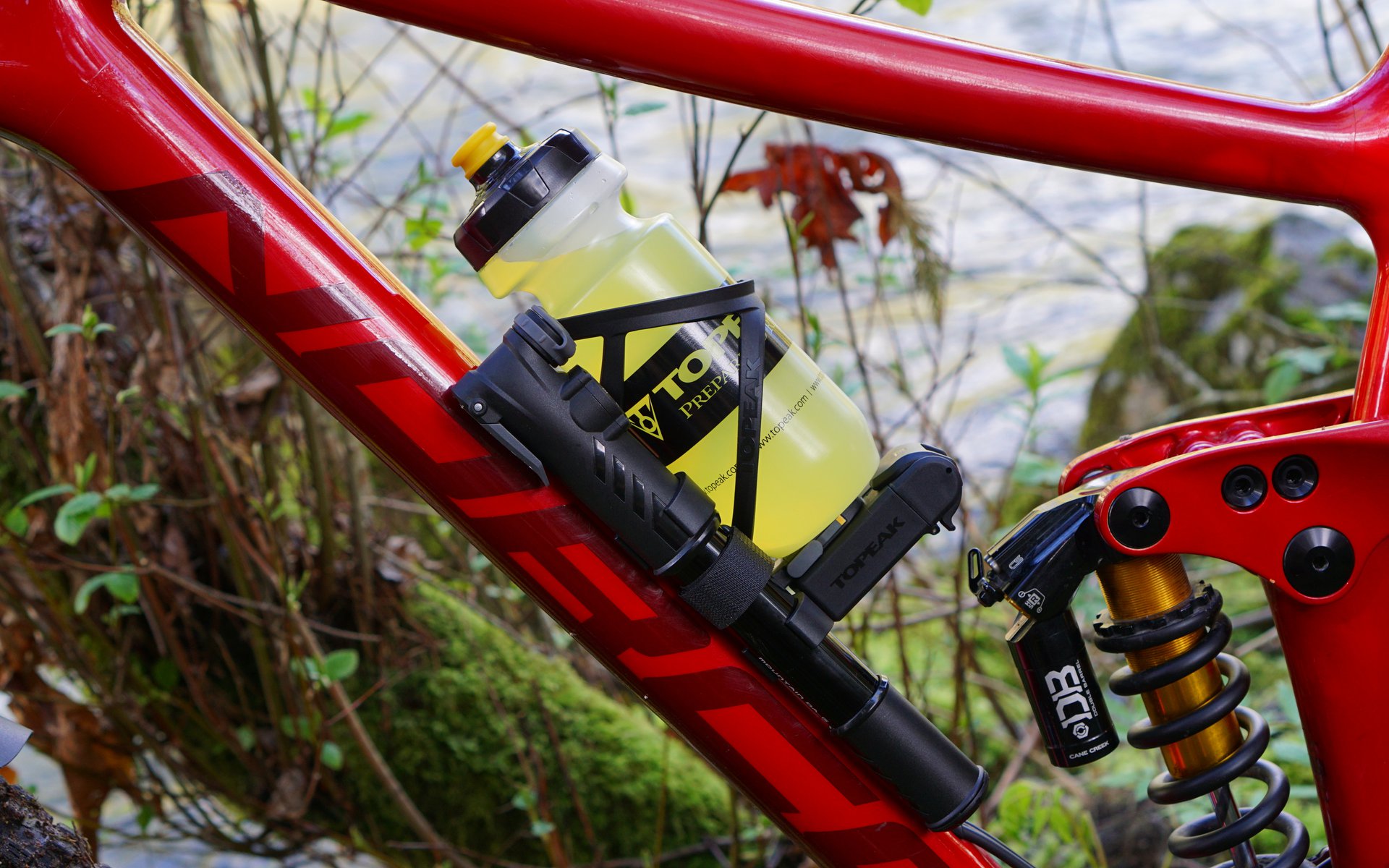 REVIEW
Topeak Ninja 16+ Tool, Bottle Cages and Pumps
Topeak has launched some interesting products semi-recently. I was particularly keen to try the combination of the Integrated Tool Box, which mounts to a Topeak bottle cage, and a new smallish pump. The three make a slick combination mounted to the bottle cage mounts of your bike. There is also an illuminated bottle cage for better visibility when riding at night.
Topeak Ninja Cage
The foundation of this combination of bits is the Topeak Ninja Cage X1AJ. Topeak has some other cages, but the adjustable mounting of the X1AJ piqued my interest. The X1AJ has the tidy Ninja mounting interface which works with all the Ninja accessories. The X1AJ also comes with two tire levers that are readily available, although these are probably more applicable to road than mountain bikes tires.
The integration of the tire levers, and adjustable mounts is really clean. It might seem like a silly statement, but the bottle cage works well. After days of riding rough terrain including in the Whistler Bike Park, I haven't had any issues with bottle retention. The only issue I've had with the X1AJ Bottle Cage is due to the adjustable mounts which don't mount as rigidly as a convention bottle cage. On some occasions I'd hear some clicking from the cage. This has been resolved by tightening the mounting screws. Over time it seems like there might be a bit more side to side movement. This hasn't become an issue yet, but I think the Ninja TC Mountain might be a better option for us mountain bikers with a more rigid attachment method. The cage weights in at 68 grams and will set you back 17.95 USD.
Topeak Ninja Tool Box
The Ninja Tool Box integrates with the Ninja Cage above flawlessly. This can be rotated in place to make easy access to the tool, or can be quickly removed from the bike. The Toolbox seems to be fairly waterproof when closed. There is a rubber band around the tool which does a good job of keeping the Tool Box rattle free.
Topeak Ninja 16+ Tool
The Ninja 16+ is one of Topeak's newest tools, and it's like no other tool I've used before. The chassis of the tool is composite polymer which feels light and sturdy. The integrated chain tool is well placed and easy to use. Each of the tools seems to be high quality, and useful so far. My only critique is that 4 mm hex wrench is a separate piece for operating the chain tool. This 4 mm wrench is probably the most used hex wrench, but its not the easiest to remove or replace, and although there is an extender to increase torque it's not that nice to use. At 92 grams there isn't much else on the market that offers this level of functionality in a smaller and lighter package. Price is 49.95 USD for the Ninja 16+ with the Ninja Tool Box above. Main competitor here is the OneUp EDC tool, which I think is nicer to use, and hides away in a cleaner location. The EDC tool is a similar weight, but it's bit more expensive. Given the price of asking, weight, and functionality the Top Peak Ninja series is a worthy competitor worth checking out.
Topeak Mountain DA G Pump
The Mountain DA G pump is a dual action mini pump, which makes for more air flow in a single stroke (82 cc) which should reduce inflation time. The integrated gauge works well, and when cross checked with high quality gauges at home, seems to be surprisingly accurate. The construction is sturdy, and the pump weighs in at a reasonable 152 grams. Max pressure is 60 psig, which is plenty for all mountain bike tires and gravel bikes, but won't suffice for skinny road tires. The pump comes with a sturdy mount to your bottle cage lugs. Pricing on the Mountain DA G Pump is 34.95 USD.
Topeak iGlowCage B
The iGlowCage B is a neat design that integrates a colour changing LED light into the bottle cage. When used with a transparent water bottle, the LED illuminates the bottle to a colour of your choice and I'm all for more visibility on the road at night. The elegant design looks good on the bike, weighs 56 grams and can be found locally for 39.99 CAD (30 USD, 24 GBP).
The suite of new tools, cage and pumps from Topeak seems well thought out. It's handy that these can all be installed on standard bottle cage mounts. For those who enjoy pack-less riding I think these are good solutions, that put everything you need within easy reach. Placing that weight lower and more centered in the bike than some other solutions is a plus as well. Pricing seems reasonable, and the quality of all the parts is as good as you'd expect from a reputable brand like Topeak.