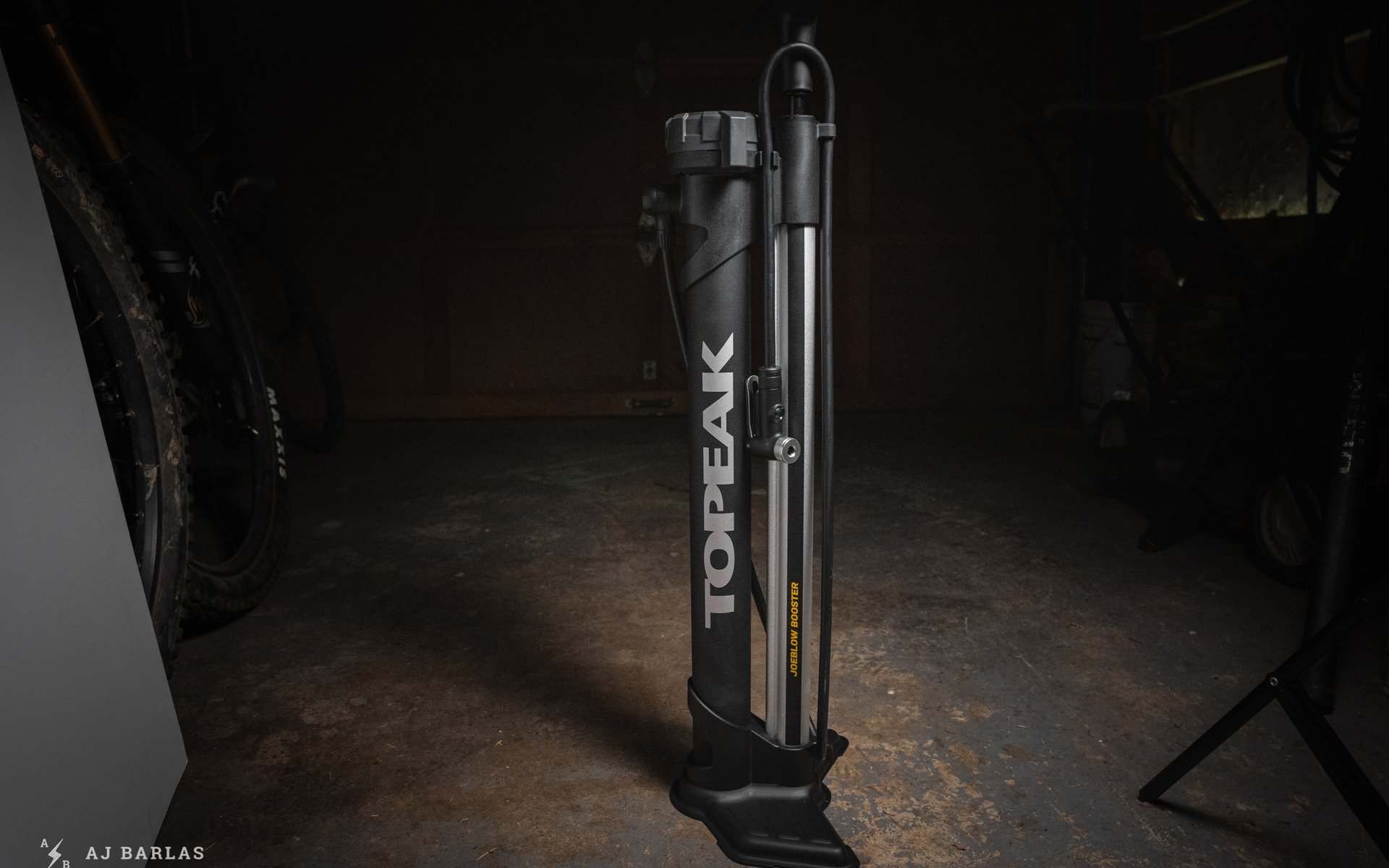 'Max' Didn't See This Coming…
Topeak JoeBlow Booster Floor Pump Review
After spending years running the gauntlet when seating tires to rims, I've finally joined the modern-day. I've added a pump with a charge chamber to my garage; the Topeak JoeBlow Booster floor pump. No, I still don't have an air compressor but since the JoeBlow Booster arrived, there's been no need for one. I also haven't had to frustratingly huck a wheel splattered with sealant into the car and head down to the local petrol station to use their compressors… And it feels great.
It could be because of the pump's ability to ease stress when mounting new tires or simply a coincidence but this year I've changed tread and wheels more often than in the past. Nevertheless, the JoeBlow Booster floor pump has seen heaps of use and it currently rests comfortably with a perfect success rate – the cocky bugger… It's taken 12 years for me to move from my trusty Topeak JoeBlow Max and even with the new tool strutting around, the original still has a place. I can't bring myself to ditch it.
Features
SmartHead® DX3 w/ air release button & x-long hose (152cm)
Large analog pressure gauge
Dual function pump for ease of tubeless setup and regular inflation duties
Anodized aluminum barrel w/ large cylindrical aluminum chamber
Air release buttons on the pump and head for pressure adjustment
Steel base
Weight: 3.4kg
MSRP: 160 USD
Who is JoeBlow?
Searching the name Joe Blow results in a definition that reads; "a name of a hypothetical average man." When I bought my original JoeBlow Max floor pump, the name fit the bill perfectly. It was reasonably cheap but was solidly constructed. Average in every way but much more than that to me. Value comes in different forms but for my purposes, I wanted a simple floor pump that didn't cost the earth. It's not rocket science. At the time, for me that was the JoeBlow Max.
Twelve years on, it's safe to say that the value has been met and exceeded and we've grown close in that time. The size and heft of the new JoeBlow Booster, with its muscle and brawn, make it less friendly on day trips. That would change were I headed away for an extended period, or to a race. But for quick hits to Pemberton or Whistler, I toss in the JoeBlow Max because it's smaller and lighter. It's only during full tire inflations that Max begins to show his age, gasping for breath during each effort. That's where the heft of Boosty excels and generally speaking, there's little need to seat tires on a day trip.
But with JoeBlow evolving over the years, he's more on the sophisticated side now. That comes at a higher price and while I can't remember what Max cost all those years ago, I don't believe it was more than 100 CAD. JoeBlow Booster fetches considerably more than Max did, but his features have grown, use has been simplified further, and construction has improved. There are more moving parts thanks to the inclusion of the high-pressure chamber but if Boosty lasts as long as Max – which I have every intention of seeing happen – then it's all worth it. With the age of Max and zero attention aside from reaching for him when in need of a pump, I don't see why a long and prosperous life isn't possible for Boosty.
Using the JoeBlow Booster
Over the years I've used heaps of pumps and have regularly found some quirk, or required technique to attach the head before pumping away. Max never required any tricks to make things happen and whenever friends have grabbed it to use, there've been no questions. Thankfully the JoeBlow Booster retains a no-fuss head but Topeak has improved the system, as you should expect with a decade-plus between each pump. The SmartHead DX3 adjusts to fit either a Schrader or Presta valve at the flick of a lever. It's not a new feature but I appreciate the ease of use and have found other similar heads problematic. The lever is made of aluminum rather than plastic so it should be durable for years to come.
Tubeless Inflation
Setting the pump up for a tubeless tire install is easy. Spinning the dial clockwise around the analog gauge aligns a red marker with a yellow one labelled "Charge". Pumping away with the dial at this orientation fills the pump with one litre of air and 160psi of pressure. The final ~40psi requires more effort but each compression sees the needle leap further. It takes about 40 strokes to achieve full charge at 160psi. Once the pump has reached 160psi the dial is spun counter-clockwise to "Inflate" and with a steady flush of air, Boosty does his thing. It's not as aggressive or fast as other similar charger style floor pumps I've used and I miss the fulfilling "pop" as the bead is forced into its new home. That may be because of the tire or rim combinations I've been using, nevertheless, it's successfully seated every tire I've used this year on the first attempt.
Daily Inflation
When using Boosty as a regular floor pump, it's easier to compress but it also feels like a shorter stroke and for the same amount of compressions, Max pushes more air in. It takes longer to pump up a low tire with Boosty. The gauge on Max hasn't been used as more than a decorative piece for many years and I've found the reading on the high side by ~13psi. Checking the gauge on Boosty when new, I discovered it was more accurate, but still off by ~5psi.
Gauge placement, at the top of the pump, improves readability but I still find the analog readings somewhat ambiguous. Digital is far easier to read. With this in mind, I still refer to a digital pressure gauge after adding air. Two bleed valves are present on the JoeBlow Booster, something Max never had. They make fine-tuning easy for riders happy with the analog gauge on the pump. I'd find them more useful if the pump had a digital pressure gauge. But that would move Boosty further out of the JoeBlow space too; floor pumps with integrated digital gauges don't typically fit the average rider's budget.
Structurally, the JoeBlow Booster is a sturdy piece of equipment, with mainly metal construction, and some robust feeling plastic mixed in. The base is steel with a size and shape that contribute to a very stable feeling. It's great for those frustrating, rapid sessions when patience is thinner than a strand of grandpa's hair. Where Max used to tip or rock out of place, Boosty stands firmly, allowing me to get intense. The weight behind the JoeBlow Booster floor pump increases its stability further.
Verdict
Topeak's JoeBlow Booster floor pump features solid construction and usability I've grown used to from years using toy old JoeBlow Max. While some things have changed, the handle is comfortable, the head dummy-proof, and the switch to tubeless inflation or regular is dead simple. It is more expensive than the pump it replaced, and it's hardly in the average man's range now. But the sturdy build and ease of use make the few extra bucks over similar options appealing. It's a great option for anyone in need of a pump to flip the score in their favour when battling tubeless tire instals.
Click for more on the Topeak JoeBlow Booster