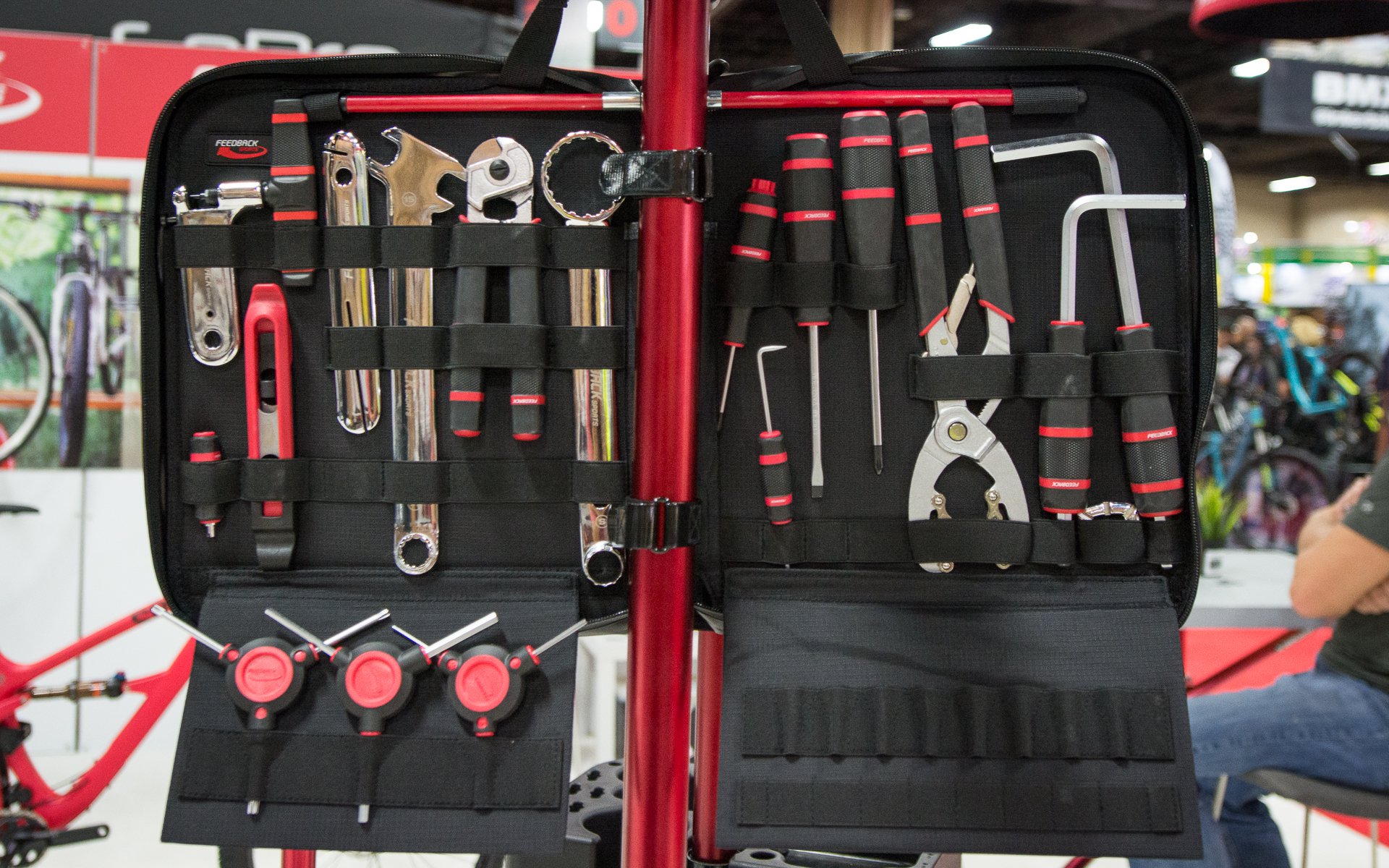 No, actual tools - we're not that mean.
The Tools of Las Vegas!
Known mostly for repair stands and scales over the last decade, Feedback Sports introduced a tool line late last year. With cool, clean, and downright shiny products like the $250 Team Prep kit that comes with just about everything needed to keep things rolling (including a dental pick-style poker, and one of the coolest chain whip tools in the market), to their newest offering - the Chain Keeper. Compatible with 12mm thru-axle bikes and old fashioned dropouts, the $40 tool does what it sounds like it'd do when it comes time to give your bike a deep, wheel-free clean. 
Fix It Sticks
Fix It Sticks was showing off a couple of things at Interbike, both of which include the already popular namesake t-handle style tool that can be broken down into two separate pieces. The Mountain Kit adds a chain breaker, two tire levers and a little zippered case to the original 'Sticks. Unlike the typical packable chain tool, this one has plenty of real estate for grip once both 'Sticks are attached. Removable bit tips allow more custom tool preference, and the small carrying case has plenty of room for a handful of extras, along with enough room for something like a CO2 canister and head. Look for the Mountain Kit in shops sometime this November for $50.
Still in prototype phase, the Belt Clip is just that - a small holster style clip for carrying Fix It Sticks' T-Way wrench, along with 8 extra tool bits. The current rendition uses a magnet and plastic flanking fins to house the tool, and a simple plastic clip molded from the same body for an attachment point. There's no ETA or suggested retail price at the moment, but mechanics who appreciate having a T-handle tool within reach at all times might want to keep an eye out for the production version next year. More on their site.
Park Tool
There's a smattering of new, mostly blue tools and toolsets from Park Tool for 2018. Things like updated P-handle holders that come with PH 1.2 sets for $80 aren't exactly worth going into detail about, but one interesting new offering is the THS-1. The trailhead tool station seconds as a basic stand by cradling seatposts and saddles on two rubberized prongs. Short of dirt jumpers without more than a few inches of post showing, it's a pretty universal and easily usable system that'll do for a quick tune in an emergency. 
The toolset is ED-coated for rust resistance, and Park Tool used a little more plastic coating throughout the kit for improved overall durability, too. The tools are tethered to the main body via coated metal cable, and the whole thing bolts directly to a wall, kiosk or trailhead post. Sure, it's not something many people are going to run down to the local shop for and set up for personal use, but it's a potential option for your local trail group to install at a trailhead, or the outside wall of a bike shop to keep those annoying tool borrowers from loitering inside. They'll be available this November for $400.
Other Blue Light Specials include JIS standard (Philips head) DSD-2 and flathead DSD-4 professional grade screwdrivers for $35 each, a 12-speed compatible SR-12 chain whip for $30, and three new socket sets ranging from $48-120. And, just in time for your wine-loving aunt this holiday season, the BO-4 bottle opener can be bought using your local shop discount and remind her of her favorite nephew with every popped cork for $52 (before your bro-deal). All of Park Tools' new products can be found here.
Fix Manufacturing
Take a snowboard tool belt buckle and tweak it for mountain biking, and that's essentially what Fix Manufacturing is offering. Except instead of basic tools that can't be removed from the belt, there's a proper multitool that pops out of a holster. It's pretty cool, actually, and a much more practical improvement over something like a couple of screwdriver heads that can't be used without running around the trailhead with your pants falling down like some kinda wannabe gangster. Buy britches that fit, wear belts, and stay the hell off my lawn!… Anyway, there are two belt options - the $50 All Time belt is made of stretch-free webbing, and has an alloy Payload Pocket that the separately sold tool slides into. The All Out belt will be available this December and feature a stretchy material belt with what's said to be a cleaner tool carry interface. The Wheelie Wrench is their bike-specific multi-tool with 17 essentials, and retails for $30. Snowboard-biased multitools are available for $25-$35 that slide into the same Payload Pocket for those who do a bit of both in the same belt.
Another carry option is the aptly named Strap On. Sold separately from their tools as well, the $20 holster fits nicely on hydration pack straps, or similar webbing-style spots. Both the Strap On and the belt options will be compatible with a new multitool in the works that Fix Manufacturing had CAD drawings of, as well as a 3D printed mockup. There's no ETA or specific price just yet, but it'll have longer tool shafts and carry a spare chain link. Speaking of shaft lengths, while the current Wheelie Wrench's T-25 looks like it might be too short to access SRAM rear derailleur bolts, the guys at Fix Manufacturing say it works in that specific situation. 
---
I saw some interesting toolish items as well so I'll add them here. -
CM
Lezyne
Crankbrothers