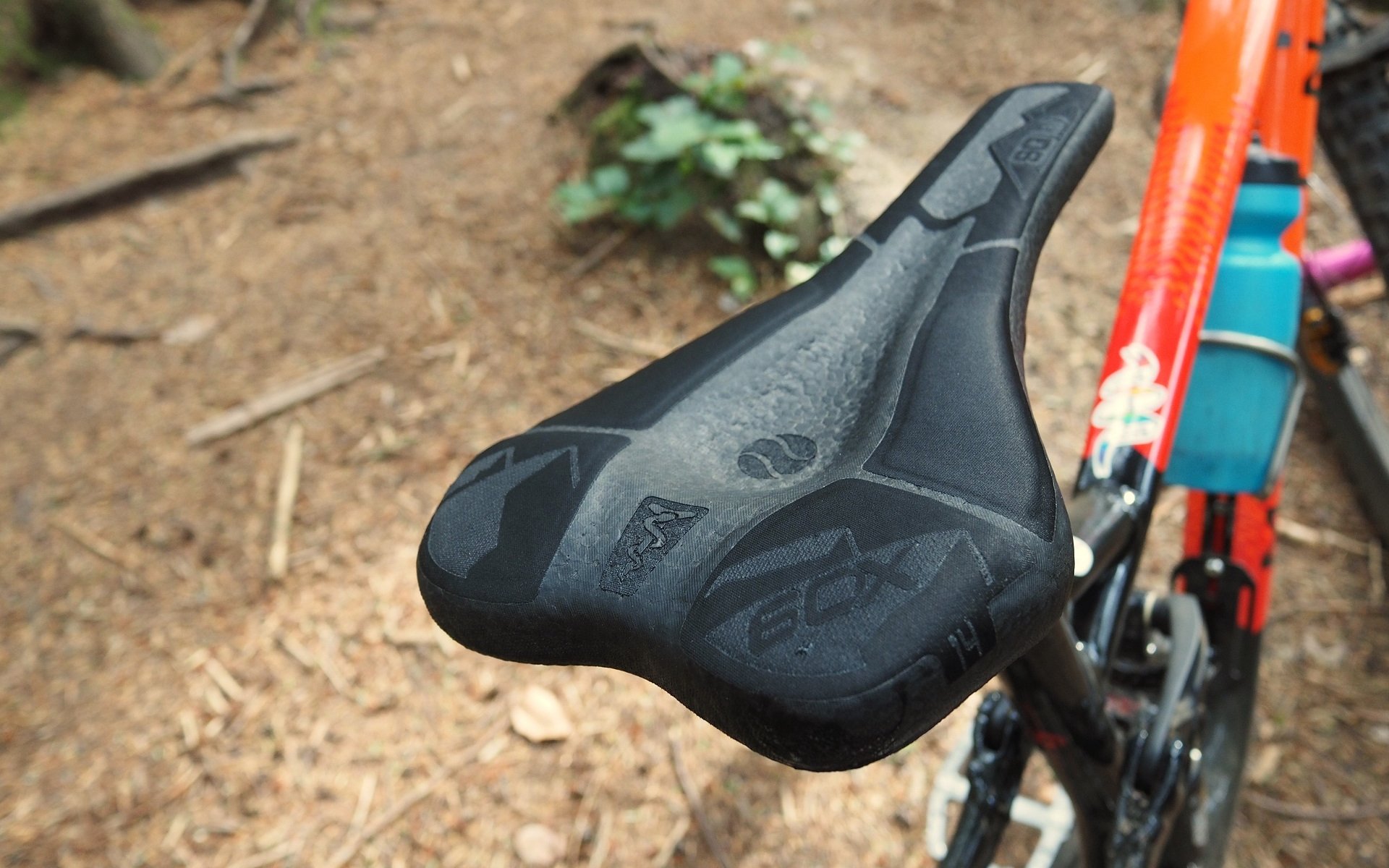 REVIEW
To Infinergy? SQlab 60X Active Saddles
On A Cloud
I was excited for my first ride on the new 60X Active saddle from SQlab. This is their first saddle that's made in Germany and it uses a unique application of BASF Infinergy foam, which is popular for running shoes. It's a robust material that has excellent damping and rebound properties, and it's ecologically friendly. That eco-factor comes thanks not only to long-term durability but also to local sourcing and strict German environmental guidelines.
Here I'm reviewing a 14cm 60X Infinergy Active. I'm confident that I wear a medium helmet, wear a size 43 shoe, and ride a 14cm saddle. This is important to mention as my first experience with the 60X Infinergy Active has been riding a pre-production 15cm version on my commuter bike. It is like riding on a cloud around the city, but it's too wide at the back for me to be comfortable trail riding with it.
611 Active
The 611 Active was my first SQlab saddle and I've recommended them to many riders. It's not a universal recommendation though. The Active platform does an excellent job providing support while not interfering with pedaling motion. It also damps trail noise to a significant degree. I've yet to recommend the saddle to anyone with back issues who didn't notice an immediate improvement.
The 611 is the best shape from SQlab if you're riding a bike with a slacker seat tube angle (STA). SQlab tries to use little graphics showing rider position - more or less upright - to recommend saddle shapes but this is oversimplified to make shopping and selling easier. I ride quite upright positions on all my bikes but the 611 shape is better on my Waltworks and other bikes with a slacker STA, in my case 73.5°. The SQlab 60X is a preferred shape on any bike with a steeper STA, for example, the Banshee Titan with its 76° STA or the We Are One Arrival with its 77° STA.
I haven't been riding the 611 lately as I've found the perfect blend of what I love about this saddle and the stub-nosed WTB Koda in the form of the BikeYoke Sagma. The Sagma works great on both my 73.5° Walt and my 76° Marin Rifty 29". While I appreciate the smaller dimensions of the Sagma, I still find myself recommending the 611 more often. The Sagma is like a more comfortable and more expensive Koda but it won't change your experience like an SQlab Active saddle.
60X versus 60X
With most bikes sporting steeper seat tube angles, I've started recommending the pre-Infinergy SQlab 60X regularly. This shift started with the Banshee Titan and has continued through multiple bikes including the Arrival I'm currently reviewing. I don't have an exact cutoff point but on a bike with a 76° or steeper STA, I recommend riders either try both or start with the 60X over the 611. The 60X makes me appreciate riding steeper STAs and makes them more fun on climbs especially. As with other SQlab saddles, I recommend buying true-to-size, so if your sit bones measure out to 14cm buy that.
My first ride on the saddle I'm reviewing here was a poor one. Despite a number of on-trail adjustments, I could not find a comfortable position and by the end of my ride, my sit bones were sore. As much as I enjoy the fit of the wider 15cm Infinergy saddle on my commuter, I wouldn't consider mountain biking with it due to the body-English restrictions of the size relative to my stance.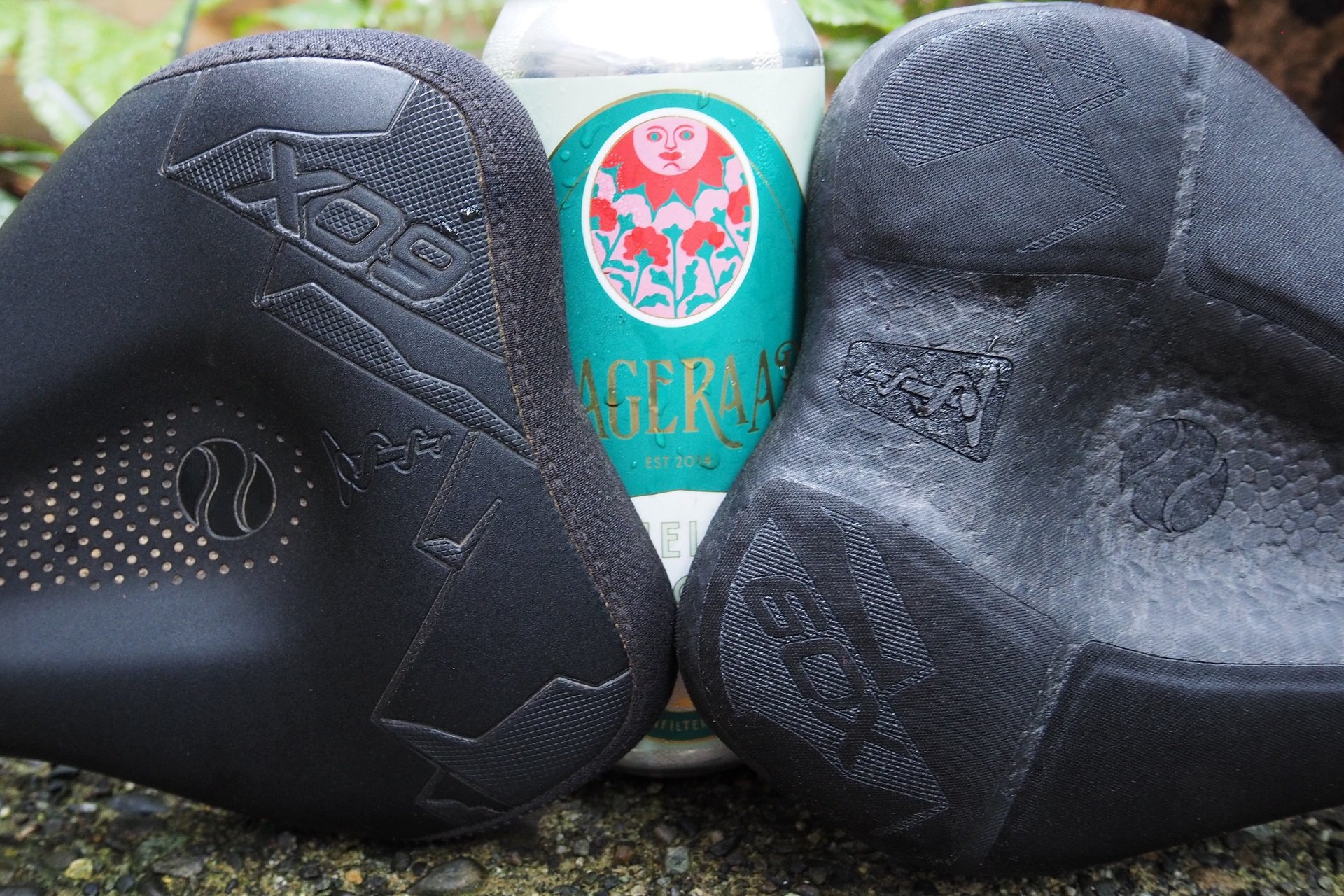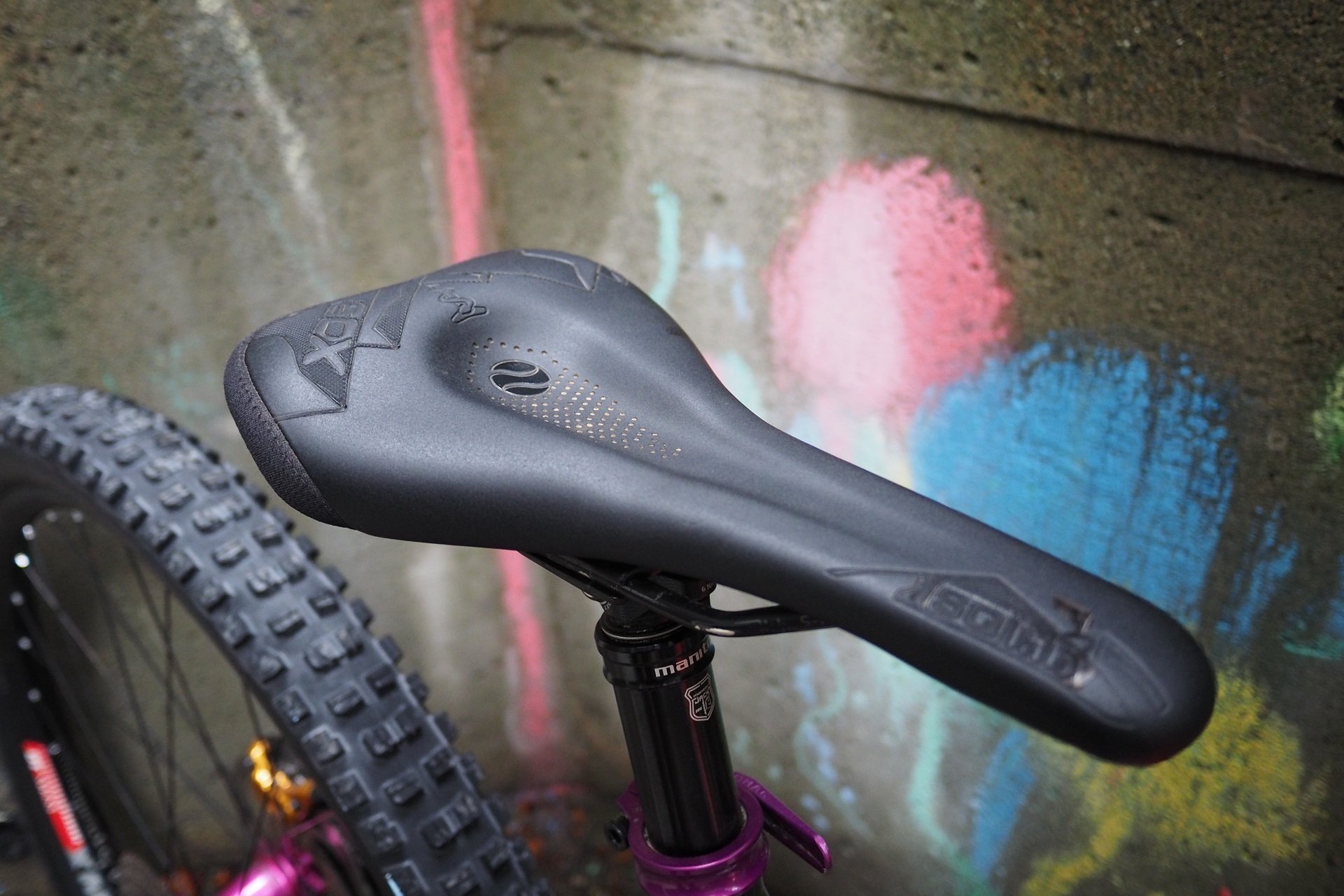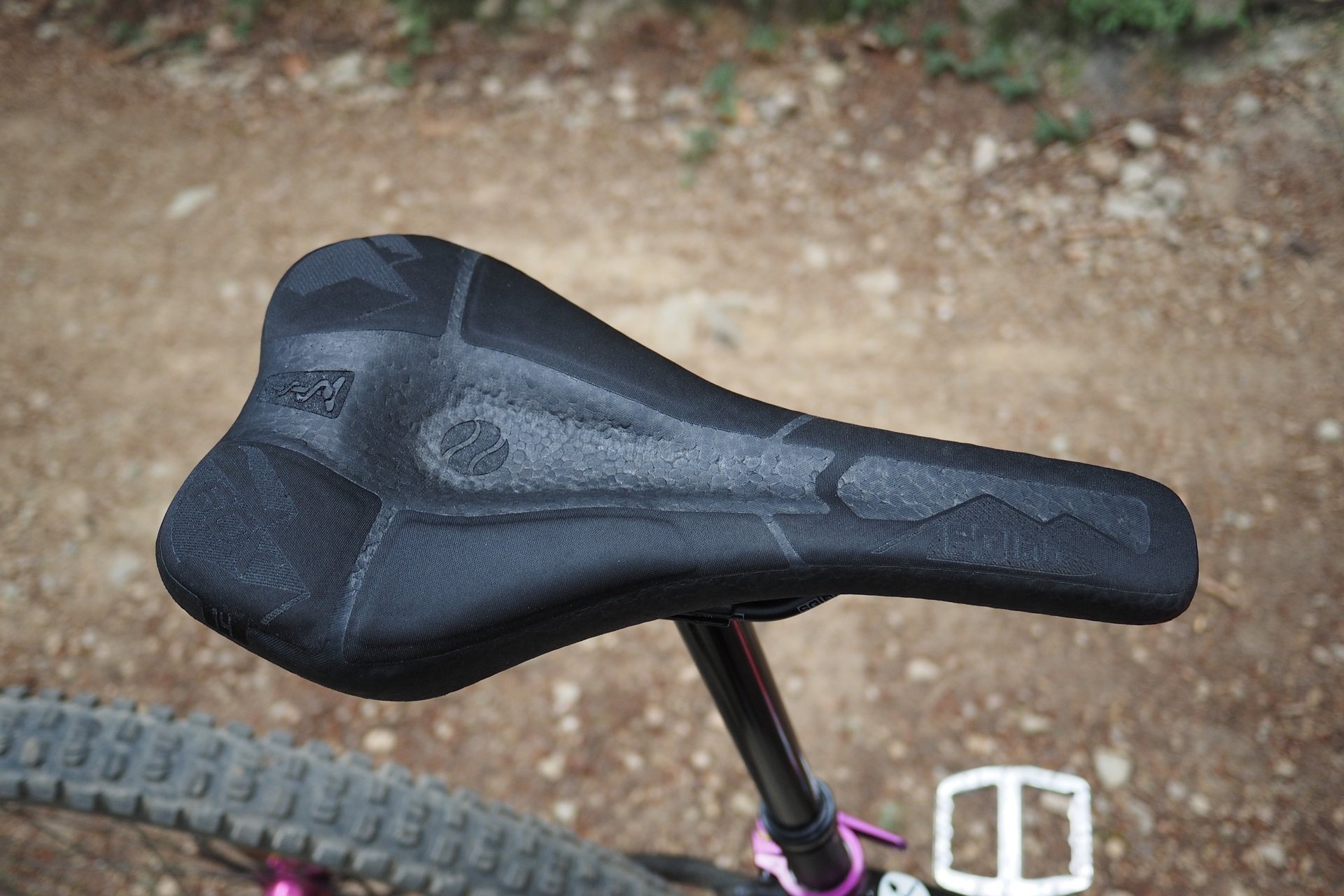 The traditional covered-foam construction of the 60X Active has another advantage over the taped-high-wear sections of the exposed foam Infinergy version that I discovered on my second ride. Infinergy really sticks to some clothing. My favourite pair of Leatt DBX shorts and my MUSA not-pants from Rivendell both grab the Infinergy saddle at exactly the wrong time, every time.
Both those pairs of bottoms have textured finishes, so your cycling wardrobe may not be affected in the same way. My other properly trashed and loved bottoms - my Leatt DBX pants and my Kitsbow Haskell shorts - have no interface issues at all. While I've come to terms with the Infinergy saddle, this is a deal breaker that would point me towards the non-Infinergy version.
The Infinergy Customer
"The 6OX is the optimal saddle for long and steep climbs on the EMTB while providing optimal relief, even on bikes without an engine. This means that the rider no longer has to take power-consuming protective positions, so all the energy is available for propulsion." - SQlab
I came to terms with the 14cm version of the 60X Infinergy saddle when I went back and read SQlab's description of the seat. Ignoring the broped marketing - what cycling products aren't 'e-bike optimized' these days? - the clear intention of the new Infinergy saddle is for riders climbing seated, well over the pedals. This was actually relatively easy to replicate as my Rift Zone is currently under-forked and sports a -2° angle set. I swapped out the 27" rear wheel from my mullet setup for a 29" and the end result was a significantly steeper STA than I'd normally prefer to ride. This combination makes the Infinergy saddle much more comfortable, and actually, I enjoyed pedaling the steep STA more than I expected, thanks entirely to the saddle.
It may sound dumb when I say that a saddle shape can somewhat 'fix' my fit issues with bikes with the steepest saddle-over-bottom bracket (BB) riding positions but that's been my experience here. The saddle isn't moving me back to my preferred position more behind the BB but on the 60X Infinergy I feel like I have more power in a seated climbing position than normal. I still wouldn't purchase a rig with a STA that steep, hoping a saddle would fix it, but it's nifty that this could be a solution for folks who've been fighting the steep-STA fit on their mountain bike.
Where I'd recommend the SQlab 611 saddle for slacker STA bikes, and the 60X Active for steeper STA bikes, it's fair to say that the optimum comfort zone for the Infinergy saddle is when bikes get steeper yet. If you love the regular 60X with a slacker position or generally prefer a steeper STA already, the new 60X Infinergy could work for you.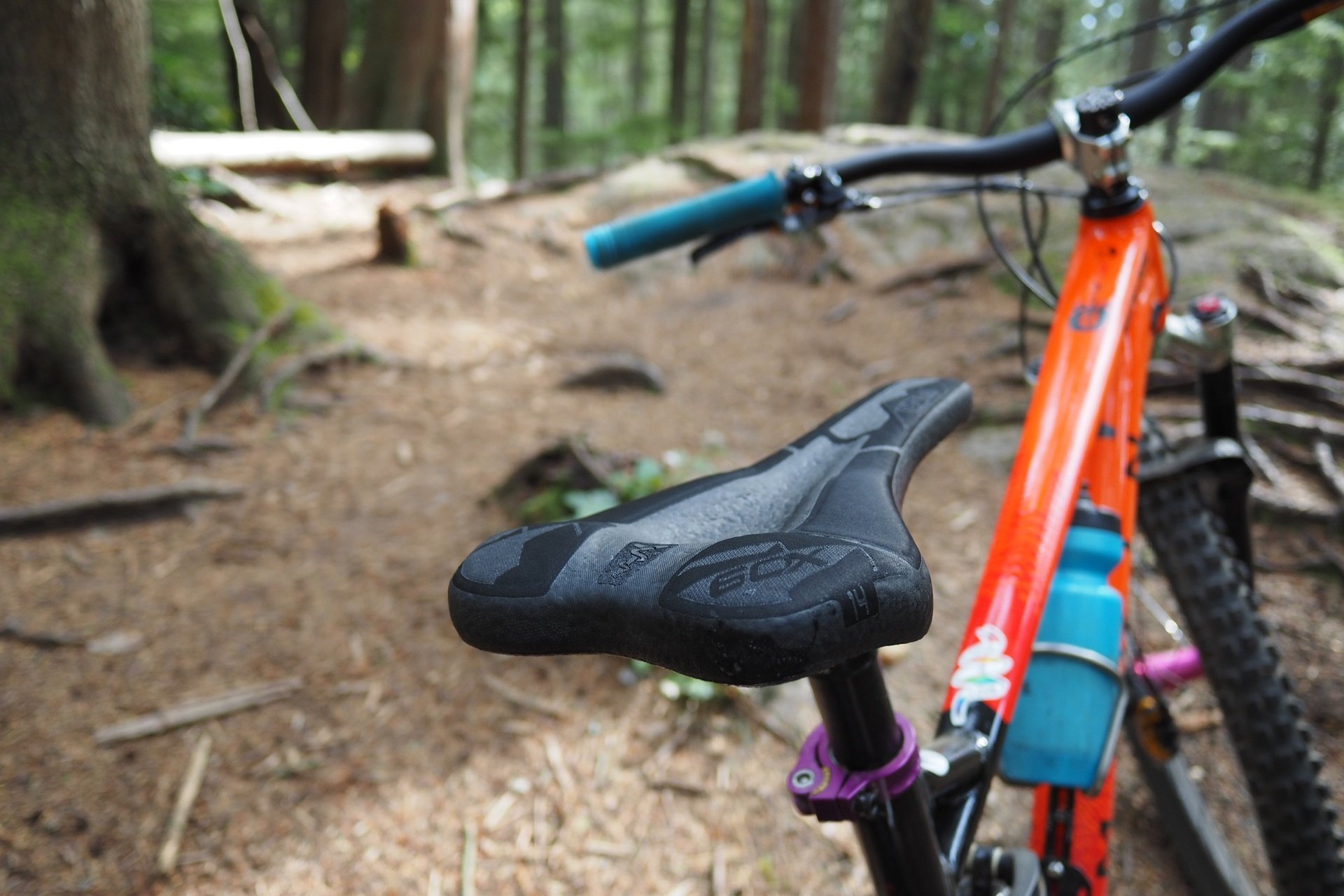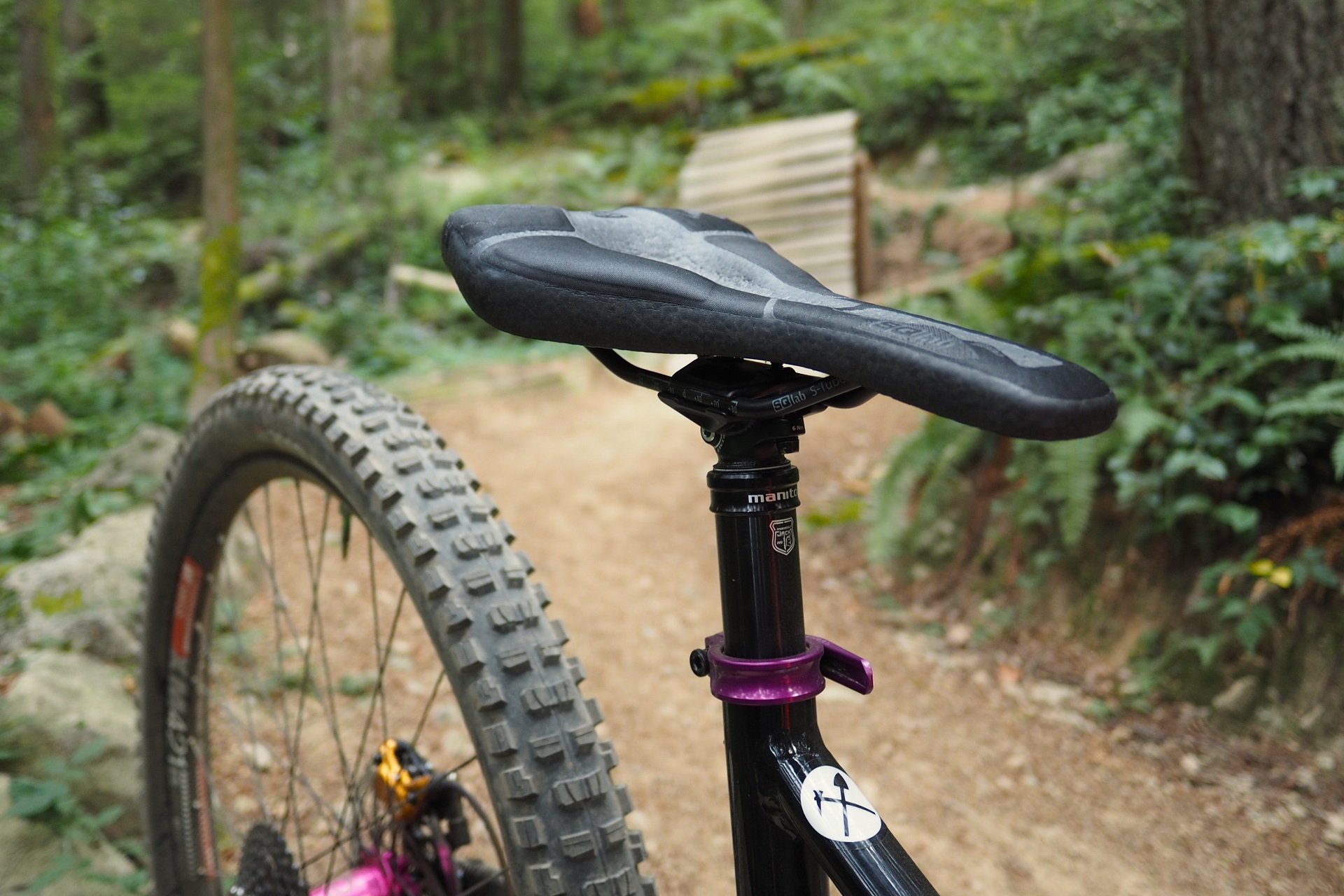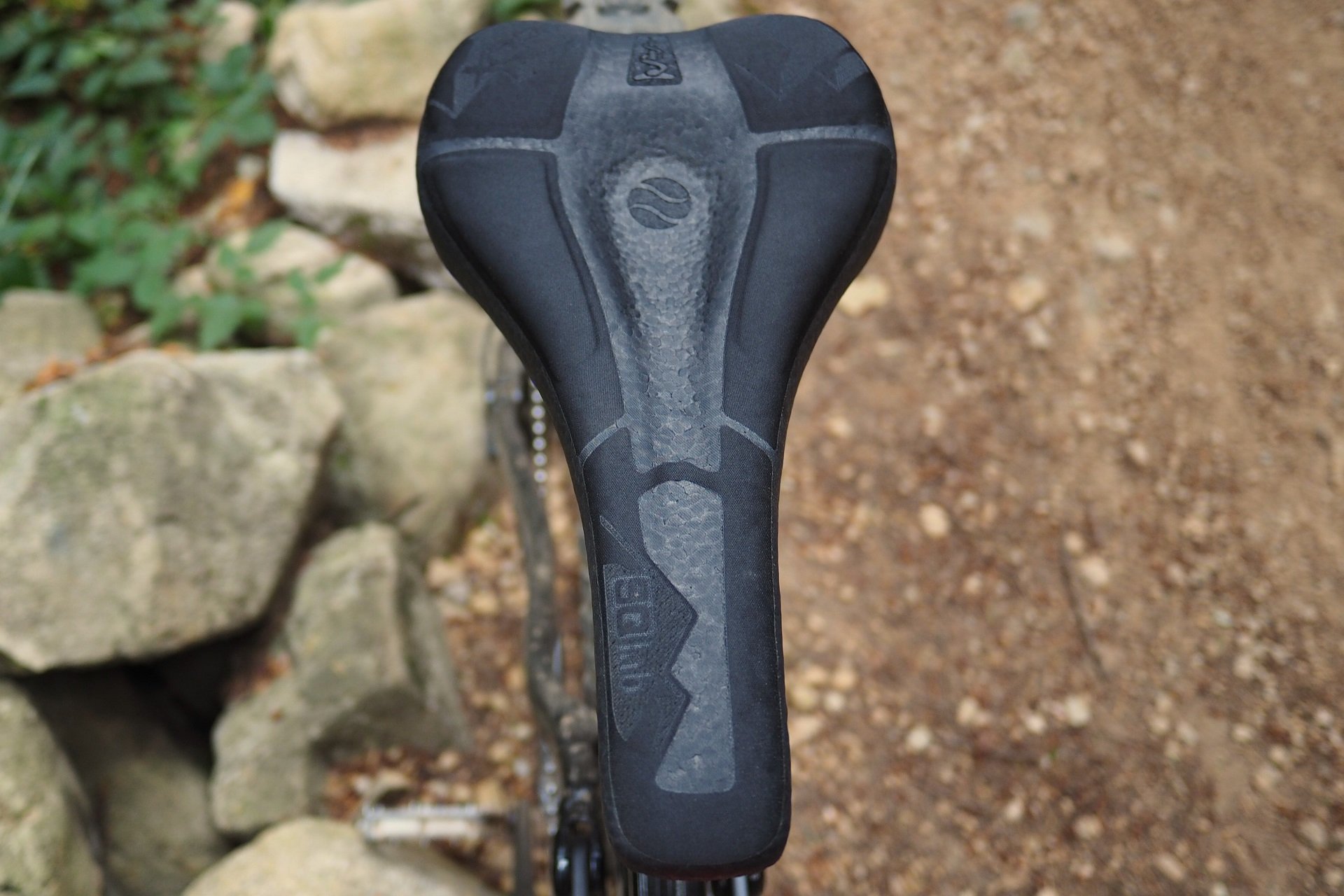 The SQlab 60X Active Infinergy saddle works well for me in a narrow set of circumstances - frames with steep STAs - that I don't generally put myself onto. I generally prefer bikes with STA angles slacker than 76º which puts me in a minority of riders I know. Steep seat tube angles are the key to short chainstays and fitting the longest possible reach and folks are bought in.
If you're riding a bike with a steep, saddle over the bottom bracket, pedaling position, and looking for a saddle to alleviate numbness, pedaling pain, or to manage other issues, like back trouble, this could be the saddle for you. I'd still save 70 CAD and choose the regular SQlab 60X Active over this German-made Infinergy model, as the non-Infinergy option works much better for me on a broader range of bikes.
The 60X Ergowave with Infinergy Foam comes in four sizes - 13cm, 14cm, 15cm, and 16cm - and while I've always previously recommended staying true to size, on a slacker STA rig, consider the pros and cons of bumping up to a wider setup. This saddle will run you 270 CAD | 200 USD which is a healthy pile of money if you don't need the support and flex of an SQlab saddle and a great bargain if it gets you out riding longer, more comfortably, and more often. There's more information at SQlab. I always recommend checking out saddles in person if you can.