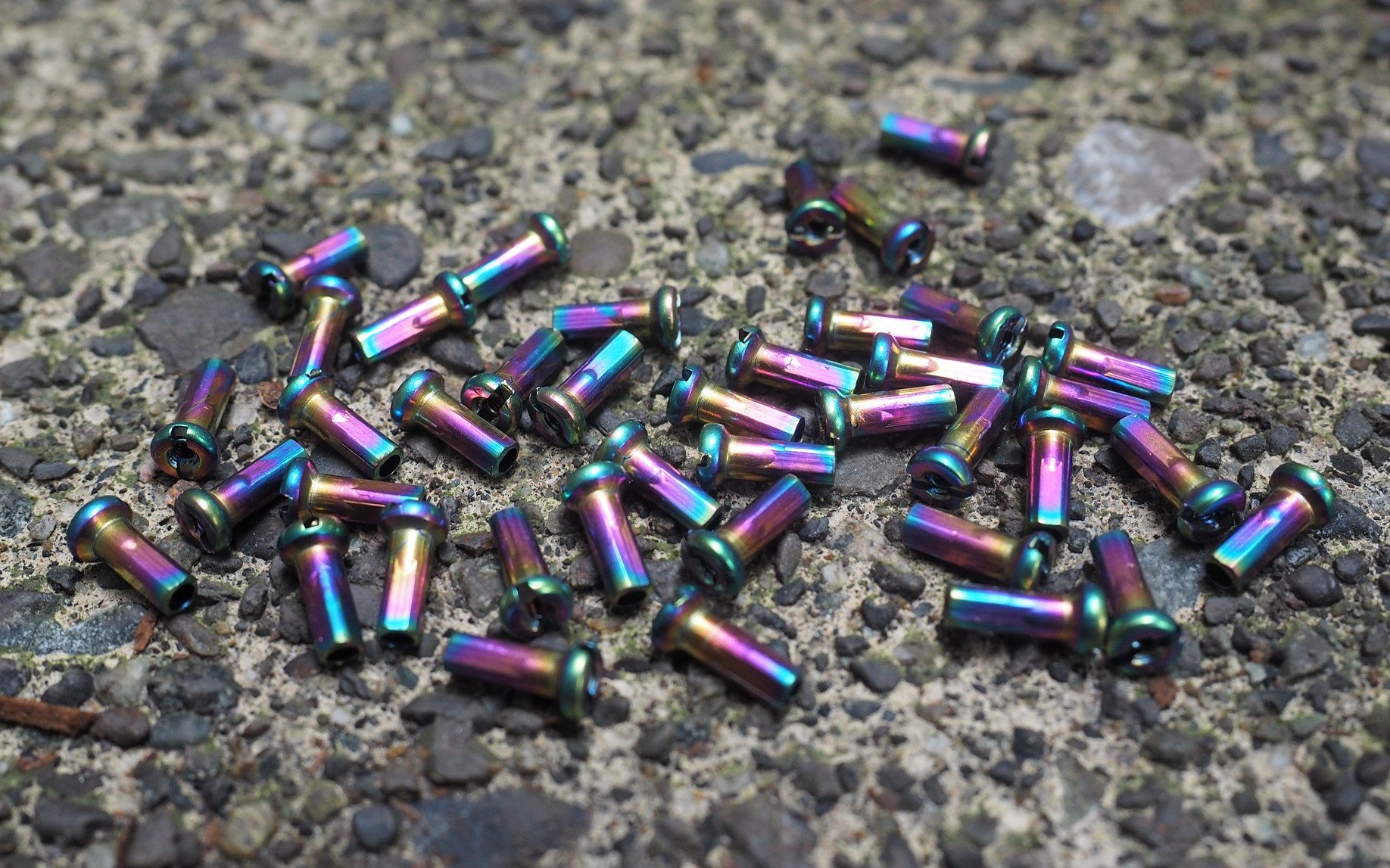 Two-Minute Review
TLC Brass Nipples
Instant Grams
An aluminum nipple weighs about 0.3 grams and comes in a plethora of sweet anodized colors. A brass nipple weights about 1-gram and comes in boring black and silver. Oh sure, the brass nipple is more durable, significantly more corrosion resistant and less likely to seize. Don't take it from me, ask the three bike mechanics you trust the most whether your next Trail, Enduro, or DH wheels should have brass or aluminum nipples.  
But, but, but that's a Godzillian 24 grams per wheel on a 32x spoke hoop. On a wheelset, that's 48 grams of Strava-slaying rolling weight. Really? I'll admit I've ridden aluminum nipples for years, despite all the above, because they look cool. Enter the UK's TLC Bikes with a solution to have my beer and drink it too. 
Given that the benefits of brass nipples more than cover the spread on the eight-grapes-of-weight per wheelset penalty, I wish TLC made a larger range of anodized brass color options so riders could reap all the benefits without having to check their vanity. 
That said, I love the rainbow anodized finish and it holds up very well against a spoke key both in the build-up and during maintenance. After months of use in Raincouver the nipples still turn easily and based on my past brass experience they'll turn nicely long after aluminum nipples have seized up. 
At 17 GBP for a bag of 40 nipples, it works out to about 0.60 USD per nipple before shipping. That's either a bit more or a bit less than a DT Swiss aluminum nipple depending on where I'm picking them up. 
The only negative I can come up with is that TLC 14g nipples don't match the ten* or so colors available for aluminum, but they do come with a plethora of colors on each nipple which certainly isn't boring!

Better nipples that aren't boring. For more information on TLC Bikes brass nipples please click here. 
*twelve including black and silver