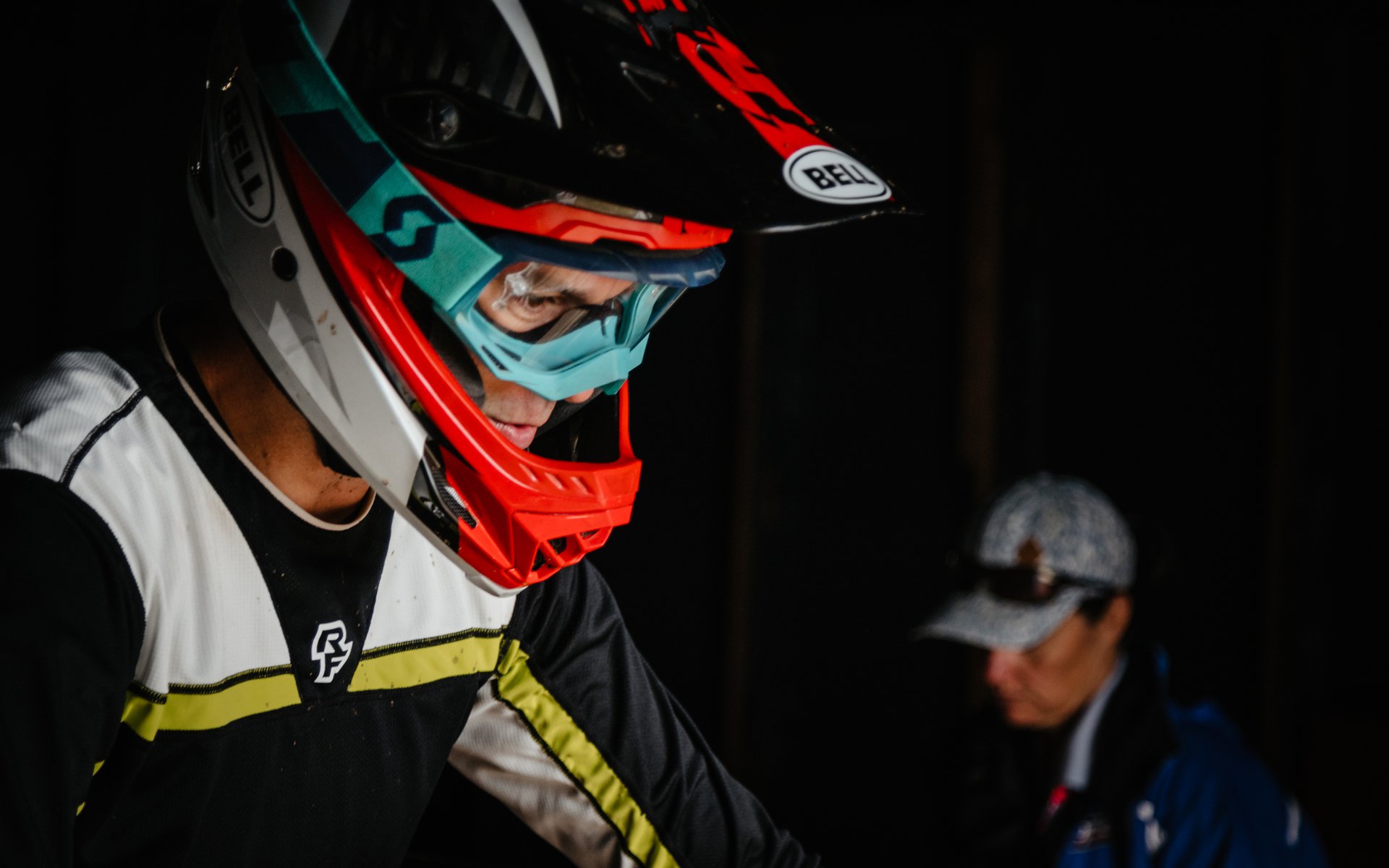 A week of challenges at Mont Ste. Anne
Tim's Masters Worlds Championships 2019
When I heard about the Masters World Championships being held on Canadian soil in 2019, I immediately wanted to go. Not because I thought I could win it, but primarily because I wanted to be a part of the event. For those that haven't been following I've written a couple articles on my preparation up to the event:
The plan from there was to race the EWS 80 in Whistler, followed by a few days in the bike park over Crankworx. With my skills finely honed I'd jump on a plane to Quebec City ready for action.
It didn't go to plan.
The EWS 80 got off to a rocky start. My buddy Sean crashed on an A-Line warm up run and mangled his ankle. He toughed it out through practice, but couldn't start the race. The race itself was really fun, with a great crew of guys. I rode on the conservative side as I didn't want to get hurt the week before Worlds, but my efforts were good enough for 7th in Open Men. I was stoked with the result! The EWS 80 wasn't a huge day, so I did some bonus laps in the bike park with some buddies afterwards. After everyone split off I had a silly little crash that left me flying head first into a tree. I got up with a dented helmet and a neck that was in agony. F*&k! I was flying to Worlds in a week.

The plan from there was to race the EWS 80 in Whistler, followed by a few days in the bike park over Crankworx. With my skills finely honed I'd jump on a plane to Quebec City ready for action. It didn't go to plan.
The following week was filled with anguish. My neck couldn't support my head getting out of bed, let alone ride a bike with a helmet on. I saw a physio who confirmed it was a whiplash injury, that thankfully appeared to be all soft tissue in nature. I'm an engineer by day, and could still drive a desk, so I left Whistler and returned to work. Then on the Thursday before the race I get a phone call from my good buddy Glenn who was sharing the hotel with me at Mont Sainte Anne. He'd just broken his hand and his back on the Worlds track. Thankfully he was still walking, but he was out. Gutted. I attempted a ride on the Saturday. It didn't go well. I couldn't look up enough, I couldn't look through corners, and harsh compression resulted in lots of pain. With 5 days to race day the doubt was creeping in. I traded a good buddy Brendan Light a home physio / IMS treatment for some pancakes on Sunday morning. I did a short solo ride afterwards, and there was a noticeable improvement which brought a glimmer of hope. With nothing more to be done, I flew to Quebec City.
With two good buddies and myself getting hurt, it had become tough to stay positive. It seemed cruel to have ridden so well all summer, being smart with where I took risks, and now uncertain if I'd be able to compete. My goal was to make the most of it by enjoying myself as much as possible, whether I could race or not. With Glenn unable to meet me at the airport, I was thankfully able to jump in with Brian and Karaleen Gioia. The Gioias are awesome and we shared plenty of laughs hanging out on Monday. While building bikes in the parking lot with the Dunbar Cycles crew, the weather suddenly got biblical. It poured for much longer than we thought, and all of us were wondering how that track was going to look the next day.
I woke up and got on track as early as possible. I needed all the time I could get to practice. Maybe I was a bit eager as I was the first racer down official practice. The course was treacherously slippery from the overnight rains, and the track is littered with rocks. I had a couple sketchy moments, but made it down. After four practice runs on Tuesday and I wasn't feeling confident - I could barely ride down the track. The difficulty of the track did not help. Riders were complaining the course was too tough. "I've raced Worlds for 6 years in a row and this is the most difficult by far, Val Di Sole is a cake walk in comparison!"
I met AJ during Wednesday practice for some photos. I dropped in, and my neck was in agony. I'd forgotten to take any Ibuprofen and the pain from riding was getting worse. On the second run down my neck seized. The pain intensified and I could barely ride. I went to get off my bike, couldn't look down to see what I was stepping on, lost my footing and fell over. The marshal was staring at me with this judgmental look of disbelief, likely asking herself what this squid was doing attempting the World Championships. I was asking myself the same question. I slowly made it down to AJ and told him I needed to get some Ibuprofen. I gingerly finished up practice and waited for the seeding runs that afternoon. It started raining soon after practice ended. Oh boy.

The marshal was staring at me with this judgmental look of disbelief, likely asking herself what this squid was doing attempting the World Championships. I was asking myself the same question.
The race course starts in the gondola building with the iconic wooden rollercoaster. All the racers were hiding inside the building to stay out of the rain and you could cut the tension with a knife. Everyone was nervous. My time came and I saddled up in the start gate. I peered through the portal of light, spotting my line through rain-soaked first corner. I thought about the years of watching downhill greats launching from this very spot. The officials warned us that lighnting was in the forecast for tomorrow, so this could be our race run. Sod that, I took my chances for sun on race day, and rode a conservative seeding run. Mostly because the track was a slip and slide and I couldn't afford a crash and the risk of reinjuring my neck. In the open grass sections the grip levels swung wildly. I stayed clean until the very end where I lost of the rear tire on one of the last open grassy corners. I did some two-wheeled break dancing down the ski run, eventually slid to a stop, and made it to the finish in a time of 6 minutes 27 seconds, which was good enough for 12th in the Men 35-39 category. Luckily my grass party hadn't hurt the neck at all.
Thankfully the rains eased after seeding, leaving race day dry and beautiful. We got a couple laps in the morning, but it was difficult to judge how much the track would dry out, and where. Once again in the start hut the tension was heavy. Everyone was nervous. Staring out of the hut for the last time I tried to focus on enjoying the moment. It had been a tough week, but I had got this far. I had an awesome race run, feeling the strongest I had all week, and enjoying the track in the drying conditions. I couldn't fully attack the run but I rode to the limit of my ability on the day, and made a few mistakes but I think I judged the conditions well.
As I crossed the finish line I was overcome with elation. In the moment I wasn't sure what my time was, or where I placed, but to have persevered through a difficult week, and to simply have finished was a huge relief. On the gondola ride up I had been questioning why I do this to myself. Why go through the stress and pain? I could be sitting at home playing video games and drinking beers. That feeling of elation crossing that finish line; that is why.
After a few seconds I looked up to the finish screen seeing my name sitting in 2nd, and put in a time of 5 minutes 48 seconds, which was 40 seconds faster than my seeding run. Freaking stoked.
So, my 2019 Masters World Championships adventure is a wrap. It's over. I think it'd be easy to look back at the result and be disappointed I raced hurt, wondering where I might have finished otherwise. The fact is on my best day I wasn't going to threaten the top guys. There are some unbelievable athletes that climb out of the woodwork for these events. Tommi Misser showed up on a trail bike. Why a trail bike? Because his sponsor Orbea doesn't have a downhill bike. He won the downhill on Thursday on the trail bike in the 45-49 age category, and then won the cross country by 2 minutes on the Friday. Absolute legend. Meeting people like this, and sharing the passion of mountain biking at a world class event is awesome.
Ultimately I'm proud of how I rode, and stoked with a top 10 result. Could I have had a better result if I was healthy? Maybe, but that misses the point for me. I thoroughly enjoyed the journey to get here, and more than anything grew to appreciate the amazing people around me.
A huge thanks to everyone for the support: my amazing wife, my family, all the local riding buddies, the Lords, the NSMBA Fiver crew, Glenn in Montreal, Brian and Karaleen Gioia, the NSMB team, Seb and Jack at Santa Cruz Bikes, the Dunbar Cycles crew, the Rippers Lounge boys, Brendan Light, AJ Barlas, the John Henry crew, Eric at Race Face, Naz and Ariel at Fox and all the trail builders in Vancouver.
And the post race go-karting with the group of 22 karts was EPIC!