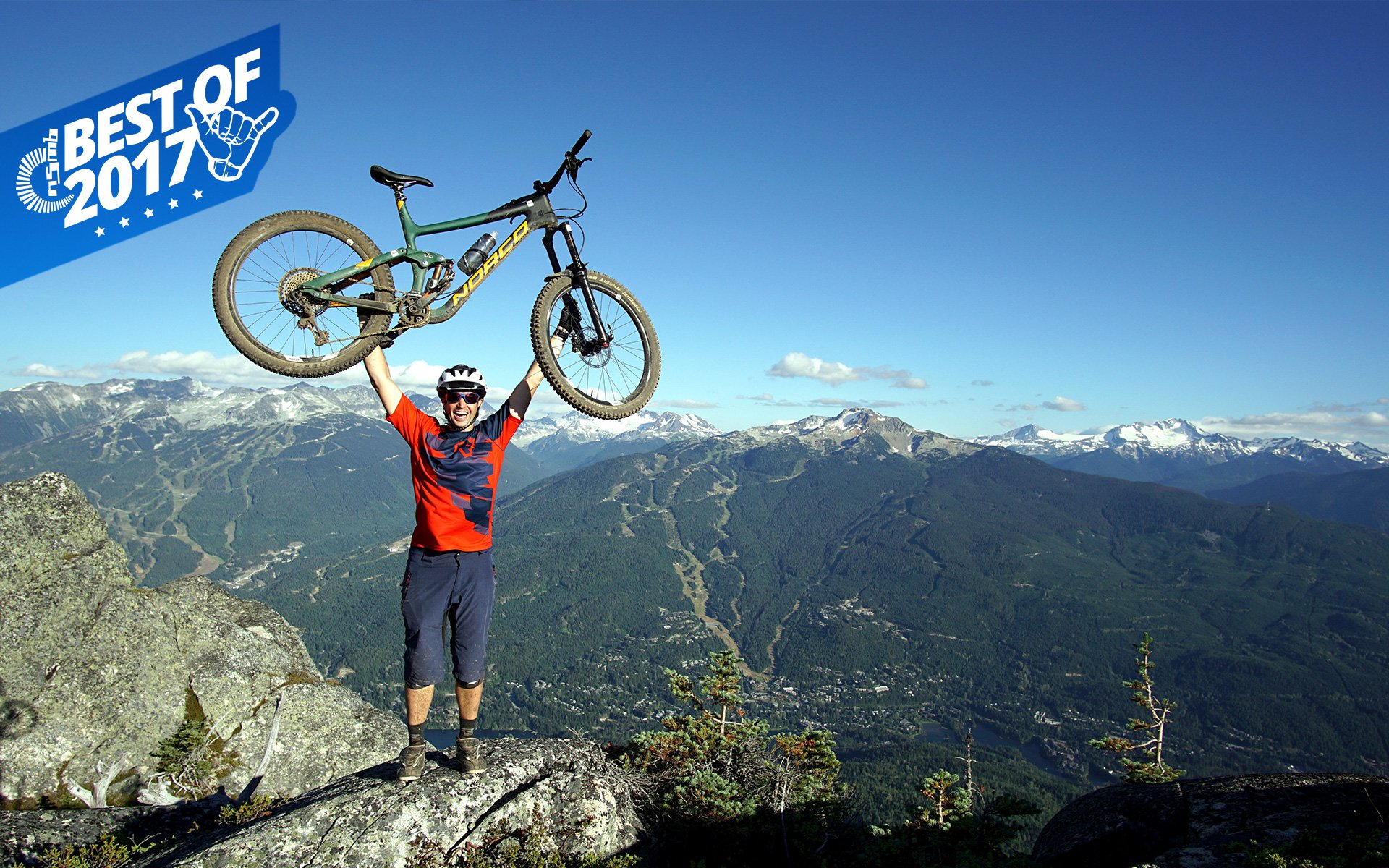 Year in Review
Tim Coleman's Best of 2017
The tail end of 2017 has been a little rough, but for the most part, 2017 was filled with amazing experiences. There have been standout products for sure, but experiences have dominated my Best of 2017. This is the cream of the crop.
Whistler and the EWS
I spent a bunch of time in Whistler this year, and love everything about the place; the bike park, the valley trails, the food, the lakes and the lifestyle. Whistler is quickly becoming my happy place. I participated in my second Whistler EWS this year. I got a few weeks notice I'd be partaking in the 2017 version, and fared far better than attempt #1 (I barely survived the first one, the infamous Crankzilla). That said the 2017 version started in a 2°C whiteout at the top of the Whistler Peak and descended in to the the toughest stage I've raced; Top of the World to Ride Don't Slide. I hadn't been able to descend Ride Don't Slide or Howler top to bottom without stopping in practice, but pulled through on race day. I wasn't as fast as I'd hoped, but I rode well all day with minimal mistakes. I managed myself well, and had great fun riding all day with both new and old friends. All in all a very memorable day.
Virgin Islands Trip
Without a doubt this was the stand out experience of 2017. My wife and I spent two weeks DIY island hopping in the Virgin Islands in February. We flew in to St. Thomas, and then spent 4 days each on Tortola, Virgin Gorda, St. John and St. Croix. I had more "is this real life pinch yourself" moments on this trip any other we've done. It's hard to put in to words how amazing each spot was, and I could fill this article with gorgeous images, but even those don't do the experience justice. 
Track Days
Oh my, cars are so fun. I attended two track days at The Ridge Motorsport Park in my S2000 this year, and had a blast. They aren't cheap trips, but they're some of my favourites of the year. Shelton, Washington is a cool town, and the Ridge Motorsport Park is a fantastic facility. The track is an adrenaline pumping roller coaster. There isn't a regular corner on the track, with elevation changes, varying speeds, and changing radii. It's fast and flowing and some of the most fun I've had in a car. 
Whisky Advent Calendar
Not many people know this about me, but I quite enjoy whisky ... like a lot. There are a number of nice whiskies I've wanted to try, but buying a bottle is expensive, and you run the risk of possibly not liking it (although highly unlikely in my case). So I figured if I could rope 23 friends to give me $120 each, I could go get 25 bottles of whisky, 600 x 1 oz. bottles, and we could split them among ourselves. Then I'd have a delicious new whiskey for each day of December leading up to Christmas. What could possibly go wrong? The whole concept was to have it as social and communal as possible. I initiated the list of whiskies, but suggestions were made to optimize the list. The pouring event was a highlight of 2017. At the time of writing this, we're half way through the Advent Calendar and so far it's been better than sliced bread. 
Big Boys Day Out
The concept was simple, bring back freeride. I miss those days of taking all day to ride down the mountain. Stopping and sessioning stunts, everyone spectating as their friends have a go. I love how each rider had their strong suit. I love the comradery of buddies hanging out in the woods and pushing themselves. I find much of today's riding is a bunch of buds bombing down trails, and don't get me wrong I love that too, but I miss watching everyone push their limits. This ride was intended as a homage to those times; a day where we rode some of the hardest trails in Whistler together. There were jaw dropping moments (Matt Beer is a biking wizard), there were crashes, the woods were filled with high fives and laughter. It stands out as the ride of the year for me.