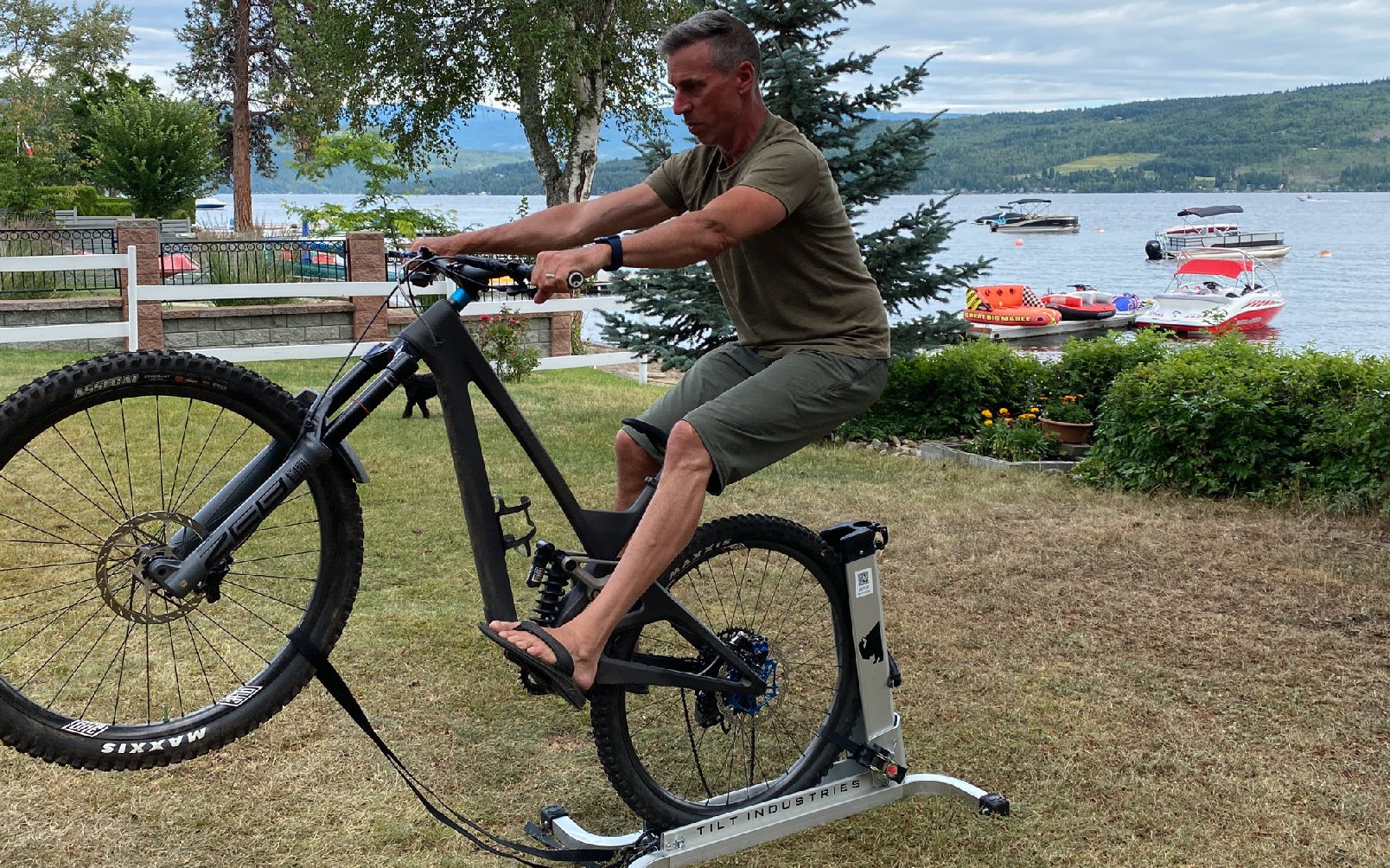 FIRST IMPRESSIONS REVIEW
Tilt Industries Balance Trainer
You've probably seen videos on instagram of riders on homemade "manual trainers." These hold your rear wheel while vertically and have a tether to prevent you from falling backwards, the aim being to help you find the balance point so you can ride your rear wheel back from your ride like a boss. Tilt Industries has begun mass-producing a much more refined version of this device, with the added utility of an optional work stand and a wall mounted holder to store your bike. Tilt doesn't advertise this as a manual trainer however; the idea is that the skills required to hold your rear wheel in the air in the stand, will transfer over to the trail and make you a better rider.
I am a believer in skill transference and I've experienced the benefits more than once. There was a time when juggling a soccer ball (football) wasn't considered a valuable activity because it wasn't something that was generally used during the game. Over time it became clear there were benefits to kicking, heading, and kneeing the ball repetitively without letting it hit the ground. It improves single leg strength, sharpens your balance, and strengthens knees and ankles. It also improves aerial control, concentration, timing, finesse, and proprioception; the ability to sense your body's movement, action, and location in space.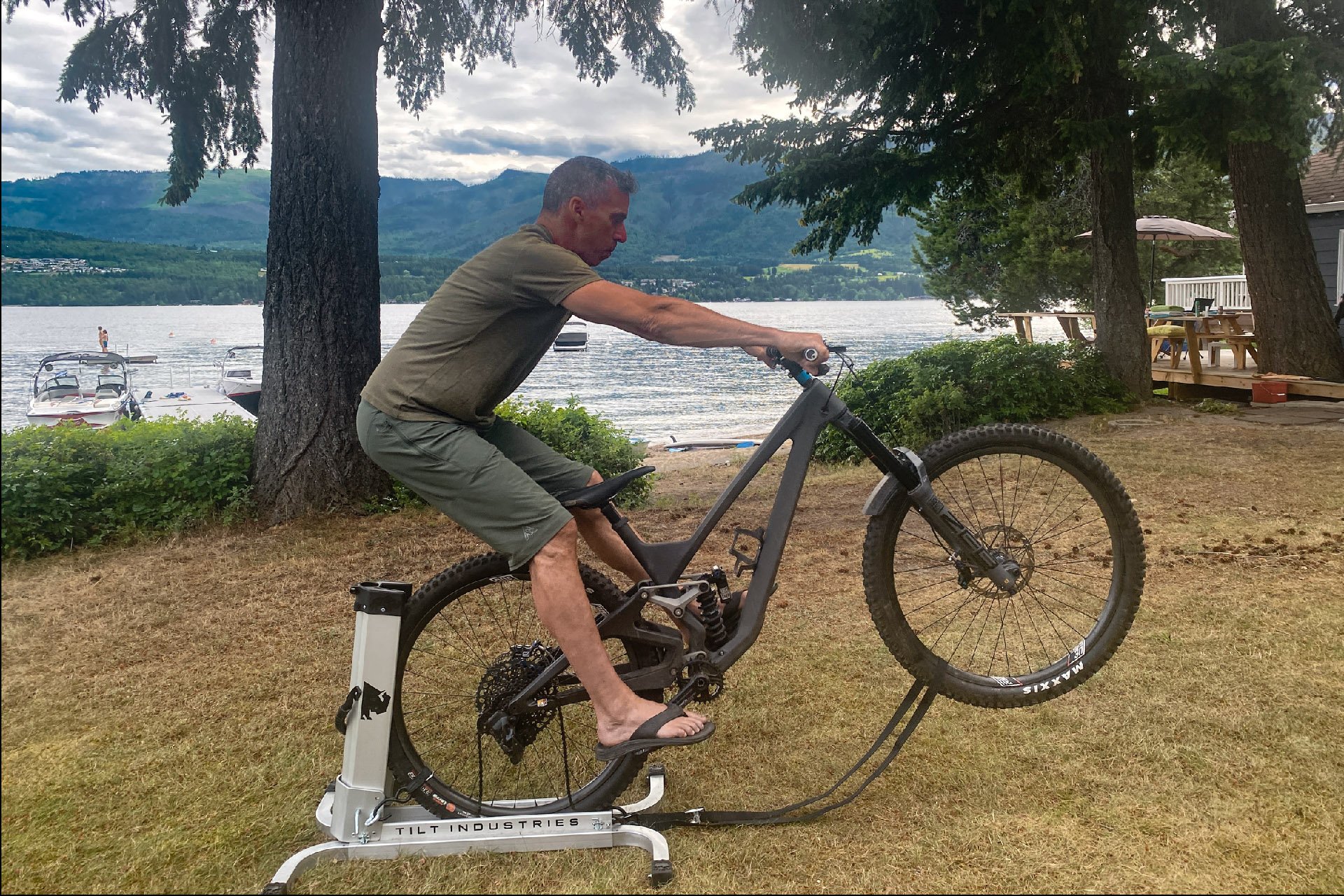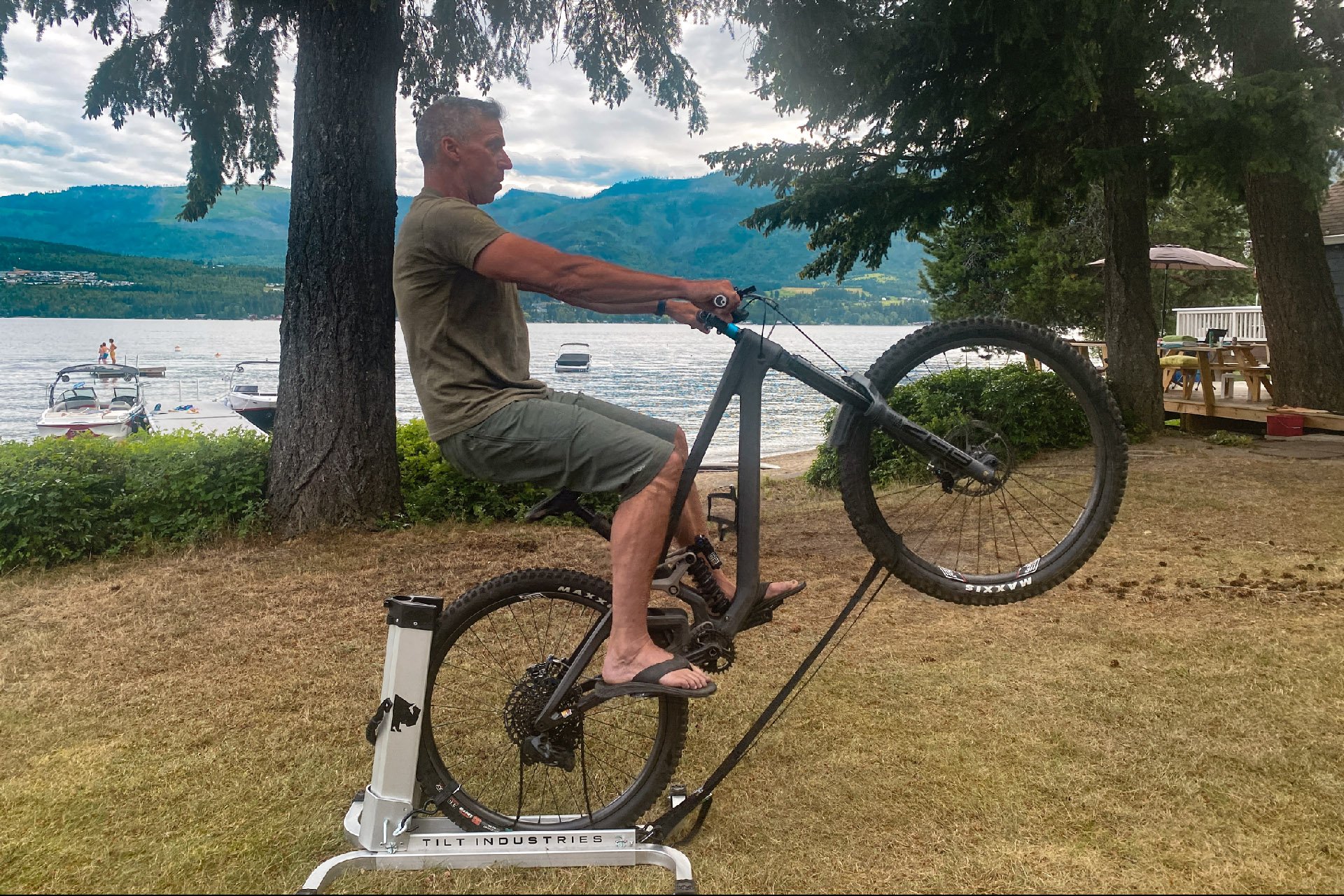 When I was in high school I heard that juggling three objects was beneficial for hand eye coordination and I spent countless hours leaning up against my bed (which simplifies retrieval) throwing balls in the air until I became decent. Over time this belief has strengthened and proponents of juggling even believe it can help kids who struggle to read. Scientists have found some compelling evidence to back this up: "When researchers at the University of Hamburg subjected 20 young adults to one month of intense training in juggling, they found an increase in the corresponding gray matter in the brain as early as seven days after the training began."* This was borne out with IQ tests which showed a statistically significant bump after that first week.
I discovered how this applied to bikes in the 90s, when doing trials moves on your hardtail was sometimes considered part of the trail riding experience. My buddies and I learned to hop around with our brakes locked and I discovered my balance on the trail had improved. I wasn't expecting this at all but it was a welcome bonus. When I graduated to hopping on my back wheel, the impact was amplified significantly, but I never got to the next level; doing pedal kicks a la Ryan Leech and Danny MacAskill.
The trainer performs a simple task, but the design is refined and thoughtful. The legs are removable for storage and transit, but they can be inserted unobtrusively to keep everything together. There is a ratchet to help secure your rear wheel and an adjustable strap to prevent you from landing on your ass, although this would be an impressive feat even without the strap.
Setting Up Your Tilt Industries Balance Trainer
I first tried the device while we were having post-ride beers and before I had watched any how-to videos. I was sort of successful but I missed a few things. The first step is to roll your rear wheel into place. Normal riding pressure is fine but if you prefer to have less side to side movement you can jack your pressure up to make. After that the strap goes across your rear wheel and is synched moderately firmly. Once that is done, mount up and rock your bike backward a few times to place it more securely and give the ratchet a few more clicks. Once that is done the safety strap attaches to the pin at the front of the device, is looped through your wheel, and then back to the pin. You can decide how steeply you want the bike angled before the strap limits your movement and over time you'll likely give yourself some more slack.
Ready to Go
In order to maximize the benefits of the experience, removing your chain is recommended. As an alternative, because your bike isn't actually rolling anywhere, it's possible to simply remove your chain from the chainring and rest it below the cassette, perhaps in a cloth so it doesn't pick up detritus.* Tilt also supplies a track that can be rolled onto your chainring that prevents your chain from engaging any teeth, simulating a chainless experience. Once you mount up you may be tempted to stretch your pointer over at least your rear brake lever. Tilt would dissuade you from this practice as well, hoping you will instead use your balance or the tether to keep you in the sweet spot. At that point it's time to saddle up and pretend you are Wyn Masters.
*this is assuming you have a 1X drivetrain - and to be clear I have only done this a few times and there could be unforeseen consequences
I begin like a bmxican in the start gate; balanced weight between feet and hands, with feet at 9 and 3 and well-positioned on the pedals. After a few bounces I tip my ass back, with my arms straight, and use my body weight to pull the front wheel off the ground - and then it's a rather intense game-on, for as long as you like. It's not a low stress activity and I've been feeling it in my lower back and shoulders, but not unpleasantly. .
Manual Training
Before the bike industry started chasing big hoop dreams, I was beginning to get the hang of manualling. I remember circa 2001 or 2 practicing in the street in front of our house, and getting 20 or 30 feet at a time and sometimes being able to pump and recover for even longer. Occasionally I was able to hold my front wheel up for the length of a downhill ladder bridge which was an amazing feeling. Since we graduated to 29ers, I haven't once been able to even pull the bike to the balance point. On 26 I could bounce up into the balance point by heavily weighting the bars and then doing an abrupt pushup. The Tilt Trainer has taught me that, on a long modern 29er, the motion needs to be much more rearward and with a dramatic weight shift; the sort of move that would have left me flat on my back on small wheels.
Old Dogs
Over the last few years my downhilling skills have improved considerably. I've gone from fair to middling to fully middling but it still feels great and I hope to ride this wave as long as possible. I can't tell you yet what sort of impact the Tilt Industries Balance Trainer will have on my riding but I'll be playing close attention and reporting back once I've made the apparatus a part of my regular training regime.
I'm probably too old to learn how-to manual, which makes it sound like a great challenge. Age-be-damned, I'm going to give it a try with the help of the Tilt Trainer. I think a good strategy will be to have a bike set up in the trainer full time to remove friction and make using the trainer a habit. As a bonus, that bike won't need brakes or drivetrain.
Hopefully I'll be back with some Wyn Masters-style clips of me one-wheeling down some curvy mountain road before too long.
The Trainer on its own costs 299 USD or 399 USD with the repair stand option (which is 159 USD when purchased separately.
Tilt Industries has a lot of good information on using the trainer as well as other helpful tips for someone who wants to become a better rider.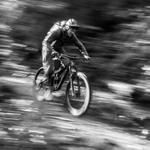 Cam McRae
Height - 6'/183cm (mostly legs)
Weight - 170lbs/77kg
Inseam - 34"/86cm
Ape Index - 0.986
Age - 56
Trail I've been stoked on lately - Boogieman
Bar Width - 760mm
Preferred Reach - 485-500mm (longer with 27.5 wheels than 29)