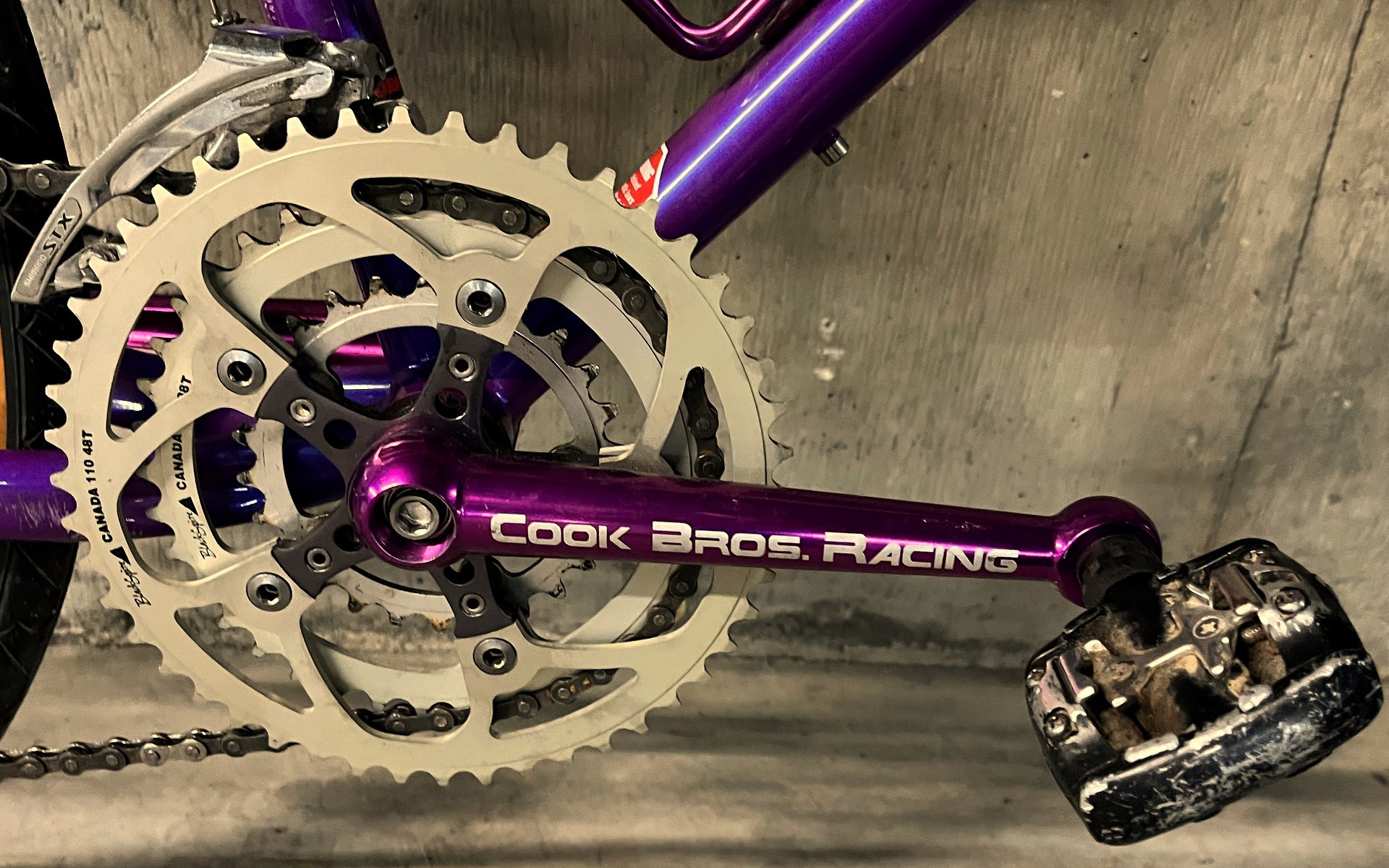 EDITORIAL
Three Tears For The Too-Fresh Retro Rigs
Hardtails, A Love Story
I saw an old Ritchey hardtail last summer. I'm certainly no expert on vintage machines but it would have been late '80s or very early '90s. That same classic 'TR' headtube sticker and the outline 'RITCHEY' decal on the downtube. Dressed as a commuter with fenders and a rack. From the look of the original paint and the mix-match of components it has obviously been through a glorious life of use and abuse. But it had fresh Shimano cable and housing and I'd bet that XT thumb shifter still drove the XT derailleur across all seven cogs with no complaints. The front and rear rims were mismatched and neither had the telltale groove of a rim braking surface about to crack. I'd bet a beer that the seat post had fully become a seat mast at this point.
For a while I sat and looked at it. I thought about waiting for its rider to come out and claim it so I could ask my one burning question. Then I thought about leaving a note. Would it be weird? To arrive back to your bike and find a handwritten note tucked between your brake lever and shifter that says: "Hi, can you please text me if you are the original owner of this bicycle?" Yeah, I think that would be weird. The reason I wanted to know is because if it was still held by the original owner in the well used condition it was in, then that's one of the nicest examples of 'hardtails, a love story' that I've come across.
Please don't misread me. I've met plenty of folks who have thirty-plus year old bicycles. Some of them are the original owners, some of them went out of their way to buy the dream bike they couldn't afford when they were younger, and some of them found a too-good-to-resist deal. The difference here is that the majority of those bikes can be divided into two categories. The first is frames hanging on a wall and the other is bikes sitting in storage. To a large degree, these are no longer worthy of classification as bicycles; they're objects. Retired jet planes that will never fly again, destined to hang in the Smithsonian if they are of sufficient uniqueness, interest, or quality, and otherwise idle for all the time in the basement equivalent of Tucson's Boneyard.
Though not a collector by nature, I'm not innocent of the behaviour myself. I have a wicked Truelove-built Chromag Sakura frame, size XS, with a straight 1-1/8" headtube, 68° HTA, and a 27.2 seat tube gathering dust in my little shop space. It was a gift to my wife years ago, just as all those standards were changing, and it would be a perfect candidate for a rigid fork and a trip to my local frame builder for some rack-and-fender mounts to be installed. Or maybe I could have the headtube cut off to install a 44mm unit, at a much slacker angle, and the rear end spacing spread so it could be my daughter's next mountain bike after her 24" Marin? Or maybe, we could cushion some of the emotional blow of letting go an emotionally charged object by finding the perfect home for it where it would be loved? It should have decades of use as a lovely bicycle ahead of it. But my wife has a commuter bike she loves, all the parts made their way on to a custom 27+ Waltworks, and my daughter has a few years ahead before I have to make a decision. So it sits.
To me, the mothballed Chromag is a lot different than a Foes LTS frame that lives as wall art - a thirty-year-old design this year! It's totally removed from my first bike shop boss Grant's very cool mid-'90s custom Ibis Szazbo. And it's nothing like my friend who has a Cannondale with a blown Headshok, dowel where the rear shock used to be, half-built and hanging in his garage. It's absolutely not the same thing as trying to collect front triangles from the entire Rocky Mountain RM lineup, which for the record requires an RM6, 7, 9, and X. Bonus points if the RM7 is the Wade Simmons Edition.
There are exceptions, like Ricky "Shaquille O'wheel" Muehl's novel full-suspension Super-V gravel bike project, but for the most part these old full-suspension machines are like the horse-drawn hose cart sitting on display in front of your local fire department. It's cool to see how far we've come from a history perspective, but they're for display purposes only. What's old? Well, certainly anything with a 1-1/8" headtube that isn't dual-crown compatible. There are a number of 1.5" headtube bikes from the noughties that can take a tapered steerer fork and didn't crack if you looked at them funny. And, geometry matters more in some types of terrain than others. So, the easy answer is probably "it depends."
Museum Quality
I've worked with Toxik Harald for a few paint projects over the years and I've never been to his shop when he didn't have something really interesting going on. Some of the restoration work he's involved with is incredible. Usually it's people buying their dream bike from years gone by, the one they simply couldn't afford at the time, and Harald's contribution is either patching the paint work or doing a full respray and decals to match the factory model. The effort that some of these folks go into to track down period-correct drivetrains is impressive. Or excessive, depending on where you sit on collecting things.
One bike in particular comes to my mind because when it arrived the chainstays were fully rusted out. Harald could poke holes in them with a pencil. The frame would have looked fine hanging from a wall, but it certainly wasn't safe to ride. But the chainstays can be replaced right? Okay, it's steel. So then Harald, effortlessly, poked holes in the downtube as well. But the downtube can be replaced right? Okay, it's steel. So a local builder replaced the rusted out frame components and then Harald painted up the Bike of Theseus to the original factory spec.
My thinking is, at that point why not get a steel frame with modern geometry and get it sprayed in the classic hue with original graphics that you love so much? It will be a significantly better and more usable bike and still project your sense of nostalgia. When I mentioned it to Harald he told me the owner in question wasn't planning to ride the bike, he just wanted to own it. I just looked at Harald. I mean, I'm glad he has lots of work refreshing folks' bicycle dreams but why go to all the work if it's not going to be ridden anyway?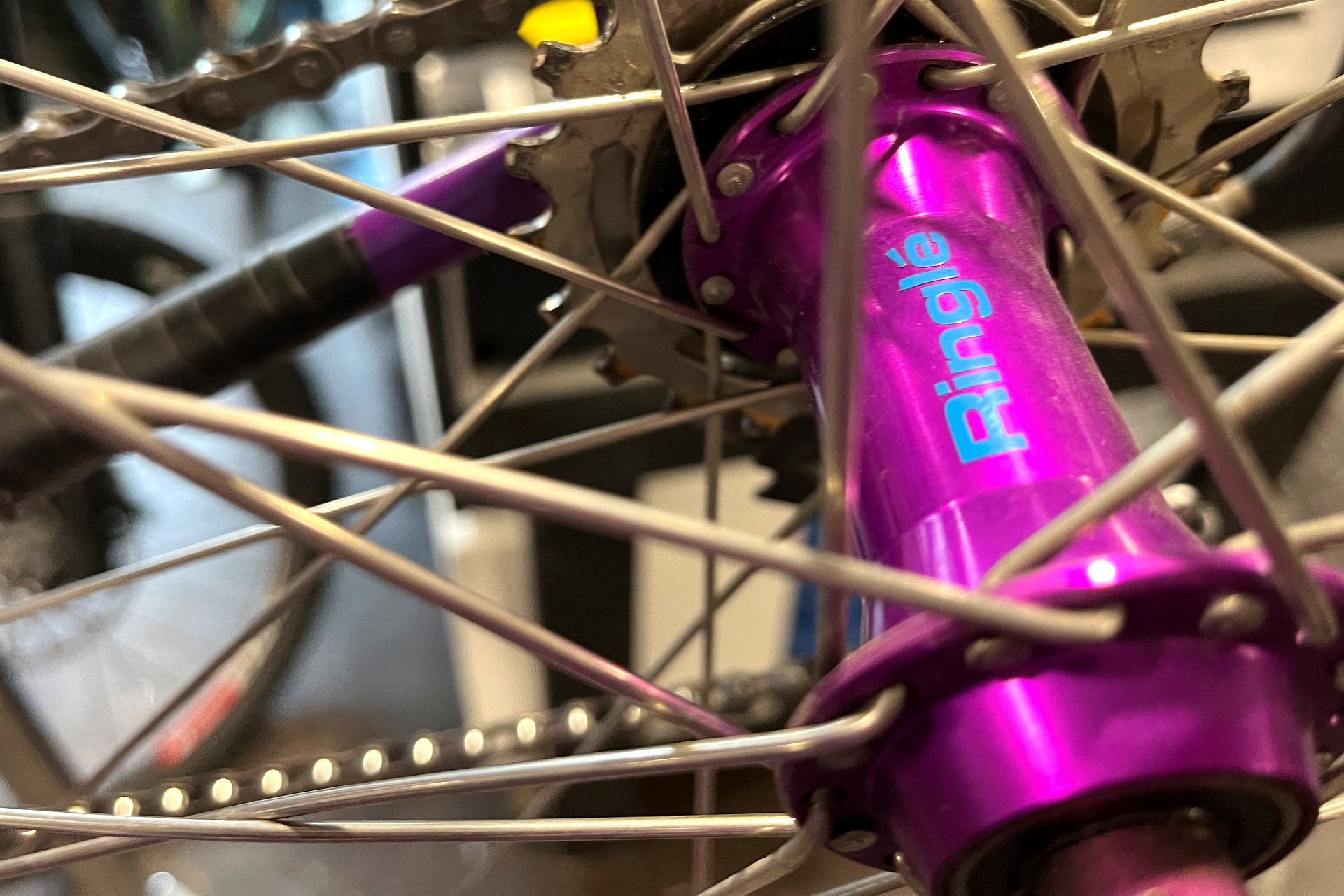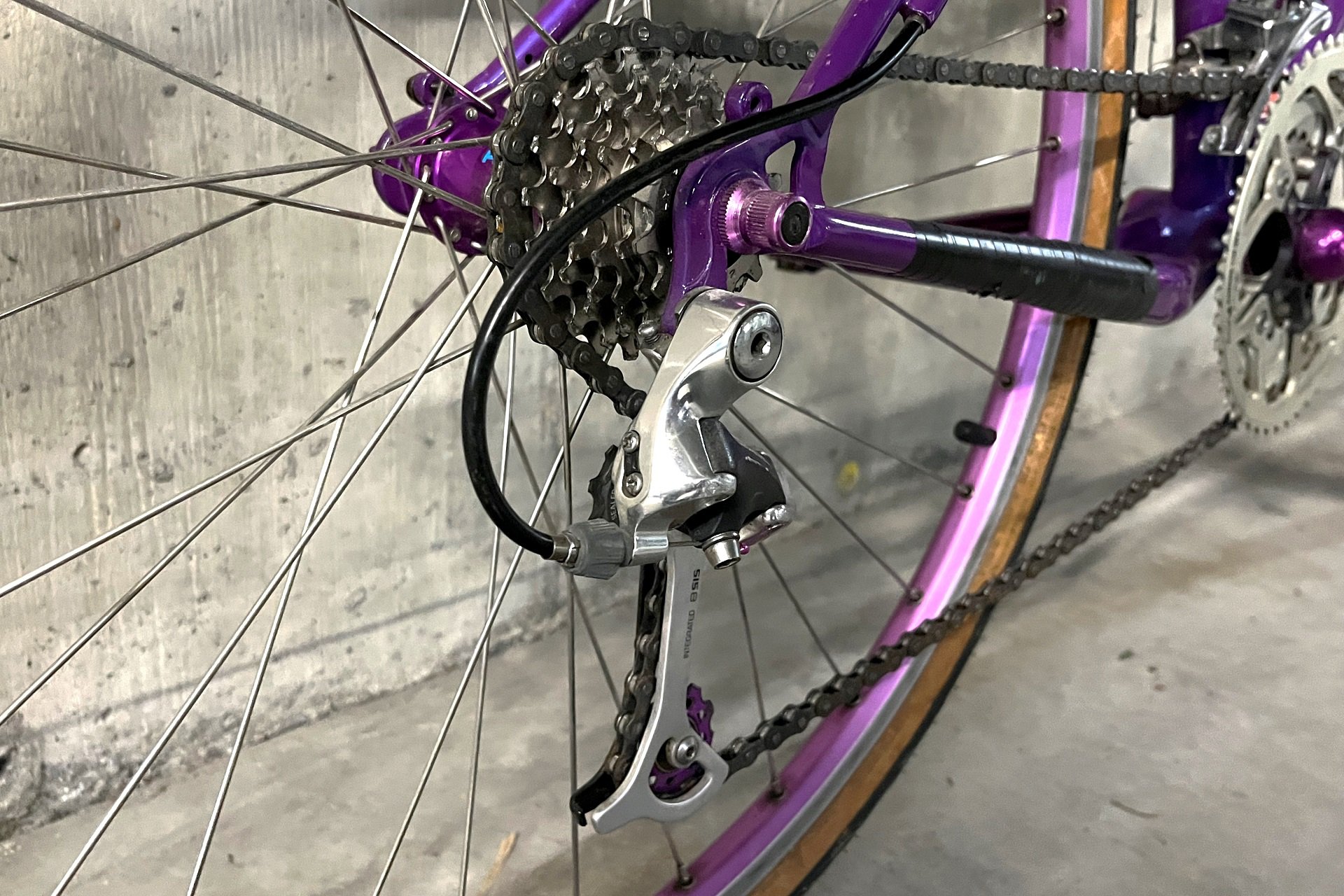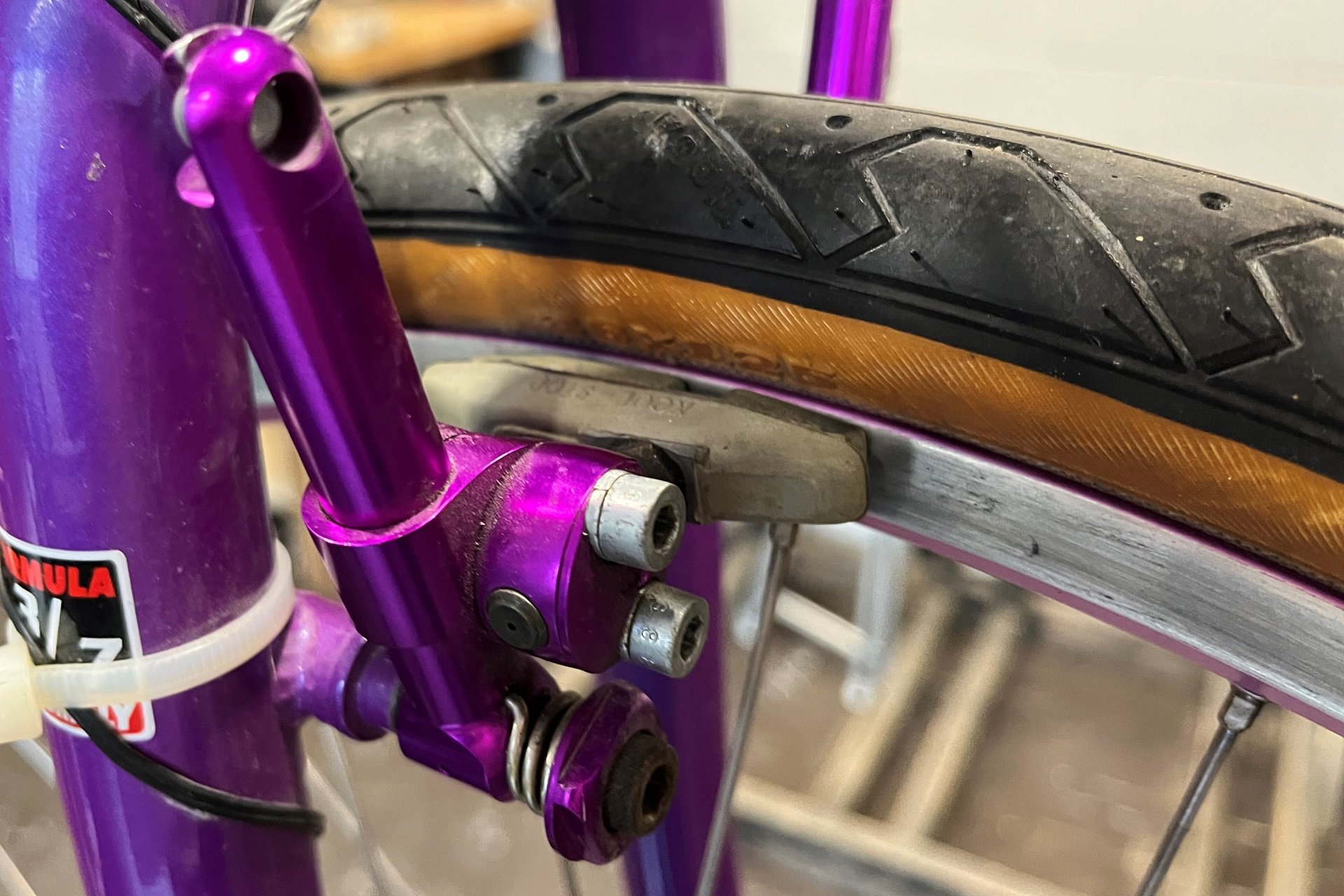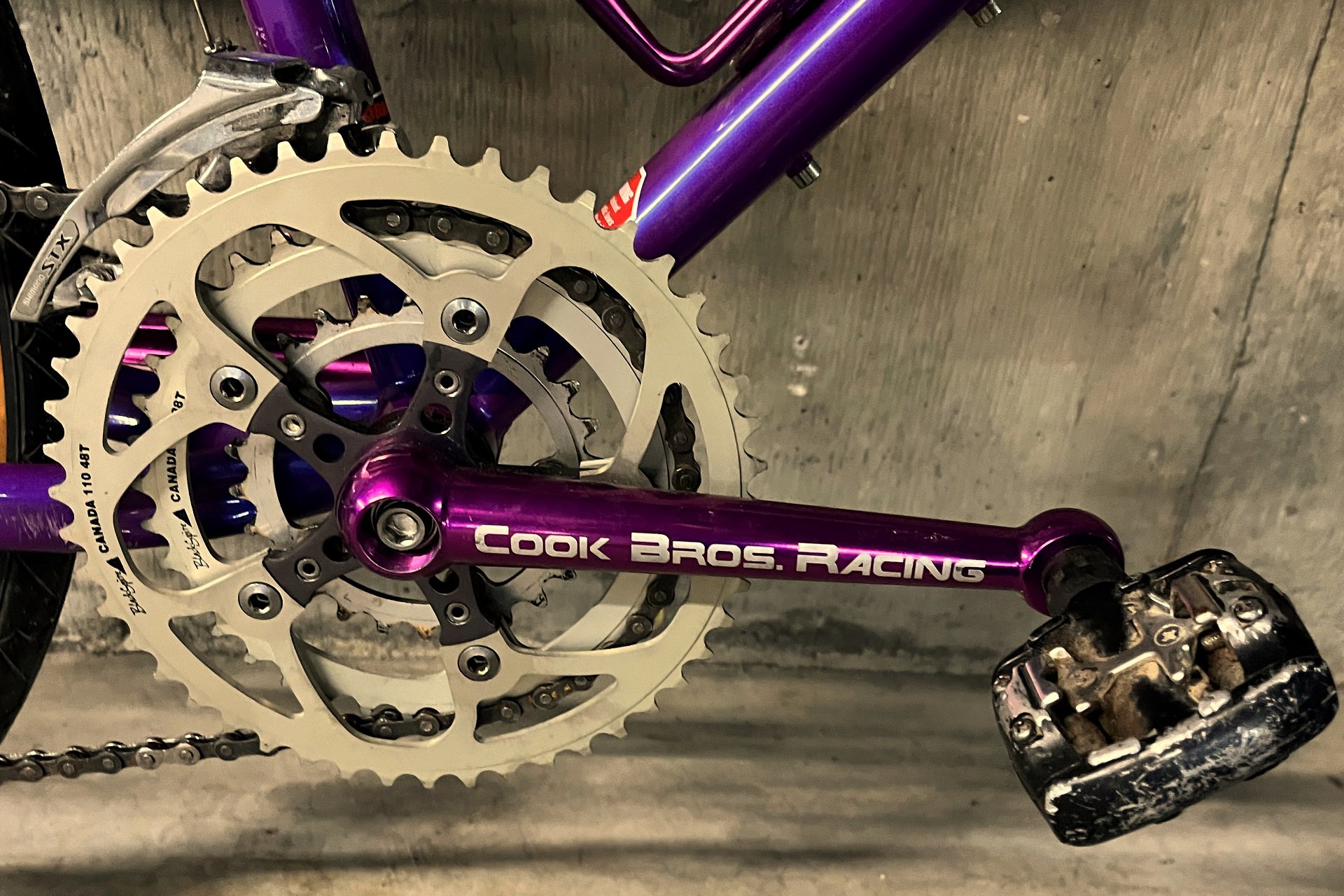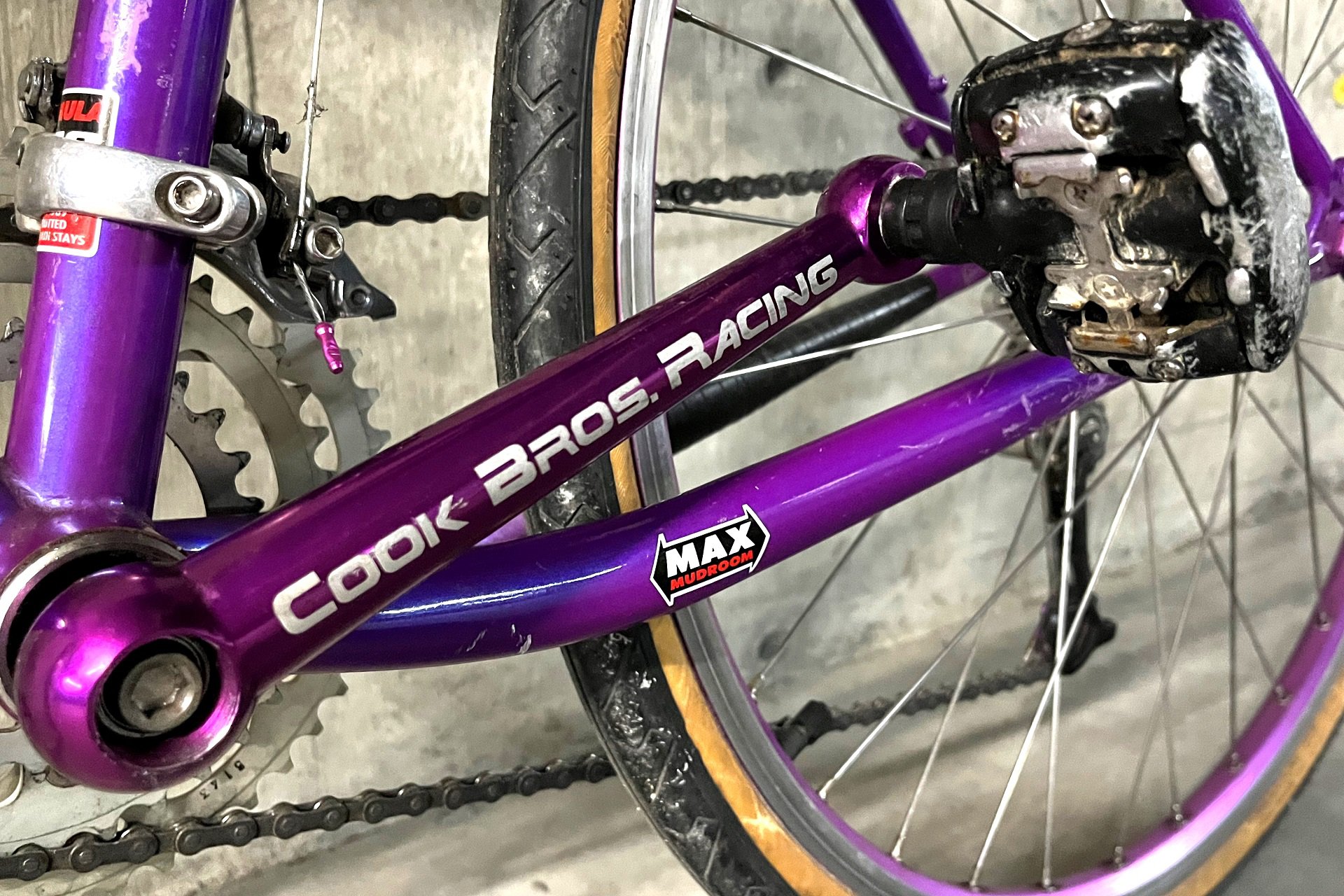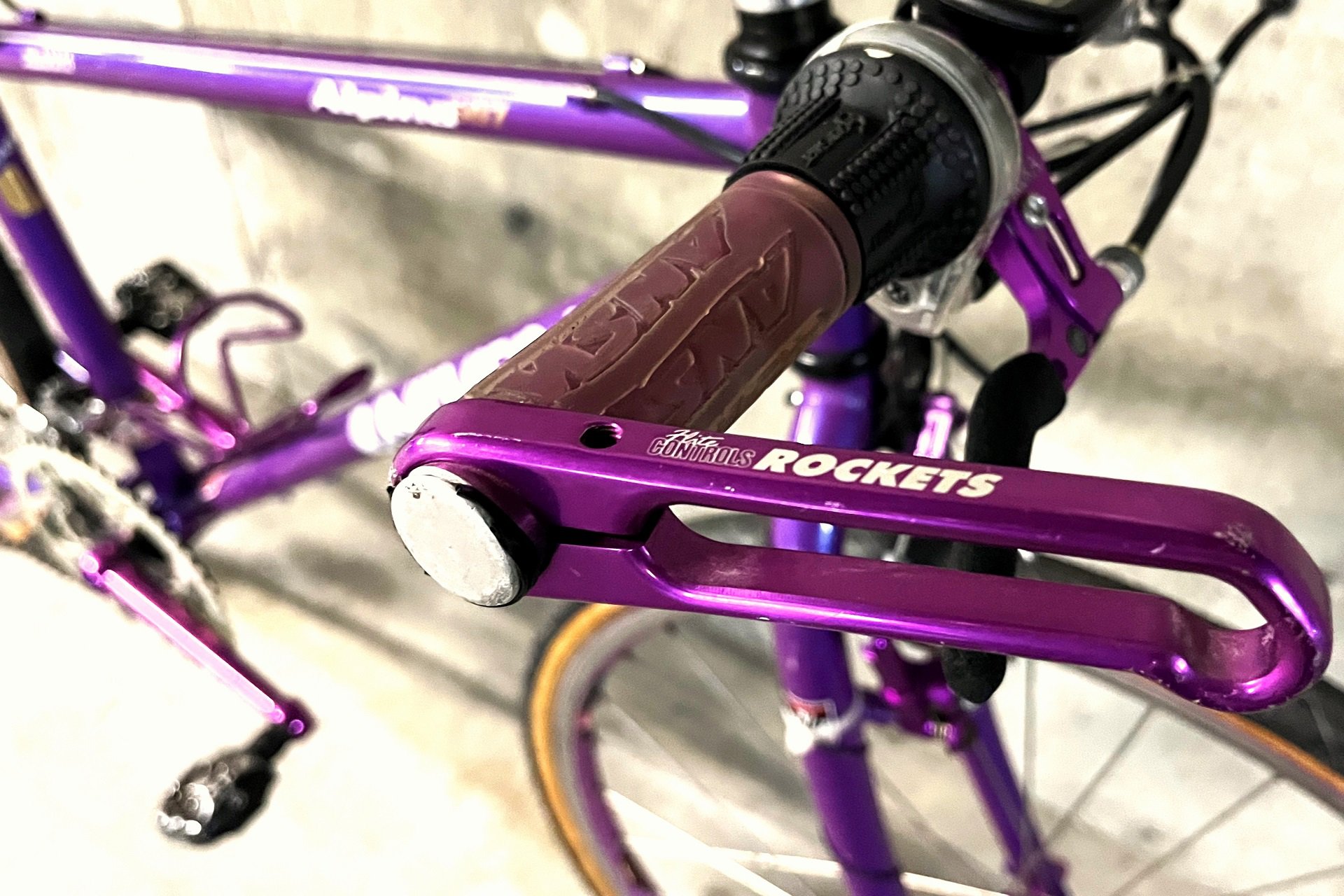 A couple of years back my friend sent me a post selling a SRAM ESP 9.0 derailleur with a faux-wood finish and a matching GripShift shifter. Both were totally fresh new old stock (NOS) that could have been straight out of a time machine. In the moment I thought it was pretty cool. Someone could use them to complete a retro rig or even as a stand alone display. Now, I'm more inclined to think it's seriously sad that no one beat the crap out of that derailleur on the trail over twenty years ago when it was one of the top options on the market. It's not a pristine example of mountain biking history as much as a pathetic epitome of potential unrealized.
If I'm going to walk through a museum of mountain bikes I'd like to see bent derailleurs, scratched frames, cracked rims, worn out brake pads, and handlebars so vintage that they'd give nightmares to Cooper Quinn's bar-failure nightmares. They should be bagged out mountain bicycles that lived real mountain bicycle lives - not objects that were raced once and then vacuum-sealed with the factory chain lube still in place. The latter should have been sold time and again, and then gathered back up at the end of a good life if it was destined for a second life as a collectable.
Buy that old steel frame you always wanted. Replace the chainstays and the downtube. Paint it in the factory tones with fresh graphics. Maybe add a disc brake mount. The fork is dead, so buy a fresh one from Soma or Surly and get it painted to match at the same time. Then, build it up with whatever mix of retro and current parts that you can get and at least ride it regularly to the coffee shop. But ride it. And if you are just going to hang it on the wall, hang it on the wall in the condition you acquired it. Tell the whole story of its life, not just its shop-floor-fresh beginning.
I love old mountain bikes. Long-retired full-suspension frames and timeless hardtails alike. But lately, it's the ones with provenance, patina, repairs, and detrition that absorb my interest. That pristine '80s or '90s hardtail isn't getting a second life as a commuter, it's getting a first life as a commuter, thirty years after the fact. At least they're not sitting resplendent in gilded cages like an unmolested Monster-T-mounted freeride rig that was just pulled from stasis to go from one owner to another. Continuing a sad example of a life unlived some twenty years removed from its chance for glory.
Maintain your bike, and ride the life out of it. The more I think about the number of rideable bicycles sitting somewhere gathering dust - especially bikes that have barely done anything except sit somewhere and gather dust - the more sad I feel for them. Three tears for the too fresh retro rigs, and a fourth for the folks that never rode them.