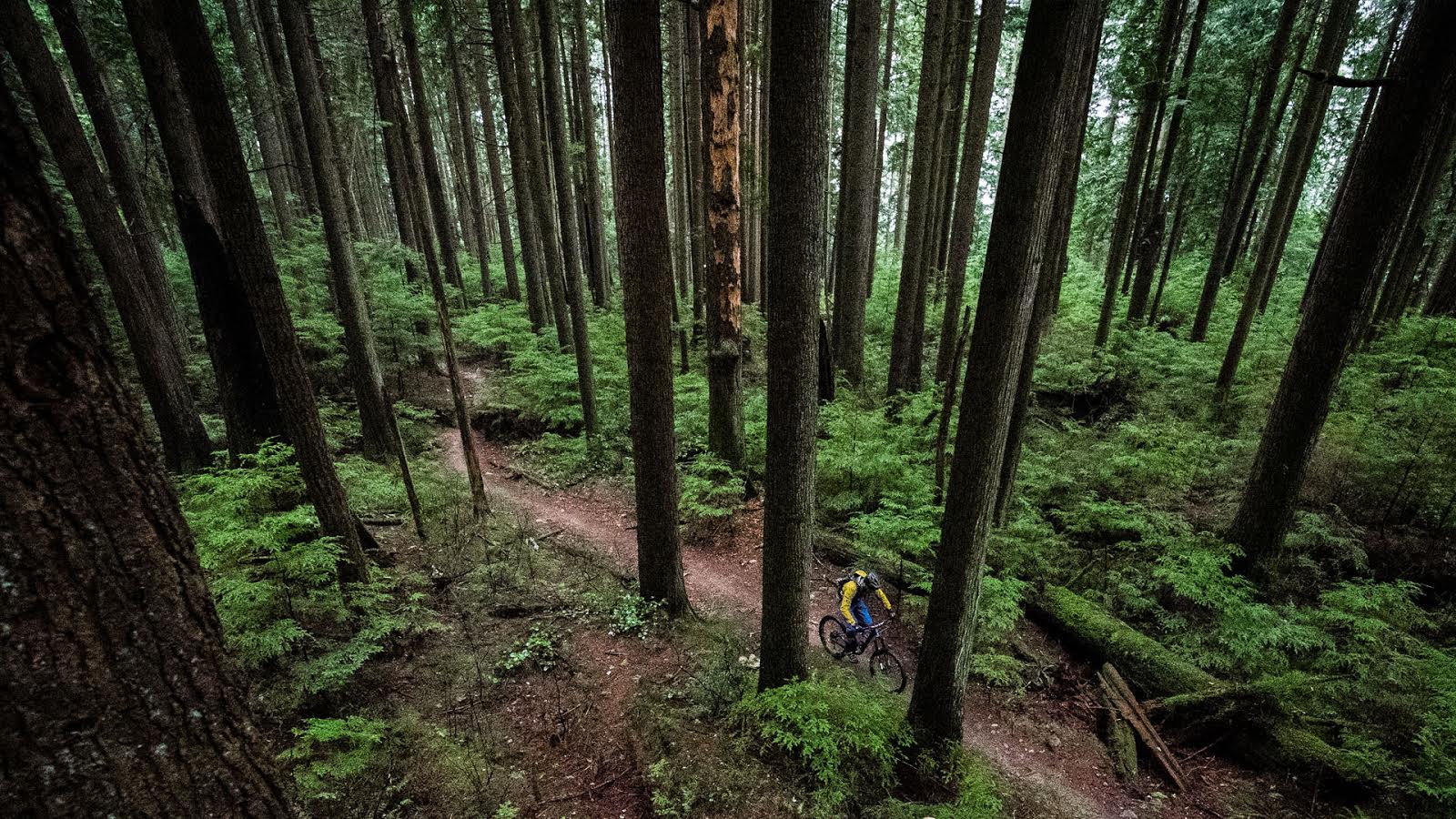 Things Riley's Stoked On
Riley McIntosh's first Things I'm Stoked On struck quite a few chords, and we suspect this one will too… grab a brew, set aside 20 minutes, and get stoked with Riley. Click for big pictures and leave a comment below…

---
Things I'm Stoked On – Part Deux
WEIRD OLD STUFF ON TRAILS
I love finding weird old stuff on trails. Old cabins, mining relics, tools, stuff like that. I have found fridges, cars, trees decorated with Christmas ornaments, blair witch style shit, dead animals, a can stuffed with newspaper from the 30's, a complete rusting sawmill, logging equipment, an eagle skull, the list goes on and on. It's really interesting finding this stuff and always kind of surprising. Especially when exploring for new trails, for a minute there you feel like you might be the first person to have walked through an area but then you find old logging cables.
That means it's likely some old time loggers spent weeks hanging out right there in that spot, having lunch, talking about their naggy wives, working away. A few things I fantasize about finding out there in the woods are a Cougar Skull, a Cross-cut saw, and something I could use like an old belt or frame pack or something. This old cabin is on my trail Powerslave. Mike Kinrade and I talked about building a step up onto it, and building a new platform on the cabin walls, but decided to leave the old mining history to rot away in peace.
MAKING NEW FRIENDS
I recently moved to the Cowichan Valley on Vancouver Island and to be honest had not really been in contact with any high school friends in over ten years. So, my lady and I arrived with not a lot in the way of people to hang out with. However, in the short time we have been here we have met so many amazing people. I really dreaded moving away from Nelson and leaving behind so many cherished comrades, but what I am learning is that life moves in a cycle and that really important people in your life never fade away.
It is so inspiring to get fresh insights into life from new and diverse folks! Here I'm riding on Richards Mountain with my new pal Willy, who is a late comer to mountain biking and lives on Salt Spring Island. Willy is so keen to learn that his energy is infectious. He has a very inquisitive mind and thinks about things very thoroughly, which is good for me to learn from because I am often very spontaneous and rash!
APPRECIATING THE PAST
Sometimes the past can be a bit of a ball and chain. I try to not have regrets… but I do. It's important to always try your best and learn from mistakes but there are things I wish I'd done differently. I think everyone has stuff like that. Here, I'm cleaning my bike the day before my Cadet Expert BC Cup XC race on Hornby Island. I was probably 14 years old here. That race went horribly: I was really strong but became very anxious and stressed out the night before the race and became my own worst enemy. I know I could've done better at that race, but now years and years later I look at that picture and am seeing the really great things about being a kid, hanging out in the summer on Hornby Island, camping in a big field full of like minded mountain bikers… life was good!
GOD LIGHT
I'm not very religious but I have always called this kind of light God Light. When you are out there in the landscape and Mother Nature picks things up a notch by adding epic light, it truly is moving. It creates atmosphere that appeals to that 'sixth' sense beyond sight, taste, touch, smell and sound. In the summer of 2007 Evan Schwartz and I were doing some exploring on a ridgeline way above Retallack Lodge and were entranced by a series of Sun Dogs that you wouldn't believe. It was literally like being treated to some kind of message from the Gods or something. We still talk about that afternoon with awe. When Mother Nature flicks the switch and the God Light comes on, I am always stoked!
WORKING FOR A LIVING
Having a full time job makes you an adult. It is a good honest thing to do and makes you really appreciate your time off. I know a lot of people that don't have full time jobs for a variety of reasons, and sometimes I envy them but I think it's good to always increase your skills, work hard, and have something to show for your day. I also find it really makes you value your free time and appreciate the things you own. It helps you set goals and schedules and work towards what you really want.
Ultimately the job you have would be doing exactly what you would do anyway if you were a millionaire or whatever, but we all know that is pretty darn hard to achieve. But if you have a full time job, be thankful, because many people don't! And there is still lots of time to ride bikes, you really only need an hour or two to get out for a good ride if your zones are moderately close to your house. Here we have just finished sheeting the roof of a cool timber frame boat shed in Maple Bay, BC.
NIGHT RIDING
I'm not mega in love with night riding, but I am certainly stoked on it. There are some down sides to night riding, such as being all wet and cold when you should be in bed watching a movie, ha! I also find it sort of dangerous because no matter how good your light is those broken stumps, log ends sticking out into the trail and other hazards become much harder to notice or prepare for. However, the plus sides of night riding are many. For example, it gets you outside doing what you love when most people are getting their exercise indoors at the pool or gym.
It is quite unique: the other night my friend Jake and I were night riding and just tooling around Mt. Tzouhalem blabbing away about the good stuff like cars and boobs and guns while the trees swayed in the wind, and the lights of Duncan shined up from below. The reality of night riding is that it's a totally weird random thing to be doing and we are very lucky to be doing it. I caught myself thinking that there are people all over the world shivering in huts while bad things happen all around them. And here we are happy as clams bollocking our way through the woods in the late evening on a Tuesday night. Night riding is a good thing.
DIRT
I haven't done nearly as much trail building in the last year as I normally do. So it was super awesome to be out on the trails last weekend with a bunch of diverse guys enjoying hilarious conversation while re-working a series of switch-backing corners on a local trail. With trail building you are only as good as the terrain you are working with, and sometimes you can't build big huge berms where you want because there just isn't any nice dirt. However, we struck gold, and had the rare problem of almost having more dirt than we needed. Shovel after shovel was thrown against the border of logs we'd built up, and in a few short hours we had created a sinuous series of corners where before there was most certainly almost no flow to be found.
STRANGE TURDS
Yes I know, weird. I'm stoked on finding weird turds in the forest. It's interesting. One day I would love to take some kind of advanced survival skills course and learn way more about stuff that the average person wouldn't perceive in the woods. At this point I'm just a beginner but when I find strange turds I always study them and try to figure out what kind of animal it's from. When you are out mountain biking there is always an opportunity to find note worthy stuff. I reckon this one was from an Owl, it had lots of chopped up little mouse bones all through it. Ha ha!
MATTIAS FREDRIKSSON
I am stoked on Mattias Fredriksson. He is a professional photographer from Are, Sweden, who I have been friends with since 2002. Mattias makes a great living traveling all over the world photographing ski and mountain bike adventures for a hugely diverse network of clients. He has lived a few lifetimes already worth of incredible helicopter skiing escapades, remote roaming, and meeting people from all over the world. I have been lucky enough to hang with Mattias in Whistler, Sweden and twice in the Kootenays. When you have a friend who lives across the world it is hard to hang out whenever you want, but Mattias is one of those characters I want to visit time and time again.
He has the most detailed view of the world and nothing escapes him, anyone he meets instantly becomes a subject of much thought and contemplation and hours later after meeting someone, he will say something like, "So your friend, the man that drives the garbage truck, do you think he will be able to solve things with his girlfriend..?" It's super funny how he thinks about these things I would've thought he'd forgotten about. But he really cares about the intimate details in life, people, and the landscape. And it shows in his photos.
Thanks for reading Things I'm Stoked on Part Deux. Happy New Year and I hope you all find lots of things to be stoked on in the year ahead!
---
It's hard not to be stoked with Riley around. Any of this ring true in your life right now?