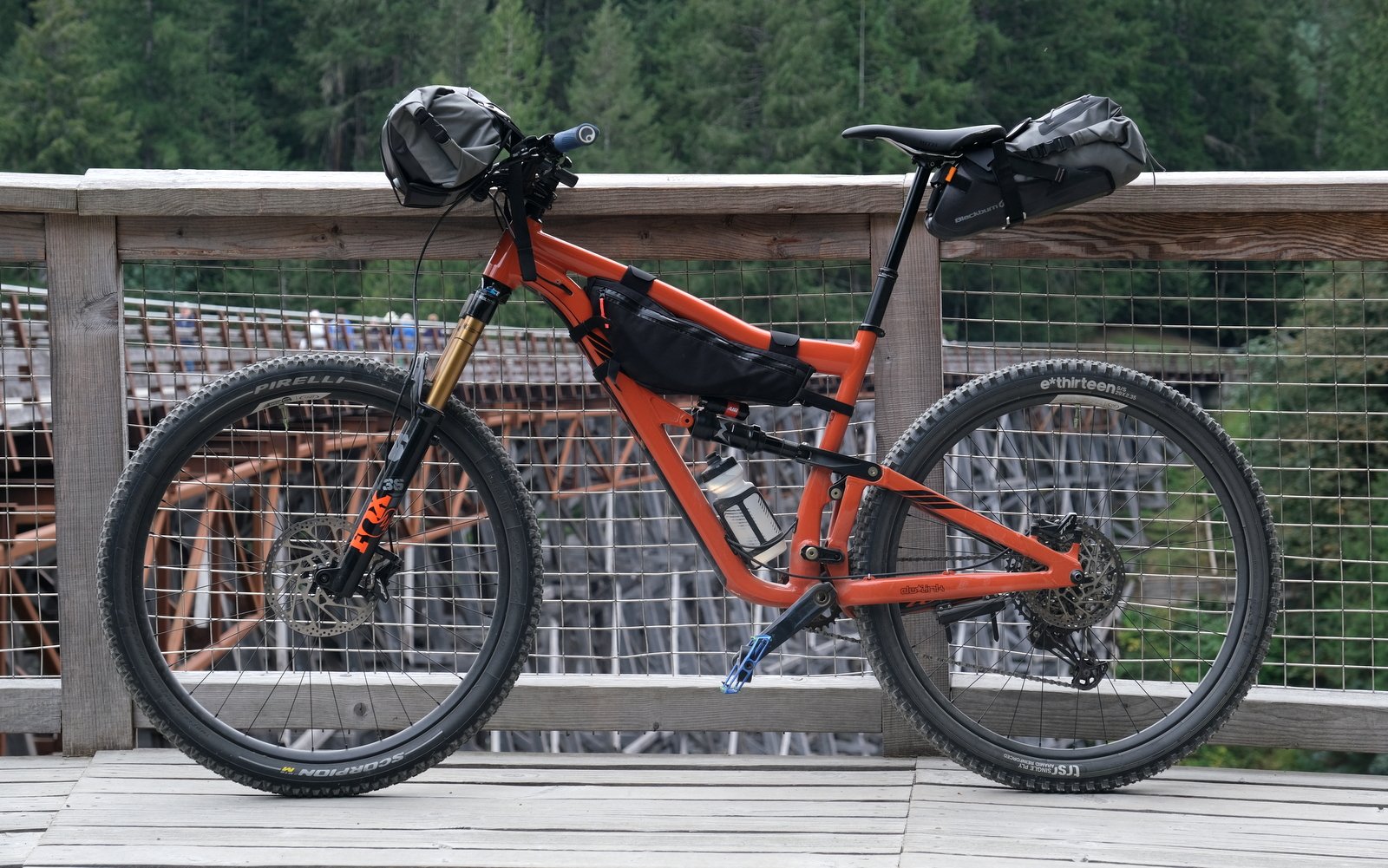 ASK UNCLE DAVE
The Wrong Tool for the Job
If you were to justify the amount of time that you spend reading about bicycles (and parts of bicycles), what is it that you would say you were doing? This is something that I actually think about every once in awhile, as I scroll through endless words written about things I will probably never purchase, use or see on the trail. What am I doing and why do I care?
When I scrape my way down to the surface, I think what I imagine is that I'm participating in some sort of immense, multi-year project with the end deliverable of a bicycle optimized for my particular trails and riding style. I'm speculating that you are in the same boat. Why else would we read about things as tedious as bicycle grips? There must be some magical payoff at the end of this quest for (bicycle) self-improvement. There has to be for us to justify such a time commitment.
This, I think, is the beating heart of bicycle consumerism. We see our bicycle, and we know what it is capable of, and we know that can't be it. So we embark on a battle of micro-optimization. We worry about brake pads and tires and frames and wheels, and then we spend money on these things because we know they're going to improve our riding and give us greater amounts of pleasure. It's probably a bit more complicated than that, but I think this is the essence of the dream. The perfect bicycle is right there, waiting, if only we have the time, patience and money.
A few weeks ago, a minor incident shattered this idea. There I was, huffing up the Old Buck, minding my own business. Now, I know that I've painted myself as an old, out-of-shape loser who likes to stand around in his underwear, drink beer and scratch himself, but some of this is exaggerated for effect. I'm not that old, and I've usually passed at least three or four people for each person that passes me on a climb. I'm not saying I rise too far above mediocrity, I just want to give you all an accurate picture of my climbing abilities as context for what is about to happen.
So, anyhow, there I am, pedaling away up the Old Buck, thinking about food or cleaning products or something, and some dude goes by me at a speed that I didn't think was possible. After a few moments, I realized that it was not an ebike that had gone flying past, it was just some fit bastard laying waste to the mountain aboard the latest trend in cycling. He was riding so quickly that it was disheartening, and in the very literal sense, almost unbelievable. Who knew there was an actual purpose to these gravel bike things?
And of course this guy dropped me like a turd-frosted carrot stick! He was a specimen of a human astride a bike that weighed half as much as the one that I was riding and with the rolling resistance of one of my pedals. He would have blown past me aboard a Norco Shore fitted with MaxxGrip Assegais (zing!) so the sky was the limit on a precision-crafted, hill-destroying missile.
This event should have been easy to put from my mind. We think nothing of a road bike blasting by us as we slog up a section of asphalt. Why was this different? Well, the difference was that I thought I was on my own turf! These bikes that we ride are supposed to "climb well", aren't they? Gravel bike guy showed me just how far my situation was from optimized for climbing. And when I got to the top, there were a bunch of long travel enduro bikes leaning against a post that showed me just how far I was from optimized for the descent. If forced at gunpoint, I could probably describe 40-50 meters of trail where I actually was astride the perfect bicycle for that particular moment, but it turns out the rest of the ride was nothing more than making do with a gigantic compromise.

This, I think, is the beating heart of bicycle consumerism. We see our bicycle, and we know what it is capable of, and we know that can't be it.
This probably shouldn't have been news. We all know that selecting a bicycle is a tradeoff between climbing and descending, weight and cost, and on and on and on. It was just surprising to be shown so suddenly and so violently how delusional I was about some of the things that I thought, and the decisions that I had made.
As per usual, I blame the marketers! When was the last time you were sold anything on the promise of compromise?
"Good enough to slowly climb on, reasonable for the descents!"
"Better than our other fork on small stuff but not as good as this other one on faster terrain!"
"Pretty good if you only want to spend a bit of money! Not as good as the one that costs a bit more! Neither of them measure up to our competitor!"
In a sense, all of this should be comforting. If you were to design the perfect mountain bike, the halfway point between a gravel bike and a downhill bike would be a pretty good starting point. If you can get 60-70-80% of the performance of either end of this spectrum at the same time, holy cow, that's pretty amazing! But nobody ever sells it like that. It's always "climbs like an XC bike and descends like a DH bike" and when our own bike doesn't do that, well, we're probably on the wrong tool for the job. Better spend some more money to go up/down in travel so that I can climb/descend better and finally start having some fun!
And somehow, all of these bikes are the best of all worlds, but also completely wrong if they possess 20mm too much or too little travel for the specific type of riding. It's the fascist playbook, where your enemies are both too strong and too weak to be trusted. It's fucking paralyzing! You're an idiot if you aren't riding the latest bike, but NOT THAT ONE! What were you thinking?
Now, I'm not a total idiot. I'm not going to spot a gravel bike in the parking lot and think "Ya, I'm gonna dust that guy on the climb!" We all know certain bikes are going to be vastly better at certain things, but that's sort of the point. We never really used to worry about this all that much, but now we're convinced that there is some sort of perfect bike out there for every kind of terrain. This might be true, but we haven't really stopped to think that there might not be one perfect tool for the whole ride. But short of your butler hot swapping bikes for you at the top of the climb, it just isn't so.
Unfortunately, I think that this strive for perfection is holding us back. Part of why I thought about gravel bike guy so much is that I was in the midst of planning a longer, overnight ride. Seeing what was possible on a tool better suited to the job that I was considering convinced me that it would be crazy to embark on this ride on anything less. It was going to more-or-less be a 150km gravel bike ride, which is not something that is typically done on a 150mm full suspension bike. My balloon was popped.
But then I started to think about just how fucked that guy was going to be at the top of the climb. What was he going to ride down? The road? Turns out he wasn't actually riding perfection. That guy would probably kill himself if he tried to ride down some of the trails that he had just gained access to! Or at the very least, break his bike in half. Everything has a flip side. Nothing is perfect.

...we're convinced that there is some sort of perfect bike out there for every kind of terrain... but we haven't really stopped to think that there might not be one perfect tool for the whole ride. But short of your butler hot swapping bikes for you at the top of the climb, it just isn't so.
Just roll that thought around in your head for a moment. Nothing is perfect. Do you understand what it means if we can admit that for most rides there is not one perfect tool for the job? That nothing is 100% perfect? If no one bicycle was 100% perfect for every ride, well, maybe that means that no bicycle is 100% wrong either? And if no bicycle is 100% wrong for the ride, well you may as well just run what you brung.
Once I got to that point, it was easy for me to commit to my gravel adventure. Who cares if parts of it are going to suck? Parts of it were going to suck anyways. Other parts might now suck a bit less. Would dropping 30mm of travel and a few pounds fundamentally change my experience? Probably not. That's not to suggest that I was some kind of sadist about it. I swapped my DH tires for some XCish rubber, and I adjusted my cockpit so that it was going to be a bit more comfortable for two days in the saddle. I wound up with a heavy-assed bicycle that was comfortable to ride and that rolled a hell of a lot faster than I was used to. This felt like a pretty good compromise.
It wound up being not terrible. For sure, I would have been faster overall on a gravel bike. Those miles of asphalt and buffed gravel are tailor made for just such a machine. But then there were parts that were messes of potholes and washboards where I didn't feel quite so bad about my bicycle. My 2.2" tires and locked out suspension still gave me plenty of relief and I certainly had no concerns about things breaking or a flat tire. I finished the ride fairly exhausted, yes. But I finished the ride! This felt like a better conclusion that sitting around fretting about finding a shorter travel bicycle.
And that right there is what I want to leave you with. Stop pretending that any bike is going to be perfect. Stop worrying if you have the right amount of travel for the terrain. Make sure your bike is fit for purpose, yes, and isn't going to kill you or break all of the time. Get rid of those Ardents and move on from the resin-pad-only brake rotors. But after that, just ride the fucking thing and if you're going to think about anything, think about all of those places where what you have is the absolute perfect tool for that particular job in that particular moment. Whether it's ten feet or ten kilometers, that old beast is the best at something. Things are probably neither as bad as you think they are, nor as good as you hope they'll be. What this can be for you is your "even Gisele and Tom Brady poop" moment. I mean…they probably don't poop exactly like the rest of us, but close enough. Their bathrooms are fancier and their diets are weird so who knows what happens in there. But just when you think either of them are perfect, sitting around drinking mimosas, at some point they pop into the bathroom and take a weird, smelly, rich person dump. Just like that fancy bicycle you're thinking of buying.
Sorry,
Uncle Dave
---
Uncle Dave's Music Club
There's a few songs that I keep hearing over the last couple of months, and I'm going to talk about them.
When Panda Bear gets it right, Panda Bear gets it right. Of course, this is Panda Bear & Sonic Boom, but you get my point. Edge of the Edge is somehow both timeless and futuristic. Classical and groundbreaking. New and old. You could play this song in 1960 and people would start gyrating their hips and snapping their fingers. You could play this in 2060 and people would wonder what the fuck was going on.
Sudan Archives is from Ohio, which was a surprising thing for me to learn. This song kept popping up on the radio as we drove across Italy this spring, so I assumed, both from the sound and the source, a more exotic backstory. No matter. This song fucking bangs. Too bad you just missed her at the Hollywood Theatre, you crusty oldtimers!
We'll end with the most straight forward entry on this week's list. Watching this video, you get almost a Gap commercial, adult contemporary vibe. You can sort of see yourself jamming out to it while you drive your mother to the grocery store, and she's just sitting there, humming along in that weird sort of motherly way. But there's something lurking beneath the earnestness of this song. It only unveils itself for a few moments, but it's enough. I like it.