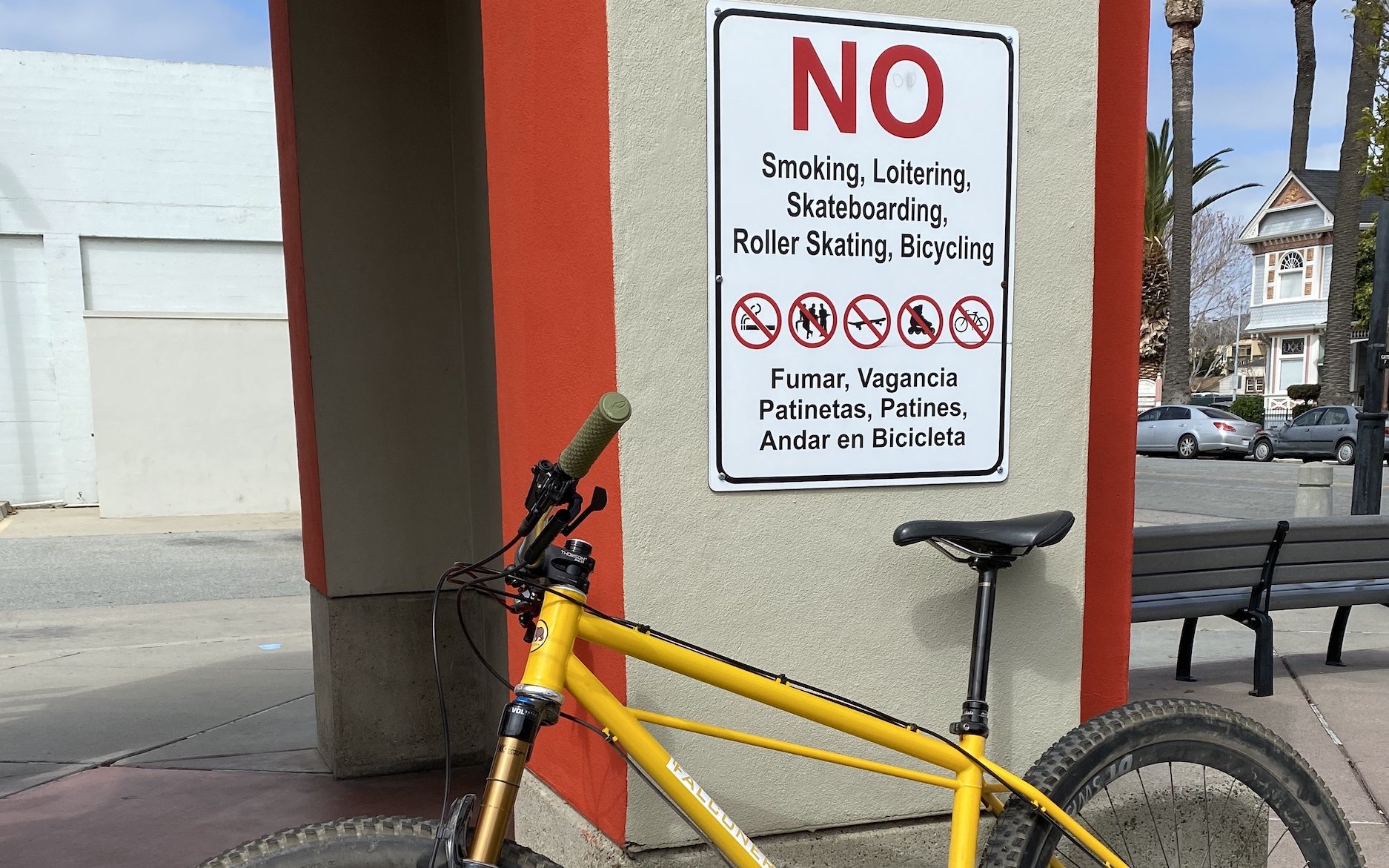 Beggars Would Ride
The Thief Of Joy
There's this climb nearby. It gains about 1600' in five-ish miles; a mostly fire road grind with a long sandy pitch and then a couple of intense steep bits near the top. This is the only way to access a pair of spicy and ripping singletrack descents, and those two descents are the only ones within a couple hours that pack enough challenge and consequence in them to test bikes that are a bit more burly than XC bikes. So, when I am testing bikes that are a bit more burly than XC bikes, this is where I go, often. I've ridden this climb a whole lot of times over a whole lot of years.
Inevitably, I compare my times up this climb, taking note of my feelings on the bike. Inevitably, I find myself unhappy with this comparison. Not only am I comparing the bike I am riding against the other bikes I have ridden up this climb, but I am also comparing the "athlete" I am now with the athlete I might have once been.
The first set of comparisons, not a problem. That's part of the job. Analysis and dissection. Testing bikes is not about trying to unlock personal peak experiences (although that can sometimes coincide with the task at hand, and those magical fleeting moments ultimately have to be reviewed and further dissected later for potential bias) as much as it is about trying to parse commonalities and differences, weigh performance from a place of neutrality, ask the tool if it is doing the job better or worse than other tools, and why.
"Comparison is the thief of joy". Another of those quotes of debatable origin, it is mostly attributed to Teddy Roosevelt. Now, there was a character. Not so sure we would have shared political ideologies, but I bet he was a hoot to drink with. There is a certain beauty to that quote. In essence, comparison takes you out of the Here and Now and insinuates a whole mess of "what if" and "yeah but" into a given moment. Rather than just savoring this moment - this feeling, this experience - we compare it to other moments, other feelings, other experiences, and we then find it lacking in some way.
When it comes to weighing the merits of bike A versus bike B, to assessing the worth of equipment that is evolving to serve the needs of people whose own needs as riders are co-evolving alongside the technology of a sport in some spiraling chicken/egg/wheelie drop/no hander vortex of constant change, comparison is an inevitable and crucial part of that process. Joy does not get a say in the matter. The inner drill sergeant interrupts: Get to work, slacker. You aren't here for any of that hippie shit. You are here to decide what is "better", not dance around naked in the woods engaging in some touchy-feely group hug with the cosmos.
And so the climb is ridden, the data logged, the feelings observed and duly noted, filed for later regurgitation. "Better" is put under the microscope. That's the job. If the job was to be joyful, then I should have signed up to work as a puppy wrangler. I don't test bikes to find joy, but so far as ways to make a living go, there are far worse things I could be doing. However, there's a second component to this mess.
The meat that is pushing this bike up this hill has some thoughts on Teddy's quote as well, and those thoughts have nothing to do with the relative merits and/or drawbacks of added rotational mass as it applies to making climbs slower but descents faster. The meat pushing the bike up this hill is watching in real time as it gets older and slower. The meat is aware that some discipline applied to dedicated saddle time, diet and training would reap rewards and chop more time off that climb than any variation in seat angle or choice of tire. But the meat is also aware that the cosmic clock is ticking, and that no matter how hard it trains, it is going to get slower. The meat is also cognizant that its reflexes are slowing, that testosterone production is nosediving and therefore so is collagen production, and that a greying beard and embarrassing ear hair is just the tip of the age-based iceberg of advancing decrepitude.
On a good day, I used to smoke this fucking climb. It wouldn't have mattered if I slept on concrete next to the beer keg the night before. There was an abundance of fast-twitch muscle and youthful arrogance, and even though I didn't really like climbing, on those good days it felt kind of like levitating when I could hold the heart rate pinned for an hour at a time and sweat the good sweat. Shit, even intervals could induce endorphin-soaked explosions of joy back then.
Now, decades later, watching the thermometer creep upward but still dawdling about getting started on the ride, I ratchet down my shoes in slow motion, swallow my creeping existential dread, and prepare to take twice as long to get up that same hill. That comparison - buried under a quarter century of aging, of career, of obligation, of the heavy shit of life that every single one of us gets burdened with - it stings. That comparison can suck the joy right out of a ride faster than you can say "osteoporosis".
That comparison can really mess with my head if I let it; it'll cast huge shadows across my psyche. Why am I even testing bikes? I can't climb fast enough to credibly assess the red mist potential anymore, and I can't rail the downs hard enough to break things, so what good am I? What relevance does a decelerating never-was have when the kids today can innately rail berms hard enough to peel tires off rims and are dropping lines that I would never have even thought of attempting at my apex, let alone here on the glide toward "the pasture"?
Spend enough time in this part of my mind, and it can get mighty dark. Chasing the ghost of my past serves no purpose in the here and now. It does nothing to calm my soul as I clatter on stiff legs toward elderhood. The statistics are damning, but useless. They do not make this ride any better or any worse, and wallowing in "There goes a shadow of a former self" navel gazing doesn't do shit to tone the abs wherein that navel is set. Best not dwell here too long.
Comparison, the thief of joy. Maybe. But then again, this riding bikes thing, it brings me joy even when I am in the grips of this comparative dilemna. AND, when compared to what else I could be doing - mowing weeds, uprooting star thistle, engaging in endless and totally futile warfare with ground squirrels - riding bikes is ace. There is nothing I would rather be doing.
It's a good day; not too hot, not too cold. No point dawdling in the parking lot. No matter how fast I used to climb it or how slow I climb it now, this hill is not going anywhere. It won't climb itself. Click click. Pedal circles. Up we go. There'll be snacks at the top and sketchy booters on the way down. Let's see how this bike works.