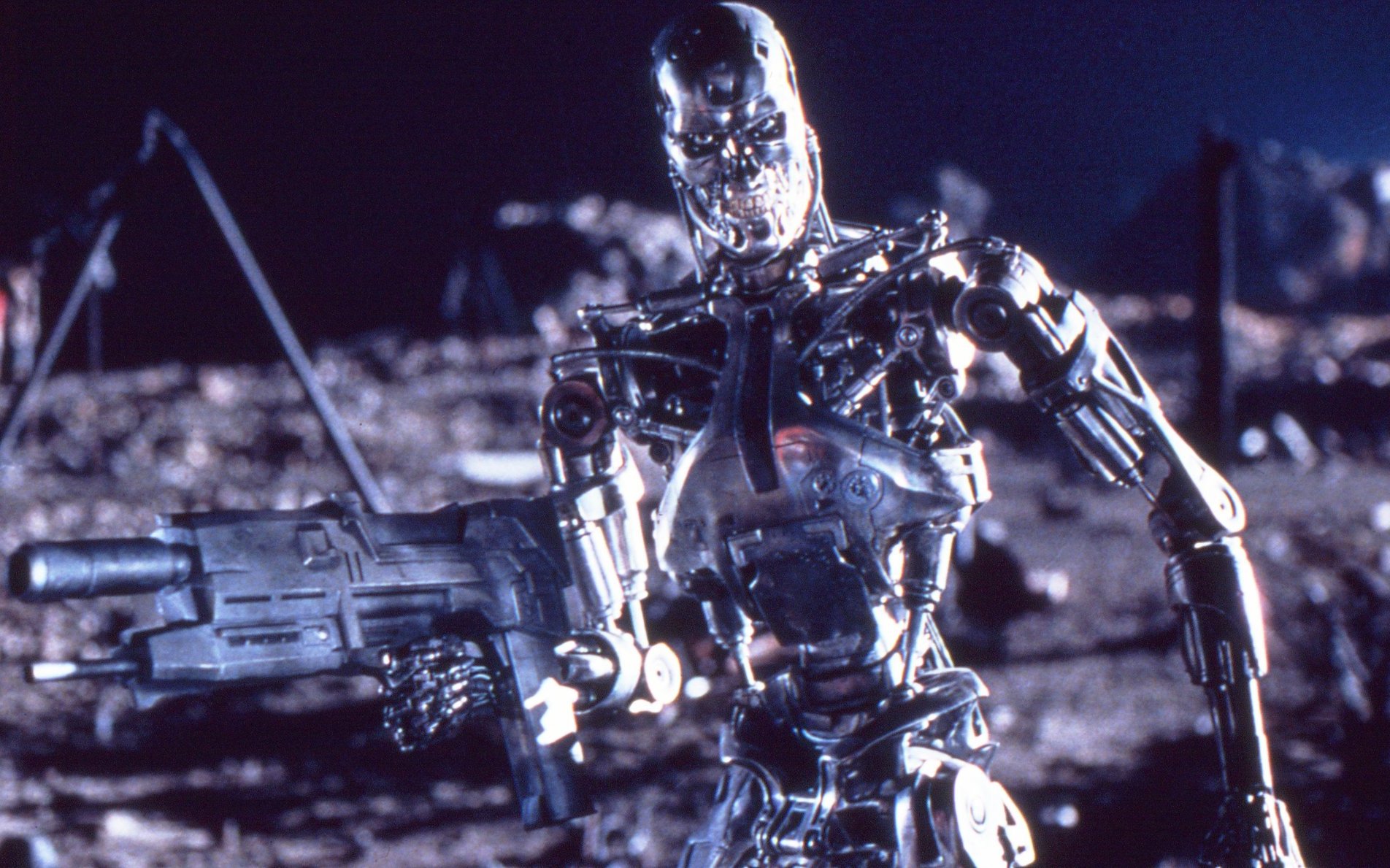 Beggars Would Ride
The Terminator Paradox
There's a commonality to most apocalypse-based end of times movies. Humankind is humming happily along; raising families, having picnics, doing cinematically appropriate happy human things, unaware of The Looming Menace. The Looming Menace traditionally appears as aliens, or a virus, or giant irradiated insects, or an asteroid, or reanimated dinosaurs, or some variation of mutated, fire belching reanimated dinosaurs, or sentient robots hell-bent on the eradication of the human race. More recently, a whole slew of climate change based end of world scenarios have also been added to the "Oh my God, we're all gonna die" film canon. In most of these movies, most of humankind gets fed into the cosmic mulcher except for a plucky band of rugged survivors who battle inconceivable odds and somehow prevail against the brutal cruelty of the universe, thus persevering in sustaining our glorious species. That's the big commonality: Humankind will prevail.
A second, less overt commonality is that even though each of these cinematic existential threats is drawn as an external force, in reality they are each an extrapolation of our own worst human traits. The greatest threat to our existence, one that we keep revisiting over and over in movies, is, not surprisingly, ourselves. We just have to wrap this up in a big metaphor because it's hard to admit that we are generally shitty. Most other species on the planet are already very well aware of this, even though most other species on the planet don't go to the movies, and try their best to distance themselves from the genocidal naked chimps.
I'm not sure if the point of these movies is to boost our species-morale about what is clearly not a good long term prognosis for our survival, or to nudge us into some kind of higher awareness of our own naked-chimp self-destructiveness in the hopes that we step up our game and try a little harder to achieve some sort of species sustainability. Or maybe the plucky band of rugged survivors is just a nice way to end a movie that otherwise is a bullhorn screaming "HEY DUMBASSES, YOU'RE ALL GONNA DIE!"
What, you may ask, does any of this have to do with mountain biking?
Everything.
Nothing.
I blame that damn fat bike. It got me thinking.
Once upon a time, mountain bikes were a novel way to move across terrain already mostly trod. They could, conceivably, be ridden across virgin landscapes, and sometimes were, but it was hard going and didn't really work any better than walking. So, the newfangled contraptions generally stuck to existing trails. There, mountain bikes were a way to cover more ground per calorie than just about any other form of locomotion on the planet. From an ecological perspective, that should have been damn happy news. The trails were already there, no damage was really being done to them that was in any way greater than what feet and hoofs were already doing, and compared to the kind of impact that things like open cast mining or urban sprawl meted out, the impact of a few hippies getting wild in their Daisy Dukes was infinitesimal.
We all know that isn't really how mountain bikes were perceived, though. Instead, thanks to ingrained human reflexive behavior rooted in the same part of the brain that makes us bad at sharing our toys and prone to building big walls along our borders, mountain bikers were seen as too many people crowding into a place where they previously had not existed at all. Thus, Looming Threat.
Mountain bikers (plucky band of rugged survivors) somehow prevailed against inconceivable odds. However, and after decades of struggle, we emerged as a valid, viable, environmentally conscious population. End of movie, applause from the audience,right?
But wait! New movie starts, right as the credits to the first movie roll. Don't call it a sequel. This time, the mountain bikers mutate, and start sculpting terrain to their needs. No longer content with trundling happily across the status quo of trails blazed in pursuit of some century-old exploitative goal, these mutants start jumping off cliffs, sliding down scree faces, building skinnies in forests. They mutate and evolve. In the blink of an eye, they are building lips and landings, clamoring for catch berms, stacking rock walls, brazenly GEO-ENGINEERING THE ENTIRETY OF BENTONVILLE ARKANSAS and calling it progress! Just like in War Of The Worlds when the Martians start altering the atmosphere of the planet to make it more breathable to them. Looming Threat, all over again…
Then they start adding motors to their bikes!
Hushed rumors make the rounds; whispers about new Shimano and SRAM powered exo-skeletons designed in collaboration with Troy Lee and Club Ride hinting at super-enhanced middle aged mountain bikers suddenly immune to injury and able to download Semenuk and Wibmer riding skills right into their cerebral cortexes. Before we know it, the plucky band of survivors has gamed the entire system and mutated into nearly indestructible zombies, hell-bent on the right to ride wherever the hell they want, and terraforming wherever the hell they want to get sendy in ways that justify the beyond-platinum card expenditure represented by that incredibly stylish exoskeleton. "Bro, this suit cost me my marriage AND my kids' college fund. Don't you dare tell me where I can't ride. See this laser in my ocular implant? Don't even go there. Bro."
Don't worry, this is just a movie. It'll never happen. Right?
Some much more sedated version of that faux-pocalyptic scenario has been dogging me for years now. At first I chalked it up to sour grapes; not being rad enough to fully exploit modern bikes to their limits, and feeling already too old and broken to want to try and step my skillset up to hitting big built lines. But after letting those sour grapes ferment into a good vintage, I realized that my inner Lorax was clearing his throat. This shift in my thinking coincided with 8 years spent building some not very rad trails here on my property, where every measure was taken to ensure health of trees, consistency of drainage, mitigation of potential erosion, and minimization of impact on habitat. And what I learned in those 8 years is that there is no such thing as no impact. Tree root systems and the roots of poison oak and mycelium networks are interconnected in ways that we are only now beginning to comprehend. Everything in nature, everything, is interconnected and interdependent. Pretending otherwise stinks of hubris. We can wag fingers at lithium mining, and look down our noses at freeways and shopping malls, but we, as mountain bikers, are not really doing anything to restore or balance the environment of this planet. We are just leaving smaller skidmarks.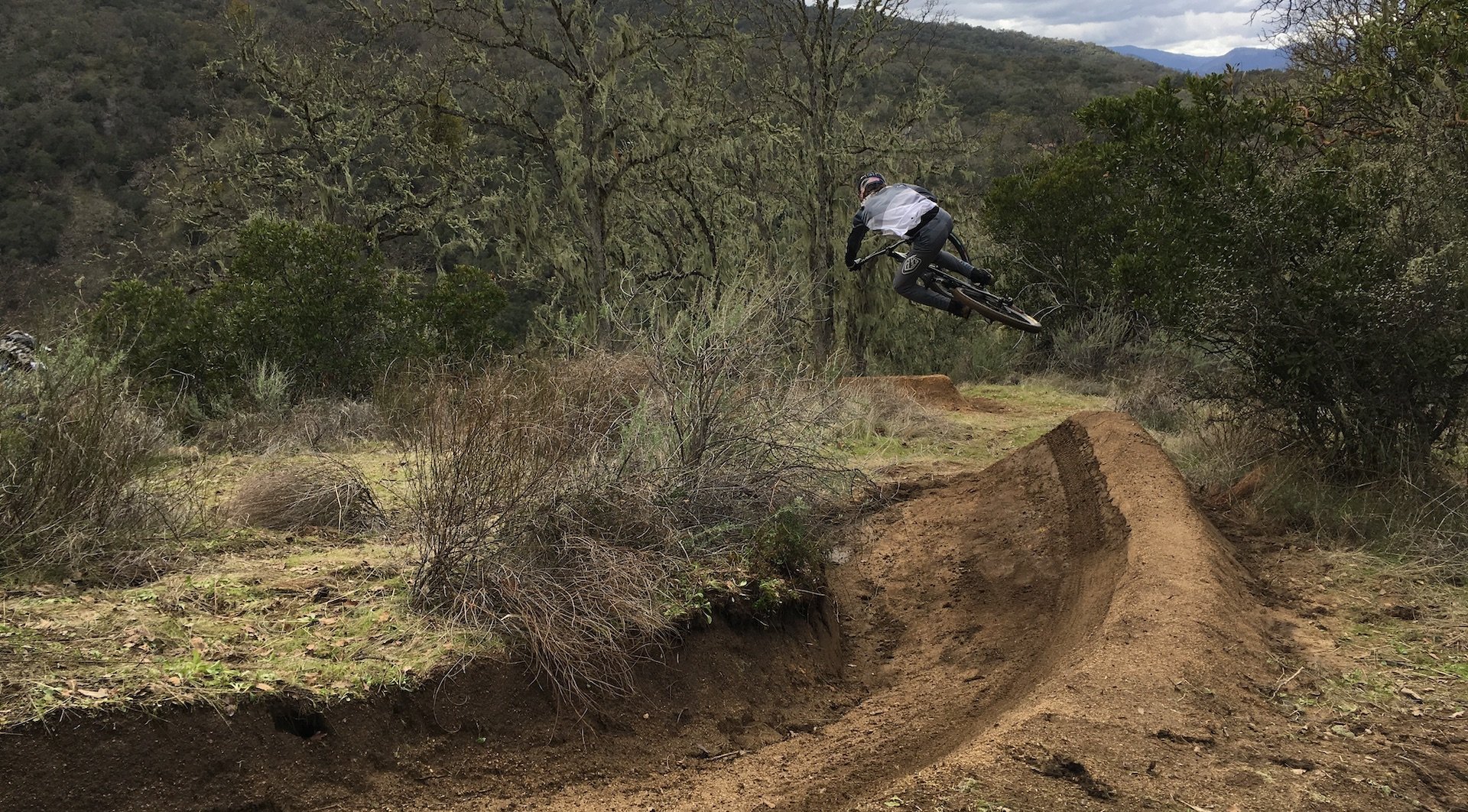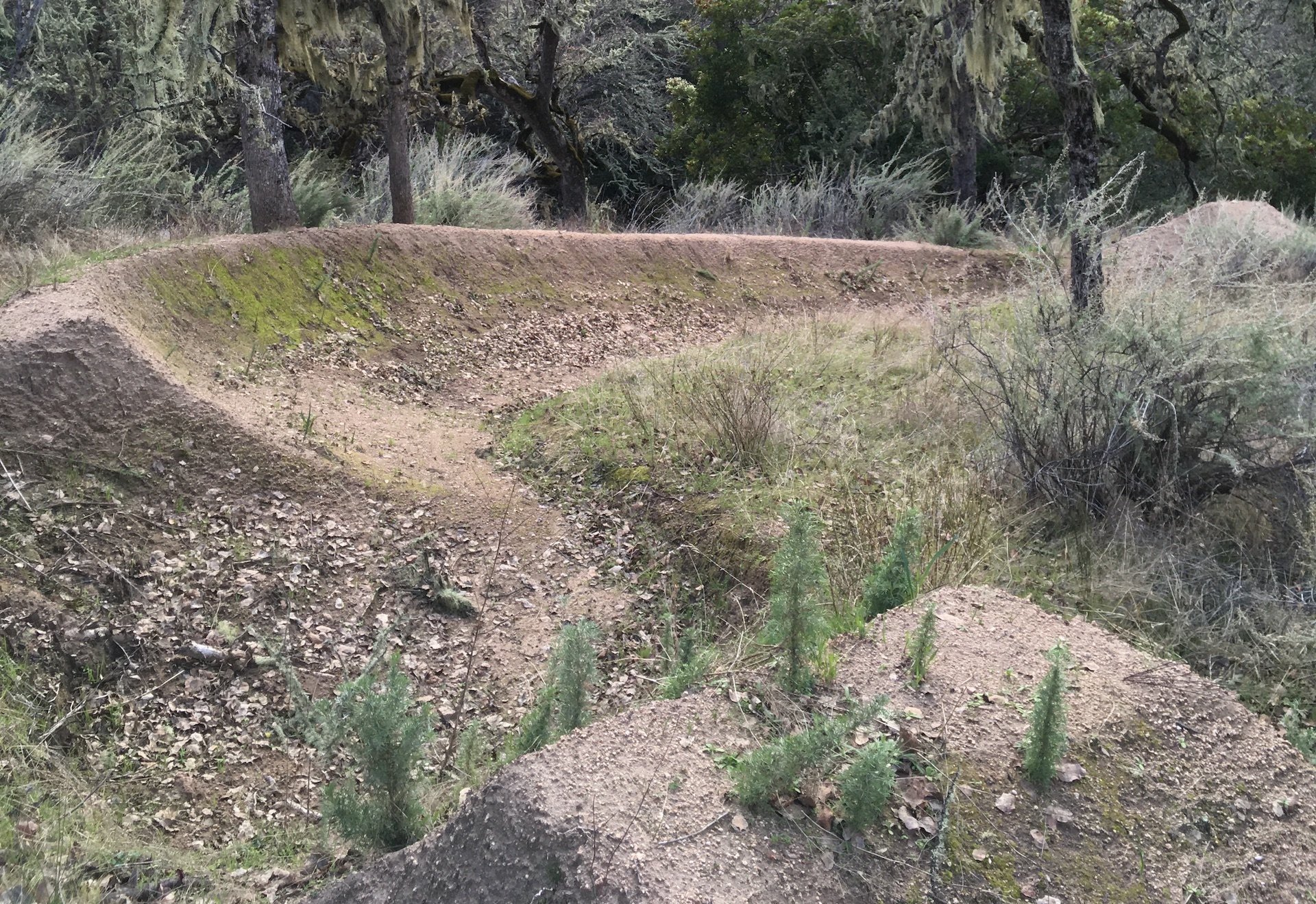 Damn, that was a banger of a film though. But I digress. Back to the end of days...
This thinking, ultimately, led to the idea of the fat bike, where conceivably one could ride without building any trails at all. Except that too, will leave a mark. Sure, "one" could ride. But, should he or she? Cue up high-speed footage of fungus spreading - what about 100? 1000? 100,000? Oh great, another disaster movie? We didn't even get to the end of the last one, where the ultra-rad, exoskeleton-clad, middle-aged super-mountain biker has dispensed completely with any token attempt at civility and has activated Full Righteousness Mode, and was last seen stepping on the skull of single speeding hippie who had died sometime during the war to make Los Angeles shredworthy.
I'm not advocating we all ditch our bikes for Birkenstocks, sacrifice our singletrack sessions for "the greater good." That's crazy talk, right? We're just a bunch of kooks sitting around talking about apocalypse movies here. Cinematic spitballing, as it were. Nothing to get too wound up about, everything's fine. We're all happy humans, doing happy human things. Just think it over before clicking the "buy now" button on that exoskeleton when the day comes, though. That's all I'm asking. I don't think that movie has a very good ending.