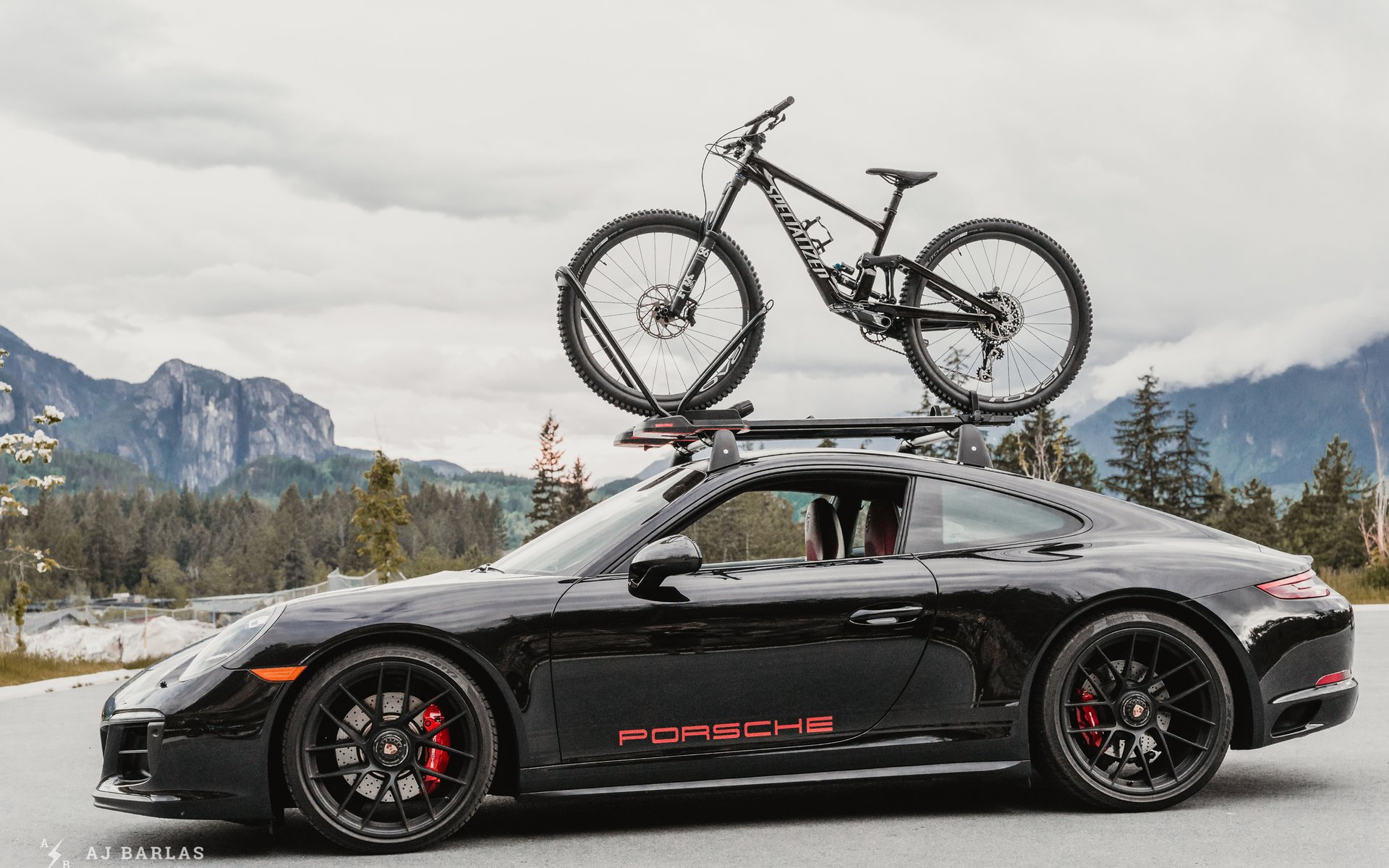 RANT
The Sad State Of The 'Because I Can' Mountain Bike
Sleeper vs. Snoozer
Sitting on my little stoop, cocktail in hand, I'd believe it if you told me that the North Shore is the per capita Tesla capital of the world. And I'm not just talking about those lame-sauce Model 3 sedans that the slightly-less-poors drive around. Heck, I'm not even talking about the folks dropping another +25K for a Model Y. The number of Model X Tesla SUVs, base price 158K CAD, that go by would make you think that North Vancouverites were getting fleet pricing. And as with all things, far be it for me to tell you how to spend your money but I can't help but draw some parallels to the world of boutique super bikes all the same.
You see I think the luxury electric car market and the current state of pro model production bikes, motor-assisted or meat-powered, have a lot in common. Moving beyond the obvious low hanging fruit of the green washing that goes on about either product, there's also the inability of both government and users to distinguish between toys and transportation. GST exemptions to get people out of cars and commuting by bicycle - heck yes. But please don't straw man me about the one rider you know occasionally commuting on their DoubleDown MaxxGrip Assegai-equipped Enduro rig. Likewise, providing subsidies to swap one piece of traffic for an equally sized piece of traffic - and the oil sands for DOC minerals mining - seems a bit, I don't know.
Alas, tax policy, the battery powered economy, and the people moving preeminence of public transit are outside my expertise but luckily for deadlines, those Tesla cars and whichever boutique, carbon full susser you picture when I say "high-end mountain bike" have something else in common: they're straight-up boring. Sorry.
You had over a hundred and fifty thousand dollars to spend on a car and you're currently surrounded by three more of the exact same bougie-boxes, in exactly the same colour to boot. Incredible.
You had over fifteen thousand dollars to spend on a 6" travel suspension bike and you bought an out-of-the-box rig? Incredible.
*Cover Photo: AJ Barlas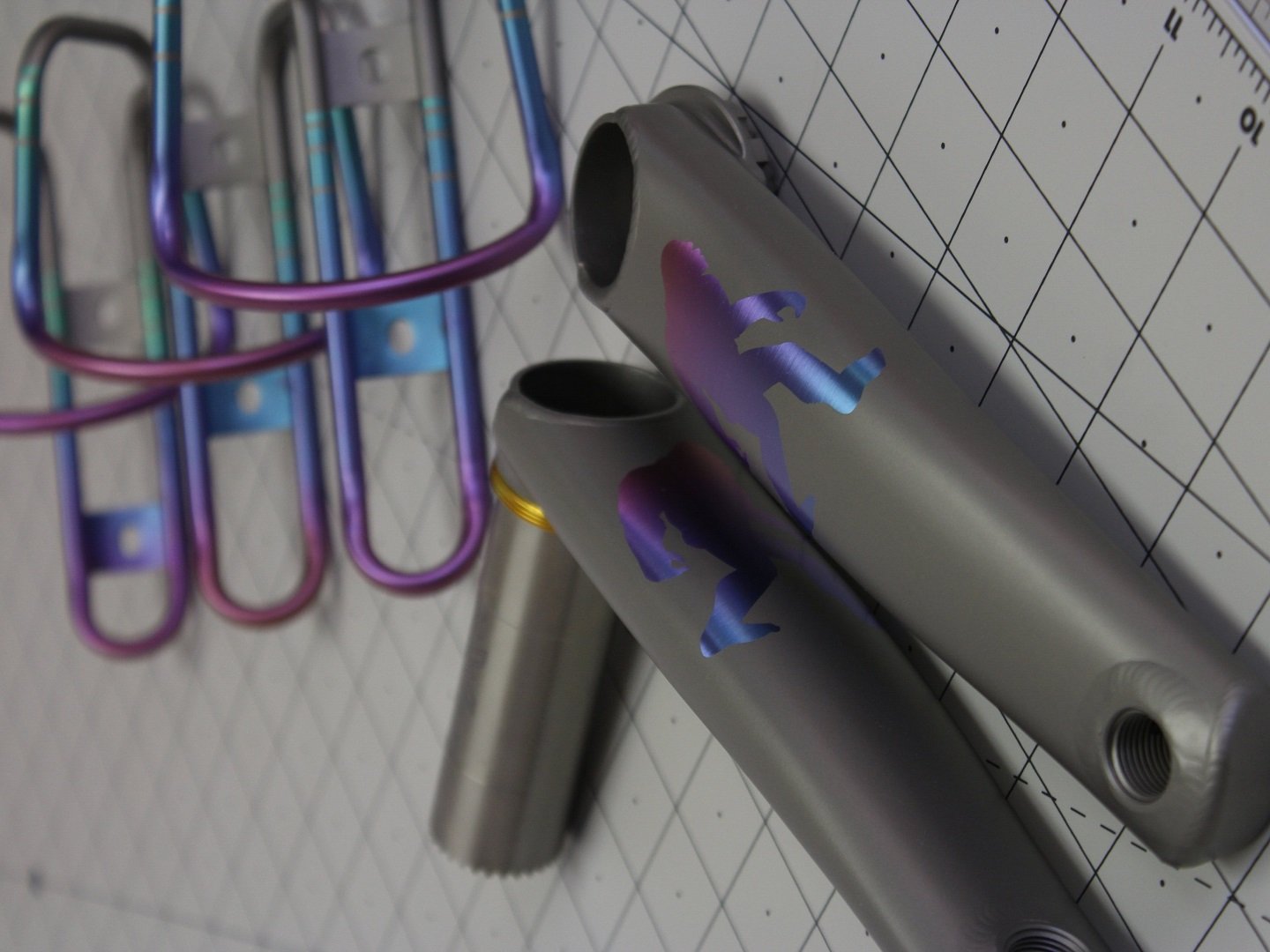 So help me, if anyone is thinking "yeah, but it's a 'sleeper' bike." I mean sure, "ZZzzzzzzzzzz" but that's probably not what you meant. For something to be a 'sleeper' anything, it has be interesting to begin with. For your sleeper rig, try dropping an Avalanche open bath damper and PUSH ACS3 spring system into a RockShox Yari chassis. Then lacing up some black Hydra* hubs to de-badged We Are One rims with Sapim CX-Sprint spokes. Pull all the decals, replace all the hardware with raw titanium bolts, and Sharpie the tire sidewalls. The bike will hold its own in any conversation with folks that speak the same language. What are the performance advantages of bladed spokes on a mountain bike wheel? This is a 'because I can' mountain bike build, don't ask "why?" ask "WHY NOT?"
*Industry Nine needs to do a sotto voce version of their black hubs
And yeah, this comes with a back-in-my-day warning, but hear me out for a just another minute. I had a memorable conversation with some folks from Kona in around 2008 about their philosophy on bike spec, and I think the world of mountain bicycles would be a lot more interesting if brands, followed their philosophy. Would it be more work for less margin? No, but it would mean the local bike shop and distribution network would be getting a larger share of the pie.
The concept was simple: Kona was heavy on SLX-level builds and a few XT-level models, where they could bring together good OE suspension, okay machine-built wheels, and generic finishing kit to create high value for their customer who wasn't looking for something specific. But as soon as they moved outside of that type of package it made much more sense to sell a frame-only option and let their customer choose a full à la carte build. Get the suspension you want, the brakes you prefer, the bar you like, your preference of hubs and rims, throw on some titanium eeWings cranks with a chainring to match whatever drivetrain you're going to run and so on.
And actually, if I can de-rant for a moment, to their credit, although Kona does have higher end builds available, they still are one of the most prolific brands in terms of selling frame-only options for most of their performance mountain bikes and I feel they don't hit you with the same frame-only tax that a lot of brands do. A Honzo ESD frame is 700 CAD with sliding dropouts. A Process 153 aluminum frame is 2800 CAD including a RockShox SDSP shock.
Recent supply issues aside, if you look at the prices of top builds from most brands it's hard not to think that a local shop could take a frame from any of them and build something a lot more interesting for a similar price and margin. And much lower waste in terms of the customer getting exactly what they want without them or their shop getting stuck with a box full of take-off parts.
Yes, I know, big OE isn't going to like it. There is no world where frame-up builds don't reflect increased market share for suspension brands like Öhlins, Formula, EXT, and Manitou or brake companies like Hopes, Hayes, Formula, and Magura. I imagine that sales of the non-AXS Reverb would be zero and Sacki at BikeYoke would just change his website to a big counter for when the next batch of Revive posts would be available. With all the 10K+ CAD bikes no longer sporting house-branded carbon wheels and bars, one can only assume that sales for the likes of OneUp, Renthal, Deity, and Chromag would shoot up overnight.
The aforementioned 'sleeper' builds aside, it's inevitable that these custom assembled rigs would end up significantly more colourful than the average five-figure build today. Hubs matching spoke nipples, matching pedals, matching frame hardware. When you're going premium, why order a black headset when there are eight other colours available? Will some of those look gaudy with six different shades of anodized gold or so much ano-red that your eyes bleed when you look at it? Yes. But they won't be boring.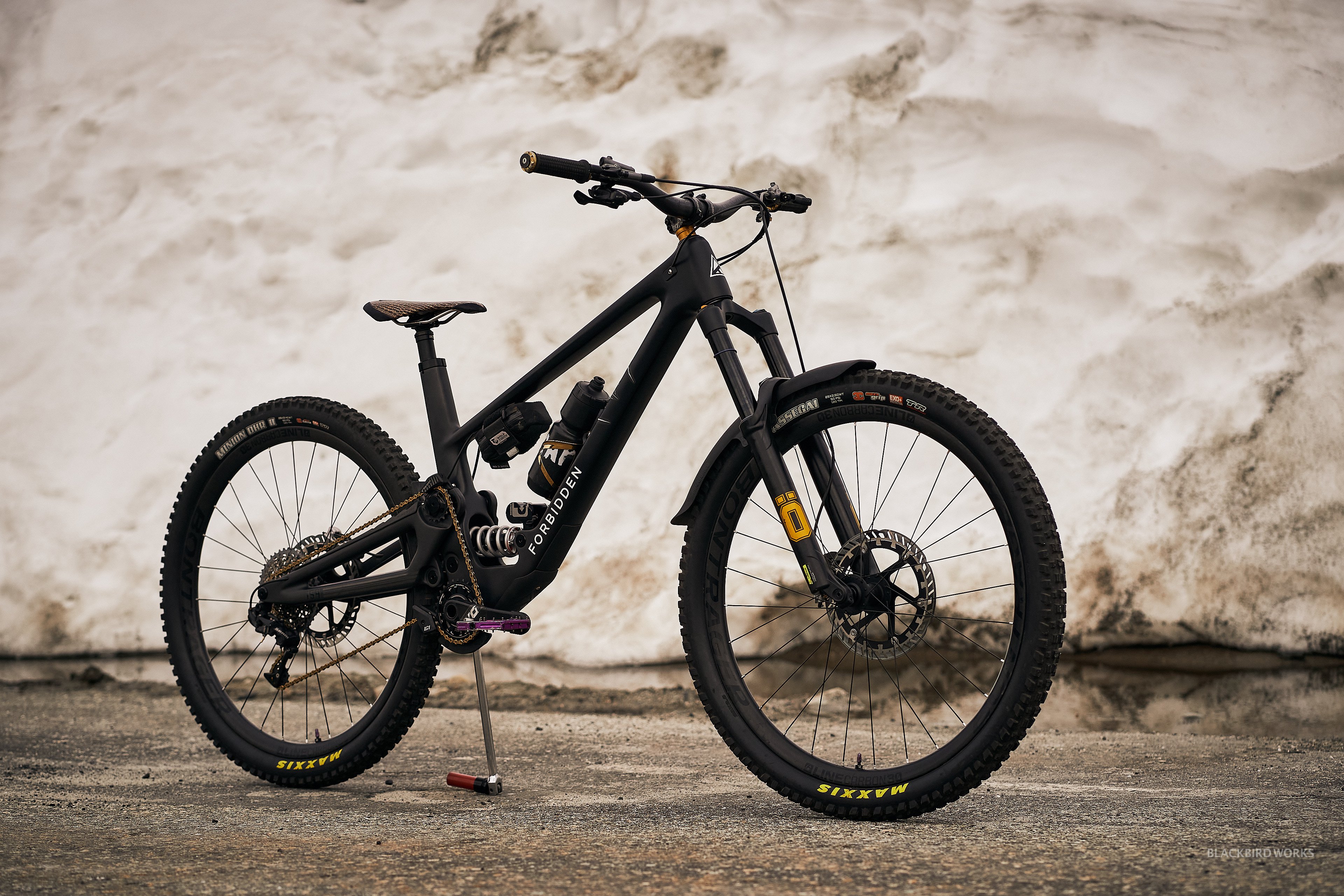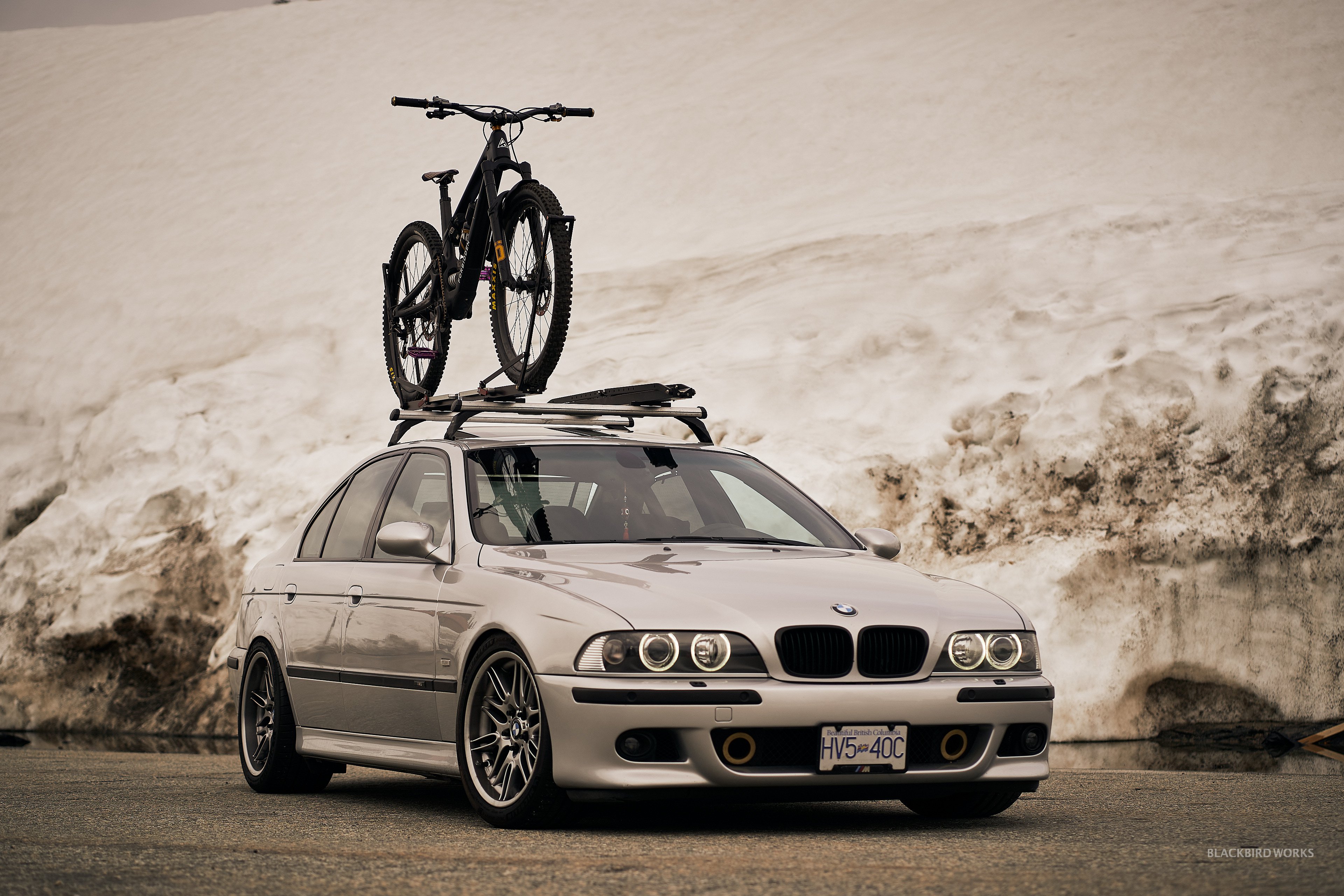 Of course, keep making production bikes up to the XT or GX level where a bike company should be able to deliver a much better value package than a local shop can assemble piecemeal. Riders can still personalize a bike with their preferred contact points, a colourful handlebar, and some stickers. There's no reason that your Prius can't be sweet. And one of the best things about mountain bikes is that even with the performance difference between a mid-level rig and the most bike money can buy, those folks really can still ride together without issue.
But when we're talking about super-bike level funds how cool would it be if the bikes were generally more interesting? Pull your custom painted Bromad behind a Shelby Cobra kit car or an '85 VW Doka with an EV conversion. If you're spending 'Because I Can' money then how about a PUSH shock and some Agave Finishworks touches? Spend a few hundred bucks at Racebolt or the like, and yes, getting your fork lowers and stem painted to match your frame looks boss. Get an inspirational message laser etched onto your chainring and then call Deniz up for some glamour shots because your unique bikes deserves to be pampered a bit.
At the end of the day is custom metal (or carbon) any better riding than a stock bike? I mean, if you go all out on the suspension products then maybe. But does it really matter how fast you go from 0-60 in bumper to bumper traffic? Whether it's 5K or 15K+, a belly button bike is a belly button bike, we don't need to see yours. Okay, you dropped a mountain of cash on a recent rig but you really don't care what other people think of it. I respect that, but you're in the minority.
And yeah, it's your money. But when you are looking to flit to a fresh machine, and if you are going to spend big, and if you want it to register as interesting with the bike nerds amongst us, please consider the place to start is with a frameset. Just add a bit of imagination and some 'because I can' to all the component choices from there.