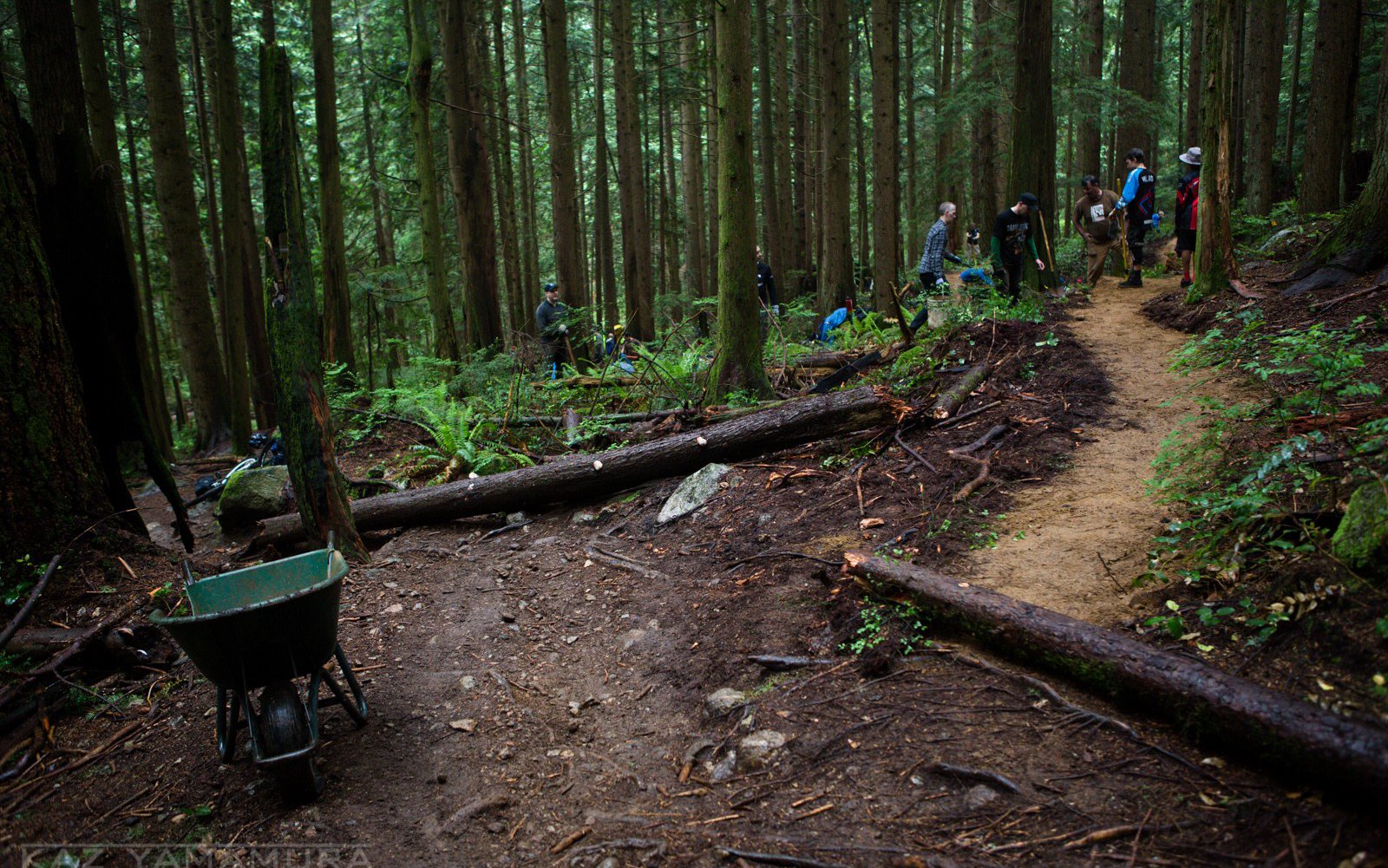 Editorial
Another Kind Of 'Triple Crown' Ride
Triple Crown Rides
Up and down and up and down and up and down. Pick a mountain bike and then ride it all day on aggressive trails across the North Shore's three iconic mountains: Seymour, Fromme and Cypress. It's an intrepid undertaking for a strong rider and a daunting task for the average mountain biker. And if there are three peaks with trails on them where you live, you probably have a triple crown season as well. 
It's been years since I've coaxed my exhausted frame up & down Cypress after riding the other two mountains. Frankly, with my current conditioning* the very idea makes my hands, back, legs and feet threaten mutiny. 
This is the time of year when my social media starts blowing up with riders I know putting together multi-mountain epics. Always bold undertakings which usually involve silly names like the 'Three Mountainator 4000' and 'Mahalangur Mountain Madness'**. I'm very much looking forward to reading about this year's death slogs knowing that each group will try to out-epic the others.

Oh, you rode Burke, Eagle, Seymour, Fromme and Cypress in one day? How quaint. After riding 100km of Squamish single track, I naked kite-surfed Howe Sound with my bike and gear on my back and then shredded the three North Shore mountains drinking beer till there was no more, from the Troller to the Raven with all stops in between" - The Future of Epic Ride One-Upmanship.
Beer in hand, laughing with a couple of buddies I take a moment to reflect on the impressive absurdity of it all. And then it dawns on me. The Triple Crown is as much about committing an entire day to the love of mountain biking as it is about riding gnarly trails on the brink of exhaustion. Maybe there's a different kind of North Shore Triple Crown that captures the same spirit without the pesky fitness requirement?
And Away We Go...
First light has just breached my sleeping sanctuary. I'm doing my best to ignore it. My alarm is going off:

"WAY HEY AND AWAY WE GO | DONKEY RIDING, DONKEY RIDING | WAY HEY AND AWAY WE GO | RIDIN' ON A DONKEY"

My f***ing phone is out of reach. I seem to remember planning it that way last night. No way to sleep through an alarm if you have to get up to turn it off or risk a beating from the life partner. Oh thank the gods - it's turned itself off. Just another five minutes. I already put my boots and work gloves aside. 
"WAY HEY AND AWAY WE GO | DONKEY RIDING, DONKEY RIDING | WAY HEY AND AWAY WE GO | RIDIN' ON A DONKEY"

I stumble across the room and turn off Great Big Sea before Donkey Riding rightly becomes the last song I ever hear. I put my shorts on  (backwards the first time) grab my pack, lace up my boots and carefully navigate my pre-caffeinated proto-brain to the nearest coffee shop. 
Way hey and away I go. Trail building, trail building. Way hey and away I go. Maintaining on a trail.  
No Dig; Still Ride?
Mountain biking makes me a better human, especially when dealing with my fellow humans, and the act of riding a bike on trails in the forest is sacrosanct regardless what else is going on in my life. But if you can't dig there are other ways to contribute. At a bare minimum, I encourage everyone to donate to their local trail association. In my experience, it's a great investment that pays dividends every time I hit the mountains. 
Any rider who can make the time owes it to themselves to give trail days a try. I've met some of my best riding friends shoulder to shoulder while digging golden mineral soil or lugging materials through the forest. It's a shared experience. I'll never forget standing huddled in a tent at the top of Pink Starfish in the cold pissing rain hawkishly watching the On Top Bike Shop's mini-doughnut maker spit out tiny balls of golden glory. Every trail day is a unique experience. 
Stage one in my 'Triple Crown' is lugging stringers, digging holes and banging nails with my brother and a pile of good friends. Some of them I've just met. Pizza lunch, finish up, carry the tools out and hit the road home. Time for a post-dig beer and a bath in Voltaren. 
Stage two awaits.
Pedal Gumby
Sticks and stones will break my bones but riding always cures me. It's been an emotionally tough week and while throwing puns - and dirt - is certainly cathartic there's nothing quite like a ride for some deep psychological reordering. 
Feeling human again but in search of some greater awakening I jump on my bike and I'm spun out instantly pedaling to the nearest trail head. As I toodle along through quiet streets and empty alleyways my brain wanders from life, to my bike, to a piece I'm working on and finally to that creative state where ideas roll around in my brain and I attempt to claw them out for later usage. 
With no knowledge of when I'd be done digging, the planning of a group ride was nigh impossible so Stage 2 is a solo effort. 
I'm out of the saddle gasping for breath climbing the road up to the trails when a rider comes blasting out of a side street on a Boxxer equipped Devinci Wilson. He stands up, puts his head down and starts grinding. Crazed beard. Mischievous, maniacal and mirthful grin splashed across his face. It's that Sean Gerke guy! 
We share a few laughs and a couple of KMs after our fortuitous meeting (Fromme's odd couple with undoubtedly the most and least travel on the mountain that day) and then go out separate ways. I'm climbing again with my head down fixing all the world's problems at this point. 
Stage 3
Beers. Transmogrifying all of life's problems into hilariously-awful one-panel cartoons in my mind is thirsty, thirsty work. Not to mention focusing on not crashing my bike when there are a million other things floating through my brain. The ride is awesome and the pedal home is uneventful. I'll definitely be feeling this tomorrow. 
I arrive home to a selection of beer, a bottle of rosé (Thanks Love!) and a plethora of stories from my daughter about her adventures. There's a pile of work to be done before I can close my eyes for the night but I already know it's going to be my best sleep since the last time I played bikes all day. 
Build. Bikes. Beers.
Three things I love that are all bicycle related smashed into a single magical day. Preferably with friends but solo was just about right on the day. The fitness requirement is straight forward: dig what I can, ride what I can, drink what I... 
Maybe I'm not up for lugging myself around trails for 4 am to 11 pm super-epics these days. That's okay. As long as I can capture the spirit I'm chasing.
The best part is there is nothing paint-by-numbers here. Make up your own formula and give'r. What does your Alternative Triple Crown look like?
*There's a rumour going around that I'm a sandbagger‽ Who you going to believe the guy trying to help you out with group ride survival tips and basic fatness advice or my even slower lazier friends?
**Mahalangur Mountain Maddness of course takes place in Bellingham, Washington... no where near the Mahalangur Range. Just because.