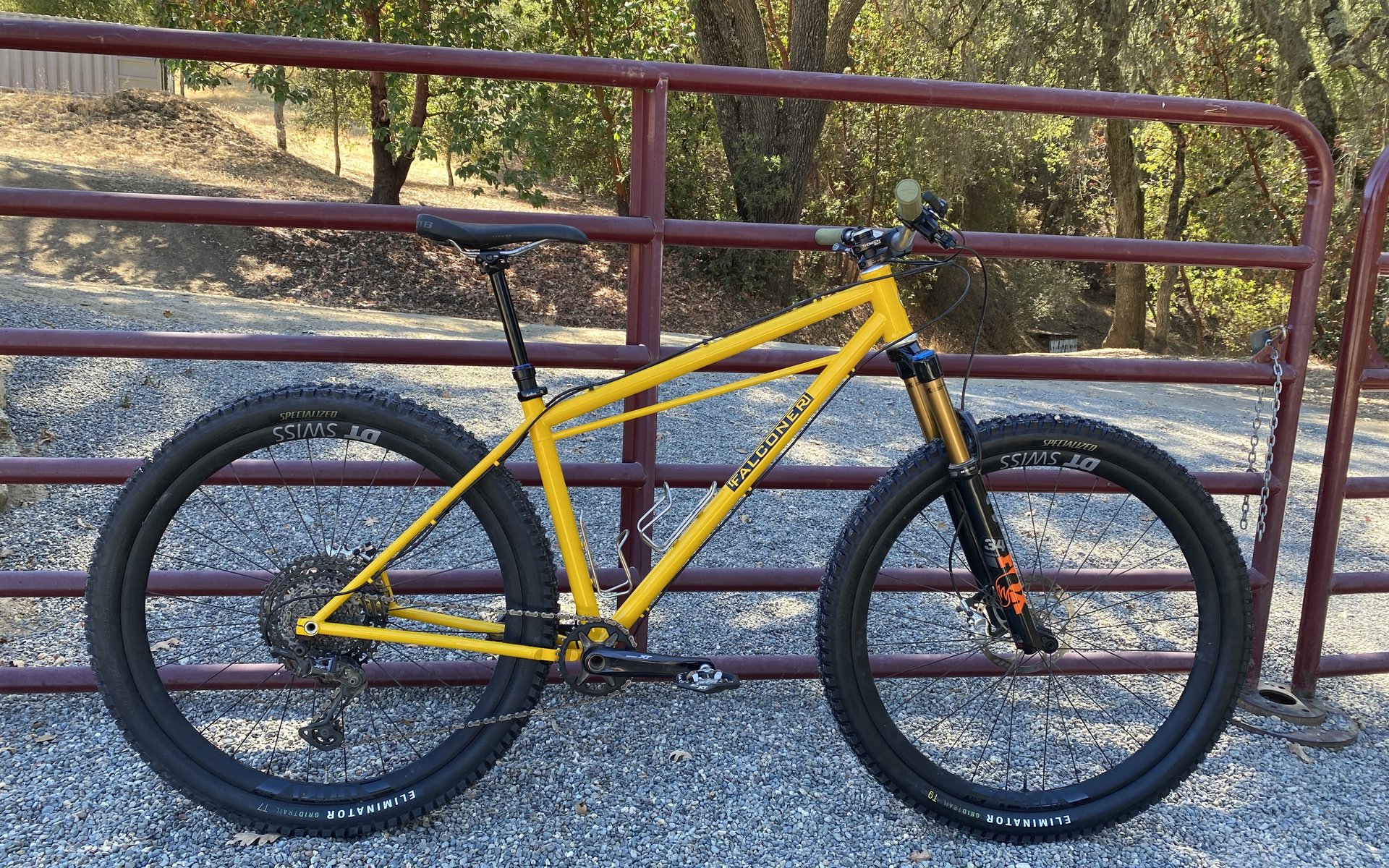 Not A Bike Review
The Not So Hard Times Hardtail
This is not a new bike review.
It's not really even a used bike review. But, since at least two of you have asked about it at some point or another, here it is. Consider this a proper introduction to the bike I ride when I am not riding a test bike. Which means, basically, the bike I do not get to ride enough. How this bike came to be is a bit of a shaggy dog story. Here goes.
The magazine I used to work for produced this annual thing called "Dream Builds," where each editor was given free rein to build up the bike that was haunting his or her fevered imagination, whatever that fever dream may be. Naturally, the builds tended toward the ostentatious. I was invited to participate in an early iteration of the Dream Builds, but the bike I built was obviously not dreamy enough so I didn't get to jump on that particular gravy train ever again. Then the magazine went away and became another website/magazine, and Dream Builds came back, and I had this banger of an idea:
I wanted to build an all-metal, made in the USA as much as reasonably possible, locally sourced hardtail. The ostensible name of the build was "Carbon Offset." Aluminum rims, maybe some of them fancy titanium cranks that everyone swoons over, aluminum bars, all metal parts colored silver (the initial inspiration for the build actually came about after a possibly drunken rant against the pervasiveness of black spokes, but that's another story), and a no-fuss approach to a modern hardtail with as little plastic adorning it as possible.
Pitching the idea to the powers that be, I was met with the equivalent of a not very enthusiastic shrug. Not dreamy enough, again. But I decided to build the bike anyway, as a personal "this is the bike I own" project. I had been thinking about a particular steel hardtail my friend Cameron Falconer had built, and I was also feeling like I was a little bit at sea in a flotilla of carbon fiber everything. There was just one small thing in the way of my plan; Covid-19.
The pandemic wreaked havoc on the entire bicycle supply chain, so it was no surprise to anyone that when I began knocking on doors, credit card in hand, the parts I desired to get Operation Carbon Offset up and running were nowhere to be found. Meanwhile, Cameron and I had been kicking this idea back and forth, I'd thrown some money at him, and now the frame was done. And, man, it sure was beautiful. But I had no parts to hang on the damn thing.
Frame Of Reference
Cameron Falconer grew up in Marin, in what could best be described as a bike-builder super-incubator where there was a huge talent pool of framebuilders and machinists to learn from. He morphed from a very skinny, very fast teenage singlespeed mutant into a very talented framebuilder. During that morphing, he spent years in industrial fabrication, racking up tens of thousands of hours honing his welding, and out of that stew of riding and thinking and fabricating he evolved a no-fuss, super clean framebuilding aesthetic that is very much his own. Cameron had previously built a couple ProCruiser tributes with modern geometry, and I thought they were some of the prettiest bikes I had ever seen. So I asked him if he'd be interested in building up another one, but with big wheels, Boost spacing, super short chainstays, and the ability to switch between geared and singlespeed. That's really how this started.
His response was to lob some drawings back at me, tell me that trying to do a looptail with Boost rear spacing and the ability to have some geared/one speed fore/aft adjustability would be problematic at best, and likely incredibly expensive. He made some mention of "superfluous top tubes", and reminded me that my penchant for super-short chainstays hadn't always worked out. Aesthetically, the only thing I really cared about was the superfluous top tube. Aside from that I'd be happy with room for big tires and a front-center that was roughly the dimension and geometry I asked for, so I decided to let him have his way with the rest. He's ridden mileage several orders of magnitude greater than I ever will, and has also built many, many bikes. I figured he knew what to do.
And this is what he did. 67 degree head angle, 74 degree seat angle, based around a 540mm axle to crown fork. Effective top tube is 25". Longish 440mm chainstays, Boost spacing, hella sano rear dropout, clearance for 2.6" tires, almost fully external cable routing, and bright yellow powdercoat.
Spare Parts Special Mission Creep
Meanwhile, the supply chain had not fixed itself. I think trying to buy some silver anodized Velocity Blunt SS rims and getting completely skunked was what finally broke my will. Operation Carbon Offset became Project "Hey, Look At These Used Parts." Having a barn full of used bike parts comes in handy at times. There was most of an XT drivetrain (just missing a shifter) that I'd pulled off an Ibis Ripmo purchased a year before the pandemic crushed the bike market, as well as some Magura MT-Trail brakes from the same bike. I had a Chris King Shimano-sized bottom bracket that I had been sitting on for years, waiting for an excuse. There was a set of ridiculously light DT Swiss XMC 1200 wheels that hadn't seen a ton of use. A Hunter Smooth Move aluminum bar that had been hanging out with the Chris King bb. And a brand-new-in-the-bag-a-decade-later-reach-under-the-saddle-to-actuate Crank Brothers Joplin dropper post. It was the only 30.9 dropper post I had. It matched the very used Fi'zi:k Aliante saddle that had been kicked off my 'cross bike for being too heavy sometime around 2005. Add in some snazzy green grips from that Ibis, a pair of Maxxis Rekon 2.6" tires, and we were in business.
Oh, and a fork. Somehow. A very sweet 130mm travel, 44mm offset Fox 34 Factory. Fortunately I didn't have to buy any cables or a chain. Cue up clattering tool noises.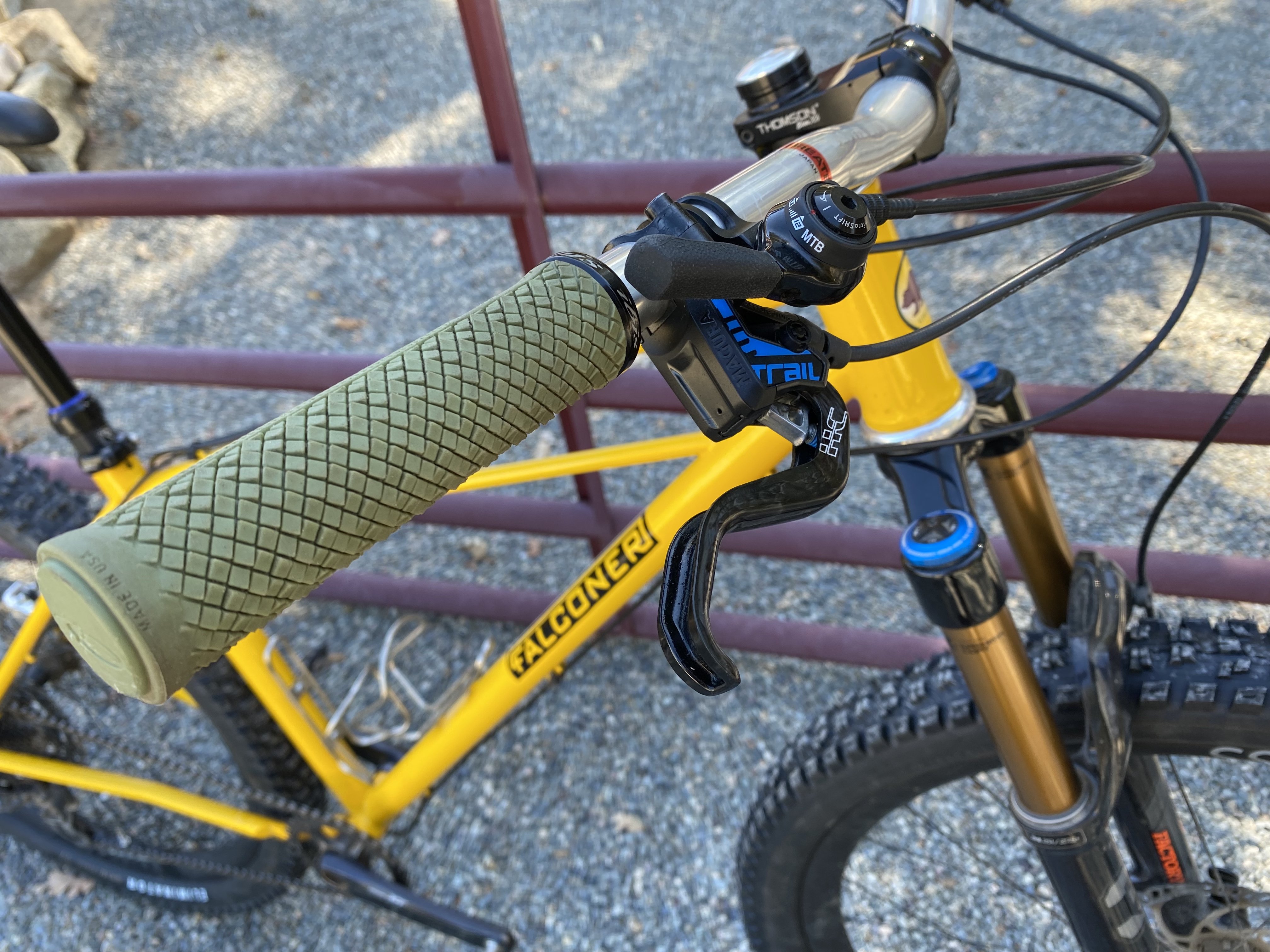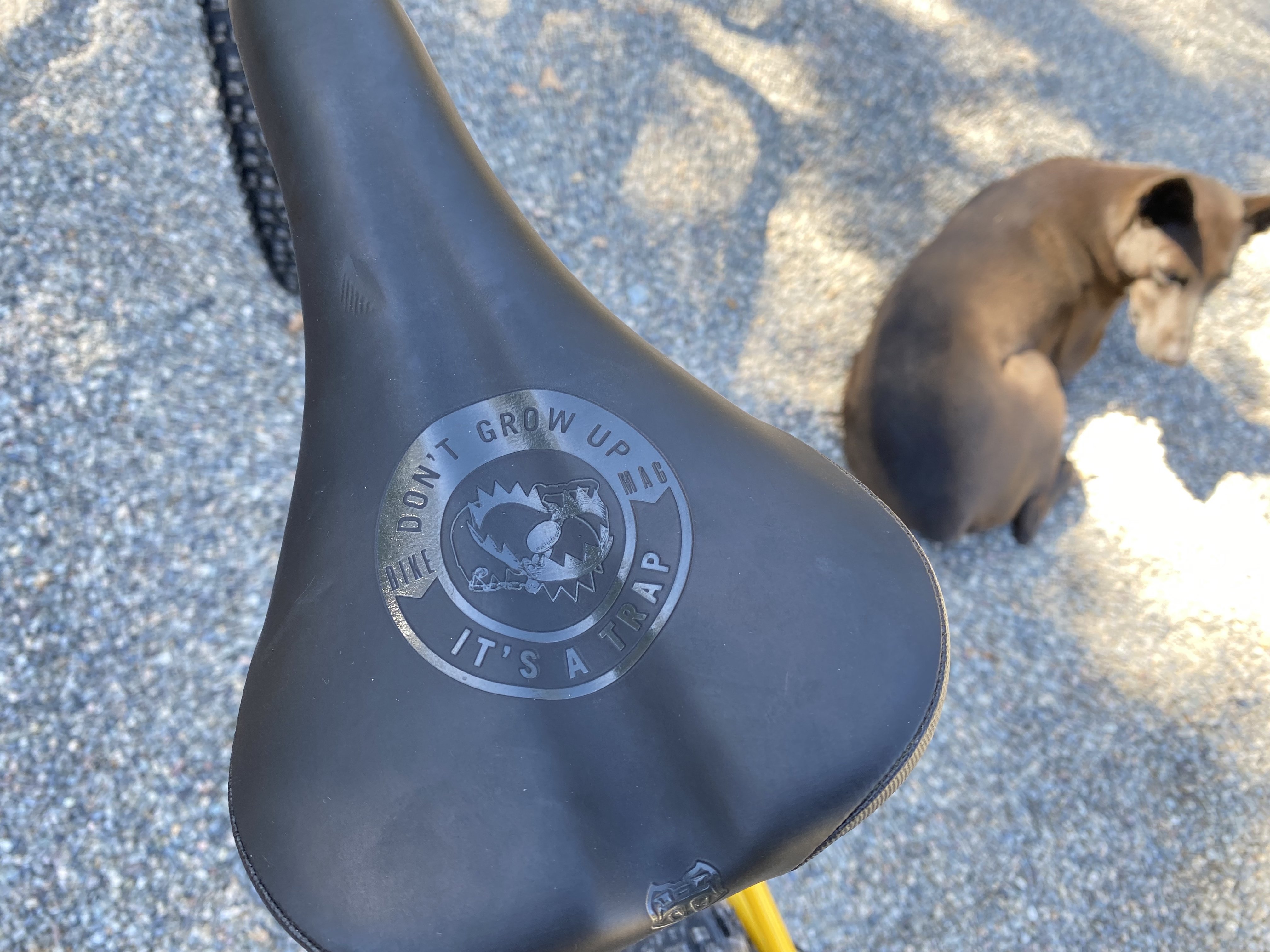 Something Old, Something New
The initial build was pretty straightforward. Everything was nuts-on straight and aligned and faced and ready to assemble, although I could probably have used some higher quality zip-ties on the brake hose and shift cable housing. Since there were no Shimano shifters to be found, anywhere, I impulse purchased a MicroShift 12-speed thumbshifter. It rules. It shifts a derailleur that is missing its clutch. The clutch got greased off by a rock somewhere up in the Lakes Basin. I didn't even know it had happened. Tried to order a replacement one, but, supply chain… It works fine.
The first few rides were… different. The geometry is intentionally not current long/slack, and the chainstays are long, and it has a kinda low bottom bracket, and so it takes a bit of recalibrating if one has been eating a steady diet of new school geometry. The first few initial parking lot cutties felt strange; the bike seemed tall up front and required ZERO effort to steer, and also dropped eagerly into any kind of turn with a similar ease. It felt like it would be sketchy going fast. But it's not. And that's weird, too. It drops into turns well, and it sticks nicely once there, and in spite of the light effort is eerily stable. The front/rear balance feels super neutral and offers a ton of feedback, and I keep thinking it's going to get squirrely when things get really technical, but it just doesn't happen. Bear in mind, I'm not trying to put it through any of the slabtastic or shorecentric deep forest horrors that some of you are riding. But in the rutted out, blue-groove and kitty litter weirdness of coastal California it works amazingly well, albeit with a lot of loose moments from the tires.
As an analogy, the Falconer reminds me a lot of a 1972 BMW 2002 that I mistreated for a few years long ago; super neutral balance, super forgiving, makes you think you're a better driver than you really are, probably not the best choice for a dirt jumper but what kind of soulless monster dirt jumps a 2002???
Once we got to know each other, some changes had to be made. The seatpost was replaced by a used Reverb. At some point the Reverb decided it needed a spa day, and I took the opportunity to replace it with the 9point8 seatpost reviewed a few months back. And now, belatedly, the Rekons just got plucked in favor of some 2.6" Specialized Eliminators, T9 compound up front, T7 rear. That added some weight, 204 grams per tire, but there's a ton more bite now and burlier casings that should allow me to drop a few psi.
It's not a looptail that can convert into a singlespeed. I didn't get to create my Rhapsody In Polished Aluminum. There's no bent seat tube or super short chainstays. The cables are fully visible. It's not a plow. It makes me think I'm a better rider than I am. Excellent. When the fire/flood/earthquake/zombie apocalypse comes for me, this is the bike I'll rescue from the flames/water/falling buildings/brain dead flesh eaters.