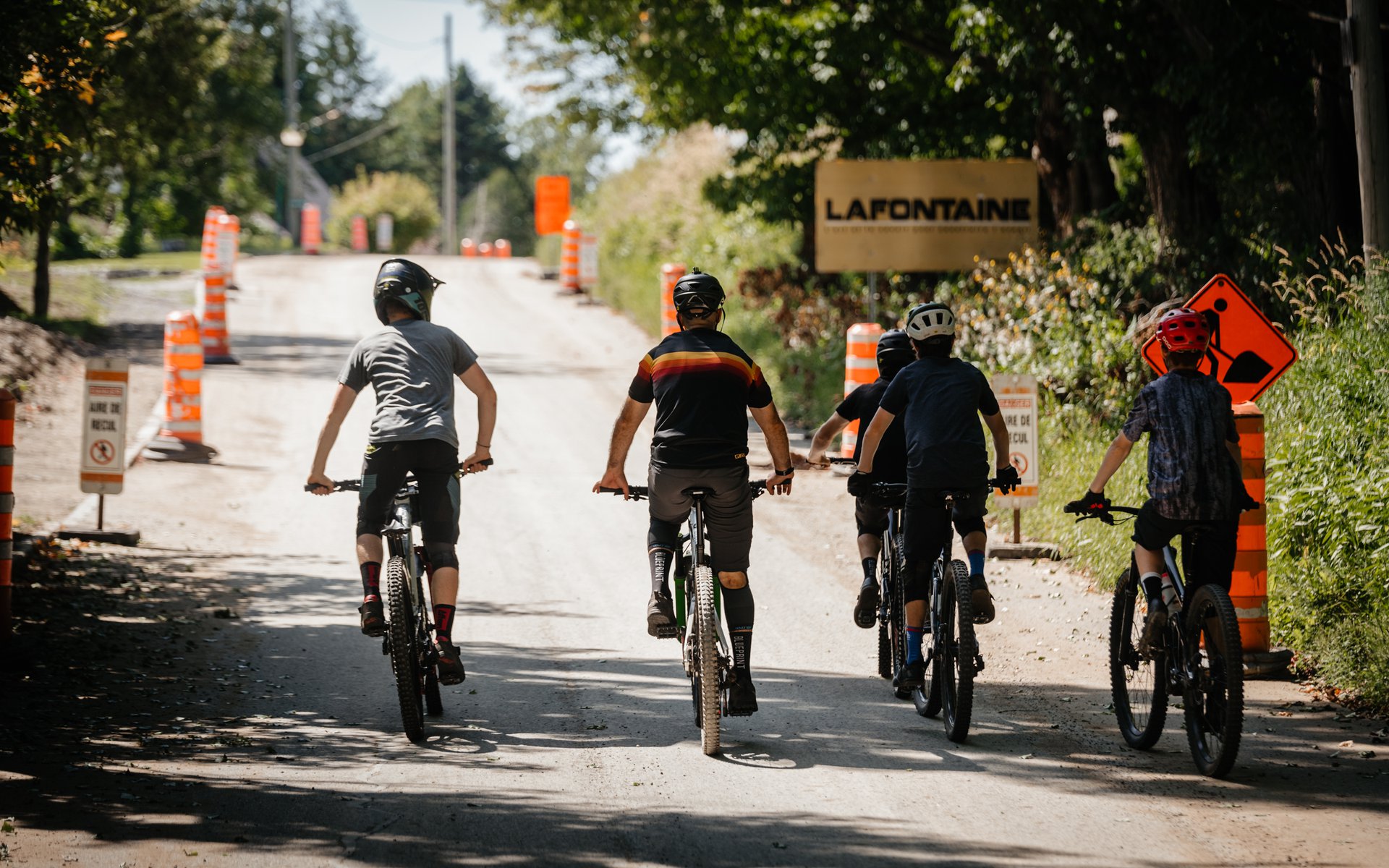 RACE NEWS/EDITORIAL
The MSA Project – Mont Sainte Anne World Championships
Mont Sainte Anne is among the longest-running World Cup venues on the circuit and since 1996, the location has hosted a World Cup or World Championship race every year. 2019 was the third World Championship event held in MSA and for Canadians, it's a big deal. With MSA being a home venue and a staple of elite-level mountain bike racing for more than 20 years, it's not hard to see why. Both the XCO and DH tracks have earned their place among the most worthy MTB race tracks in the world. The XC track is famous for The Beatrice; a technical, steep rock garden that had athletes puzzling before official practice began. For gravity riders, the MSA track is known for its flat out speeds and gnarly rock gardens – and after spending time on the track I can say it's scarier than any photo or video shows.
In addition to the race being on home soil, we're seeing mountain bike racing blossom in Canada. Since Stevie Smith blew onto the scene I've noticed an increased interest in downhill racing here. More grommets are growing up with a focus on the race track and they have a steadily increasing group of role models bagging results on the world stage. The 2019 Canadian National Champs also had a strong showing of World Cup racers, giving domestic juniors a great opportunity to meet, ride and see how their world-class peers prepare and race.

For 2019, Cycling B.C. put together a program with a selection of riders. Led by High-Performance Manager Tara Mowat and coach Joel Harwood, the two seek to provide athletes with support to help them achieve their goals and better prepare for future world-class events. And while the only athletes racing in MSA were downhill racers, Georgia Astle (Elite Women), Milton McConville (Junior Men) and Emmett Hancock (Junior Men), there were three athletes too young to race but part of The MSA Project, there to learn from the experience.


At 14 and 16 years of age, junior XC racers Cam McCallum and Lief Rodgers have now had their first look at a World Cup XCO track. Even better, they've both had the opportunity to ride the World Champs XC track with Tara and Joel while the best athletes from around the globe were practicing. The experience will give them an advantage not only when they're old enough to race at this level, but at local and national level events too.
Bodhi Kuhn was also in MSA to learn from the experience. Just 14 years old, Bodhi has shown promise at national level downhill races, and at the 2019 National Championships posted some impressive results. He still races U15 and won the category but what stands out is his time netting him a top-five in the Junior X category and a top 20 in the elite. His promising results turned into an invite to take part in The MSA Project, an opportunity he grabbed by the horns despite his two recently broken arms. But for Bodhi, seeing how his peers dealt with the weekend and a chance to learn from the process was something he didn't want to miss. During the week he was a sponge, spending all day, everyday trackside watching lines, discussing riding techniques and taking part in as many of the activities as he could.

The Project
Cycling B.C. ran a similar project last year during the Mont Sainte Anne World Cup. Emmett Hancock was too young to race then but took part for the experience and this year he was selected for the 2019 Canadian Worlds Team. Emmett continues to learn and to borrow the words of Coach Harwood, 'is very coachable.' He's focused and while still young, is serious about his training, nutrition and rest.
Seth Sherlock also took part in the project during the 2018 MSA World Cup round. This year Seth travelled overseas to race his first World Cups abroad as a junior and won the round in Lenzerheide. He also secured a podium in Les Gets with a third-place finish and is the 2019 Junior Expert Canadian National Downhill Champ. Seth's grown into a threat on the race scene and his professional and positive attitude, in addition to the help he's received over the years, are shaping him into a great racer.
The idea behind the project is to give young riders like Seth before, the tools needed to make the transition to World Cup level racing. Hancock and McConville are getting the support because they've had promising results riding on a national level, but making the jump to the world stage is difficult. With Tara and Joel on hand to assist them, while also having younger riders present to begin to learn the process earlier in their racing development, we should see the number of Canadian juniors succeeding at World Cup level competition grow.
Most athletes in the MSA Project are already familiar with each other from the National races. But for the younger participants, witnessing what the racers went through at the World Championships, and helping them prepare their bikes, meals etc. was very insightful. For Bodhi and the XC juniors, learning the process behind a race weekend at the highest level is only going to propel them forward into the next year. Throw in some heckling from the older juniors racing in the project and Bodhi is excited to compete against them in 2020.
The Coaches
Tara Mowat and Joel Harwood are the masterminds behind the project. The two agree on the importance of better supporting promising young athletes through their transition from National level competition to International events like World Cup races – this is part of their solution. Each has a background in physical education and teaching, and after witnessing how they work with the kids, I can't think of anyone better to be behind this program.
Tara Mowat is a hyper-driven and active person. Outside of her position as High-Performance Manager with Cycling B.C. she's always on the move. If not chasing QOMs on her bike, she's running. If there's snow, she's out ski touring somewhere. If she's not doing any of these there's a good chance she's helping someone off one of the North Shore mountains – Tara's an active member of the North Shore Search And Rescue volunteer network. On the bike, she's a very strong rider. After racing downhill for years she won the B.C. Cup in 2010. At the time Tara found the upgrade process from Senior Women to Elite unclear and many fast ladies were racing the Senior category as a result. Additionally, Tara was upset by the lack of racer acknowledgement and after a hard-fought battle that year for the Senior Women's title, the podium consisted of only the winner.

We'd had a fairly strong women's showing in Senior women and Elite woman that year… When they did awards they only acknowledged the winner, which was a real shame because it's quite a commitment time and money wise to race." – Tara Mowat, Cycling B.C. High-Performance Manager

Not one to mince words, Tara wrote Cycling B.C. and let them know what she thought. Following the letter, there was a heated discussion via phone with the then CEO, Keith Ryan. Tara realized he was out of touch with MTB and told him so. Eventually, she found herself meeting face to face with Keith where she held her ground, re-iterating the issues with Cycling B.C's lack of understanding mountain biking. Eventually, after hearing her concerns and potential solutions, Cycling B.C. offered Tara the job of Technical Delegate. Just out of school after returning to do her Bachelor of Education, Tara was seeking work and jumped at the opportunity to help improve mountain bike events in B.C. Nine years later, Tara has held numerous roles with Cycling B.C. but is currently very happy as High-Performance Manager. And while The MSA Project highlights her role with mountain bike athletes, Tara's job has her busy with road and BMX athletes as well.
Joel Harwood – a school teacher in Squamish – spent a lot of his youth in team sports. During university, he began taking his summer break in Whistler where he could pursue another passion. His interest in mountain bikes and putting his kinesiology degree to practice were the motivation but it was years before he used the education to its full potential. He began working with youth in Whistler early but noticed there weren't many options for high performance or aspiring racers. He pushed hard for the Whistler Development Team and in 2013 it became official.


"My hope is that at some point Canadians have the same opportunities as cycling powerhouses like France, and I would love to be a big part of that" – Joel Harwood. Cycling B.C. Coach
In 2014 Joel slowly began to step away from working for the Whistler Bike Park. With DFX, he'd worked with athletes such as Lucas Cruz, Seth Sherlock and Ethan Shandro but saw a need for coaching services year-round. He approached Whistler Blackcomb to do this but there were too many obstacles to do so efficiently and make it affordable for young athletes. Joel began coaching riders through the off-season and saw heaps of potential to continue growing his own coaching business. A few years later he made it official and founded Blueprint Athlete Development, which has now been going for three years and the roster includes heavy hitters such as Remi Gauvin, Miranda Miller, Rhys Verner and Keegan Wright. He's also the coach for the Norco Factory DH Team and runs his team of juniors in addition to his roster of athletes.
Joel and Tara first connected while Joel was working with the Whistler Development Team at B.C. Cup races. They've remained in touch over the years and both agree on what's needed to help build young racers into world-class athletes. They're pushing to improve the level of racing at B.C. and Canada Cup events – they see the benefit of Crankworx races too. But they've seen a barrier for athletes moving from that to International racers like an iXS Cup or World Cup. Through this, they plotted The Project and with MSA holding an international race each year, it's a great opportunity to begin guiding promising junior racers through the process.


The Athletes
Racing in MSA were junior men Emmett Hancock and Milton McConville. Hancock won B.C. Cup rounds four and five in Silverstar and Kicking Horse this year and at National Champs, he finished in fifth place. He also raced overseas for the first time this year, in Vallnord. Emmett admits that the experience was eye-opening and showed him he has heaps to learn at the international level. Coach Harwood says Emmett has come a long way in 2019, making heaps of progress in his riding and preparation. Spending time with Emmett it's easy to see why; he's focused, sensible, and isn't afraid to put in the hard work to reap the rewards.
Emmett is also competent with the tools and happily works on his bike after each day on track. His knowledge with bike repairs and settings will go a long way as he builds into a young international privateer role. His goal for 2020 is to race the entire World Cup circuit in the junior category and knowing how to take care of his equipment, as well as himself will be invaluable. They also helped in his World Championships debut and despite some heavy slaps causing a tight neck and sprained wrist, Emmett soldiered on to finish in 28th.

Milton is your naturally talented and charismatic rider. Watching him do flat corner drills down a gravel road is as entertaining as seeing the best in the world ride. He's got that loose, fluid style of riders like Brendon Fairclough and an incredible ability to cut the bike through a turn. Not afraid to send a lip, Milton looked comfortable off the tricky jumps within a run on the MSA track. He's always up for a good time and perhaps isn't as motivated to work on gym routines, but he does spend heaps of time digging and riding long days. Unfortunately, Milton's week in MSA was marred by mechanicals and they had a detrimental impact on his race preparation. Come race time the mechanicals continued and Milton flatted in his final run, seeing him finish the weekend with 45th.


Georgia Astle has been racing for years and while not a junior, she's worked with Joel and Tara before. For 2019, Georgia showed versatility in her riding; racing Enduro, World Cup Downhill and various events at Crankworx in New Zealand and Whistler. Things haven't gone smoothly for her but when she's held it together the results have followed. Notable results include a first place in the EWS100 Rotorua, second at National Champs, and a win at the legendary Garbanzo DH. Being selected for World Champs, she reached out to Joel for his assistance with preparation in MSA and with Tara and Joel each being familiar with her good attitude and riding, they were happy to have her along.

Georgia was a great example for all of the younger riders of the MSA Project. She begins preparation for the following day early and spends her time off track decompressing and working on getting her mind and body ready for the following day. Unfortunately, on the hill, things didn't go quite as planned and Georgia suffered one mechanical after another. She also tasted the dirt on a few occasions and a big crash in her race resulted in a hyperextended arm. Thankfully nothing was broken but Georgia took home a nagging reminder of her time in MSA.
Each of the competitors came into the weekend intending to learn, and they did. It could be argued that if they'd ended up on the podium, they would have learnt less. The challenges thrown their way every day on the track taught them more than if everything had gone smoothly. MSA is also renowned for being a brutal track which makes it a great place to start – being thrown in the deep end has its perks. Those challenges weren't unique to the younger, less experienced World Cup racers either and the MSA track served a metric shitload of beatings to the world's best riders too. Blenki, Greenland and Fearon, to name a select few, each had multiple issues with flat tires and busted wheels. Tracey Hannah, Kate Weatherly and the Bulldog, among many others, took heavy slams. The latter two resulted in serious spinal injuries.

For the juniors here to be inspired and learn from their peers, there was much to take away. But above all, they now have a deeper appreciation for how challenging it is to compete on an international level. Expect the unexpected, prepare as best possible but be flexible, because things are likely to change. Bodhi took a huge amount of information from watching his heroes line choices and riding techniques and says he's more motivated than ever to get between the tape. While for Cam and Lief, seeing first hand and riding a World Cup XCO track with competing athletes gave them a taste of what's to come. They're both talented bike handlers for their age but there's always going to be room to improve, especially if they hope to succeed like the now 8-time World Champion, Nino Schurter.

With programs like The MSA Project, junior B.C. racers are being given an advantage that others dream of. The athletes now understand first hand what it looks like to prepare for World Cup races and get the opportunity to make the transition with the help of experienced coaches. Athletes from countries like France are crushing others at the World Cups because of the huge amount of support they receive. While nowhere near that level of support in Canada, programs like this project are a step in the right direction.