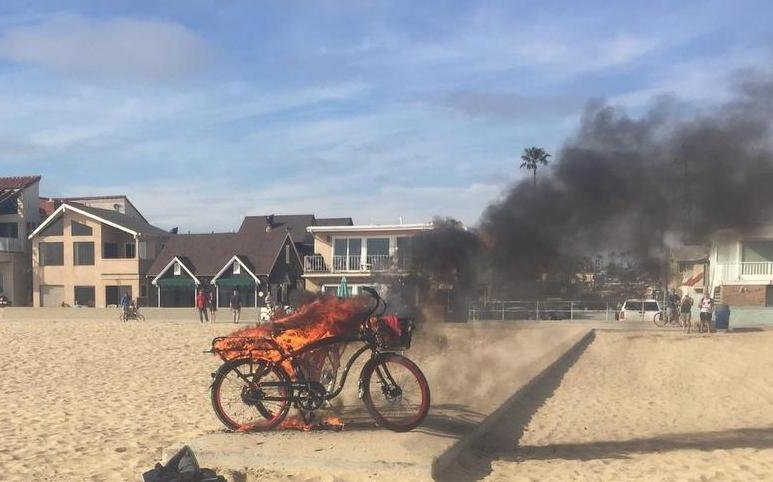 Beggars Would Ride
The Luxury Of Hypocrisy
I do not want a mountain bike with any sort of electric assist. There. I said it. After about seven different attempts at gilding the lily of an opening sentence with metaphor and allusion, only to end up with an unwieldy string of words that felt more like an apology than a statement, I figured may as well just cut to the chase. I want a mountain biking experience devoid of electricity. No motors, no batteries, no battery powered shifting, no battery assisted suspension. Yes, I know that this paints me a hypocrite given my earlier lust for an AXS dropper post, but I've been doing some thinking.
I got my first mountain bike in 1985 or thereabouts. I went straight from a Husqvarna XC250 to a Diamond Back Apex, and basically gave up on dirt bikes for 15 years. Mountain biking was a great way for my former dirt bike riding friends and I to get silly in the dirt on wheels, without the consumptive expense and without the sometimes dire consequence of all that weight and horsepower. Maybe because I was stepping out of a motorized world into a much less powerful, much quieter, more immersive one, I never really thought – back then or at any time since – that what I needed to make my mountain biking more complete was a motor.
Don't get me wrong, I absolutely love dirt bikes, and they weaseled their way back into my life a while back. I have a whole barn full of the things, spend stupid amounts of time and money keeping them running, don't get to ride any of them nearly enough to justify all that time or money, but dear lord I love the way the current big Husqvarna can step sideways throwing a chest-high roost with the front wheel a foot or so off the deck. That is in no way an environmentally sensitive or culturally appropriate thing to say amongst mountain bikers, since so many of us share a deep and abiding love for this planet, but I can sit with that hypocrisy. I try to balance this out in a bigger picture sense by eating hardly any meat and not driving anywhere for weeks at a time. But yeah, I love those big, consumptive, stinky, dirty, bad for the planet dirt bikes. And I totally acknowledge that they are big, consumptive, stinky, dirty and bad for the planet.
I also really love electric motors. The environmental consequence of mining lithium is horrific to contemplate, but so are the consequences of extracting, refining, delivering and then burning fossil fuels. Since I just outed myself as an eco-villain, you'd think I wouldn't care about big picture environmental survival questions. But I do. I also recognize the paradox that we are all living in; where we carry around pocket size supercomputers reliant upon the massive energy consumption of server farms, where we shop for our groceries in huge corporate owned food stores who cooperate with an agricultural killing machine that is both environmentally catastrophic AND incredibly cruel. We are consumers, and we are consuming the planet. Some of us more than others, but every single one of us reading this article is part of this macabre circus.
Got a bit sideways there, sorry. Anyway, my love of dirt bikes and my love of electric motors is on the cusp of convergence, and the dawn of the electric dirt bike is approaching. The idea of a dirt bike that doesn't need oil changes every dozen hours, valve checks every fifty hours, new pistons and rings every couple hundred hours, that doesn't leak gas and where I never, ever have to clean an air filter again? Swoon. And it's quiet, so the neighbors can't complain about the noise? And there's no clutch to wear out, or gearbox to break? I say again, swooooon.
None of this, however, makes me want to motorize my mountain bike. In fact, if anything, our current trajectory of increasing reliance upon dense little nuggets of portable energy is only making me want to keep my mountain bike as free from electro-technological enhancement as possible.
I own my hypocrisy, my part in the consumption of the planet. I am not trying to justify it, and I'm not going to get preachy about anything here since I obviously am not a saint. When I pull back and contemplate the bigger picture environmental footprint ramifications of riding around on a Chinese made carbon fiber toy, probably loading up and driving to ride that toy seven times out of ten, I can't really see that act as any more virtuous than riding around on a Chinese made carbon fiber toy that is festooned with batteries and has a little motor to help me pedal. Motor or not, my mountain biking is still an indulgence that comes from a fortunate place of privilege. So it's not about the ethics for me.
I don't want to motorize my mountain biking because I don't want to make it easier.
This too reeks of hypocrisy. Half my bikes are fully suspended, one has a very nice suspension fork, and the sole rigid bike is a sorta road bike with a fancy elastomer thing in the seat-tube. All of my bikes have hydraulic disc brakes. All of them have carbon fiber rims. Three out of four have carbon fiber frames made in China, one has a steel frame made in California. They are all pretty damn fancy and expensive, and they all make riding a whole lot easier and more pleasant than anything I was riding around on thirty years ago. So to state that I don't want to make my riding any easier, well, that's almost as fallacious as saying that I don't want to contribute to further planet-eroding consumption.
I don't want to contribute to further planet-eroding consumption. But I'm part of the problem regardless. I don't want to make my riding any easier by opting for an electric assist, but I am fully on board with the wide-ratio 12-speed index shifting magic carpet ride that modern trail bikes can deliver. Hypocrite.
Part of the reason for not wanting to jump on the e-bandwagon is masochism. Riding bikes has always involved a measure of pain (for me, anyway). And that pain has been a very good teacher over the years. I don't think I'm finished with that education yet. I want to feel those days when every pedal stroke makes me wonder if I have a flat tire or a dragging brake, and I want to feel those days when there's a tailwind pushing me and I can pretend to be fast for a minute. I do not want those feelings tampered with, because they are foundational bedrock to me. They are how I define myself as a cyclist, for better or worse.
Another part of my reluctance to accept ebiking into my life as my personal savior stems from the fact that I am already awash in batteries. I have so many cordless tools, flashlights, phones, GPS units, speakers and "things" in my life as it is, I want there to be ONE place where none of that intrudes. I choose that place to be my mountain bike. This isn't so much about caring for the planet as it is wanting a small slice of life that is immune to the coming Singularity. Or something. And finally, I guess I'm just a Luddite when it comes to ebikes. They are heavy, complicated, kinda noisy, and there's more stuff to go wrong. Aesthetically, I am at odds with what they represent.
That makes me a hypocrite Luddite for sure, given the whole dirt bike thing, and my desire for an electric dirt bike, but in this day and age even Luddites have got to make a few compromises.