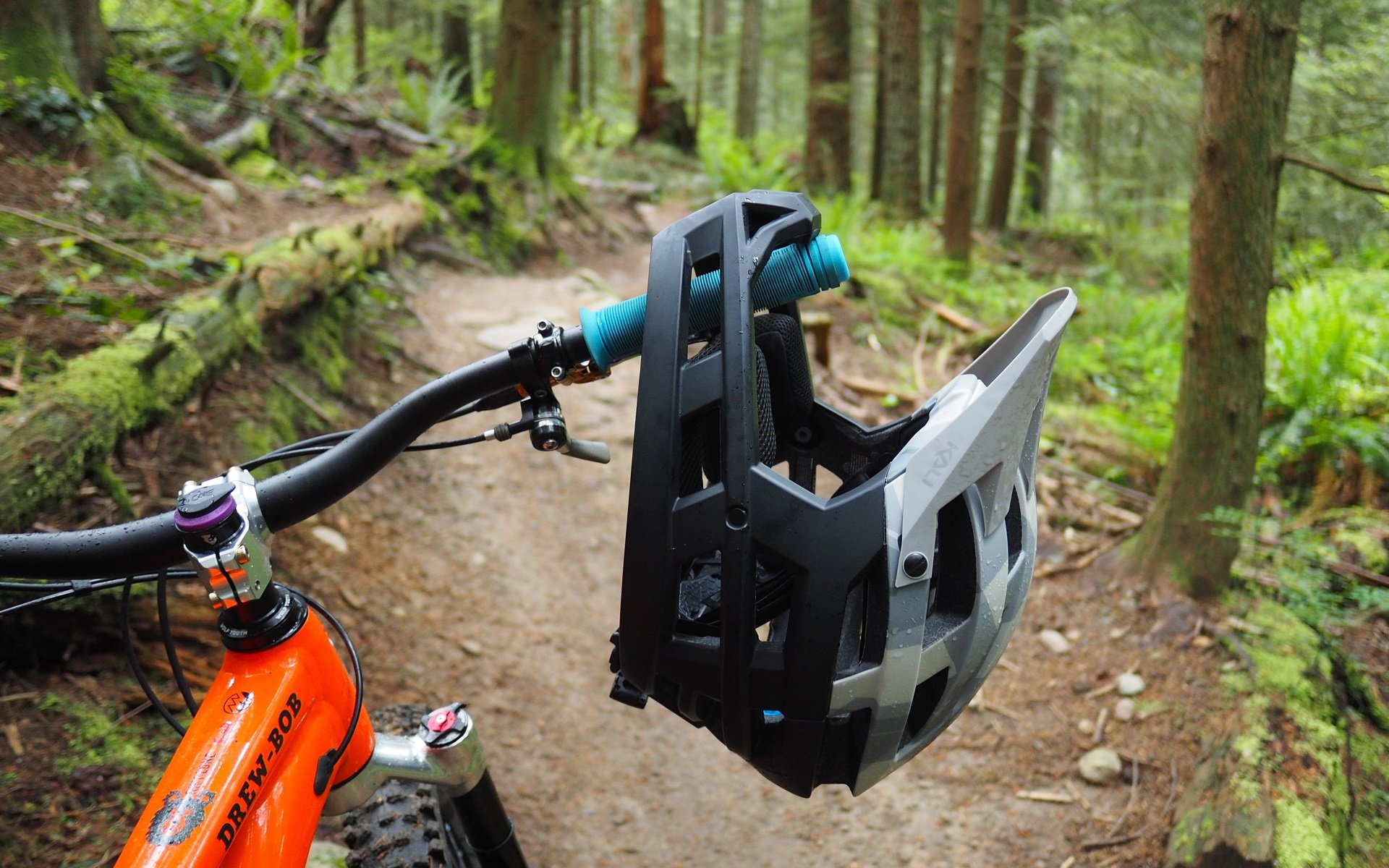 REVIEW
The Kali Invader 2.0 Helmet
Uniqueness
Sometimes I think shipping companies are out to torment me. Not in the standard way they torment everyone else by delivering your clearly and correctly addressed package to your neighbours (or the laundromat two blocks away), but uniquely me. Case in point, as previously reported, version 2.0 of Kali's trail full-face helmet, the Invader, arrived at my door the very day after I'd ruptured my Achilles. I was wearing a walking boot with shims when my daughter photographed me wearing it, and my first few getting to know it rides were on a stationary trainer on my little patio.
Getting my sweat on while trying to spin myself back into riding shape, I quickly appreciated that this is the most breathable full-face I've worn. Between pads and a retention dial it was very easy to get the fit dialed in. I like how the chin strap hangs, and I love FidLock buckles so there's a win. I wish the Invader came in some of the sweet Artist-Series graphics they're presenting with their open lids but the two-toned grey colourway works for me.
All I needed to do was add a bit of technical information about the light weight, their low-density-layer (LDL), their "please leave the testing to us, but if you do crash..." lifetime crash replacement policy, and hit on the Kali design philosophy by linking back to my 2018 piece Bike Helmets Are Too Hard. Then compare the Invader to my favourite removable chin bar full-face, the Leatt DBX 3, mention the Invader comes in four colours and sells for 225 USD, insert some photos, and that's another helmet review checked off.
I don't ever intentionally test helmets by smoking my head into the ground so the simple fact is that most helmet reviews, photos aside, probably could be conducted with a long sweaty effort on a stationary trainer. Maybe a handful of efforts just to make certain the pad sets aren't going to disintegrate. It sounds lame, but in most cases that process would likely be sufficient. What's to be learned from trail testing? Even if I do stack, it's only one unique data point and not repeatable. Maybe I discover a hot spot after a few hours on the bike, but that's a known issue for me that had me switch to pad-fit open lids long ago and apparently it affects almost no one else.
The thing is, such a test does not tell the whole story in the case of the Invader 2.0. I don't think anyone who routinely wears a full-face will be able to properly appreciate this lid without going and riding it on the trails. Yes, it's breathable in the way you'd expect a California-designed and tested trail lid to be, and anyone who looks at it can see the abundant vents for passive cooling while grinding up climbs. But what sets it apart from any other full-face lid I've worn is just how well I can hear. Everything.
Superior Sound Quality
Wearing the Invader, as breathable as it is, is not like wearing an open lid. The two pads in the chin bar hugging your cheeks make that clear. Like my Leatt with the chin bar in place, it means I can get a really nice fit without any of the brain pain I get around hour two of a ride when wearing a helmet that relies on a retention system to keep it in place. It is more breathable than the Bell Super lineup or Leatt DBX. It's also less physically notable to the wearer.
I will admit that we've been getting some looks climbing up Fromme with my daughter and wife riding up in their open lids, thanks to removable chin bars, and me in my full-face. Mountain bike fashion has reached a new level of performance art over the last couple of years and it's ever more obvious who's dressing their role and who doesn't give a shit. I wear a full-face on every ride, and since I've been back riding, I've worn the Kali Invader.
Where the Invader is unique compared to other full-face helmets, and unnoticeable compared to a open lid, is the way that sound comes through. Worn back-to-back against my Leatt, the difference is amazing and compared to my DH full-face, a 7iDP Project 23, even more so. I can have a conversation with my daughter on the trail as if I was wearing an open lid. Same with my ability to interact with other trail users; I can hear everything that's said to me as if I'm wearing a bucket. When stopped, I can hear all the ambient sounds of the forest, no anechoic chamber here.
For folks whose key dislike of wearing a full-face is their inability to judge speed because they can't hear the wind in their ears or the loud buzz of their boutique rear hub, consider that complaint cancelled. Your high-engagement Hydra is now as awesome or antagonizing as it would be while wearing your XC helmet. Really, other than those two little chin pads, the Invader removes any excuse not to wear a full-face other than fashion.
Visor Adjustment
I had a request in the comments below to add photos of the various visor adjustment options. The visor indexes into three positions (low, mid, high).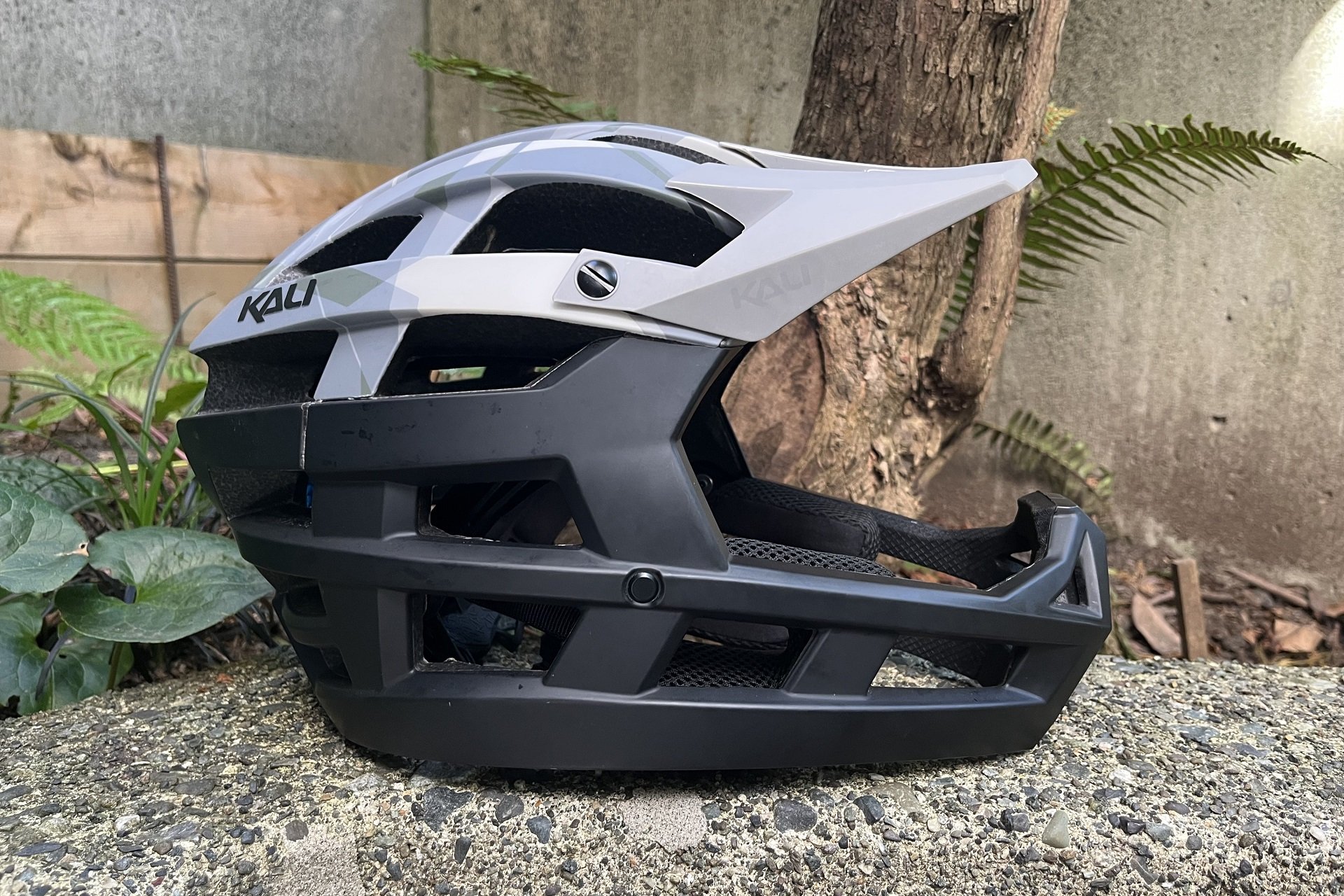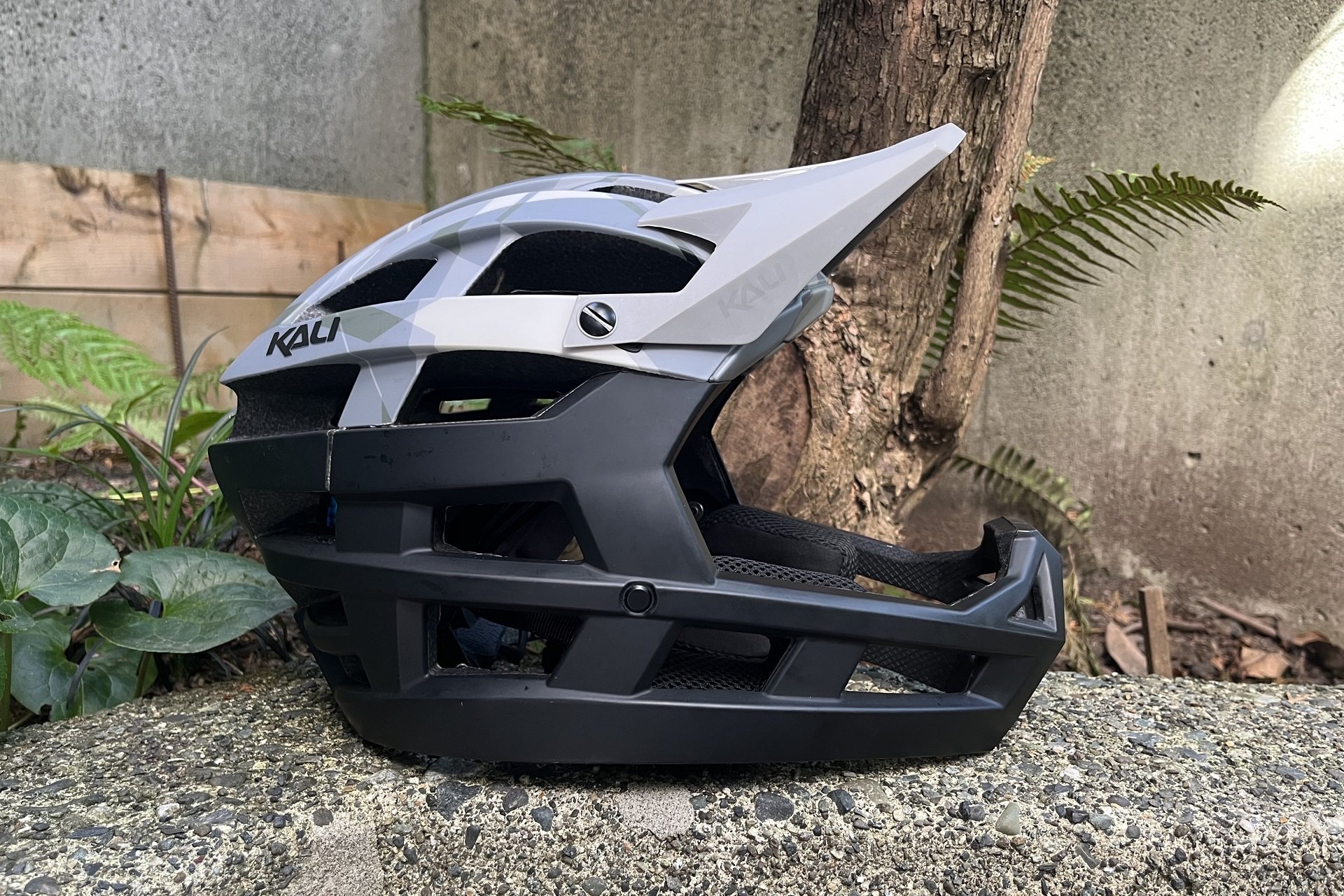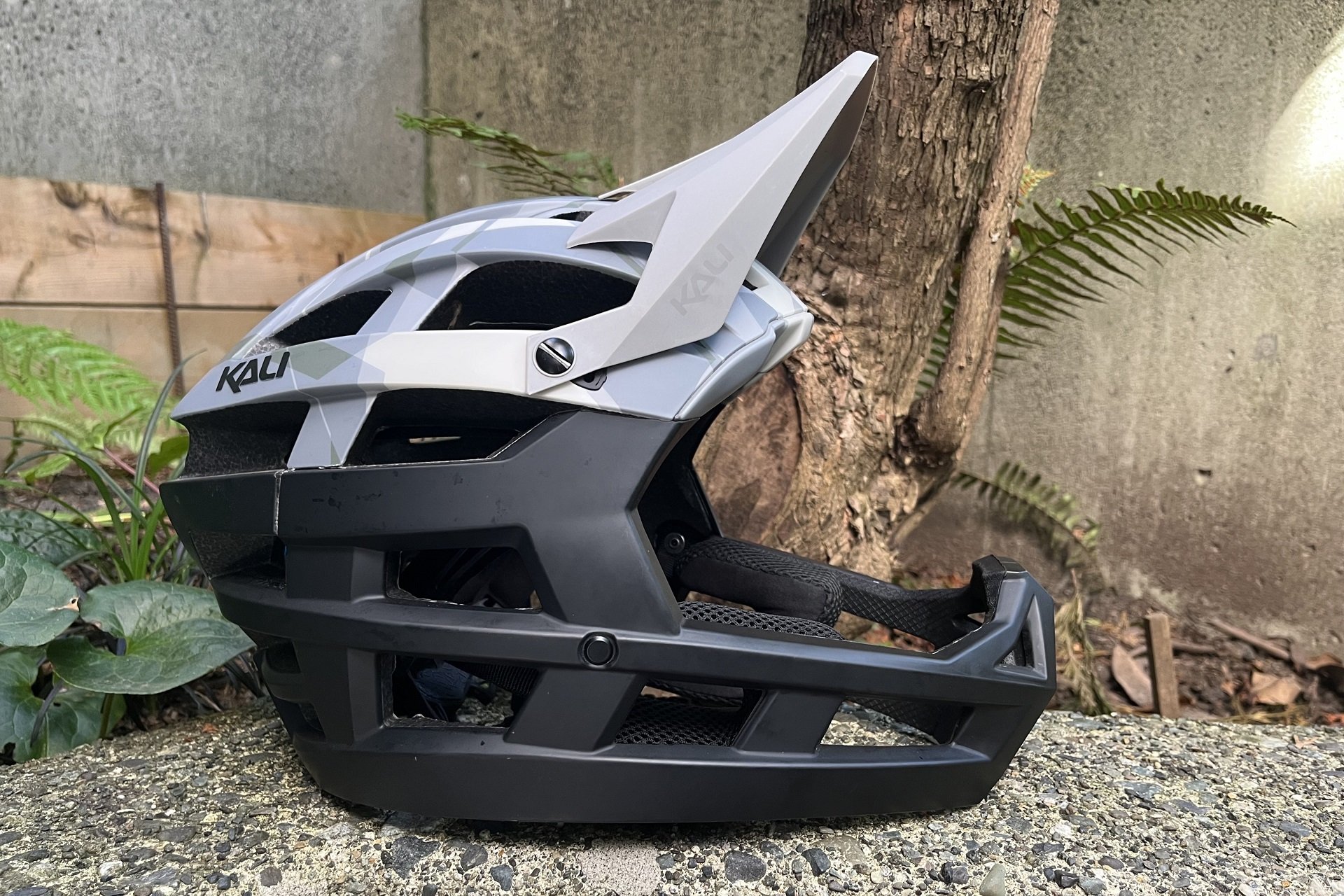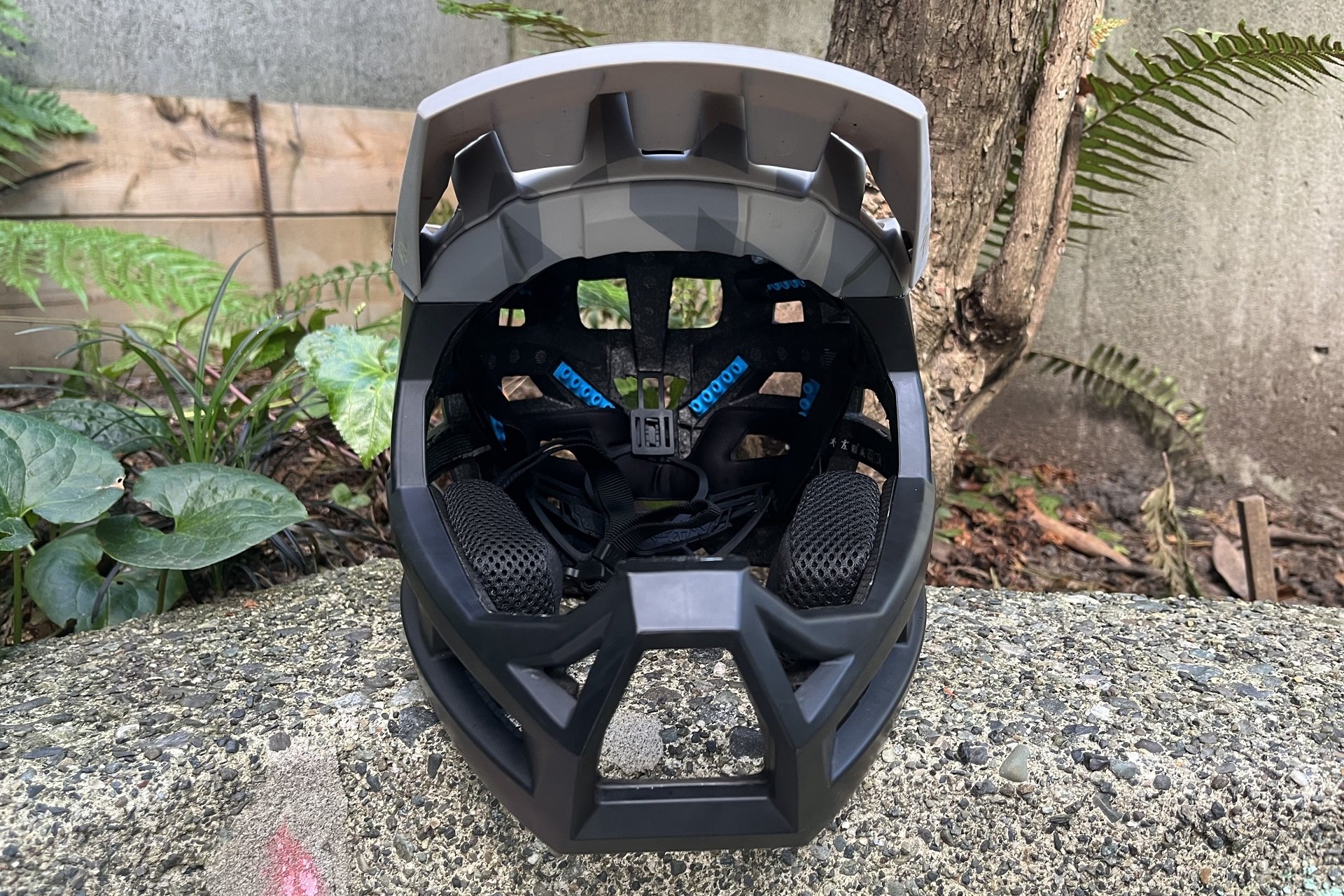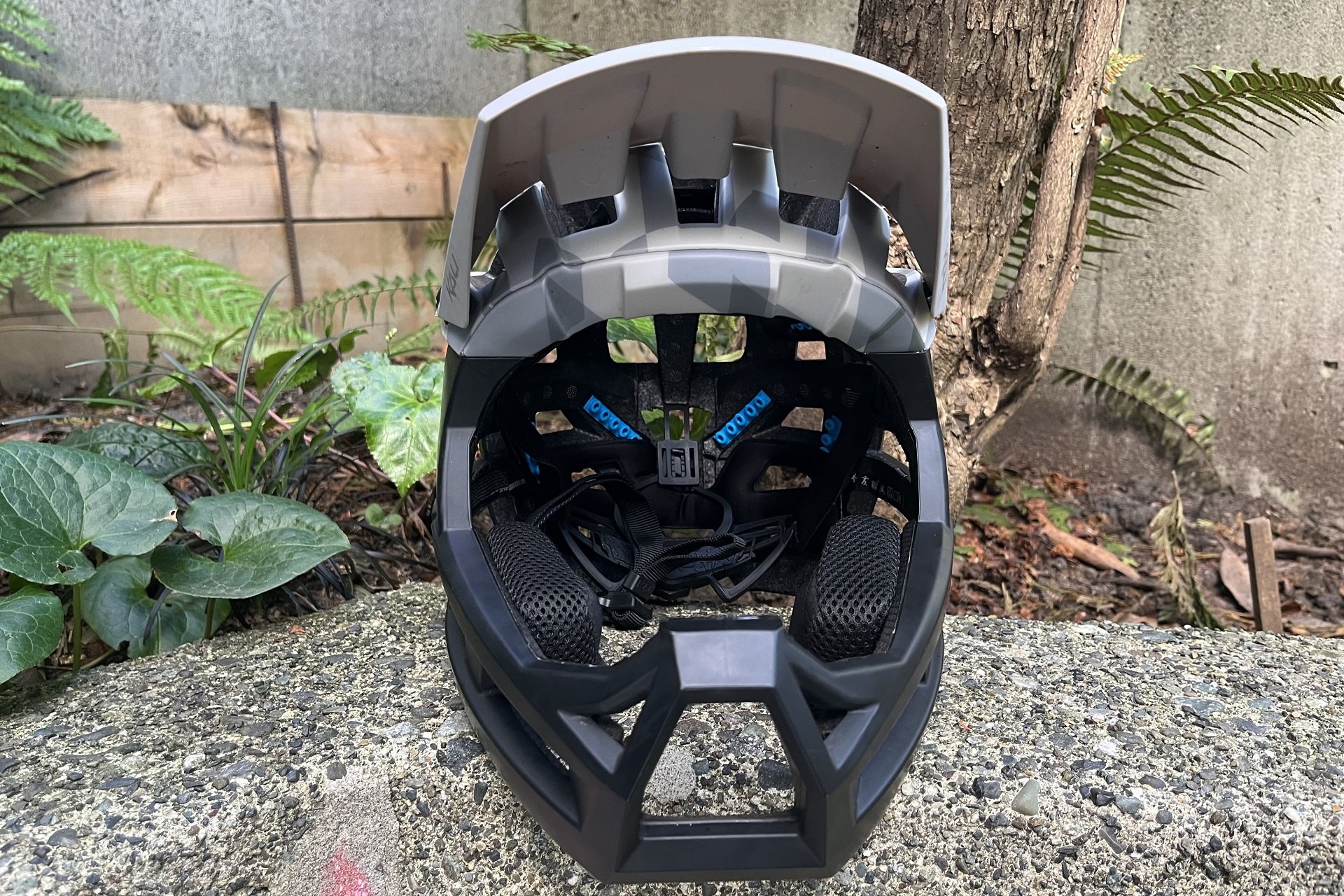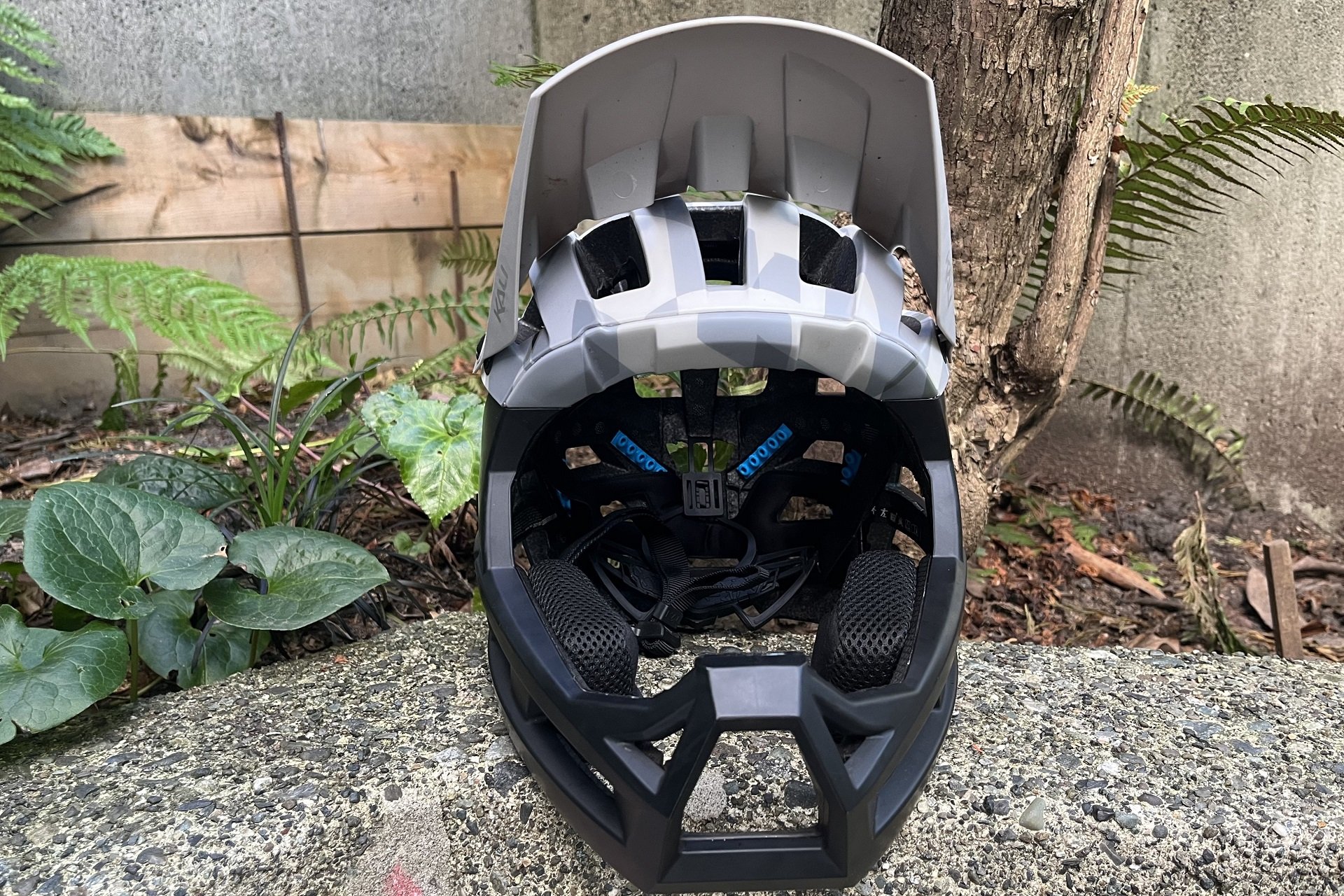 High & Lower 'Quality' Feel
One of my friends who tossed on my Invader said that it felt "cheap" compared to his full-face - a Troy Lee Designs D4 Carbon. And, well, the Kali is relatively "cheap" at about 1/3rd the price but that's not really what he meant. This is a full-face helmet meant for trail riding. Like my kid's Super 3R or my Leatt DBX 3.0, it's a replacement for a standard open lid, not something you'd wear on your 8" travel bike while lapping double black trails in the bike park or racing the Dunbar Summer Series. It feels lightweight and airy, and because it is those things, it feels less solid compared to my 7iDP. For the record, Kali makes some wicked top-end DH & park full-face helmets like their Shiva 2.0 Carbon. It's a different animal: the Kali Invader weighs 748 grams on my scale.
The flip side is that compared to other trail full-face lids, the Invader is both lighter and more solid feeling thanks to the fixed chin bar instead of the added weight, complexity, and fragility of making it removable. The unibody construction allows the chin bar of the Invader 2.0 to pass motorcycle testing. Which is just a cool factoid, clearly this is not a DOT-approved moto helmet.
A couple other safety features worth noting are Kali's super soft and flexible visors that stay in place while riding but bend, flex, and pop out of the way with ease so they don't become an injury mechanism in a crash. The aforementioned LDL rubber bumpers are there to absorb bumps that don't create enough force to activate the helmet's foam. It goes back to Kali's philosophy of getting softer materials into our helmets.
Kali does two shell sizes for the Invader, an XS-M and a L-XXL. This is increasingly common in DH full-faces as well, for example my 7iDP Project 23, even if the company has additional sizing SKUs, as the difference is made up with the pad set. Each Kali Invader 2.0 includes three sets of different-sized cheek pads, a range of helmet pads, and then uses the retention system to micro-adjust fit. I usually wear a medium helmet and I'm in the XS-M Invader. It took a little bit of trial and error and now the fit is perfect with the retention system just lightly touching.
As someone who rides mountain bikes in a full-face all the time, I'd love to see other companies bringing competing products to market. Yes, there's a huge range of adjustability with the fit of the Kali Invader 2.0 but there are still differences in fit from one company's shell to another. Also, I think it would enhance interest in this take on the trail full-face if more companies were pushing it. On acoustics alone, I don't see myself going back to a lid with a removable chin bar.
For more information about the Kali Invader 2.0, you can check out their website. It comes in four colourways, and sells for 225 USD.