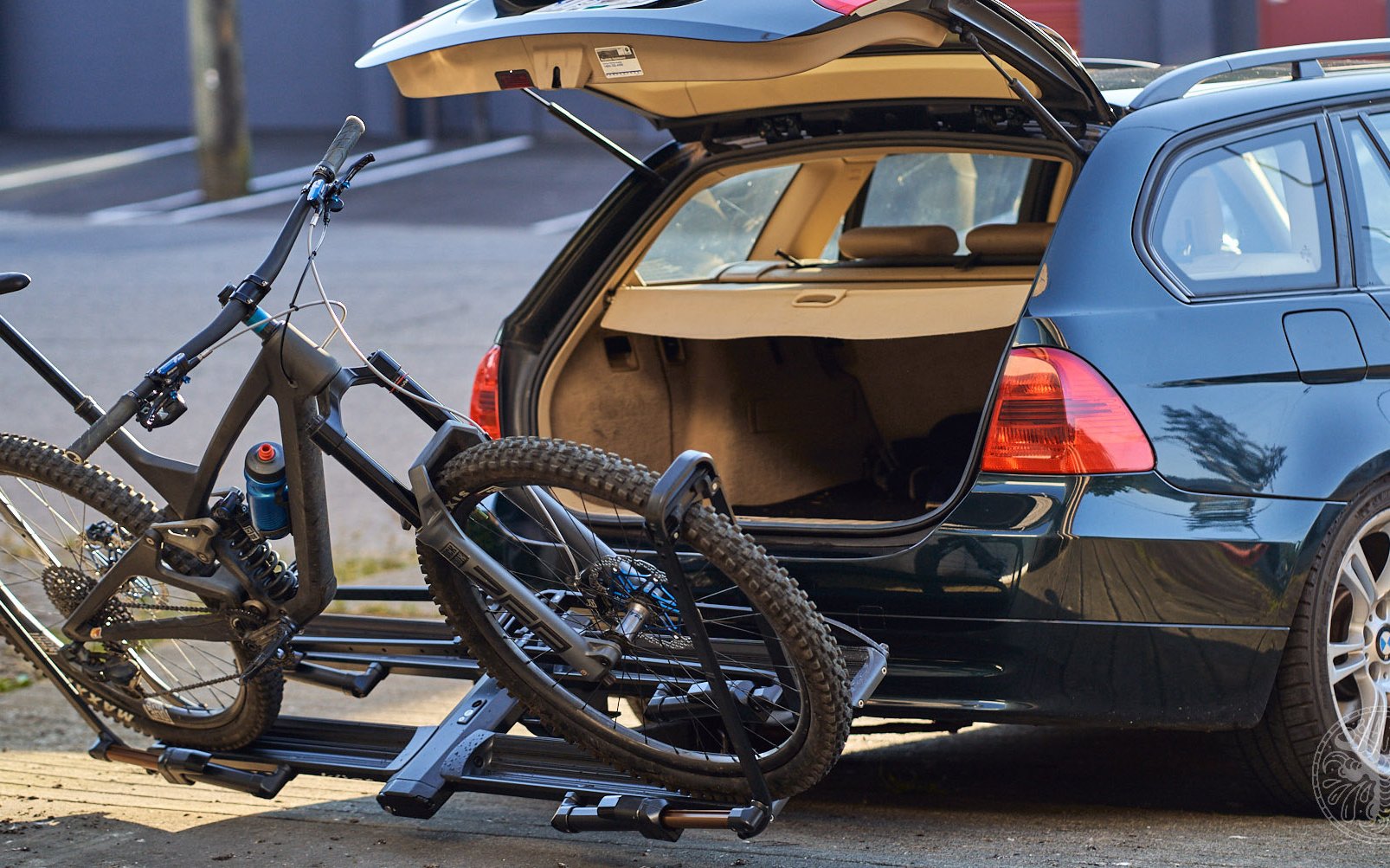 First Impressions Review
The Küat Piston Pro X 2-Bike Tray Rack
Crappy Racks for Nice Bikes
In the early days of mountain biking, all racks were shit. We didn't know any better, but I spent years tossing my bike on hatch-mounted contraptions that had two arms to hang your bikes on. They bashed together and rubbed and sometimes the whole thing, which was held on with straps and hooks, would let go at an inconvenient time. The first rooftop racks used a fork down approach which meant you needed to find a place for your wheels, but they worked okay. Bikes got beaten up, cars got damaged, bikes went flying; it was not the golden age for transporting bikes on vehicles.
Fortunately, early MTBs could take a beating; they were made of steel or aluminum, got scratched easily regardless, and didn't cost much to begin with. We have recently crossed another threshold with bikes where prices in the teens are not unheard of. New top-of-the-line or even second tier bikes can easily cost as much as a small kitchen renovation or a nice used car you could drive for another fifteen years. And while racks have changed and improved, they often haven't kept pace with our need to protect our investments.
I think it was Bell who produced an ad with brilliant copy; "does your kid have a $20 head and $100 feet?" We've come around to the idea of spending a little more on helmets but for many riders racks are not a priority, despite their fancy bling machines. Küat has identified this gap and produced a rack that is worthy of your pride and joy, along with a price tag to match.
An Unsolicited Review
I don't ride with my wife often. She has her riding friends and I have mine, but sometimes an opportunity presents itself. She was heading out and I said, "can I come too?" Because my wife is always rushing she replied, "you can if you hurry." I loaded the bikes onto the Kuat Piston Pro and, because we had our dog with us, drove to the bottom of Mt. Fromme. When we arrived I showed her how to take her bike off the Piston Pro; tap the "One Tap" levers and watch the arms open pneumatically, lift bike off, go ride. If you'd like, you can close the arms so it looks tidy while you are gone, or leave them up so they are ready when you reload. Which is when she said, "Oh my god! This is the best rack ever!" This is high praise for someone who is under 5'3" tall and not much over 100 lbs.
Before I ever read Atomic Habits by James Clear, I sought ways to smooth the process of going riding; water bottle filled, shoes, clothes, pads, helmet etc. all ready, bike maintenance done, tires and suspension at target pressure, and most importantly, I bought a truck for fast, hassle free loading and unloading. Mr. Clear calls this removing friction, which he cites as an effective way to make good habits stick. Like going for a ride. Most bike racks, even the best ones, are like sandpaper on your buttocks, and for your life.
The Problem with Racks
Racks that have an adjustable clamp that comes down on the front wheel or frame are pretty good, but you'd better remember to open the strap that holds your wheel down first because that's a two-hand job and you are going to have to get some help or pull the bike down if you forgot. Those straps often go missing as well. Anything that involves hanging your front triangle on poles is pretty much a nightmare, and North Shore Racks' slide-the-fork-crown-into-the-cradle system doesn't work with every fork and requires some height and muscle. All of these issues are resolvable, but each one, in the words of James Clear, adds friction, which is counterproductive to going for a bike ride more often.
I know this because I began riding my bike more after buying a truck in 2006. It doesn't take many rides for me to justify changing vehicles. Throwing your bikes into a truck is the gold standard, assuming you can lift your bike, which may be a 55 lb eMTB, and assuming you are tall enough.* I would call the Piston Pro X a close second for those who can lift heavy bikes, and number one for those who can't.
*the alternative to those problems is dropping your tailgate, placing the bike(s) - assuming you are able to lift them - and then lifting your gate.
Küat Piston Pro X Features
One Tap Levers
Why do I (along with my wife) think the Piston Pro X is so great? There are many well-thought-out details that have led me to this conclusion. The one tap levers are the first I'd mention. When you approach your rack, holding your bike with one hand, being able to get the rack ready with just one hand (and your toe) is a nice advantage. It takes about two seconds to tap the two levers which pneumatically raise arms that hold your wheels in place. Once that is done you can lift your bike onto the tray and it will stand there waiting for you* until you are ready to push the arms into place, securing your bike.
*This won't be the case with all bikes I'm sure but with large and XL modern 29ers they stay there just fine on flat ground
Flatlock Hitch Cam
I have always been annoyed with racks that rattle around inside your hitch. Küat has added an adjustable cam that pushes a slider into one corner of your receiver to remove any rattling or play. The rack moves with your car, even on very rough roads. The system also adds a level of security because it's not going anywhere, whether the pin is installed or not, once the cam is properly engaged. In order to engage the cam you'll need a security hex key, and Küat has integrated one that is locked into the end of the rack. Just unlock the handle on the hex key and use it to tighten or loosen the cam and then lock it back in place.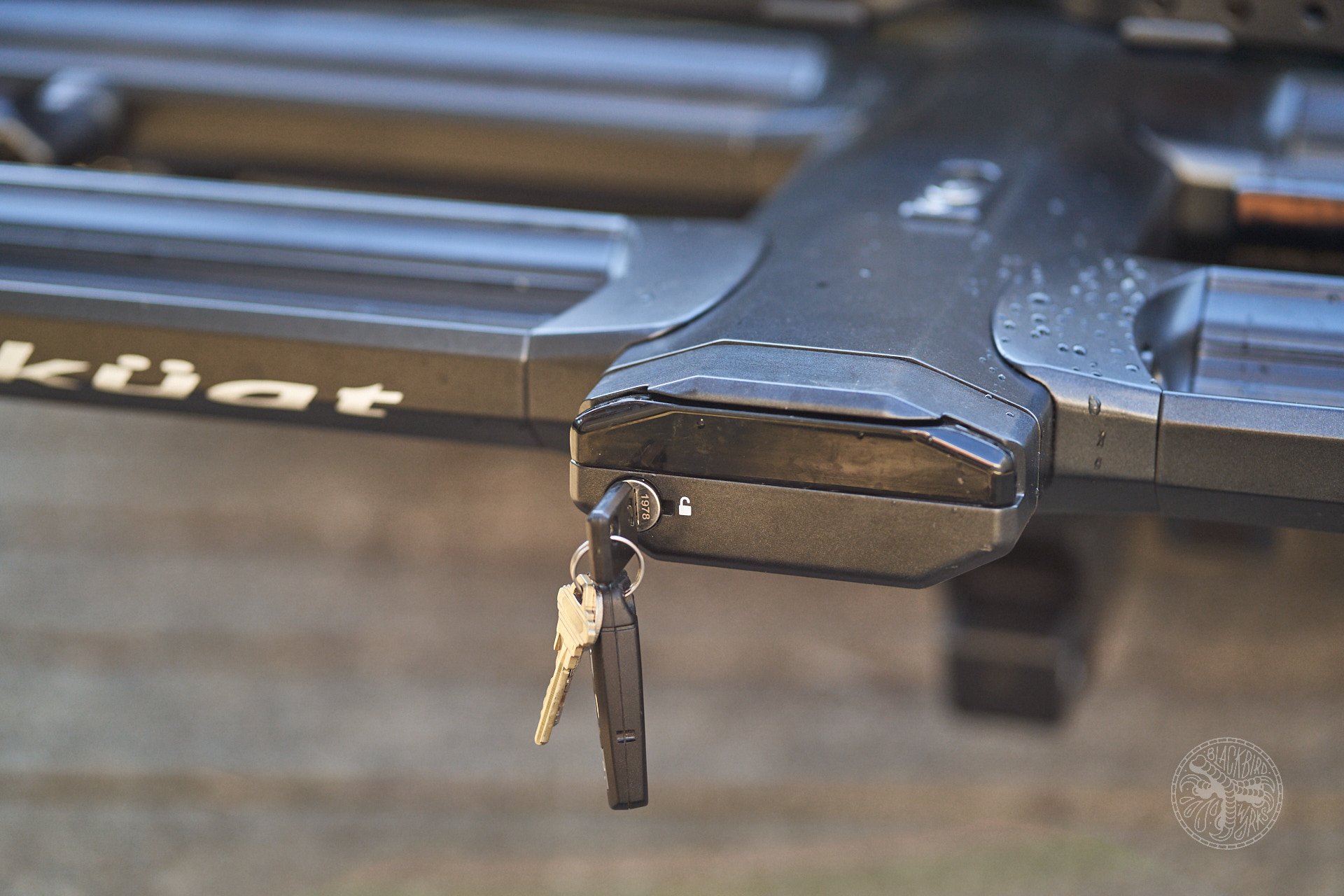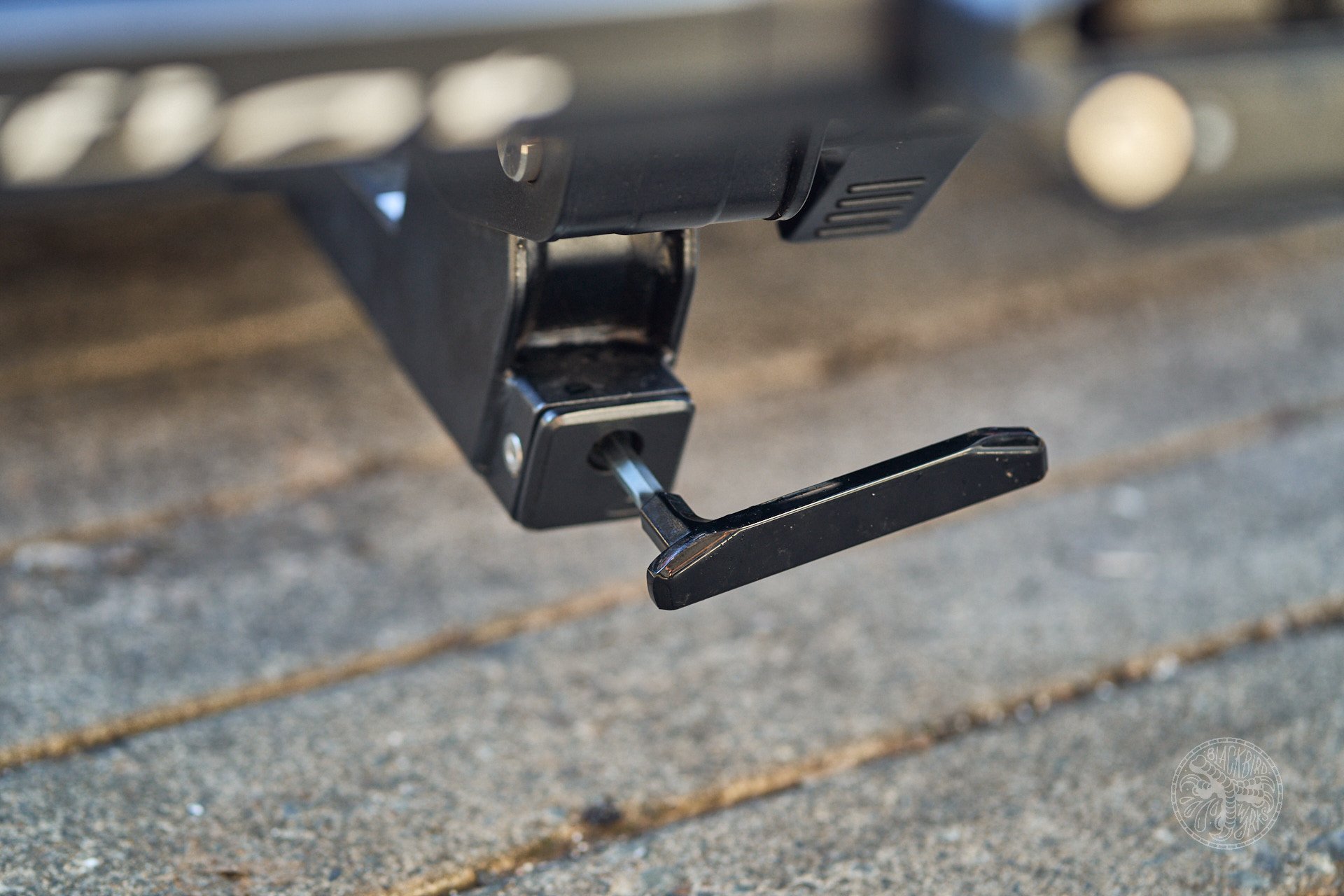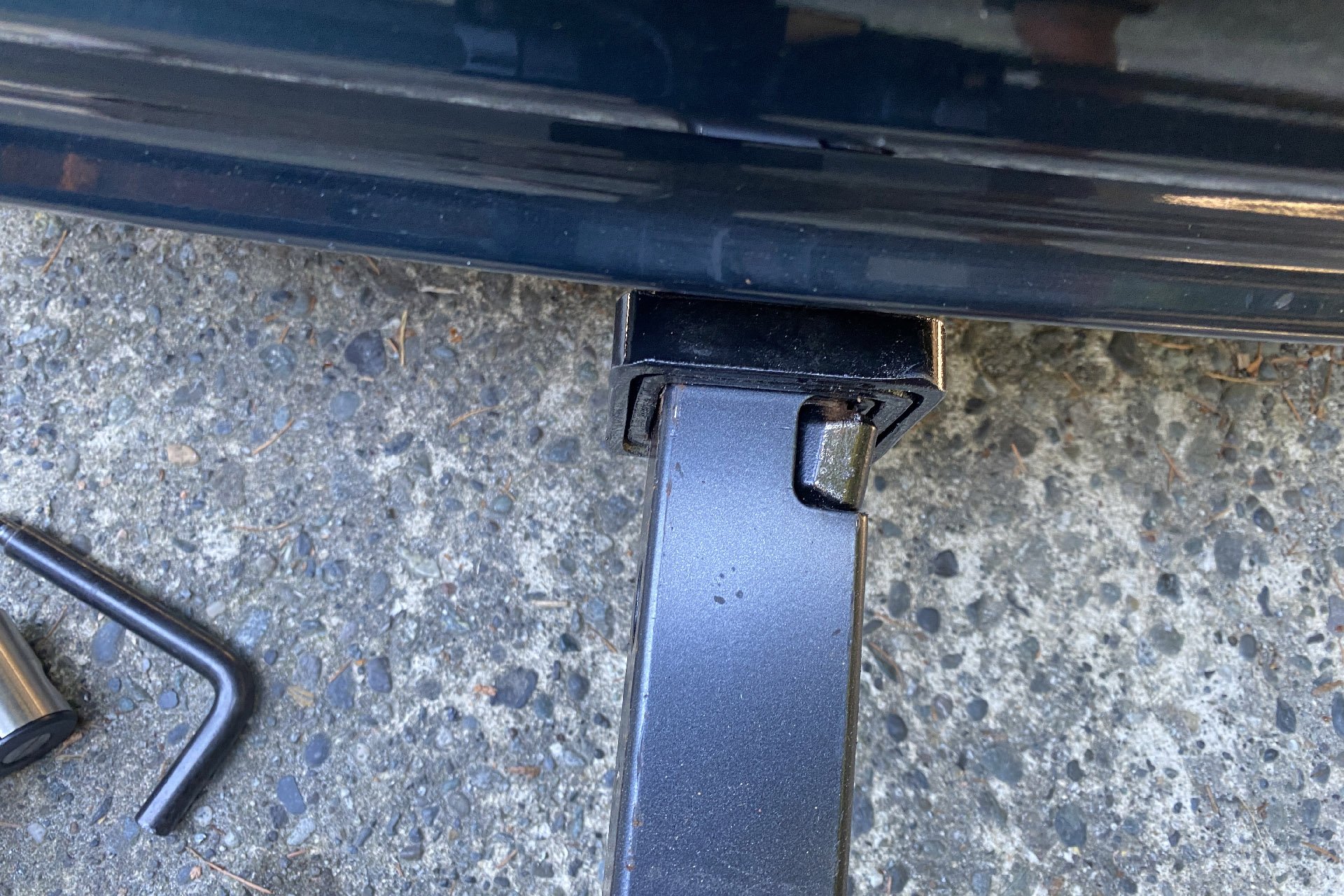 Kashima
My 16-year old son's favourite feature on the Piston Pro X is the Kashima-coated struts. Kashima is hard and durable and expensive. The anodised layer of molybdenum disulphide imbedded into the surface of any sliding part should reduce friction and improve durability, but was this really necessary? Kashima was introduced to the bike industry by Fox and the company has the exclusive use of the coating in the bike industry. A fork may move up and down thousands of times over the course of a single bike ride, so improving longevity and reducing friction are worthy goals. Over the course of ten years, if you ride 150 times a year, and there are four actuations per ride, that's 6000 actuations, which you could probably accomplish in a few rides, which leads me to believe the inclusion of Kashima on this rack was a clever marketing strategy. My son doesn't care, he still loves it, but I'd prefer to see $200 (or more?) taken off the price of the rack. Look for Küat to release a less expensive version of the the Piston Pro X without Kashima and several other features in the future.
LED Taillights
If cops in your jurisdiction are fond of writing up cars with bike racks on them, this could be a very important feature. Or, I suppose, if you are interested in safety. If you have a 4-pin plug on your vehicle, just plug in the rack with the included cord and your signals, brake lights and hazards will all function on the rack, and they are visible whether it is up or down.
Foot and Hand Pivot
If you own one of the earlier tray racks that pivot from close to the vehicle, you know how difficult this can be. If you own a four-bike tray with one of these systems, it can often be a two-person job unless you happen to have long enough arms and enough strength to actuate the release at the bumper and pull up on the far end of the rack at the same time. Most modern racks have a solution that allows you to release the pivot from the end of the rack where leverage is greatest. The best of these that I've used is Thule's T2 Pro which has a handle that allows you to release the pivot and then move the rack up or down easily with one hand. 1UP racks has a similar system but it's not nearly as slick. Küat's pivot releases easily but it becomes a two-hand operation because the lever itself doesn't allow you to move the rack up or down. You can tap the lever with your foot and then use one hand to lower the rack from its upright position, but it's still not as simple or convenient as it could be. It's not a bad system but compared to the Thule T2, I'd call it a flaw.
Semi-Integrated Cable Lock
Like most bike locks, this isn't going to protect your bike for long periods of time in sketchy neighbourhoods. Virtually all bike locks will fail when subjected to a cordless angle grinder. This cable however, is nice and thick and will give potential thieves pause and at least buy you some time if you are close by. It should also
Küat Piston Pro X
99% Metal Construction
OneTap™ levers make loading your bikes easy, and fun
Genuine Kashima coated struts ensure your rack not only functions flawlessly for years, but drops jaws the whole time
No Fade Powdercoat
FastFit™ Wheel Chock System allows for changing wheel sizes from 18" to 29" in seconds, tool-free
Stainless Steel Hitch Lock
No Frame Contact
Flat 4-Pin LED Light Connector
WEIGHT
2-Bike, 1.25": 61lbs
2-Bike, 2": 63lbs
3-Bike: 89lbs
4-Bike: 111lbs
CARRYING CAPACITY
2 Bike capacity up to 67 lbs. each
Holds wheelbases up to 53" and tires sizes 18-29"
Dedicated 2" model is able to carry up to 4 bikes with optional Piston™ Pro X Add-On
Loading and Unloading
It's quite remarkable how easy it is to put your bike on the Piston Pro X, and removing it is even easier. To put it on you can lower the rack with one foot and one hand so you can keep holding onto your bike and then with one hand you can tap each of the One Tap levers to open the arms. At that point you simply lift your bike into position and pull the arms firmly against your front and rear wheel. And you're done. Once you are ready to ride, engage each one tap lever to open the arms and pull your bike down. You can close the arms by pushing them down one at a time, or just leave them so you are ready to load once you are done. The video below gives you a demo.
Assembly/Install
This rack was ridiculously easy to assemble. It was less than a one beer job using the Andrew Major scale. You just need to use a couple of hex keys and put it together like Lego. Or very easy Ikea furniture. Installing the rack was easy as well. It's not overly heavy at 63 lbs, but not terribly light either. I just slid it into the receiver, installed the pin and locked it into place with the stainless steel locking mechanism and then engaged the Hitch Cam.
*1UP's two bike racks for 2" receivers are made of aluminum weigh 46 and 47 lbs and hold 50 and 75 lbs per tray respectively
(Almost) Final Analysis
You know how it goes with bike racks; they sit on the back of your car with little to no maintenance, getting abused by the weather, often year round. Inevitably they get worse with time, particularly if you live somewhere where roads are salted in the winter. What once was smooth can become chunky, things get stuck, and sometimes pieces break. Considering the cost of the Küat Piston Pro X and the importance of longevity and continued smooth operation, I'll report back a little later with any updated findings. So this is a provisional verdict based on a couple of months of use.
Every touchpoint and moving part on the Küat Piston Pro X operates with incredible smoothness and a pleasingly positive and distinct engagement. The rack is elegantly designed despite the majority of emphasis being on function. It includes an excellent (although not foolproof) locking mechanism both for the rack and your bikes. The integrated LED headlights/signals add safety, because it's better if you don't get rear-ended and should keep the Popo off your case, assuming they aren't stopping you because your plate is concealed (a friend's work-around for this was to laminate a copy of his license and secure that to his rack when it is upright).
Loading and unloading are the easiest and most convenient of any rack I've used, the bikes are held securely and safely and it's dead easy to load them so they don't mess with each other. Construction is solid and clean, and I don't mind the way it looks on our vehicles at all. The Flatlock Hitch Cam prevents the rack from banging around inside your receiver, keeping everything solid and adding another level of security.
The most impressive factor for me is this; the Küat Piston Pro X has transformed a task that usually feels like a necessary pain in the arse, into a pleasurable experience that I actually look forward to.
The tricky bit is that this is going to cost you. The Piston Pro X is priced at 1390 USD or an eye-watering 1800 CAD. In comparison the very good Thule T2 Pro is around 800 USD/1100 CAD and a similar model from 1UP racks, made of aluminum in the USA, will set you back between 650 and 730 USD. Neither of these offer the slick, one-handed loading and unloading, taillights nor the level of smoothness, fit or finish of the Piston Pro X, but I'll put up with a lot if I'm saving between 600 and 750 USD. At the same time, if you factor in the cost of the bikes you are protecting and the hassle free operation of the Küat Piston Pro X, that math might work for you.
Fingers crossed that future models will include some of the best bits of the Piston Pro X without some premium features like the integrated lock and taillights, Kashima etc. for significantly less money.