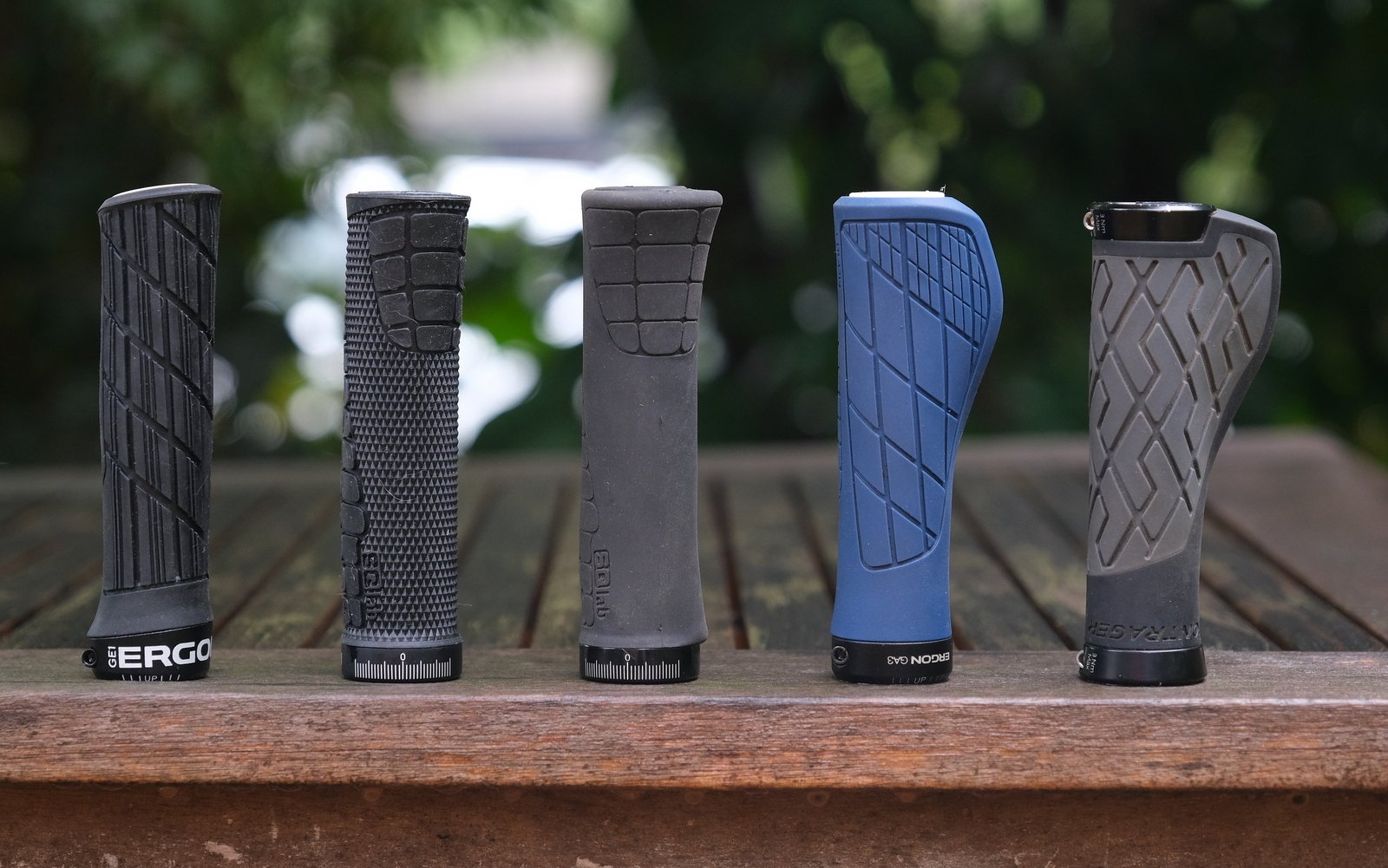 59 Flavours of Subtle
The Ergonomic Grip Shootout
Several months ago, I stumbled upon a thing that changed my bicycle riding. Better grip! More control! Less fatigue! What miracle product could be responsible for so many great things? Well, it was a pair of goofy looking grips that I took off my commuter bike.
It shouldn't have taken me this long to figure this out. When those grips turned up installed on my commuter, the first upgrade I was considering (after changing the horrendous stock disc rotors) was to get rid of those grips. But I was lazy so I rode the bike a few times and I was surprised by how great they felt. So they stayed.
A few years later I was experiencing some nagging wrist and elbow pains and searching for any sort of solution and I decided to give the commuter grips a try. It was unbelievable (to me) how much difference they made. As stated above, I could hold onto the bike much better which gave me a whole lot more control and my wrist was supported in a way that I wound up with less fatigue. The grips were the ugliest thing to be strapped to a handlebar, but it was worth it! I was hooked. I continued to run those grips but remained convinced that there was a better solution. I cast my e-mail net far and wide, started taking delivery of all manner of grips, and here are the results.
Types of Ergonomic Grips
I'm going to divide my grip shootout into two styles of ergonomic grips. First, you have the tweaked profile style, and then you have the winged style. This also represents the break from "normal" into "weird," and from most to least subtle.
The tweaked profile style of grip will probably be the easiest sell for most people. There are several companies out there that have recognized that our grip isn't perfectly round. Take a second to curl up your hand like you're holding an imaginary handlebar and have a look at the shape that it makes. It's pretty round, but there are certainly some gaps, jimmys and jags to that profile. Several companies have looked at this problem and determined that a perfectly round grip isn't the best solution for bicycles, SQLab and Ergon being the most prevalent.
The next style that we're going to look at is the winged style of grip. Rather than (just) tweaking the profile of the grip, this style tacks on a wing that gives your hand more support through the palm. This sounds pretty simple, but there is some nuance to how this is accomplished.
Grip #1 – SQLab 70X
We start with the SQLab 70X, as it is undoubtedly the subtlest of the bunch. It takes a pretty deep dive to see all of the little tricks that SQLab has employed.
If you're on a bicycle ergonomics quest, chances are pretty good that you've come across SQLab at some point. They have numerous ergonomic grips available, ranging from the very subtle 70X, which offers a slight tweaking from round, all the way up to the not so subtle 710, which I couldn't quite bring myself to put on a bicycle I don't hate.
The 70X has a lot of similarities to the Ergon GE1 (which we'll talk about in a moment), but pushes a few things a further, and reels a few others in. Many of the tweaks to the 70X take place along the bottom edge, where a large teardrop lives for the area for fingers 2 through 4. The end of the 70X also thickens out, towards your palm, but with more of a flare than a taper. This creates a sort of padded flat spot on the end of the grip that supports your palm. The focus of the 70X seems to be on giving you a nice shape to wrap your fingers around, more than changing angles or providing palm support. This results in a classic feeling grip with some helpful attributes to improve grip and support.
The 70X is available from SQLab for 30 Euros, or around CAD$40.
Ideal User – You're trying to fly under the radar, but you're willing to try some different things in the name of hand and wrist support.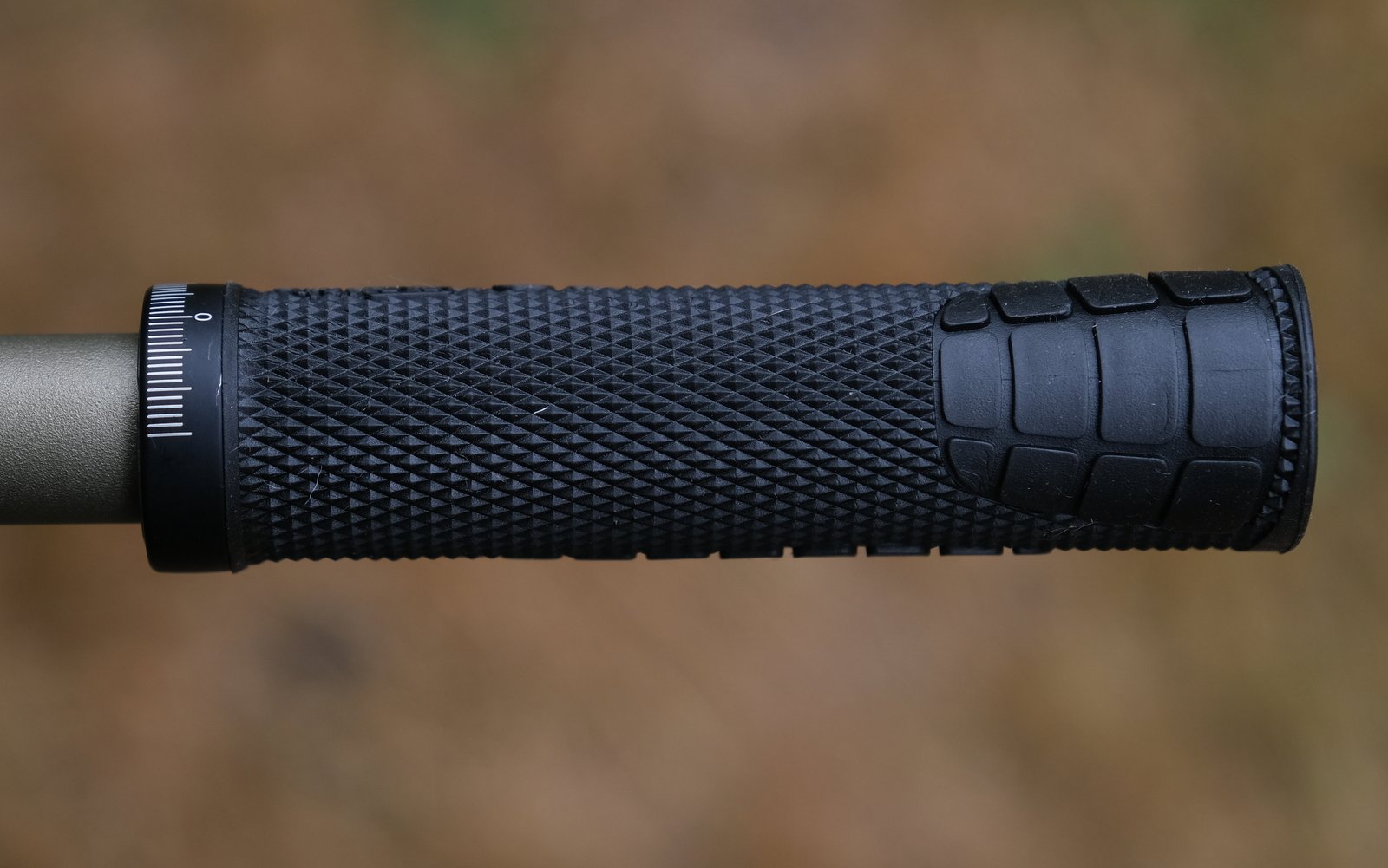 Grip #2 – Ergon GA2 and GE1
I will confess that I didn't spend much time on these grips during this shootout. However, the GA2s were stock on the Canyon Spectral I tested a few years back (so long ago that I struggled to find a link). During the test period I didn't really notice the grips at all, but after I got rid of that bike I realized just how much I should have appreciated them. For the longest time, I actually thought it was the sweep and width of the Renthal bar that worked so well for me (I've cut down pretty much every bar since then to match the 780mm of that Renthal), but in hindsight I think it was the grips as much as anything. Either way, Ergon sent me a pair of GE1's which seem to be a more aggressively ridged version of the GA2s that I am more familiar with.
The GE1s are fairly normal grips with a few important tweaks. They have a narrower profile on the inboard side of the grip, with a noticeable teardrop shape that tucks into the crook of your pointer finger. Towards the outside edge of the grip, it's not so much that they get thicker, but they sweep back towards your palm, thinning out at the bottom/front, thickening at the top/back (depending on your rotation and perspective). This tapering takes place over the length of the grip and is almost like adding a few degrees to the sweep of your bar. This can have a substantial impact on how your wrist interacts with the bar. Indeed, most of these changes are millimeter deviations from round, but the results are profound.
GE1's are listed at 35 Euros on the Ergon website, which is roughly CAD$46.
Ideal User – You're ergonomics curious and have been thinking about more sweep in your bar, or some other tweaks. These are the ultimate sleeper ergo grips.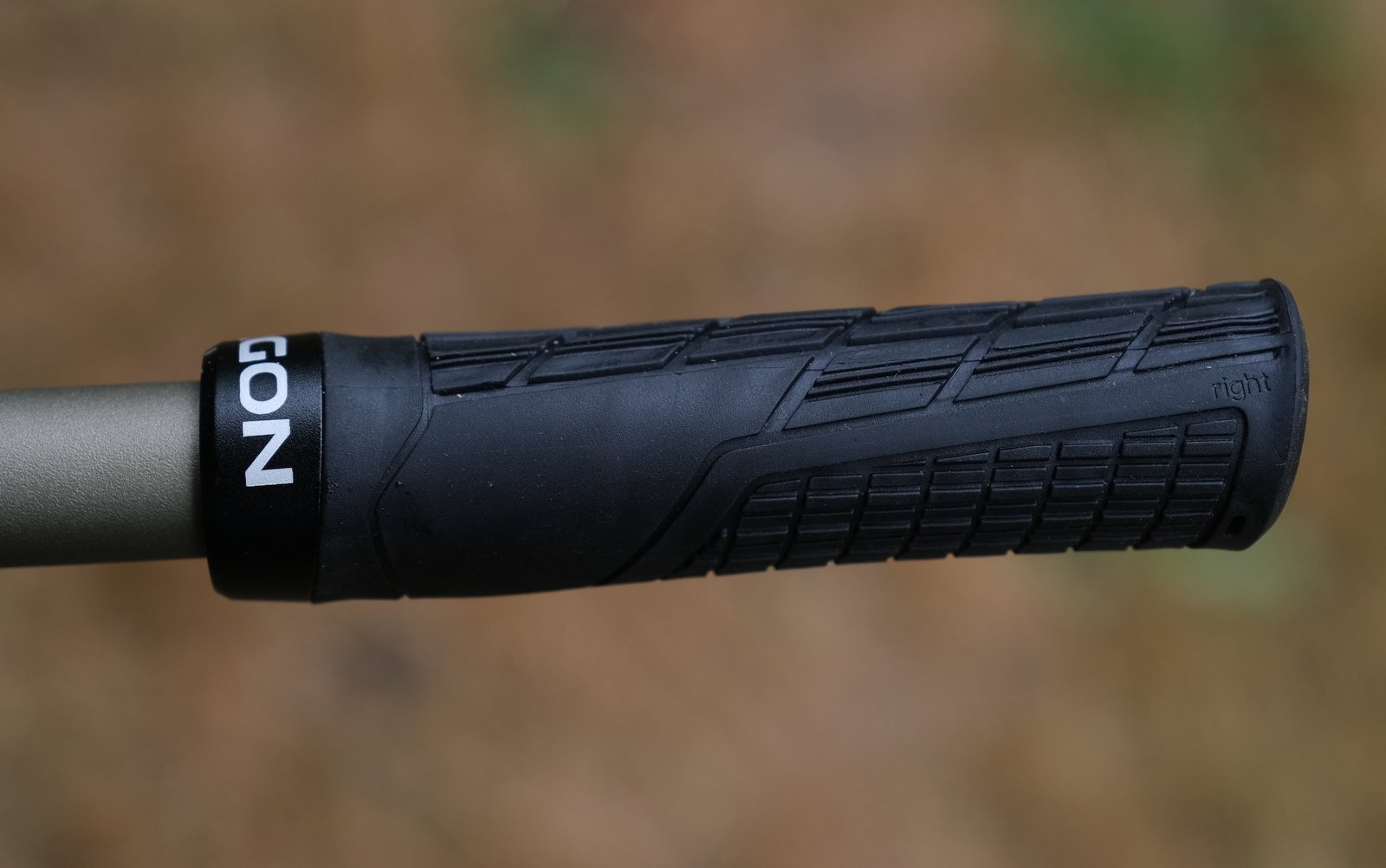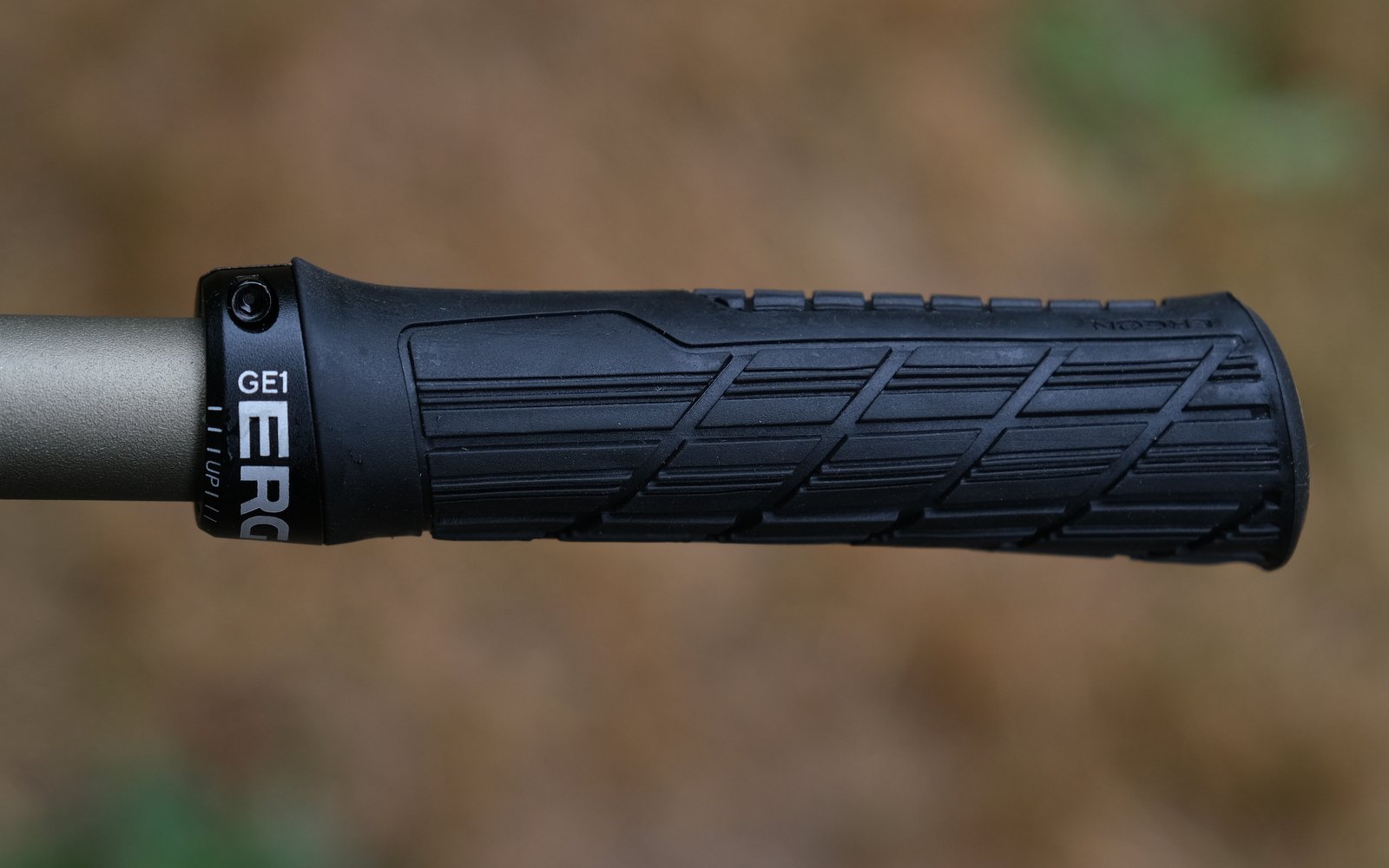 Grip #3 – SQLab 711
In the SQLab grip line, the 711 is a bit of a mama bear option. It's not so crazy that you scare other trail users, but it's not so subtle that there isn't a noticeable change. For me, it proved to be the best option from SQLab.
The 711 does everything that the 70X does, but to a greater extent. The teardrop shape is more pronounced and the flare at the end is gigantic in comparison, and adds width as well as height. You'll also notice a little peak that sits between your thumb and pointer finger, which fills even more of the space that you've never thought about before. This all combines into a grip that looks fairly normal from afar, but attracts questions when viewed up close.
The interesting thing about these grips is that despite their relatively normal appearance, they took the longest to adapt to, and are perhaps the most critical when it comes to ideal installation angle. The technique I discovered was to place the little thumb/pointer peak properly (such that it is pointing at the base of my thumb) and the rest of everything falls in line from there. Getting the end flare correct is particularly crucial and feels a bit unusual. Every time I put these back on my bicycle there was a short period where I needed to adjust, just because I was resting on places on my hand that I didn't expect to. This is not necessarily a bad thing.
While on the topic of the end flare, it's surprising how much of a change this brings from a typical round grip, and just how much extra support it provides. The end result was a grip that provided most of the benefit of my commuter grips with none of the laughs. It's not quite at the level of a full wing, but if I was ever looking for stealth ergonomics, these were the answer. Indeed, I brought these along to the Santa Cruz Megatower launch and I only generated a couple of raised eyebrows.
The rubber itself is very grippy. A general theme with all of these ergonomic grips is that the more ergonomic they appear, the less is provided in the way of aggressive ridges and nubbins. These grips are more or less smooth, save for a few grooves on the end and under your fingers. I was surprised by how much friction grip I was able to get out of all of them, even in the wet, and even without gloves.
711's are 35 Euros direct from SQLab, or CAD$46.
Ideal User – You're a person who wants to go full ergo but doesn't like answering questions in the parking lot.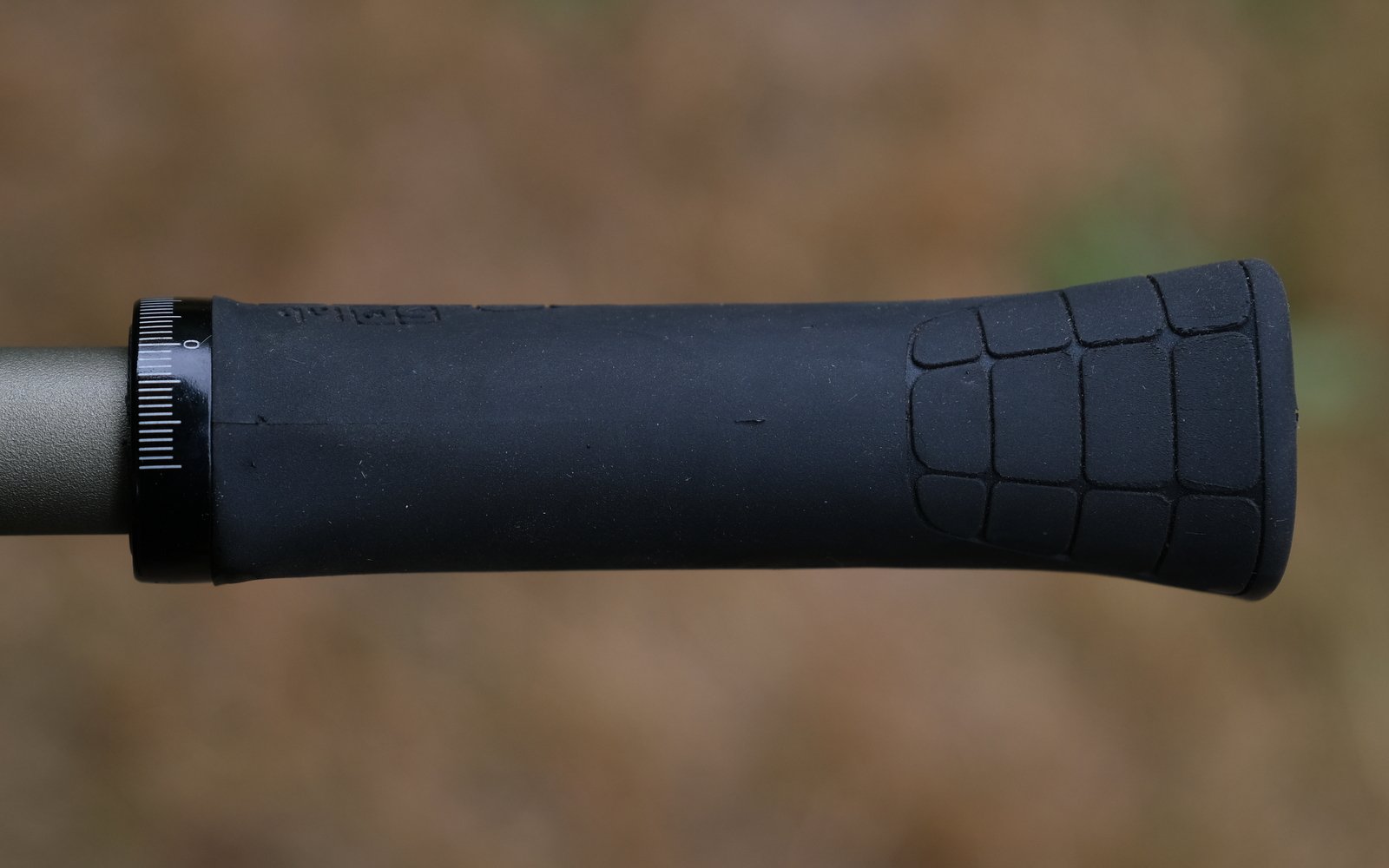 Grip #4 – Ergon GA3
The first of our winged grips is the Ergon GA3. This grip has what is described as a "mini wing," and it is indeed smaller than any of the other winged grips that I tried. Whether it truly meets the definition of mini or not is probably in the eye of the beholder.
The GA3 has many of the same characteristics of the GA2. Indeed from the inside to around the midway point, they could very well be the same grip. They have the same narrower profile and slight teardrop shape on the inner half of the grip, but then the mini wing starts poking out as you move your way out to the outboard edge. At the widest point, from tip of the wing to the front side of the grip, the GA3 measures at 43mm in small and 45mm in medium.
Aside from the size of wing, the other thing I noticed is that the location of the wing plays a big part in how much support you get. The wing of the GA2 shoots out tangent from the grip, so the top of the wing flows directly into the top radius of the grip. What I found is that the higher the wing is, the more support it provides. What this means is that the GA2 provides a tremendous amount of support despite the slightly smaller stature of the wing.
There are a few other nice characteristics of a winged grip. The first is that it gives you a second, slightly different climbing position, if you so desire. I often found myself moving my hands outboard and resting the center of my palms on the flat portion of the wing. This allowed me to switch things up a bit, and gives a nice soft hand rest as the wing provides a gentle form of suspension for your hands. As well, what I found is that not only does the wing provide you with support, but it also allows your hand to approach the bar at a slightly different angle, again almost like a slightly different barsweep. I'm still trying to wrap my head around exactly what changed, but my wrist feels more neutral with this grip than with others.
The end result is that the GA3 is now my go to, day-to-day grip. The wing isn't huge, but provides all of the support that I'm looking for. These grips are definitely a noticeable departure from a standard round grip, but the trade-off seems worth it.
GA3's also cost 35 Euros, or CAD$46.
Ideal User – Somebody looking for maximum wrist support in a package that doesn't scream commuter bike. It just quietly whispers it instead.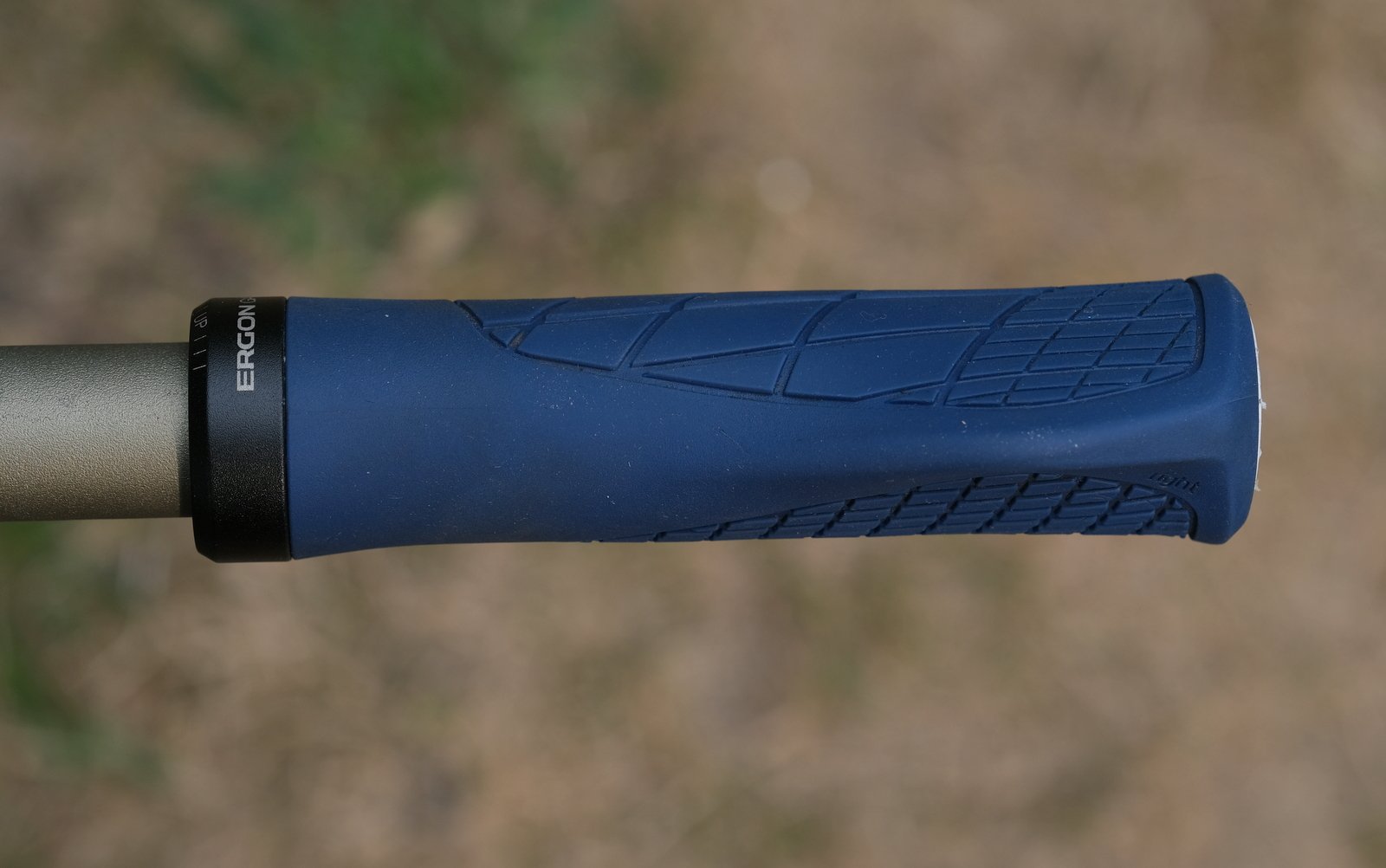 Grip #5 – Bontrager XR Endurance Elite
I didn't notice when I first got these grips, but apparently they're made out of recycled material! Or at least with recycled material. Is it the rubber? The plastic (turns out yes, it's the plastic)? How much of it? We're not exactly saving the world here, but it is something.
The Bontrager has a much larger wing than the Ergon, but not quite as large as my original commuter grip. Feature wise, there's not a lot going on beyond the wing. The inboard section looks like a standard, round grip, and then the largish wing (53mm at the widest point) shoots out about halfway down the grip. The wing itself is quite thin and very flexible. Similar to the Ergon, this gives a second climbing option with a soft, slightly suspended ride. Also of note is that there is no plastic shell directly under your palm. Bontrager has cut this portion of plastic away, so there's nothing but soft rubber between your palm and the bar.
Another key differentiator from the Bontrager is the location of the wing. Both compared to the commuter grip and to the Ergon, the wing comes out of the grip lower than tangent (think popsicle stick sticking out of a round popsicle). This tripped me up a bit on my first ride. I found that I had rotated them quite far up to get the support I was used to while climbing, but this felt like it was putting my wrist in the wrong place on descents. I was forced to rotate the wing down slightly, and I always wished I could get a bit more support.
This wasn't ideal for me, but I've seen a lot of feedback from people that haven't liked winged grips in the past because they felt like the wing was getting in the way a bit. This might be a great solution for those types. It still provides a lot of platform for support, it's just a bit further away from you.
That's not to say I didn't like this grip. I used them a lot, especially before the GA3's showed up. I still think it's a good option for longer days with more climbing and flats than descents where the large wing works well and gives you lots of options.
Bontrager will charge you CAD$50 for the XR Endurance Elite.
Ideal User – Somebody looking for the largest wing but who doesn't want that wing getting too much in the way on the descent.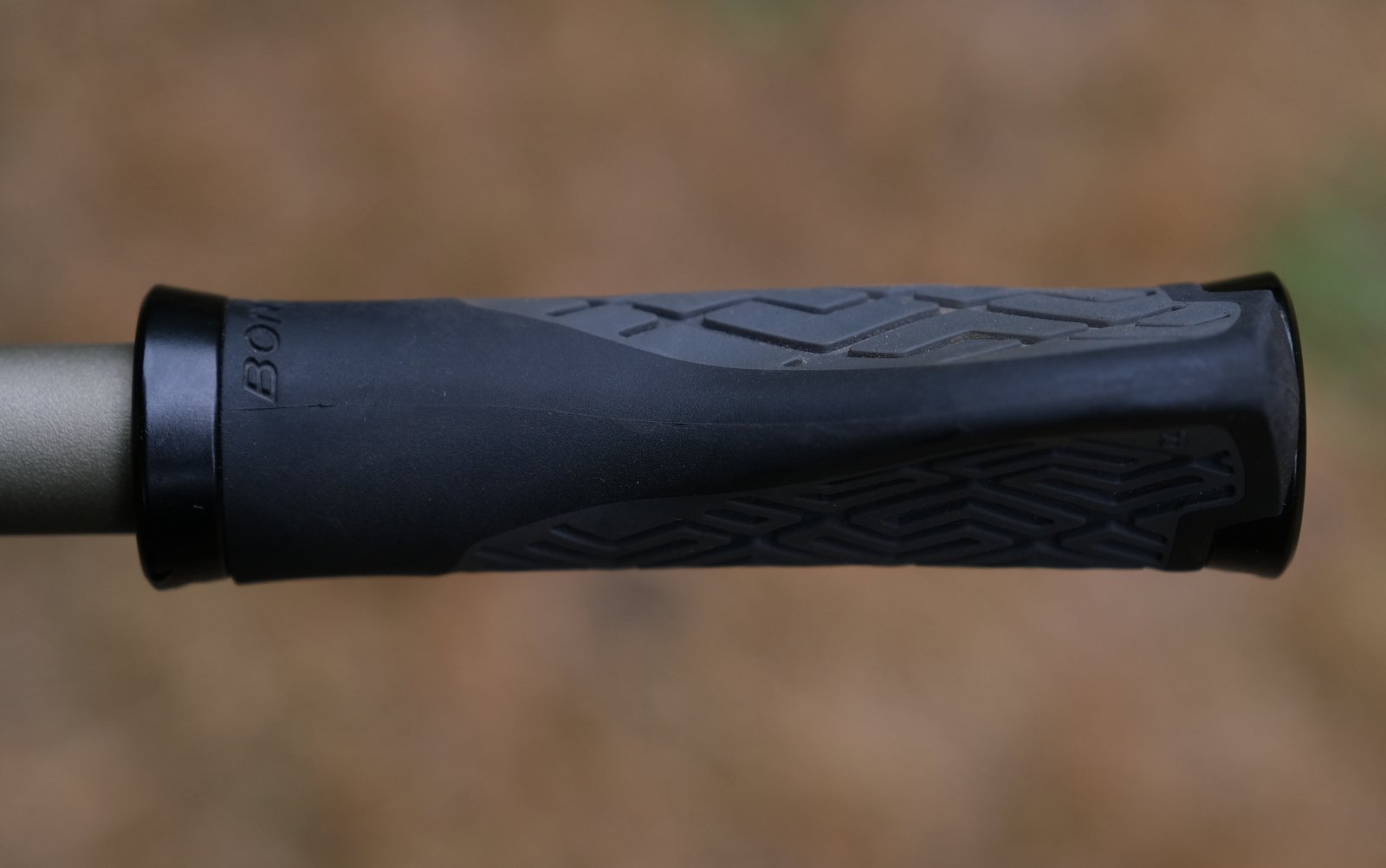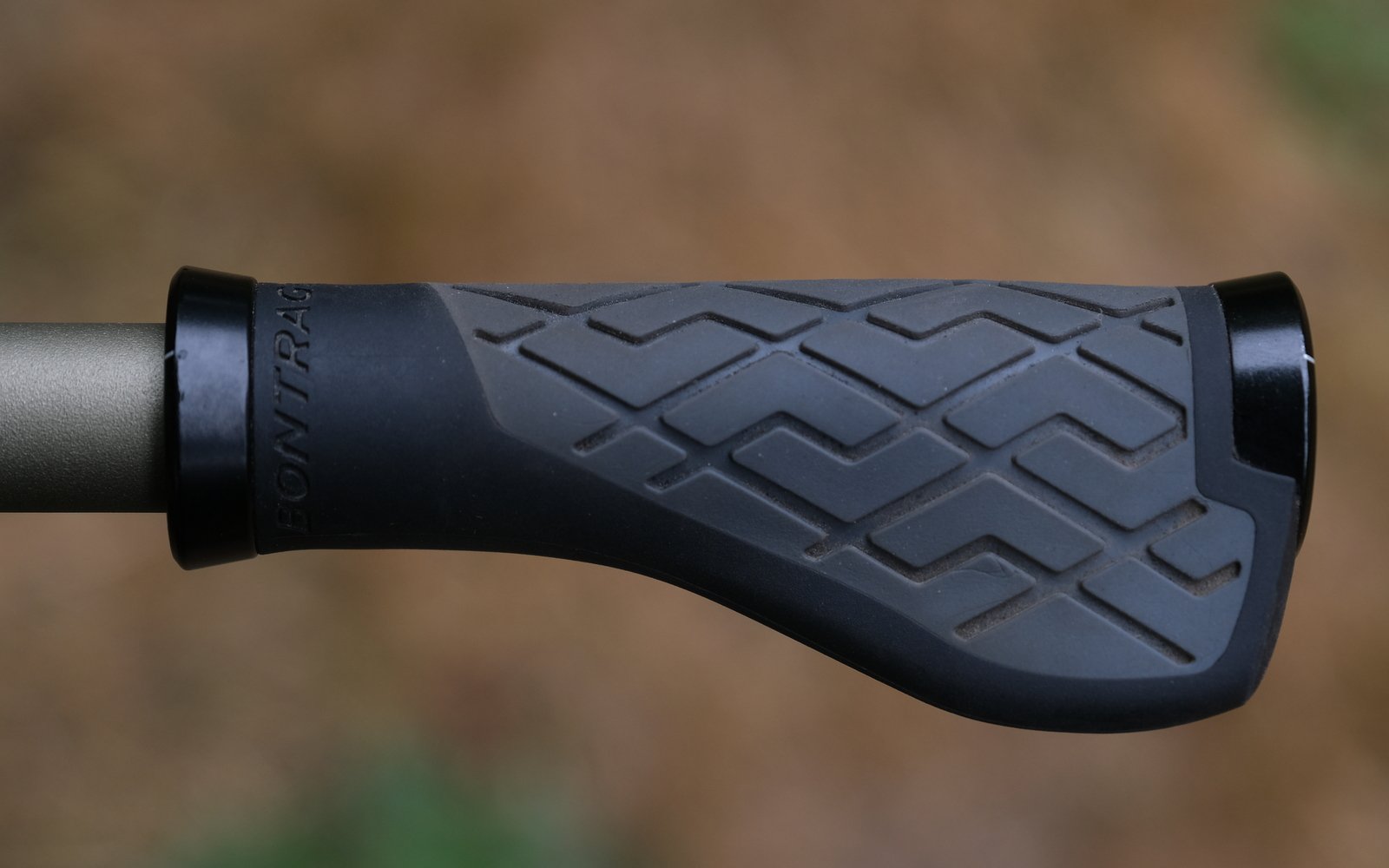 Conclusion
After living with all of these grips for several months, the key thing that I've taken away is that there are almost no drawbacks. There's a lot going on with how our hands, wrists and elbows interact with our grips and handlebars, and for me it's clear that there's a benefit to moving away from a rubber cylinder as a grip. Of course, all our bodies are different and for some, a change isn't necessary. Still, the change for me was so dramatic, I feel strongly about encouraging others to experiment.
I had a conversation with our own Trevor Hansen just after I posted my grip article. I know that he has struggled with some elbow issues, so I wondered if he had ever played around with grips like these. He seemed interested, but skeptical. Many months later he wrote me to tell me he'd tried the Ergon GA3's and was fully on board! So there's at least one other person out there preaching the gospel.
A few of these grips work really well under a variety of situations. The 711s are great when you want a lot of support in a clean package. The Bontragers are good for when you want the largest possible wing. But day in and day out, the GA3s are the ticket for me. They feel great and they don't look all that goofy. After using them for a couple of months straight now, my body feels great. They're the frontrunner for me, but any of these 3 grips give me no reason to go back to regular grips.