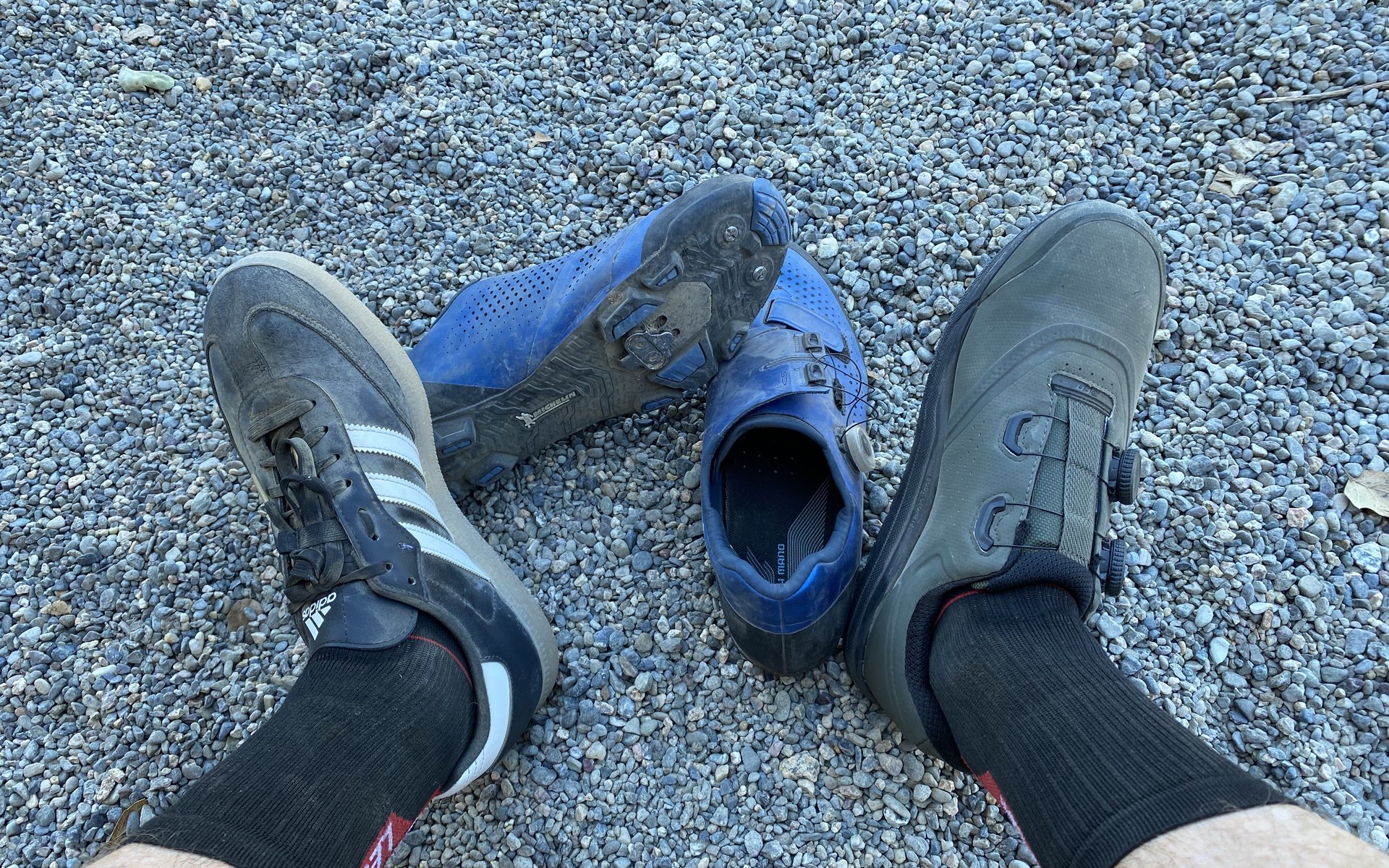 An aging XC nerd's attempt to evolve away from race shoes and toe spikes
The Cobbler's Blues
The Hitchhiker's Guide To The Galaxy first appeared as a BBC radio series, well before the books, the TV series, and decades before the movie of a few years ago. That radio series covered some unique ground, with whole story arcs and supporting characters that never made it out into the mainstream. One such story arc involves the planet Brontitall, where the resident species has evolved into birds that do not have feet, in the aftermath of a planetwide footwear related catastrophe referred to as the Shoe Event Horizon.
See, on Brontitall, the economy of the entire planet became shoe-based. In order to support the widespread proliferation of shoe shops necessary in a shoe-based economy, shoes were manufactured with intentional shoddiness to be increasingly uncomfortable and ill-fitting. As a result, people would limp around complaining about their shoes, taking them to incompetent shoe repair shops without any successful resolve, before ultimately throwing them away and buying more shoes. A massive industry specializing in various forms of podiatry blossomed. Thus the economy boomed. Eventually the economy became completely lopsided, the people revolted, evolved into footless birds and went to live in a 15-mile tall statue of Arthur Dent throwing a teacup, leaving the planet surface below crusted in a layer consisting of decaying old shoes.
Whenever it comes time for me to buy some new riding shoes, I think of Brontitall, and I wonder about… things. Once upon a time, I wore Sidis. They were incredibly comfortable, suitably racy, and generally not very long lasting. Then, about the time Sidi switched to their replaceable sole system, I became a Northwave guy for a few years. For the past 20ish years, however, I have alternated between Shimano or Giro. Neither seem as comfortable as Sidis, but they are tough and stiff and consistent in quality. In every case, for the better part of three decades now, I have worn XC shoes that either have toe spikes in them or at least have the little holes where I could screw in toe spikes "just in case". I have tried, Lord have I tried, to wear those floppy things that people use with flat pedals, and I have also attempted to wear the SPD-friendly versions of those same floppy things. Hell, once upon a time back in 1992 I even jobbed up a pair of fiberglass insoles and hacked holes in the bottom of some Chuck Taylors in an attempt to be cool and clipless. That particular experiment was a resounding failure, by the way. And so I always end up back in the XC shoe zone. With little screws at the toes where the spikes go.
Toe spikes are great for racing cyclocross in the mud. They are not good for much else, except maybe protecting the toe rand of expensive XC shoes from disintegrating rapidly. I haven't raced cyclocross in a very long time, so why, then, do I have so much trouble breaking away from this style of footwear? In an attempt to figure out some of this why, and maybe wean myself away from tap shoes, I rounded up a couple of very different contenders: Specialized's 2FO Cliplite Boa, and a pair of Adidas Velosamba Vegans. Let's see how this goes.
Specialized 2FO Cliplite Boa
These are my latest attempt to buck the toe-spike XC nerd trend, and I am surprised by how well they work in many ways. But in a few other areas, I'm still left feeling like maybe I'm just not wired to be new school or, as the kids say, "sendy". But I am wired to be spendy. In the case of the 2FO Cliplites, that'll be a hair under 150 USD spendy.
The good stuff: BOA closures rule! I can go from bare feet to locked and loaded in the blink of an eye. These are maybe the easiest shoes to put on and take off this side of a well broken in pair of flip flops. The BOA closures are super easy to dial in, although it takes a few rides to get fully accustomed to finding the sweet spot between snug enough and BOA constriction. But even then, they are idiotically easy to adjust. And when they are snugged down just right, that shoe is staying right there on your foot. Speaking of staying on my feet – I am somewhat Flinstone-ish in terms of foot shape, with a broad foot, decent arch and an average heel. Usually, I have to size up one full size or opt for whatever wide option is available. Meaning, I have about a size 42.5 length foot, but generally run a 43.5 in order to not strangle myself below the ankle. These shoes (in size 43.5) fit my feet really well. I could probably even go down to a 43, but since my heel never even hinted at lifting, I'm fine with them the way they are.
The Slip-Not sole material is grippy and compliant when hiking (I can't really say how it compares to Stealth rubber or any of the various other super grippy soles out there since I am coming off a pair of pinner XC shoes, but it feels pretty grippy when walking around on rocks), and the very comfortable insoles feature lots of fancy words stamped into them. The understated green colour hides dust pretty well, and after a three or four ride break-in the shoes ranked mighty high in overall comfort. Sole stiffness was up there on par with most nylon or composite last XC shoes; meaning stiff enough to pedal efficiently, not flexy when jumping, but still comfortable enough for steep hike-a-bikes without worrying whether an Achilles tendon is going to twang.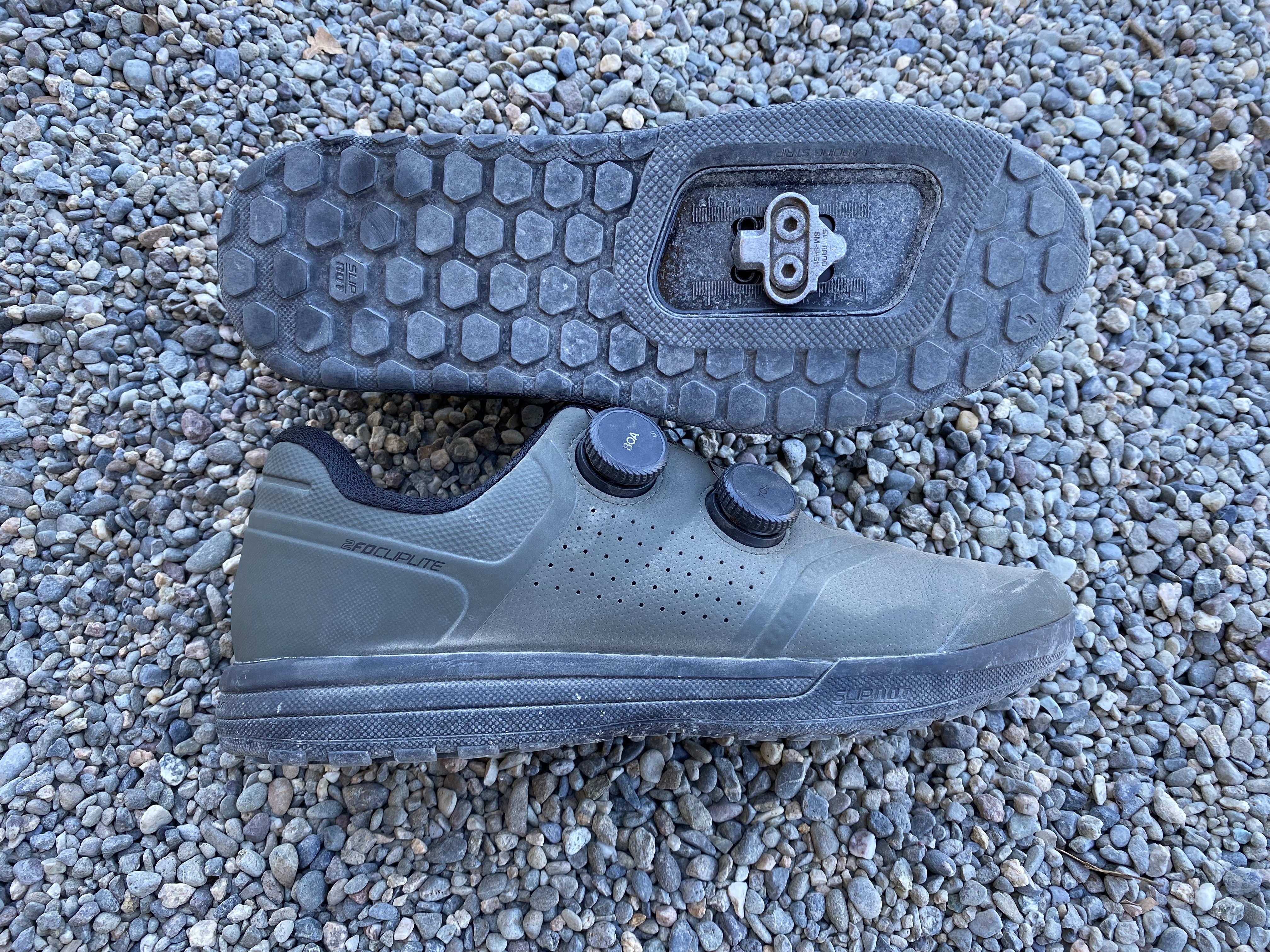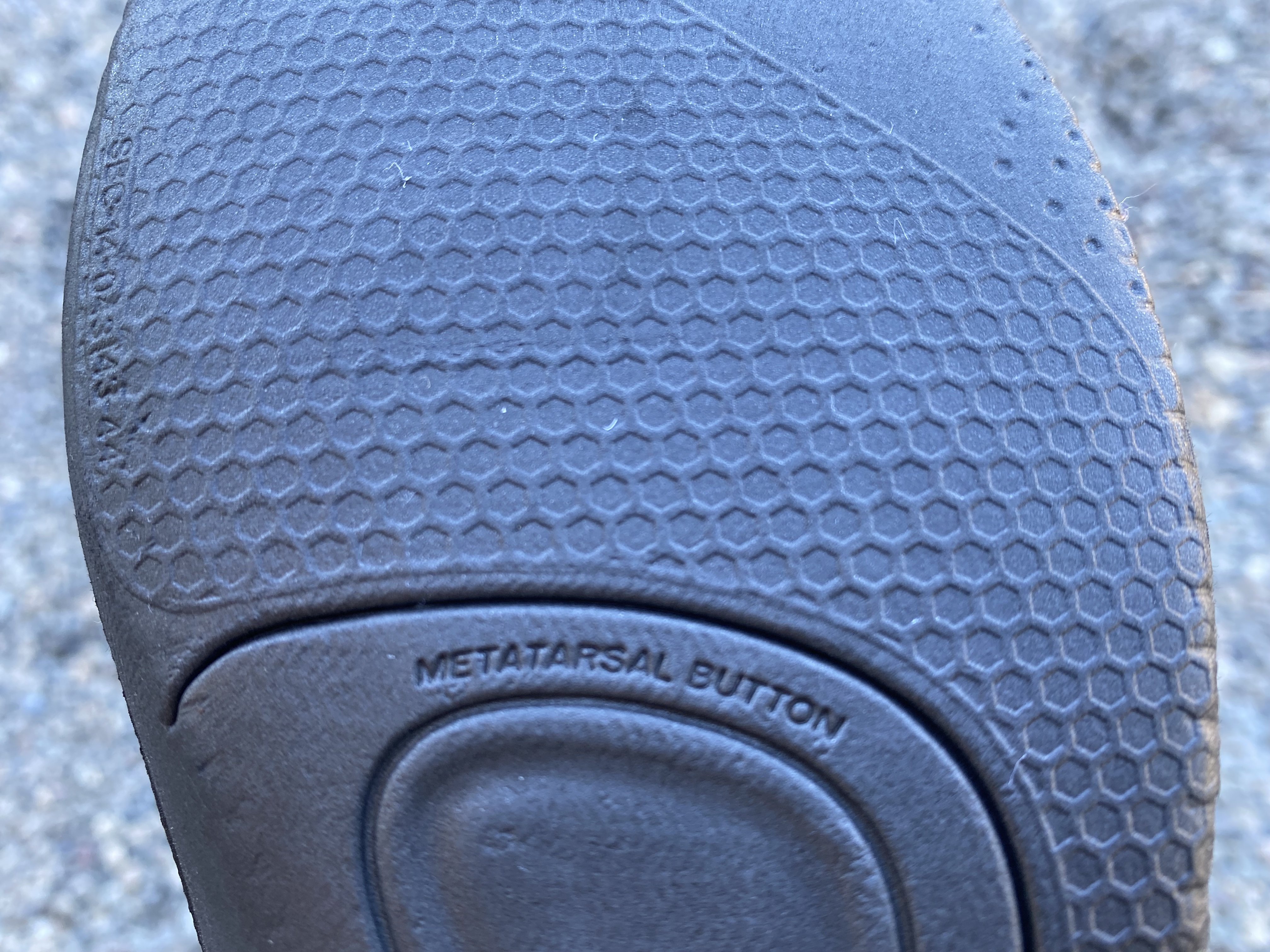 The not so good stuff: BOA closures suck! Okay, maybe that's a bit harsh. But, they do stick out quite a bit from the shoe, and even though I haven't scrubbed any of them off on a rock yet, I kinda think they're asking for it. Also, as mentioned upstream, it takes a few rides to get the right amount of snugness dialed in. I noticed that it was easy to get a little too enthusiastic cranking the BOA dials down, necessitating a reset to back them off about ten minutes into my ride. This, combined with a stiff tongue that took a few rides to break in and get fully comfortable, made the first few rides less than "favorite pair of slippers" comfortable, but not really any different than the break-in period of most decent XC shoes. And finally, I'm not really sure how to parse this, but appearance-wise, the 2FOs seem a little "orthopedic". This is strictly an aesthetic thing, and while these are nowhere near as bulky as a lot of the flat-pedal shoes favored by the meat-hucking set, I'm still having trouble adjusting to them visually.
That said, they only weigh a couple ounces per shoe more than my old Shimano XC5 kicks, feel about on par with them for stiffness, are easier to get on and off, and are a whole lot easier to walk around in. So, as far as easing out of my old toe-spike habit, they do the job admirably. Just so long as I don't look down while riding.

I'm still left feeling like maybe I'm just not wired to be new school or, as the kids say, "sendy". But I am wired to be spendy.
Adidas Velosamba Vegan
Be still my beating heart! When Adidas released the Velosamba a year ago, bicycle riding hipsters, bicycle riding aging skaters and bicycle riding football fans around the world swooned and the damn things sold out instantly. I personally felt cheated (see the bit upstream about where I tried to make my own SPD Chuck Taylors), and vowed that one day, I would own a pair. Even though I was never hip, can't skate, and don't really know jack about futbol, I absolutely LOVED the original Sambas. The fact that Adidas decided to craft an SPD-friendly version of them felt like some sort of cosmic righteousness. And I was crushed when they became instantly unavailable. But then they recently released the new Vegan Velosamba, and I slapped down the plastic to the tune of 120 USD without a second thought.
The good stuff: Well, they're Sambas, which means they rule. And they've got slots and plates in the soles so you can run clipless pedals. The soles are substantially stiffer than the Sambas of old, with a full length nylon plate making this new interpretation of the SEVENTY-THREE year old original actually decent enough to pedal around in. In a functional sense, a Shimano SPD cleat recesses completely in the sole, unlike most that sit a tiny bit proud, rendering these the most comfortable walking bike shoes I've ever slipped on my feet (again, size 43.5). The soles are a nice soft grippy synthetic rubber, and the entire footbed seems to strike a really nice blend of flexibility that makes them really comfortable to wear around when not riding. As a testament to how comfortable they are, during my "walk around in them" phase of getting to know the Velosambas, I spent four hours this afternoon raking gravel while wearing them. They were more comfortable than my Salomon hiking boots and my Ariat shitkicker work boots, both of which I rate as "all-day" comfortable. These are really comfy shoes. And damn, they look good.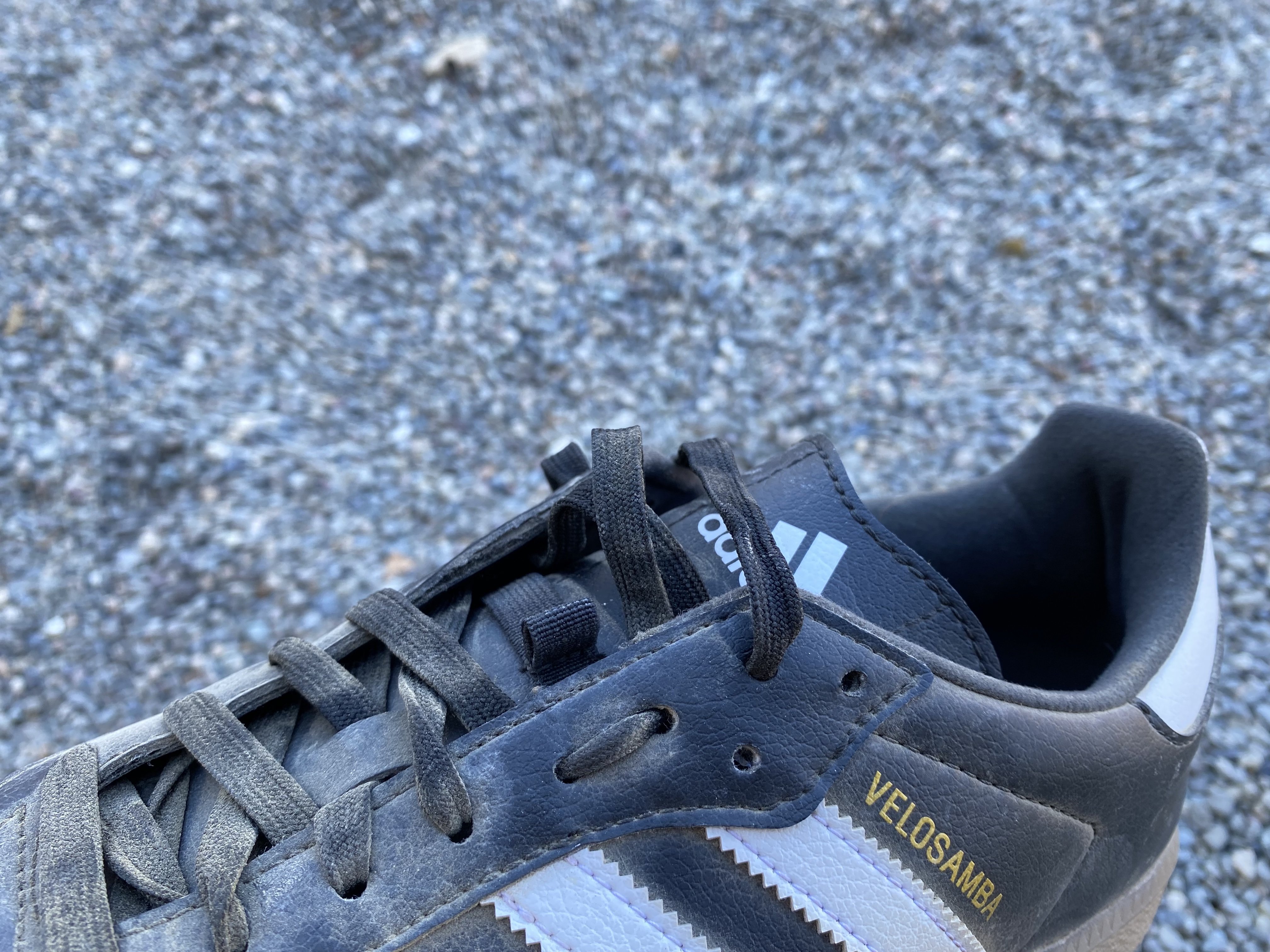 The not so good stuff: They may be really comfy, but they're not that great for mountain biking. This was a hard pill for me to swallow, but I was kind of expecting it. One, they have laces. Decent laces, that do a decent job of staying laced, with a cool little elastic band to tuck them under and a couple extra lace holes on the upper for people with different shaped feet, but still, laces. Exposed laces, just waiting to get snagged on vegetation and stuck full of stickleburrs and foxtails. Two, the full length insole, while way stiffer than OG Sambas, is not really very stiff. This probably plays into the walking around comfort, but isn't that great when pedaling with any sort of intent. So, anyone who weighs more than about 120 pounds is going to find them a bit flexy, and after a couple hours of flexy pedaling, my feet get kind of bummed out. Three, they don't really do much to stop water and dust and crud getting in. Four, even though they look the business, all svelte and hipstery, they're chunky little buggers, clocking the scale at a little more than 100 grams per shoe heavier than the old XC5 and 42 grams per shoe heavier than the 2FOs.
Still, if I was going to be riding urban or taking the clipless pedal bike for a day-long social cruise, these would be the shoes I reach for first. If I was commuting, and wanted to wear only one pair of shoes for the day, these would be my choice (unless I was commuting in the rain. But I live in California, and I work from home, so, ummm… nevermind).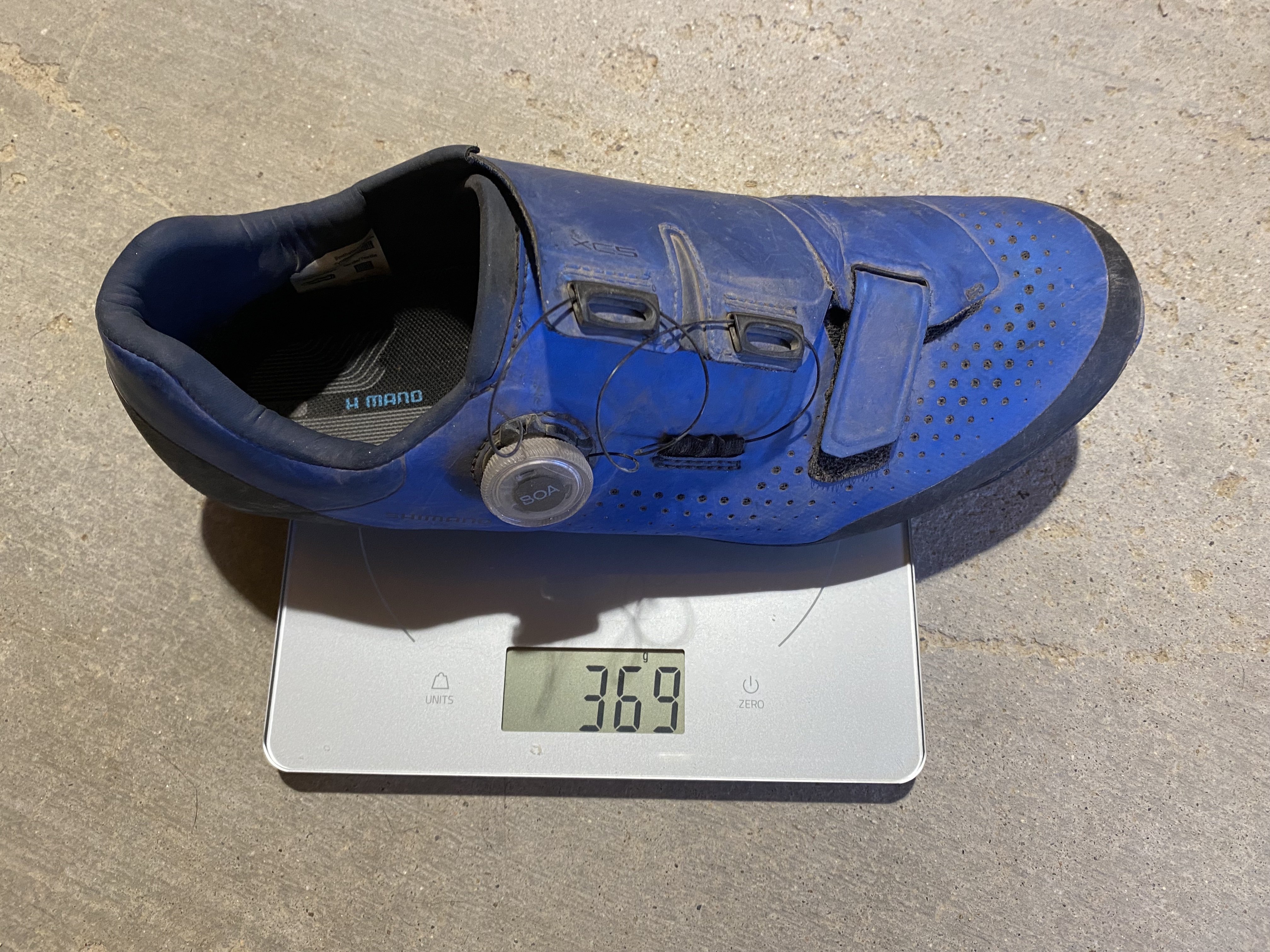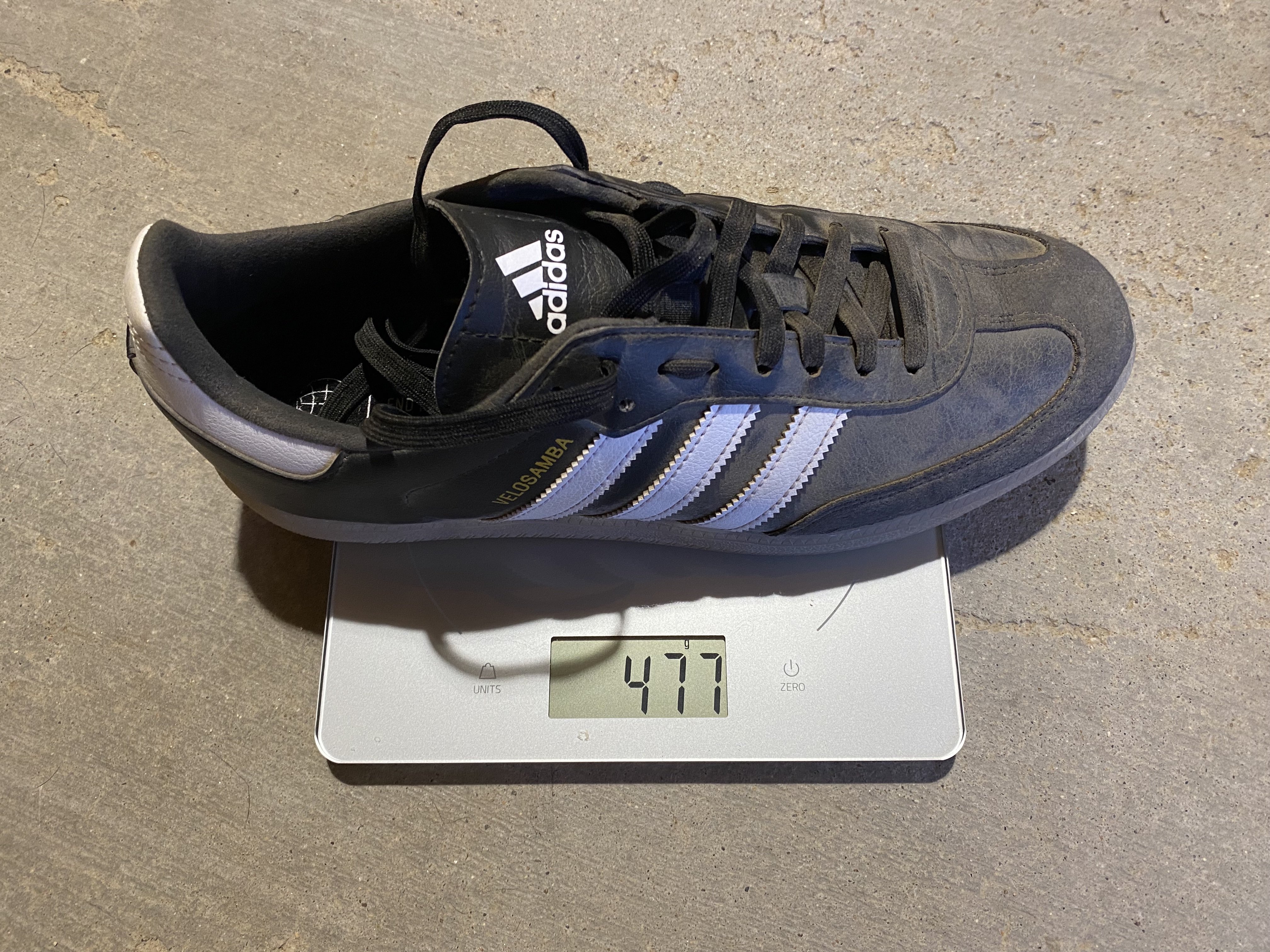 Did I Learn Anything?
Yes and no. In a perfect world I would give anything to get the looks of the Velosamba with the no-nonsense efficiency and functional performance of the 2FO. Yes, I am that vain. Then I would willingly throw my extensive and varied collection of toe spikes away without a second thought. In the meantime, the old Shimanos aren't getting discarded to be part of the planet's crust. But neither are the 2FOs or the Velosambas. They all have a lot of ground to cover this summer.