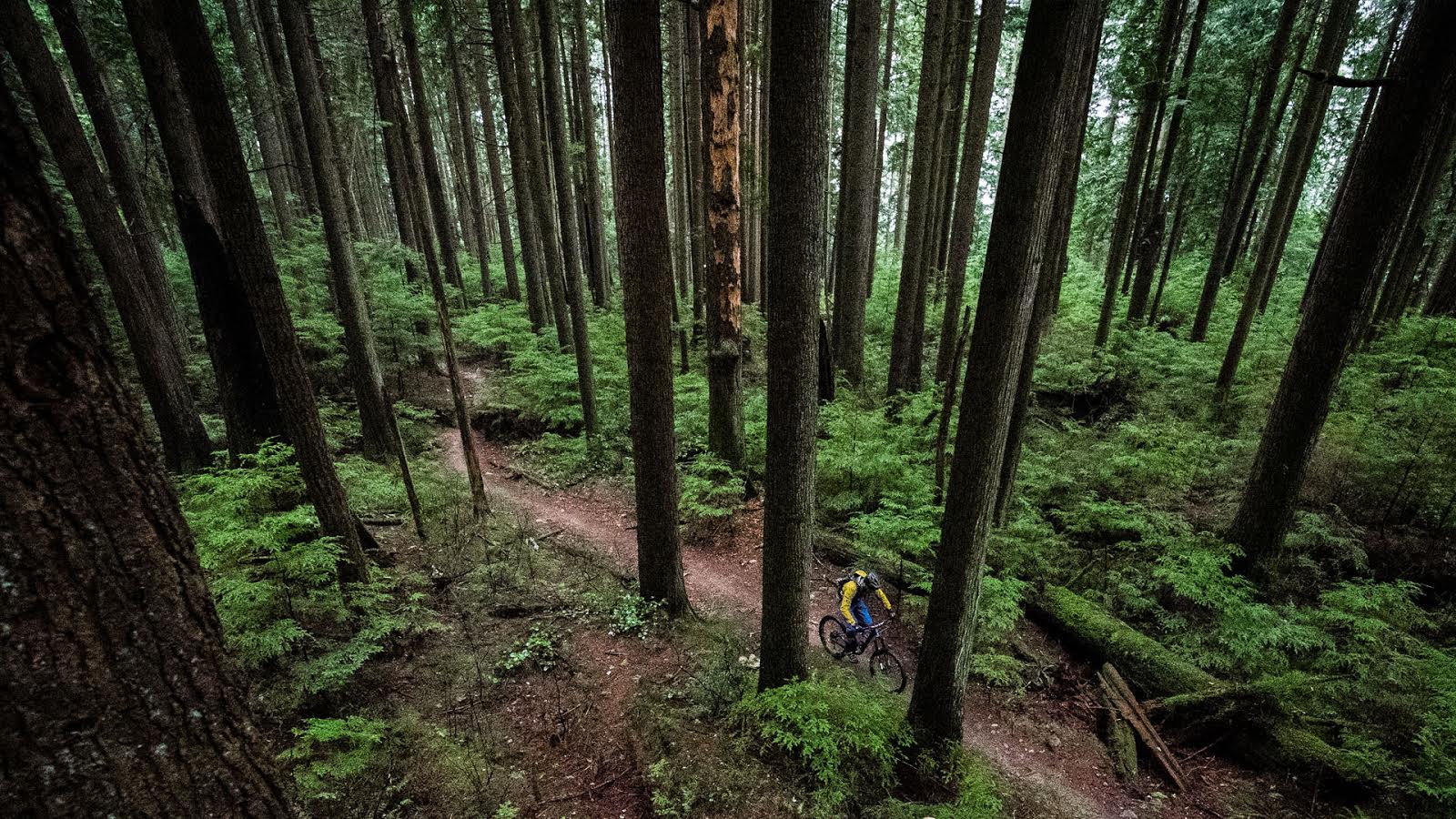 The Chromag Pilgrimage
It's not uncommon for riders living in BC to catch the Chromag bug. It usually starts with a handlebar and a toque, but things can quickly get out of hand. Last fall I found myself joining the Chromag crew for one of their legendary Friday rides. It went something like this. Wait, that's an understatement. It was actually close to 20 riders on a wide variety of rigs – but of course the majority were on Chromag hardtail frames.
On a ride with 1300 metres of ascending, 300 of which was slogged with bikes on our backs, those hardtail riders with their stubby stems and long travel forks pushed the pace both up and down. I concluded there must be something in the water in Whistler, and I had to find out what it was. I began scheming on a new build.
The following tenets guided my initial build: 29″ wheels, a RockShox Pike, and a single ring drivetrain. The Dekerf-built Surface frame is highly coveted, but feeling as though I might be between the M-L and the L frame sizes, I was hesitant to commit to the more expensive BC-built beauty. I knew from owning a Monk dirt jumper that Chromag's more affordable frames are still beautiful pieces of work, and had no qualms about going with a Rootdown. The rest fell into place organically with some carefully chosen pieces and some well-timed review pieces.
The Chromag crew does some unorthodox things in the setup department: their bikes appear to be descending biased, and yet they all shred the uphill just as hard. Given that I intended to find out first-hand what the boys were up to, I heeded Chromag founder Ian Ritz's advice on a number of points. I would have been the first to question a 50mm stem and a 140mm fork on a hardtail meant for all day pedaling. I even asked the Wizard at Fluid Function if I could have my Pike lowered to 120. But Ian was adamant that I'd be happiest with the fork at 140, and I conceded. Standover be damned, I chose the 20″ L frame size for its 620mm horizontal top tube.
Building a bike from the frame up lets you scrutinize aesthetics to the nitty gritty detail. After seeing Julian Hine's 20″ Rootdown with a white Pike at the Friday ride, my first choice in colour would have been the same smurf blue. Alas, there were no 20″ frames in blue on the horizon. Black and red were available immediately, or green a few weeks off, and I had deal breaking nit-picks about the first two of those options. Green it was to be.
On a rainy Thursday morning in early December, I made the pilgrimage from Vancouver to Whistler. I had the same butterflies in my stomach as I'd had many times before; I love building a new bike. The butterflies were soon to be drowned by a fresh pot of java and a warm welcome from the crew at Chromag.
In person, the green colour was even more impressive than the photos I was able to dig up online: deeper than most of the photos I had found, and a great complement to the frame details. After pressing in the King headset and cutting the all black Pike's steerer to length, I went about choosing some must-have Chromag accessories – that is, all of them.
When I left Chromag, seriously overcaffeinated, it had been snowing long enough that the roads were covered and accumulating. To a lifelong coast dweller, there's nothing quite like a blanket of snow and a seat heater to make everything feel nice and cozy. I couldn't wait to get home and continue putting parts on the Rootdown.
The next few days weren't exactly a cake walk. For all the sentimental parts of building a bike, there are always hiccups. The honeymoon hasn't even started and you're already dealing with incompatible parts and missing bolts and… this is why bike shops are still in business. Always bring a six pack when you want a brake line cut and bled at 5:30pm.
As soon as the Rootdown came together, I wasted no time in getting it dirty. In the first six weeks I rode it 225 km and climbed 11,000 metres. It beasts up technical climbs even with the short stem and long fork – and it descends just like you'd expect a Whistler-bred steel hardtail should. Any preconceptions I'd had about geometry and setup before riding this bike have been tossed out the window – Ian absolutely nailed it with the Surface and Rootdown.
---
The Chromag Rootdown. It'll make you wanna beast a grunter.