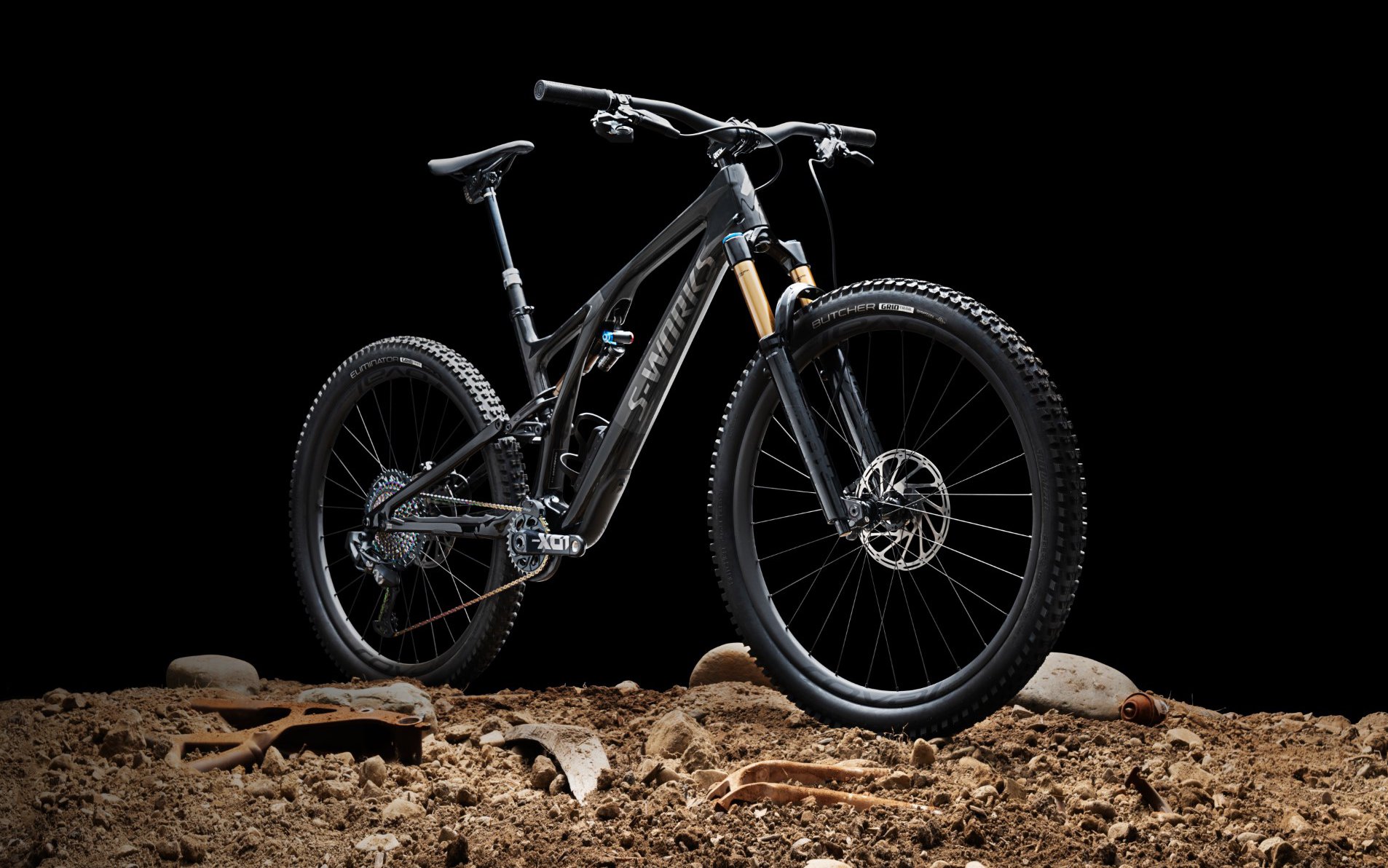 PRESS RELEASE
The 2021 Specialized Stumpjumper EVO Has Landed
Each iteration of the Specialized Stumpjumper is looked upon as a chapter in the progression of MTB design. In normal times, we'd be referring back to notes from a media camp and reflecting on several days of riding, and several hours of product briefings from engineers, product managers, etc...Unfortunately that's not where we're at right now, so instead we've got a whole bunch of info from Specialized about their new Stumpjumper EVO, and will deliver our test impressions once our test bike arrives. So, while we can't comment on how this sucker rides yet, we can share the info we have and say that at the very least, we think it's going to be an improvement on the last gen EVO, which was progressive (perhaps a touch too progressive, at least in terms of BB height on the 27.5" version) and went like stink in the twisty bits.
For now, enjoy what we've got, and we'll bring you a test as soon as we can manage it.
---
Let's start with the video, because it's rad.
Frankly, it would've been pretty slick to just put that sucker out and then drop the mic, but, details, geo, spec, pricing, colours, we get it. Here's the details from Specialized...
---
We're lucky to be riding during the Golden Age of mountain biking. We have access to more trails than ever, built with more diversity than ever, riders are progressing and nailing what was previously impossible, and now the new Stumpjumper EVO has evolved to meet the demands of modern riders. Delivering unprecedented control, capability and adjustability, along with unexpected climb-ability, it tames any terrain from chundery jank to progressive high-speed flow and modern big hits. It's your seat in the eye of the hurricane. And that's good, 'cause when shit starts flying on the trail, you'll be zen in the middle of the mayhem.
Control and Capability
The EVO brings control and capability to every rider, every style, in every trail scenario. This bike serves up so much control, you can pick lines you never even saw before. And in those inevitable pilot-error situations, the EVO is your auto-correct for blown lines and your insurance policy for misjudged hucks.
Geometry–Capability and Stability
Available in six style-specific sizes, the Stumpjumper EVO sets the benchmark for progressive trail geometry, delivering DH capability never before found in a 150mm bike alongside lively climbing manners. How? The generous cockpit gives you the room you need–centering you on the bike, optimizing traction and corner control. The low bottom bracket, slack headtube angle and reduced fork offset keep things stable in the rough, while giving you the freedom to destroy the turns, float through them, or nail the inside lines. A steeper seat tube optimizes power output and puts your weight over the front while climbing. And short chainstays keep things flickable and nimble.
S-Sizing–Sized for Your Riding Style
S-Sizing is style-specific sizing, meaning that now you can choose your frame size based on something that matters (complementing your riding style) instead of something that doesn't (your inseam). See, two riders might be the same stature, but have totally different styles. The poppy rider who flicks her bike around the trail will be even poppier on a smaller bike. The rider who plows chunder and smashes rocks at speed will plow and smash with conviction on a longer bike. Determining your size is easy, each of the sizes from S1 to S6 correlates to a previous size. For example, if you rode a Medium before, then S-3 will be your equivalent size. But… if you want a quicker, more nimble ride, you'd drop down to an S2. Want a bike that's more stable at speed or in the gnar? Bump up to an S4.
Adjustability–Six Geo Settings to Match Style and Terrain
To be The Ultimate Trail Bike means to rule for any rider style in any terrain. That's a big ask. The way we deliver is through the most adjustable geometry we've ever offered on a trail bike.
Head Angle is adjustable between 63 and 65.5 degrees via unique eccentric headset cups with three settings. So, whether you're riding steep and deep, low-speed technical, or something in between, you can tune your EVO trailside in minutes to match the terrain.
How low can you go? To keep your center of gravity down and thereby keep stability high, the EVO bottom bracket is always low. But now you can fine-tune BB height by 7mm by swapping the Horst link chips.
Mixed wheel adaptable (29/27.5) Mullets are a thing these days. Not the hairstyle, though. Those are best still treated with wary respect and plenty of distance. No, we are talking about a 27.5" rear wheel and a 29" front. The big hoop up front provides traction and stability everywhere, while opting to run a smaller rear wheel can liven up responsiveness and also give more physical riders a skosh more room to get rad without hooking their shorts on the rear wheel. We utilize a different, aftermarket shock link to achieve Mulletdom with the EVO, in order to retain the handling, geometry and suspension characteristics that enable the rest of the package to shred so assertively.
Suspension
The EVO's 160mm front travel and 150mm rear feels bottomless on big drops, supple on small bumps, devours square-edged hits, yet still pedals responsively and climbs like a lightweight. The key ingredient here is Rx Tune–your prescription for fast. Riders all, our team of engineers and technicians toiled to develop every aspect of the EVO's suspension into an optimally performing singularity. Chassis design, telemetry, wheel rates, spring curves, custom shim-stacks, oil viscosity–front and rear suspension obsessed over, prototyped and tuned to deliver optimized and balanced performance, allowing the bike to disappear beneath you, leaving you confidently in control.
Leverage Rate
The new EVO's leverage rate is derived from the Enduro's progressive approach. This is key to delivering small bump sensitivity, mid-stroke support, and compliant but controlled full travel when really stomping the big hits. The tuned leverage rate also makes it easier to refine the shock to match the kinematics. Bottom line, the suspension does what you need it to, so you can do what you want to do: shred.
Axle Path
Taking a cue from the kinematics of its big brother Enduro, the new EVO's axle path is tailored for getting after it. The axle moves rearward in the first third of travel, and then vertically in the mid-travel before arcing to a forward trajectory toward bottom out. To break this down, the rearward path in the first portion of travel allows the wheel to "swing" back with the bump force, decreasing hangup and thereby helping to carry speed. As the bike moves deeper into its travel, where pedaling isn't typical, the forward axle path disconnects chain forces from pedaling forces, allowing the suspension to independently compress in response to input from the trail.
Tuned Stiffness
Send it, Mama Bear. That's right, not too stiff, not too soft…. this bike slaps! These days we can make a frame as stiff as the day is long, but it turns out that's not what feels good on the trail. To be one with the bike requires engineered compliance in the frame. We call the EVO frame a "Sidearm" chassis. See that asymmetric strut that flows along the right side of the shock between the top tube and seat tube? That's the Sidearm and it's an integral part of the EVO frame, minimizing twist and allowing us to deliver a very specific feel that unifies the frame from front to rear. Sidearm design not only delivers the ride quality you crave, it does it while using the absolute minimum of material, rendering a frame that is strong, lively and exceptionally lightweight.
Rider-First
Our Rider-First Engineered™ process delivers the optimal balance of tuned stiffness, weight and ride quality from all six sizes, ensuring every rider experiences the same ultimate trail ride characteristics. This is achieved through extensive data acquisition of forces through every conceivable part of the frame, in every frame size, and then validated with countless hours of railing, sending, and all-round shredding (that's the fun part).
SWAT–Ready for Anything
The SWAT door on the Stumpjumper EVO is a masterpiece of carbon fiber construction and spatial optimization. A simple pull and twist of the water bottle cage opens into a cavernous downtube storage compartment. There's 15% more room than before–enough room to store 22oz of life-giving water in an included, specifically designed bladder. Or some tubes and a rain jacket. Or folded up slices of pizza. Or multiple bananas (careful with that last one). Because we can tailor the layup of our carbon fiber, putting material where it is needed most, we can also design in this easy access storage compartment with zero compromise of chassis strength or stiffness.
Tires–Roll Fast, Grip Hard
The Stumpjumper EVO comes shod with a versatile Eliminator/Butcher tire combo. The rear Eliminator features our T7 compound, bringing durability, toughness and precise feel to this already aggressive but fast-rolling tire. Up front, a blocky Butcher in our super-grippy, uniquely crafted T9 compound offers surefooted traction, rebound control and small bump damping. It's like being Velcroed to the trail.
Climb-ability
The Sidearm chassis layout makes it light, while pedal-friendly kinematics and geometry deliver efficiency. Bottom line–earning your turns won't leave you wasted, so you can shred what you came for.
Light Matter(s)
Let's just be blunt about this, weight matters. Yes, aggressive tires are going to weigh more, and components you can pummel are going to pack on the grams, but you still gotta get that bike up the hills, and when it comes to climbing, excess mass can feel like it's dragging you down to the center of the earth. With an S-4 frame weight pared down to 2750 grams*, we cut no corners with the EVO–it's the lightest frame possible for the performance you need to dominate in the hazardous duty you'll put it through. We then dressed each model in carefully spec'd componentry that delivers maximum performance with minimal weight. EVO is light enough to get you to the top without being cross-eyed for the downhill, and tough enough to let you get as rowdy as you want on the way down.
* Actual weight of a production painted S4 frame in "ready to build" assembly including shock, all assembly hardware, link, carbon extension, molded downtube and chainstay protectors, axle and seat clamp.
Kinematics and Pedaling Manners
There's a generous amount of anti-squat early in the EVO's travel. When it comes to climbing responsiveness and pedaling snap, anti-squat is your friend. It helps you put the power to the ground without unwanted pedal-induced bob, and it transforms wattage into forward and upward momentum. As the suspension moves through its travel, the anti-squat characteristics drop below zero, and the suspension focuses on sucking up everything from chunder to dead sailoring blind hucks-to-flat.
Chassis Stiffness
We tuned the entire chassis–front end, rear end, and the link that unifies them–as a single unit that minimizes lateral deflection under pedaling to get the most of every bit of pedal force.
Down in Front!
The steeper seat tube angle, reduced offset fork, and forward-biased riding position keeps power to the pedals, and keeps the steering quick and nimble while climbing. Instead of a sluggish climbing compromise, the EVO's pedal-happy geometry makes easy work out of getting to the top, so you'll be energized and ready to send the descents.
Shred in Silence
You won't realize how much chain-slap was bumming your ride until it's gone. Oh, the joy of silence! Our proprietary chainstay protector makes the drivetrain virtually silent by disrupting the sinewave of an unchecked chain clattering away in the rough. The result is the transcendent silence of one hand clapping.
2021 Specialized Stumpjumper EVO Geometry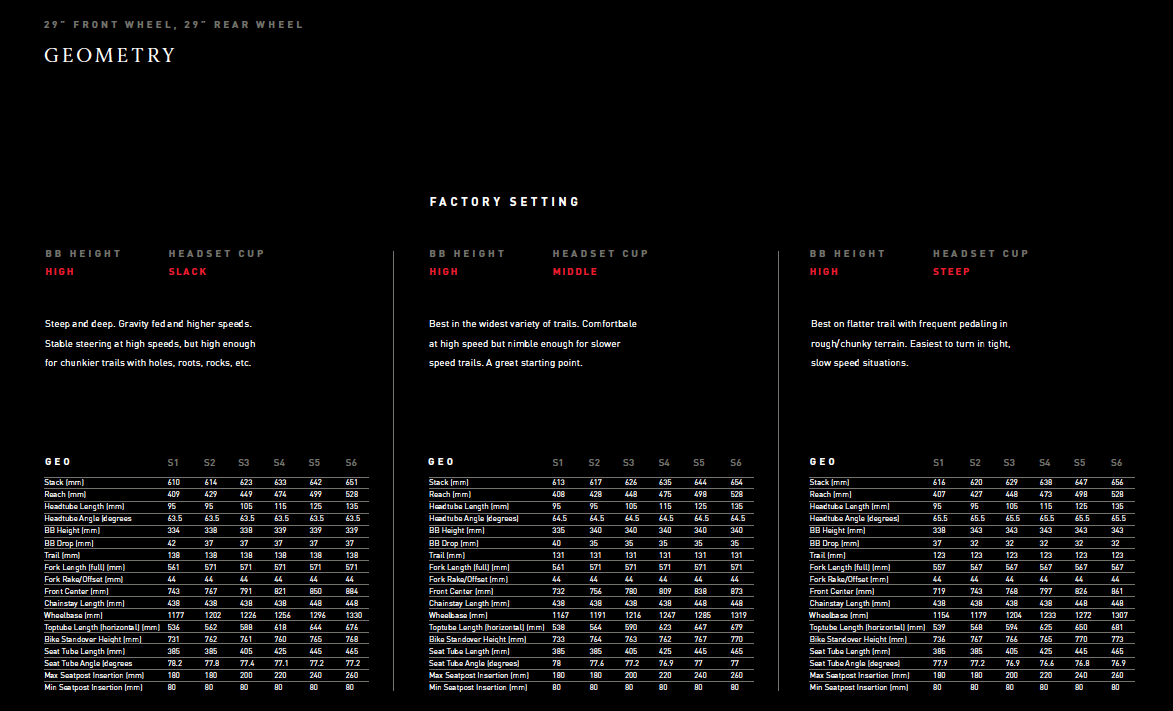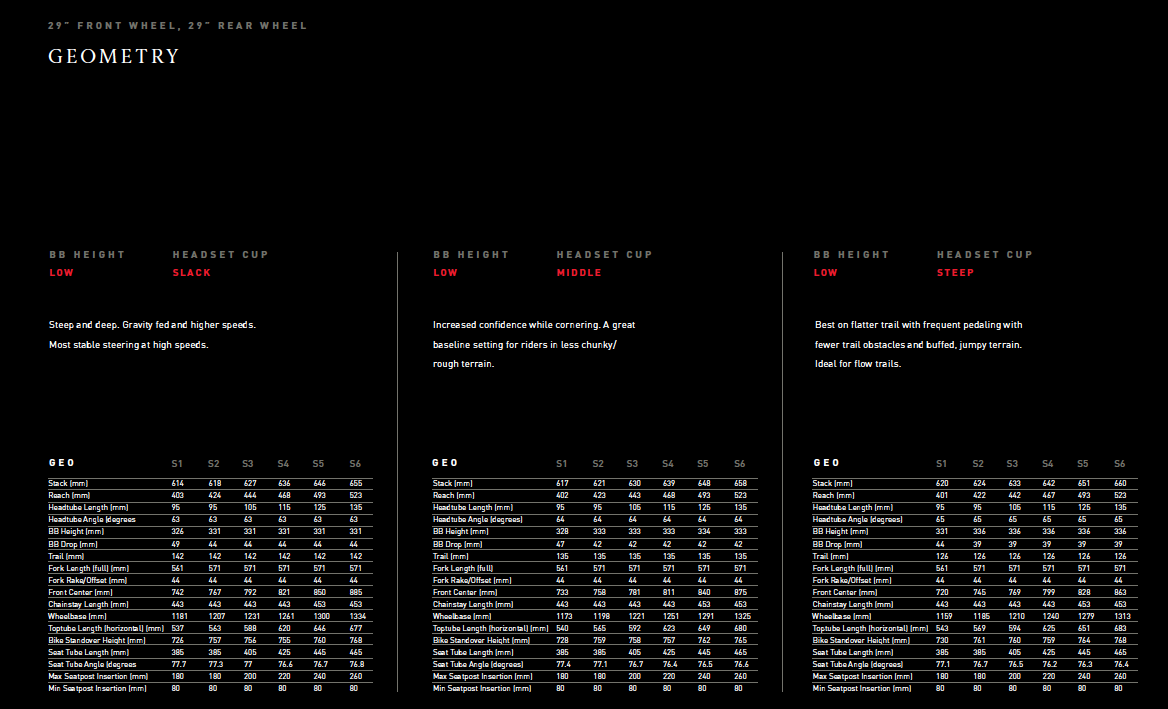 2021 Specialized Stumpjumper EVO Models & Pricing
Stumpjumper EVO Creators
Being tasked with creating the rippingest trail bike we've ever made is no small feat. Steve Saletnik, Brian Robinson, Jamie Stafford, Will Chan and Chance Ferro, and more than a dozen others dug into every aspect of handling, stiffness and suspension kinematics to do exactly that.
Brian Robinson - Design Engineering
Jamie Stafford - Industrial Design
Will Chan - Composites Engineering
Chance Ferro - Suspension R&D
Steve Saletnik - Product Manager