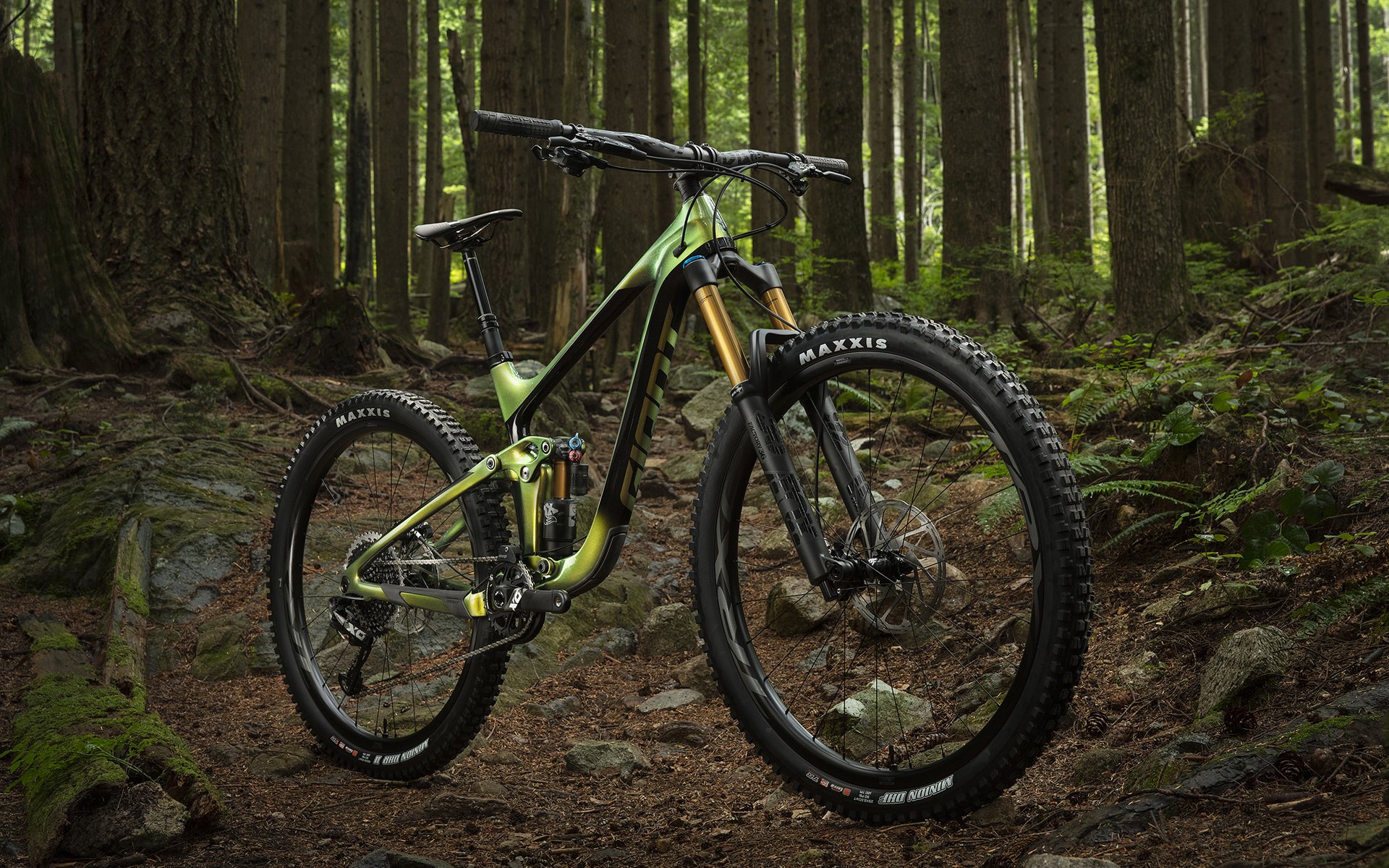 RIDDEN IN REVELSTOKE
The 2020 Giant Reign Goes 29
In 2019 Giant introduced the new Trance 29 and the bike was impressive. 12 months later, they've taken what they learnt during the development of that bike and applied it to the Reign platform. The 2020 Reign 29 is Giant's enduro racing, all-mountain shred sled and they've worked closely with their G-FORT (Giant Factory Off-Road Team) to create a capable, well-mannered bike.
Highlights
Aggressive geometry
146mm rear wheel travel paired with 160–170mm travel fork
Maestro Suspension
Linear suspension curve
Forged Composite Rocker-link
Three carbon models, two alloy, plus an SX (also alloy) and a carbon frame only option (in Canada)
Weight: Size M: 13.1kg / 29lbs for a Reign 0 (claimed)
MSRP: 3,449–9,299 CAD / Frame only for 3,499 CAD
2020 Giant Reign 29 Models
For 2020 the Reign 29 will be available in a variety of builds. They start at 3,000 USD / 3,449 CAD for the Reign 29 2 and top out at 9,000 USD / 9,299 CAD for the Reign Advanced Pro 29 0. The Advanced Pro 1 offers great value and features the same dampers as the top of the line model only without the Kashima factory bling while carrying an MSRP of 5,000 USD / 5,649 CAD with a GX Eagle drivetrain, Code R brakes and Fox 36 GRIP2 fork with a Float X2 rear shock.
Although there are six models, Giant distributors won't have all of them available. In the US and Canada, the Reign 29 1 alloy bike will not be available. Likewise, the frame-only option will not be available in the US. What is available in North America are three carbon models and two alloy models, one of which is the SX, with Canada getting the frame only option. Check with your local bike store or Giant distributor to find out what's available in your area.
SX designates the most aggressive Giant models and the Reign SX is the only model fitted with a 170mm fork and coil shock. It features the same level dampers as the Reign Advanced 29 1, providing heaps of adjustability and excellent performance for 4,000 USD / 4,249 CAD. This model is being brought into North America in place of the Reign 29 1 and offers great value for money.
All models are fitted with the Maxxis Minion DHF 2.5 WT and DHR II 2.4 WT tire combination. The carcass is the new EXO+ option but I would have liked to see something more race worthy. Putting Double Down casings on the SX and the flagship enduro race bike, the Advanced 29 0, would have bumped the retail price beyond Giant's target numbers.
US, Canadian & European Retail Prices
| | | | |
| --- | --- | --- | --- |
| Reign Advanced Pro 29 0 | 9,000 USD | 9,299 CAD | 8,500 EU |
| Reign Advanced Pro 29 1 | 5,000 USD | 5,649 CAD | 4,999 EU |
| Reign Advanced Pro 29 2 | 4,000 USD | 4,499 CAD | 4,300 EU |
| Reign 29 1 (Alloy) | NA | NA | 4,000 EU |
| Reign 29 2 (Alloy) | 3,000 USD | 3,449 CAD | 2,900 EU |
| Reign SX | 4,000 USD | 4,299 CAD | 3,799 EU |
| Reign Advanced Pro 29 Frame | NA | 3,499 CAD | – |
If 29-inch wheels aren't your thing, you'll be happy to hear that the 27.5 wheeled Reign will remain in the line. The geometry remains unchanged for the time being.
Frame and Suspension Design
It's clear where the influence of Giant's lessons with the Trance 29 are felt in the new Reign. Similar to the Trance 29 launch, we were told that having 146mm of rear travel on the Reign 29 wasn't a specific target. Rather, the search for quality travel led them to this point and the first prototype was built around a 140mm rear end. The team felt this prototype model didn't adequately serve the Reign name and needed a more aggressive attitude with enhanced capabilities. More length was added to both the front and rear center, a slacker headangle, steeper seat tube and the shock chassis length was increased.
Prototype II better achieved some goals and it was Giant's first carbon frame in the process. For the team, this model was close but still needed improved composure at speed. The third and final prototype moved to a longer chainstay and increased rear-wheel travel as the team strove to achieve their target ride quality. The rear center finished up at 439mm and the leverage curve of the rear suspension is a relatively linear 16.5%.
Giant also moved the main pivot location to provide more space for dropper post extension length. I'd be surprised if tipping the seat tube forward to 76.8 degrees didn't also influence this move. Each frame size also comes with a different amount of post drop, with the small featuring a 100mm, medium 125mm, large 150mm and the extra-large, 170mm.
In addition to working on the suspension and overall length of the bike, Giant also spent time assessing bottom bracket drop. To achieve the stability and composure they were after, Giant dropped the BB to a 30mm drop for prototype two. Many riders will be aware that lowering the center of gravity increases stability at speed. Something that I've recently found on some test bikes is that it also makes the bike feel bigger by increasing the distance between the hands and feet.* This was immediately noticed when setting up on the Reign 29.
*This is provided the reach and stack are similar to what you're used to
I also discussed seat tube length with their team and when asked why they didn't go lower to provide more space, was informed that Giant doesn't want riders having to deal with seat buzz. They rightfully see it as a safety concern – having your rear wheel lock temporarily under a deep compression is never a good feeling. Giant feel the current lengths are as low as they can go without introducing seat buzz at full compression, with a fully slammed seat. Nevertheless, on the larger frame sizes shortening the seat tube shouldn't have caused issues.
Giant noted the primary focus for the rear suspension was to provide grip while maintaining composure. They claim the suspension works best with 30% sag but also said there's room on either side of this. There's also variation available through the damper, allowing the bike to ride quite differently. An example is the stuck to the ground grip that EWS team rider, Josh Carlson prefers compared to the more dynamic, quick responding characteristics that Youn Deniaud likes. Carlson wants the bike to take the edge off unexpected hits while Youn wants to quickly move the bike away from such impacts, with minimal effort.
For either preference, Giant has striven for a smooth, active suspension setup, incorporating a longer stroke, with a 205 x 60mm shock delivering the 146mm of travel. And while they recommend setting the bike up with 30% sag, I also tried 28% sag for comparison. More on that in a sec.
Geometry
Following many recent bikes Giant went the longer, lower, slacker route and threw in a shorter fork offset for good measure. When they first released the Trance 29 last year, plenty of keyboard warriors were up in arms. Previously they stuck with 27.5 but thanks to the death of the front derailleur, Giant says they're better able to work with larger wheels.
With the XL I tested, Giant has one of the longest production bikes from a major manufacturer. At 516mm reach, it's still 4mm shorter than my GeoMetron G16, but throw in the -30mm BB drop and it felt bigger. The 76.8-degree STA positions the rider in a better climbing position and with the Reign being an all-mountain weapon, it needs to get uphill too.
The slightly longer than average 439mm chainstays also help climbing capabilities. Combined with the 65-degree head angle and shorter, 44mm offset of the Fox 36, handling felt quite neutral. All sizes share the same seat tube angle, head angle, BB drop, and rear centre – no size-specific rear centre adjustments here. I found the 637mm stack of the XL about average, with some room for movement up or down. The combination of -30mm BB drop, 516mm reach and 637mm stack made for a longer spread – the measurement from center of BB to bars – than I'm used to but in time it became comfortable.
First Ride Impressions
Giant had the media squids come and check out the new Reign 29 in Revelstoke, B.C. With the bike targeted at aggressive all-mountain riding and enduro racing, Revy seemed like a perfect location. We spent our time riding Mount MacPherson the first day, starting on mellower loops to get acquainted and feel out the bike's climbing characteristics before finishing on a steeper descent. Day two on the bike was spent using a helicopter to gain elevation – something I'll never complain about – and finished with more than 2,000m of descending.
It took me longer to get comfortable on the Reign 29 than most bikes. I've found whenever I ride something where the spread is switched up – whether longer, or the angle of the line from BB center to hand position changed – it can throw me through a bit of a loop. It's something you get used to in time but it also meant that the Reign 29 initially didn't feel the most natural to me. Nevertheless, after a bit of time on the trail, things began to mesh. I also immediately noticed the standover is taller than I'm used to. The XL is a pretty tall bike and although built for tall people, it would be nice not to have the top tube at knee level.
Starting with Giant's recommendation of 30% sag I struggled to feel where I was in the stroke and promptly began making changes to the damper to compensate. Adding more compression and opening up the rebound helped but I wasn't getting the feel or control I wanted. I prefer to run my suspension lighter on the damper and use the spring to get the support so I added air, settling on 28% sag. This was achieved with 188psi and once the damper was adjusted to compensate, the bike felt good. No one I asked was sure how many volume reducers were in the shock, which is something I'll try adjusting when the long-term review bike arrives.
The following day involved trails with more feedback. Long root-infested sections challenged the level of grip the bike was capable of and it performed well. Even with the firmer setup, the grip was great and whenever I pushed hard into the bike it grabbed and shot me forward. The bike was lively and quick to respond to input, while still taking the edge off big hits and deep compressions. The -30mm BB drop means a bit more effort was required to get the bike on the back wheel but it's by no means difficult.
It's only a couple of rides but the new Giant Reign 29 is certainly an interesting bike. It's properly sized for larger riders, the suspension is very active on the trail and it doesn't feature anything wild in terms of shape. I'm looking forward to spending more time on the long-term review bike, which I hope will be the more affordable Reign Advanced Pro 1.
More on the Giant Reign 29 is available on the Giant website.