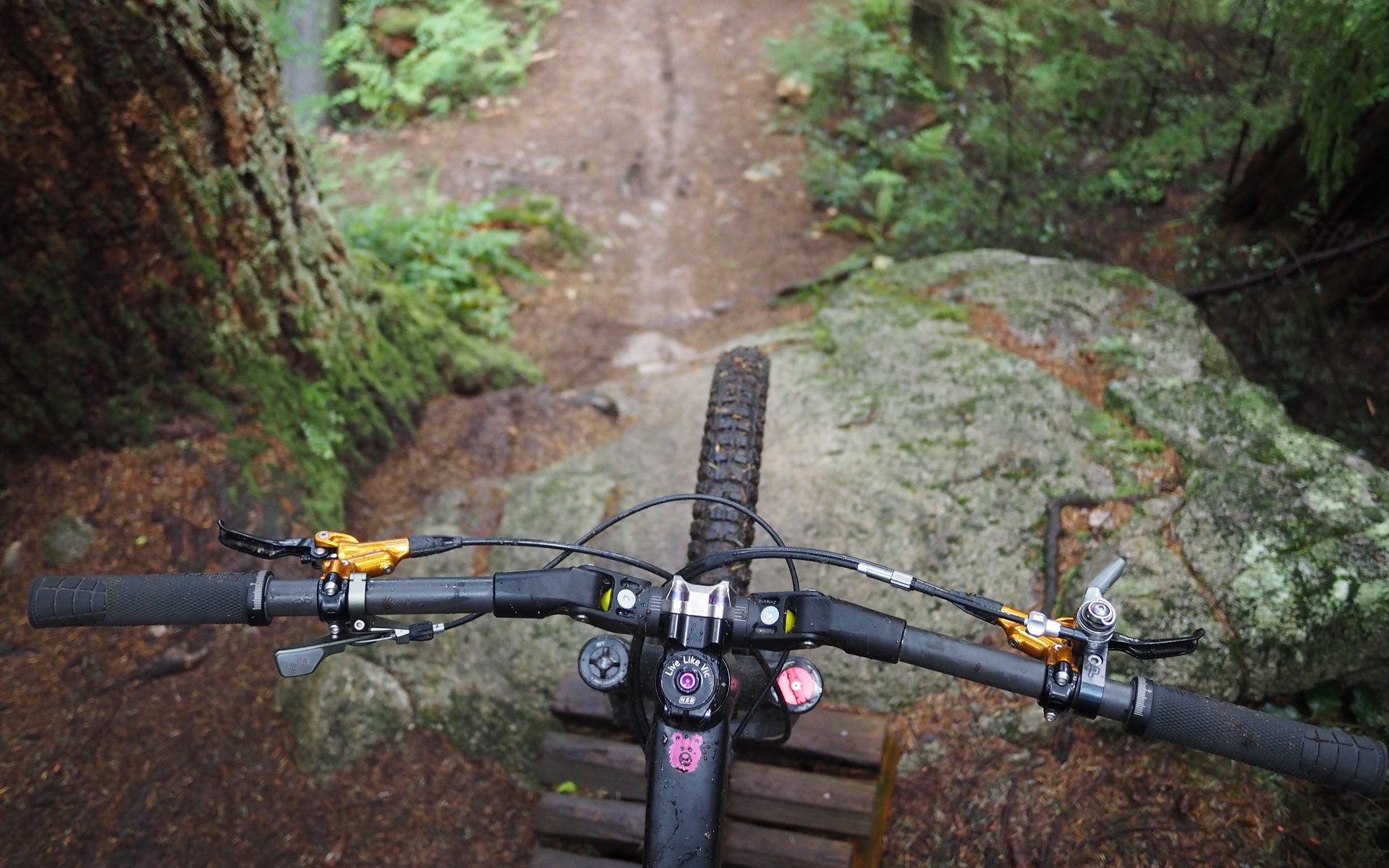 REVIEW
The 12° Fasst Flexx Suspension Handlebar
Suspension In Degrees
Oh, the bikes this Fasst Flexx bar has seen. Full suspension bikes and hardtails. Budget suspension, Gucci forks, and rigid forks. Multi-speed sit & spin. Single-speed stand & grind. Skinny tires, Plus tires, DH tires, CushCore inserts, no inserts, and even tubes! Testing the novel USA-made carbon suspension bar just seemed to require a look at every different use case that came along.
This is a follow up on my first look at the Fasst Flexx Enduro bars. If you haven't already, I would suggest hitting that piece first as I'll be building on some of the ideas I discussed. For the folks that just want to keep rolling forward here's a brief rehash:
"These Fasst Flexx Enduro bars come uncut at 800mm and they're available in an 8° backsweep or the 12° backsweep I'm testing. They're made in Washington County, Utah, with 7075 aluminum linkage assembly, titanium pivot hardware, and the handles themselves are bonded in USA Made UD carbon fiber. These are not intended as a suspension replacement but rather as a complementary component that adds damping at my hands, helping take the edge off of rough tracks without changing the feel of the bike.
There's nothing really new here as Fasst Co is a Powersports company and they have been making similar products for "abuse reduction" on dirt bikes and ATVs for years. The concept is straight forward in that bars can pivot in the same load path as a suspension fork but they're aggressively stiff in the fore-aft steering plane."
The Enduro bar has 5° of suspension out of the box and I cut them down to 780 from 800. I get the heebie geebies every time I cut a carbon bar but everything went fine with my Park cutting guide and a fresh hacksaw blade. I know there are better tools for the job, but cutting carbon is not a common activity in my home shop.
On that note, Fasst Flexx will have an aluminum version of the bar out by the Fall in both the 8° and 12° options. It will still be made in the USA and will knock about 100 USD off the price. They are also working on higher rise versions as it's a frequent request. No date on those yet but I'll keep bugging them as I'm planning to buy one for myself.
The current bars have 25mm of rise. On every bike, I started with my cockpit 5mm higher than with a rigid bar. With the proper spring rate, I never noticed the bar moving while I was riding but in bottom-out situations my hands would feel a bit low.
With the bars cut to 780mm it was testing time. I'm never terribly scientific but in order to discuss performance between a fair number of different platforms I stuck with the same set of grips for most of the test, and I rode every bike with them. My first couple of rides were on a well-worn pair of Ergon GE1 Slims and from then on I was on a pair of small SQLab 70X grips. Normally I would have been running push-on grips but not all the bikes had hinged controls so that wasn't an option.
Also under testing protocols, I wanted to note the difference with and without the Fasst Flexx bar so I didn't vary suspension or tire pressures when swapping between a static and suspension bar. I imagine this will be most folks' experience in the wild as well. With the proper spring rate, I never noticed the bar moving but at the end of every ride, with every setup, I noticed the bar working.
Sometimes working meant I was a bit less fatigued at the end of the day, which wasn't enough to justify the cost and complexity of the bar. Other times it made me wonder what the heck was wrong with my suspension fork and or settings. With my 180mm/150mm setup it was a fatigue reducer on long days and with less travel and less impressive suspension performance the benefits are more and more notable.
Tuneability
Whether mated to a 7" travel suspension fork or mounted to the front of my rigid bike, I settled on the same elastomer configuration. To me, it's proof that the folks at Fasst Flexx know their product as they were certain that the firm would be the best choice out of their four current options. I say current options as the colours will be changing in the future to match their moto lineup. Currently, the firm I've been running is yellow, however, in the future, the yellow coloured rubber will be a softer medium rate.
Swapping out elastomers is quick and easy although best done the night before a ride so the Loctite can cure. It's one of the few jobs that I actually got out my torque wrench for and that's definitely the best practice here. Fasst Flexx also recommends checking the bolts once in a while, which really applies to every bolt on your bike including the ones holding on your bottle cage*.
*I recently lent a total stranger my multi-tool on the trail so he could tighten the loose, and rattling, bottle cage on his 9k mountain bicycle, and he didn't even seem a little bit embarrased.
I was so happy with the firm elastomers I was running that I wouldn't have changed them at all if not for the sake of this article. I ended up trying one softer rate and also mixing and matching colours of compression and rebound bumpers and at the end of the day I went back to running full firm.
I bring it up because, like tires and shocks, softer isn't necessarily better for comfort or traction. With a softer rate I could feel the bar moving vertically when mashing out of the saddle, up and down, and I could also hard bottom it on occasion. One of my riding buddies who tried both setups I used suggested Fasst should offer something in the middle but I think there's enough range over four rates, and 5° of travel, that most people will have no problem picking a preferred combo.
Fasst Flexx will sell you fresh elastomers if yours start to wood-up a bit and fresh hardware if you're bike parking hard and want to treat it as a wear item. Because the bar is moving rather than absorbing shock itself, it should have a lengthy lifespan without trail trauma. Even then, in my experience companies that come from a moto or BMX background tend to be more focussed on durability than gram counting.
The bar carries a 2-year warranty and a 30-Day Guarantee but aside from the ink, it's obvious the crew cares about their products and has paid attention to customer requests for more sweep, more rise, and a less expensive aluminum option.
The Use Cases
I have two very high-value use cases for the Fasst Flexx bars and both of them mesh nicely with the release of the 12° version. The first is the rider struggling with their hands, or arms, on rugged trails and sustained descents. Whether it's from working with their hands all the time, age, or any number of other factors I know quite a few riders who are in this boat.
There are a lot of things to try from fatter tires at lower pressures, to CushCore, to different grips, and even custom fork valving and I think riders who are seeking ways to keep riding, will have a positive experience with the Flexx bars. In the same vein as an SQLab Active Saddle, if the bars don't offer a massive improvement it may be hard to justify the investment. If it's the difference between cutting rides short, or quitting altogether, I think most riders will find the 425 USD.
The second, though not the general purview of NSMB, is gravel riders who are considering adding suspension and prefer a flat bar setup. For what you're going to spend on a 40mm travel suspension fork, like the Fox AX, not to mention routine maintenance, the Fasst bar is a no brainer. It won't mess with your dialed fender setup and once your handlebar bags are all strapped on no one will even know it's there but on long rides on a rigid fork, it dampens terrain even when paired with 2.8" rubber. It's also a no brainer for the rigid-forked mountain biker looking for an extra bit of low-maintenance comfort.
For many riders, 425 USD could be put towards more immediately noticeable improvements like brakes, suspension service, fresh rubber, or good tire inserts. I'm not suggesting you wouldn't notice some benefit from the Fasst Flexx bar, but the investment in cash weight, and complexity may not present a great value. I loved it for my rigid bike and appreciated it everywhere else but not to the extent, at this point in my riding, that I would invest the cash. This is especially true on a high-performance full suspension bike.
If you're looking at your hands, wrists, forearms, elbows, or etc right now and wondering if this bar could be a difference-maker in managing old injuries or repetitive strain issues then I will be very surprised if you regret the investment in weight (440 grams), price (425 USD), or time (checking the bolts once in a while). There's a bunch of information at Fasst Flexx and of course, I'm happy to answer any questions in the comments.