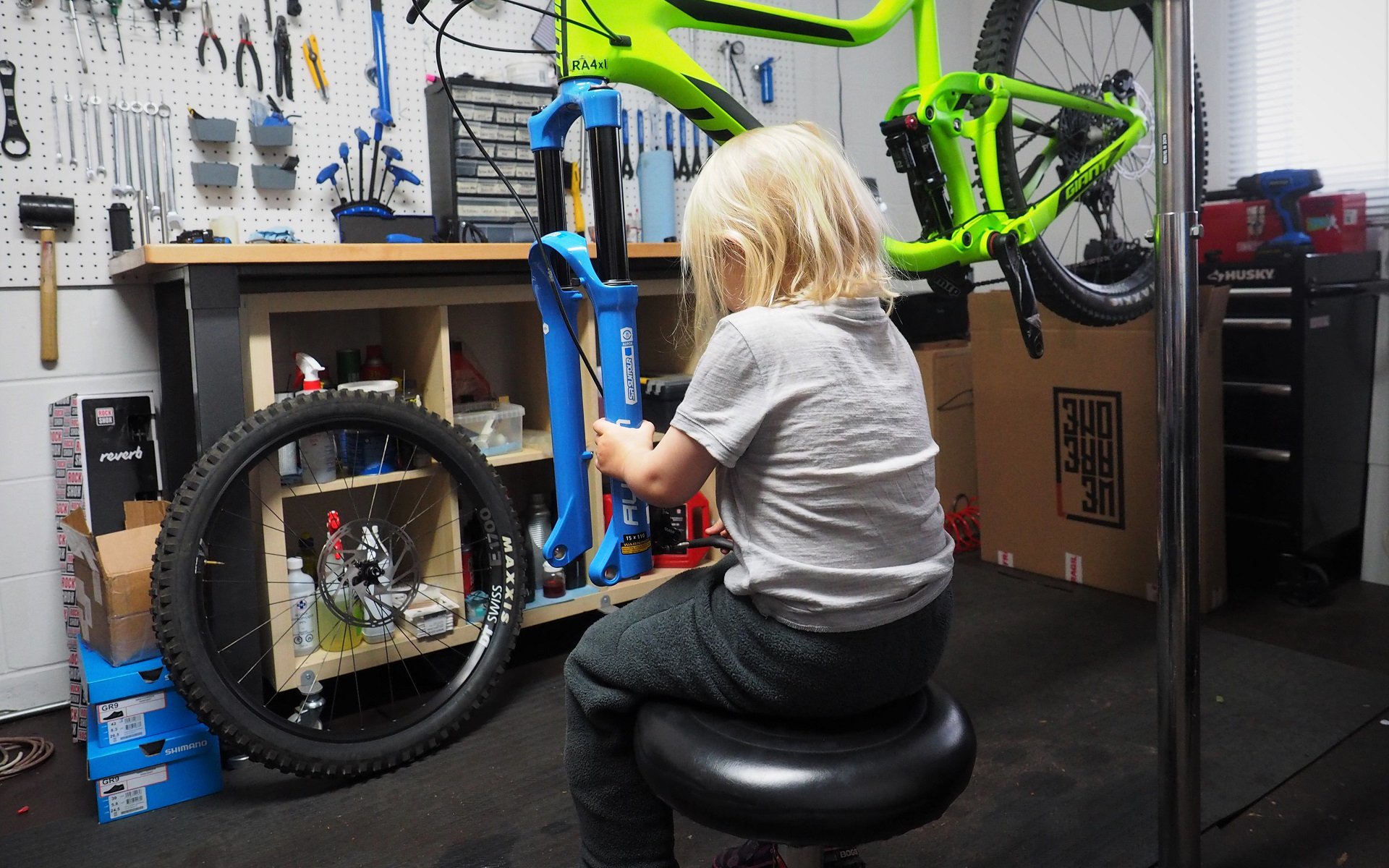 EDITORIAL
Ten Things Wrong With Your Bike - A Spring Service Story
Play Along At Home
If none of the things below apply to you, well, you're probably riding a fully-fresh rigid single speed. Or, I suppose it's also possible you're fully up to date with your bike maintenance. Pat on the back for you! Crack a beer. Also, please share a witty story about a hilarious, preventable, mechanical one of your riding buddies had recently, and fire us a comment below so we can all have a good laugh! I know you have one.
For everyone else, trust your instincts. Here are ten prompts for maintenance that you probably don't want to defer or have possibly even never thought of doing. Have a look and then let us know your score out of ten - the lower the score the better. The more bikes you own, the more possibilities you have to score points; who says the one-bike-to-do-it-all never wins anything?
Unfortunately, between two bikes I scored 5/10. One chain, two pairs of brake pads (one bike), one bottom bracket, one pair of Trunnion mount bearings, and a pair of pedals needing a rebuild. So much for my reputation for being on top of maintenance.
Your Pads Are Metal
No, not a metallic compound. Your brake pads are quite literally metal backing plates. Your brake system wasn't designed to run with the pistons out this far but you probably haven't noticed the loss of power if your backing plates rubbing your rotors hasn't drawn your attention. There are a few different go/no-go scenarios on pads, and some brakes don't work great past about 30% pad remaining, but as a general rule if there's less than a dime then baby it's time.
Check your rotors while you're at it. Yes, they do wear out over time and yes the manufacturers' minimum width is there for a reason. If you've never seen a brake rotor fail then count yourself lucky. It's almost impossible to keep your mouth shout and the owner sh*t talks whichever brands rotor he wore down to the width of a butter knife.
Oh, and like a fresh set of pads, replacing the rotors aren't just to prevent a trail-side haranguing from your friends, and random strangers. No, along with a brake bleed they're a relatively cheap performance upgrade that can pay immediately noticeable dividends on the trail. Basically, the opposite of carbon headset spacers.
Your Handlebar Is Tired
I try not to provide unsolicited bike advice on the trail and I'm generally very, very, successful but once in a while, I crack. I'm top of Upper Oil Can on Fromme - pre-social distancing - when two visitors roll up and ask me if they're almost at 7th Secret. From a few feet away I can see the Terrible, Horrible, No Good, Very Bad DIVOT out of one of their carbon handlebars.
Me: "Ummmm, did you know there's a chunk missing out of your handlebar?"
Rider: "Oh yeah, no worries it's still under warranty so if it breaks I'll get a new one."
I lost the power of speech and solemnly pointed up the road like the grim reaper. Off they went. I kid you not when I got home I took off my handlebar, cut it in half, and bought a replacement. The truth is I wasn't exactly sure how old it was and I knew I'd be thinking about it on every ride going forward.
Warranties against defects in manufacturing and materials, end-of-life testing, that's all great stuff but a good handlebar is not expensive in the grand scheme of mountain biking, and if yours has taken a kicking maybe it's time to treat yourself? I'll also repeat my recommendation that you replace the handlebar on any used bike purchase.
Your CSU Creaks
In reality, it probably doesn't; however, if you think your crown steerer unit (CSU) has a click or a creak then there's a 99% chance that you're right and you definitely want to do something about that ASAP. I know what you're thinking, and no, no it is not a good idea to just keep riding it for a bit.
Shops used to make that recommendation in the good old days when creaking CSUs indicated an issue with the stanchion-crown pressfit interface. In reality if your fork caps were tight, the stanchions couldn't pull out or push through so the chance of failure in short order was slim-to-none. Put another way, long before approaching the failure mode from creaking stanchions your riding friends would have buried you 6ft under the ground because the crick-crick-crick-CRACK-CRACK-crick every time you grabbed your front brake would have driven them insane.
Modern times are not quite so simple and I have witnessed multiple creaking CSUs, from multiple brands, where the issue is the steerer-crown interface. And indeed I have felt with my own two hands the wiggle of loose pressfit steerer tube. It's f***ing scary.
A new CSU, hell a brand new edition of the most expensive fork on the market, is way cheaper than a single new tooth never mind all the other life altering shit that could happen if your crown rotates around your steerer tube while riding.
If you think it creaks, get it checked.
You Need Fresh 'Onion' Mount Bearings
Full disclosure, I've been anti-Trunnion mount for a while now. I've owned a few full-suspension bikes previously that absolutely ate DU bushings but that's what DU bushings are supposed to do. They're like replaceable derailleur hangers* in that they die so the more expensive components - the frame and derailleur - can live on. I bought a press tool that fits in my vice and a bag of DU bushings and paid it no mind going forward.
I'm not saying that the trunnion design eats shocks. I'm also not saying that combining a hard-mounted shock body with a Trunnion Mount is a guarantee that a regular rider will be buying their air shock a shaft, body, and air can every year. But plenty of riders know exactly what I'm talking about.
*Speaking of which, your derailleur hanger probably isn't straight but that didn't make the list. Maybe check it too.
The only way to avoid it happening is to semi-regularly un-bolt your shock and check those trunnion bearings. They don't rotate much so they tend to get pitted in no time. If they don't spin beautifully then knock them out, press in new ones, and start the process again.
Keep spares on hand and if you don't own bearing press, a piece of threaded rod, some nuts and washers, and the right-sized socket will do. For the home wrench, I've used Boca's Bike Bearing Installer and it's a very useful tool for not a tonne of scratch.
Your Sealant Is Dried Out
Oh, you just replaced it? When? Yeah, it really was six months ago. I move tires around fairly frequently and I'm regularly surprised how quickly sealant dries up. I need all my fingers and toes to count the number of times I've witnessed a tubeless tire that wouldn't seal a cut on the trail because there was no sealant inside. It can also be a key factor in whether tire plugs work or not when those punctures are particularly bad.
It's my stated goal to never again install a tube on the trail and on my wheels without tire inserts, part of reaching that goal is staying on top of sealant. I haven't actually put together a good strategy yet but if it comes down to it I'll set an alarm to pop the beads every month and check.
I'm interested in others methods and experiences as well.
Your Rear Hub Needs Love
It may not need bearings. Actually, it probably doesn't. But, your hub's drive system absolutely needs some lube. There's a massive difference between a loud hub that's running through its infinite engagements and a loud hub that's screaming for early death as it's drive system components run dry against each other.
And don't be smug silent clutch hub people. At least a pawl hub tries to fight back while its guts are being ground into dust instead of accepting its negligent end times with silent approval.
Many, even most, rear hubs on the market today - whether high-end or more basic - are not difficult to service when it comes to performing a basic clean-and-lube of the drive system. It's also a great chance to check the hub bearings and see if any of them need replacing. Keep a particular eye on the hub shell bearing behind the drive system as those tend to go first unless you're lucky enough to own Chris King.
Your Chain Is Worn Out...
...and probably your chainring too. Your next cassette is going to cost more than a gearbox, so you'd best think about keeping it fresh as long as you can!
There are a lot of theories about chains. Some folks rotate through a couple of chains switching them out every few rides, some people buy the cheapest chain they can find and swap it frequently, and some people buy the super-premium chains and run them for a long time.
Chain replacement theories aside, it's absolutely true that as chains wear from sideloading they produce notably more drag in the extreme gears along with a bunch of extra, and annoying noise. The obvious solution is to switch to a single-speed with a perfectly straight chain line. No? Okay, the obvious solution is to look at ways to space your chainring inboard if you spend a lot of time cranking in the low gears.
If you're in your 50t or 51t all the time on climbs then it's time to consider a smaller chainring. Your chains and cassettes will both last longer it's always nice to have a bailout gear in reserve. As you drop to a smaller ring size clearance inboard clearance gets more generous on most bikes so a 30t, 28t, or even 26t in a non-Boost offset will give you much better chainline, and chain life, in the gears where you spend the most time and lay down the most consistent torque.
Your Bottom Bracket Is Shot
There's an old joke that a single-speeder never needs to worry about their bottom bracket getting seized in their frame because they change it every three months. It's not really that funny but it's a great education in all the ways bottom brackets die. My latest one spun amazingly in the stand but felt like the bearings were packed in clay when I loaded the pedals. My brother, Crash Test Kevin, currently has one that spins beautifully but sounds a bit like sand pouring down through a funnel.
The point is that whether your bottom bracket is a threaded BSA unit or some other standard, that will hopefully soon be dead as it's abandoned in favour of BSA, there's a halfway decent chance it's due for a replacement. Unless you have a Chris King bottom bracket in which case it's a solid bet you're due for a regrease. And if you are due, or overdue, for some bottom bracket love it's a really cheap way to enhance performance.
Your Pedals Need An Overhaul
The scar has faded, but every time I look at my right calf I can still feel the burn and see the blood trickling down. I was cornering hard to the right when my XTR pedal body pulled off the spindle, still clipped into my shoe, and I dragged my leg down the exposed spindle threads. I had reliably used Shimano pedals for years including the fantastic prior version of their top-end pedals - which I still have in circulation - and rarely even gave a thought to regreasing them. Such is the price of an education.
The whole experience was a bit like getting bitten by a long loyal and good-natured pet. For the following year, my pedals actually became part of my routine bolt checks, and even now as soon as they develop the slightest amount of slop I remove them right away for rebuild whether they're clip-in or flat pedals.
I'm not suggesting that anyone take it to that extreme but at least reach down and give your pedals a wiggle once in a while. The number of sloppy pedals, especially flats, I've noticed is surprising in terms of their owners seemingly not being aware and scary, for the same reason. Loose lock-on grips and pedal bodies falling off are the stuff of nightmares.
Your Shock Damper Is Blown
Regardless of what type of spring you're using, there are few exceptions to the fact that as you approach the 100hr service interval on a shock damper the performance degradation is exponential. Some shocks, ridden hard, start to perform like crap halfway to the recommended interval. Without damper support, it's impossible to get a spring rate that works properly - air or coil - and none of the quick fixes that folks try from air-can lube to volume spacers, to progressive coil springs on frames that really don't need them and so on are will solve that issue.
I understand why so many riders are resistant to servicing forks, shocks, brakes, and so on. There's no instant endorphin rush from spending money on something we already own. But, the difference that smooth and supportive suspension makes to a bike is huge.
For most of us Joeys rolling around in the woods, a good-enough suspension setup isn't exactly rocket surgery. First the stuff needs to be in good condition. Dampers need to damp, adjusters need to turn through a usable range, and slidey bits need to slide smoothly. Then bracket your settings based on one simple rule: your fork needs to be firmer (less sag) and faster (rebound) than your rear shock. Boom.
Score Card
So how'd you do?