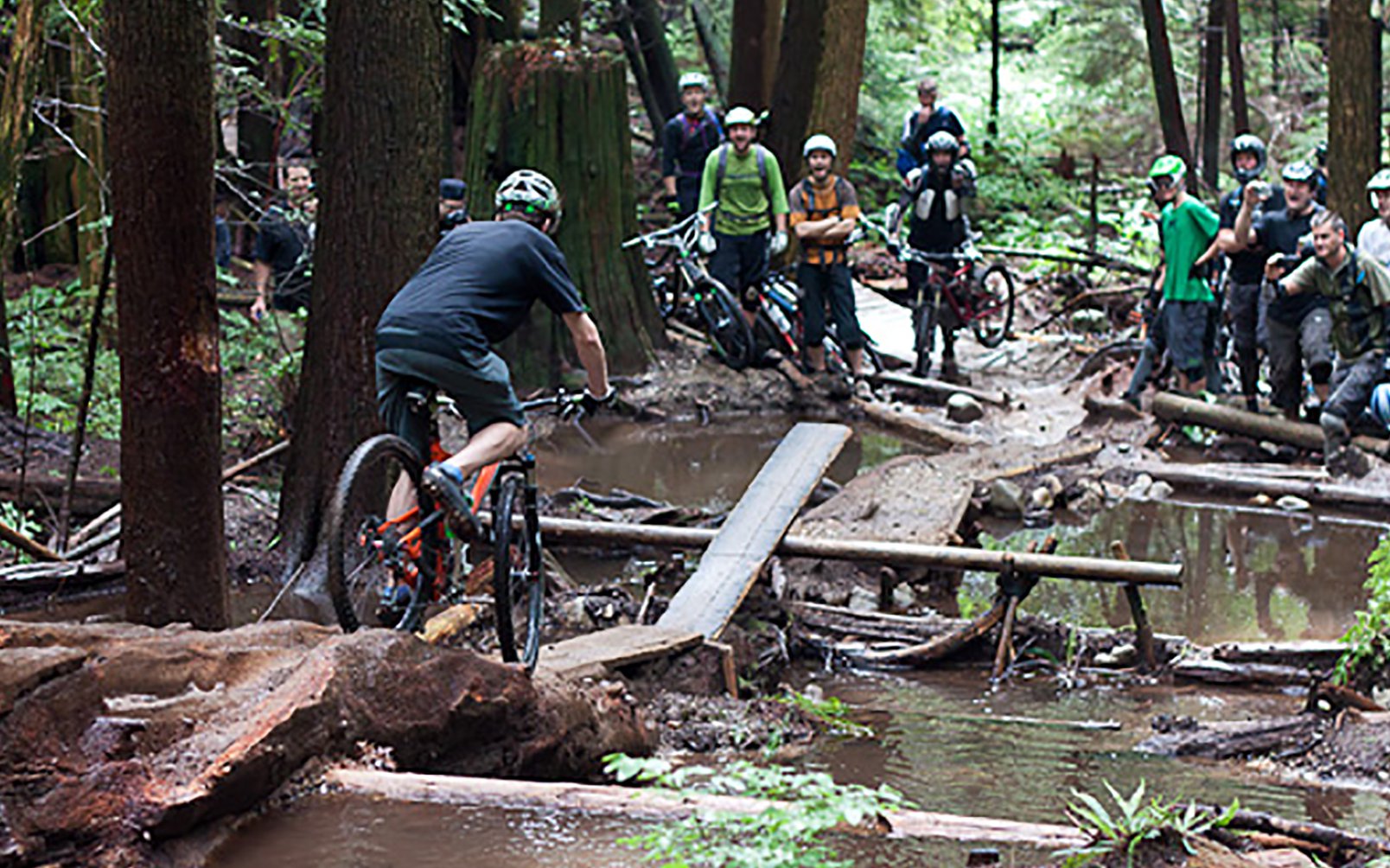 News
Teeter Totters Live On! District Reverses Decision
Days after the District of North Vancouver officially announced that teeter totters would be removed from mountain bike trails because of liability concerns, the decision has been reversed. Mayor Mike Little, speaking to the North Shore News said, "I have no interest in seeing our public lands sanitized from risk and therefore sanitized from recreational usage."
The plan is to mitigate risk by ensuring there are alternate lines (already in place in most cases) and to add appropriate signage. This seems to be a solution everyone can live with.
Todd "Digger" Fiander, the man who put the first teeter totter on his trail Ladies only, was understandably pleased with the decision; "I think it's great. It's a great thing for the North Shore. I personally would like to thank everyone who took the time to email or sign the petition or go on TV to support the teeter totters on the North Shore."
Once you see a piece of wood with a fulcrum that bikes can ride over, the idea seems obvious, and they can now be found all over the world, but Digger thought of it before anyone else: ""I was trying to put a unique bridge on each trail that I built. A wooden bridge, a concrete bridge on Grannies and there was a space between two logs and it had water running through it and I thought 'I want to come across this log and I'm going to put a teeter totter on it.'"
Despite keeping the decision from the public, the District had been speaking to trail builders for a year and Digger was prepared; "I was ready to take it out but after watching people ride it and smile it puts a smile on my face. And when I saw riders coming down to see who was riding it - there was kids and women and it used to be just the macho guys riding it. Now it's everyone out there riding it and having a good time." He also played down the liability exposure, "I don't think there was a risk problem. The teeter totters we have here are low angle. They are almost level and that is a safer teeter totter compared to riding up something steep."
Lee Lau is a mountain biker, former president and founding member of the nsmba, and a lawyer. Here's what he says about his legal expertise in this area; I am a lawyer whose main area of practice is in technology; specializing in commercializing intellectual property. I also do a fair amount of trail-work and volunteer time in trail advocacy hence my interest in all things legal and mountain-biking. Having said that I have no personal expertise in personal injury law (other than a keen interest) so my comments on the OLA and all related decisions are very general in nature. Furthermore although I am a lawyer I am NOT your lawyer. Do not take any of this article or any comments I may make as legal advice.
Despite the proviso, Lee is incredibly knowledgeable about these issues, and he often knows more than the so-called experts. I wanted to get his opinion on this situation and the process that lead to this mess.
NSMB - You seem to believe the decision to remove the 5 teeter totters on North Vancouver trails was flawed from the beginning. What mistakes do you believe were made in analyzing the exposure to risk the District is subject to?
Lee Lau - The DNV is insulated from liability by operation of the BC Occupiers Liability Act. With respect to trails on DNV lands, the DNV has a "relaxed" duty of care under the BC OLA to not undertake or allow actions to be undertaken which are designed to create a danger or act with reckless disregard. This is a very high bar to negligence actions. Unlike "standard" duty of care where the DNV would have to ensure trails are safe; the BC OLA prescribes that the DNV (or any land manager in BC for that matter) is insulated from liability for trails on their land unless they undertook actions to deliberately injure trail users.
NSMB - Aside from the obvious differences between a municipal park and a wilderness black diamond mountain bike trail, you have indicated differences in the law in Ontario vs. British Columbia. Can you tell me about that?
Lee Lau - The Ontario and BC OLA are almost identical. This is not an accident. When the Trans-Canada trail came into being all provinces enacted a version of the OLA to allow land owners and land managers to put the TCT through their lands without the fear of liability and litigation. That landowner/land manager would only be liable for injury if they went about their business in a way to deliberately injure a user of the TCT.
However it is a matter of law that Ontario courts interpret Ontario law; BC courts interpret BC law. BC courts have interpreted the BC OLA in a way which almost completely immunizes land managers from liability for injuries on recreational trails in rural premises outside urban settings (hint - the Shore trails are in rural premises outside urban setting). Ontario courts have taken a different approach. Ontario courts have been the courts most likely to ignore Canadian traditions of assuming risk and instead have adopted a quasi-American propensity to nanny-state risk; expanding the ability of litigants to sue Ontario land managers/land-owners.
NSMB - It seems the District put all their faith in a risk management firm without consulting local riders and trail builders about the differences in these situations. Would you say that's accurate?
Considering the District decided to remove these structures based on advice from a professional risk management firm, what would you say about that firm?
Lee Lau - If the firm cited Bruce County in their opinion to the DNV it would be incumbent and professionally responsible for that firm to note a very crucial distinction in the Bruce County case that made that decision. That caveat would be that the Bruce County teeter totter was located in a trials park section in a mountain-biking skills park. This is very obviously a far cry from a teeter-totter (or for that matter any structure or any aspect of a trail) located on a trail. Bruce County was decided on standard negligence principles with the higher "standard" duty of care responsibilities imputed to Bruce County. Perhaps if the Bruce County teeter totter was located on a trail then it would have been decided on "relaxed" duty of care principles with the very very low duty of care imputed to Bruce County. But that is speculation since the public record doesn't indicate that pleadings were made to advance that argument.
If the DNV's risk management firm cited the very different negligence principles in re Bruce County vs Shore trails and the DNV (or its insurer the MIA) chose to ignore that advice I would be curious as to why a BC land manager and BC insurer would look to an Ontario court applying legal principles that were irrelevant to BC trails for guidance.
If the DNV's risk management firm did not cite the very different negligence principles in re Bruce County vs Shore trails then I would be very curious as to why they made that decision.

I can't comment on the quality of that risk management firm's advice without reviewing their full opinion.
NSMB - What would you say are the primary mistakes the District has made in this process, in terms of communication, execution and decision making?
Lee Lau - I can't comment on that since I have had no interaction with the DNV on this matter other than through media reporting and I'd have to look to my own first-hand interaction with them to have any opinion that isn't a knee-jerk response.
I would however say that it is curious behaviour for a land manager managing public lands to not consult with user groups of said lands before undertaking management actions with respect to such lands. Perhaps the DNV needs to remember that they are stewards of land for the public.
---
Cooper Quinn, current President of the nsmba, had this to say about the last minute reprieve given to these features: "Teeters are not only part of the history of to Shore, they're part of the history of mountain biking as we know it - what happened here changed the sport globally. Legacy and history alone aren't a reason to keep something, though. The community used its collective voice to show these features are still relevant and important to riders today, and we thank them for speaking up, and many thanks to DNV Staff and Council for listening. "
---
The last word goes to another former nsmba president, and current member of North Vancouver District Council, Mathew Bond.
NSMB - Can you tell me how the decision was reversed and by whom?
Mathew Bond. - I raised the issue with my colleagues on Council and the Mayor. The Mayor called a meeting this morning with senior staff and the insurer and it was agreed that all parties could work together to mitigate potential risks and liability without removing the trail features.

NSMB - It seems there was no public consultation on this and that this mess could have been avoided with more communication. Do you agree?
Mathew Bond - Generally, legal and liability issues aren't brought out for public consultation. At the same time, Council wasn't aware of this policy direction until very recently. Risk management should be based on professional opinions and the values, acceptance and tolerance of the broader community. I expect there will be changes on how issues like this are managed in the future.
NSMB - Are there some recommendations to be made to staff about handling these kinds of issues? I believe the Griffen Switchbacks were handled similarly, with staff misleading stakeholders and the public about their intentions.
Mathew Bond - Council will be discussing what changes might need to take place.

NSMB - It seems there were several mistakes made by the risk assessment team. Equating liability in a public municipal park and a relatively remote black diamond mountain bike trail doesn't seem to make sense. How can we encourage District staff to engage mountain bikers in decisions that will affect us?
Mathew Bond - Be active and vocal. Work with and support the efforts of the local trail association and don't by shy to reach out to staff and Council yourself to share your thoughts. There is a commitment from Council to communicate publicly before any changes similar to this might be proposed.
NSMB - Is there anything else you'd like to add?
Mathew Bond - As a rider myself, it was great to see the Mayor and my colleagues express their support and recognition of the importance of our sport, the trails and their unique features to the fabric of our community. Like we did when CMHC was planning to shut down trails on Seymour a few years ago, it is reassuring to know that people who ride will step up and have their voice heard when it is needed. Maybe if more people did that more often, the community might get an even better trail system?
Level heads have won the day thanks to hard work from many individuals, open-mindedness from local politicians, and to all the mountain bikers who made their voices heard! Long live the North Shore!