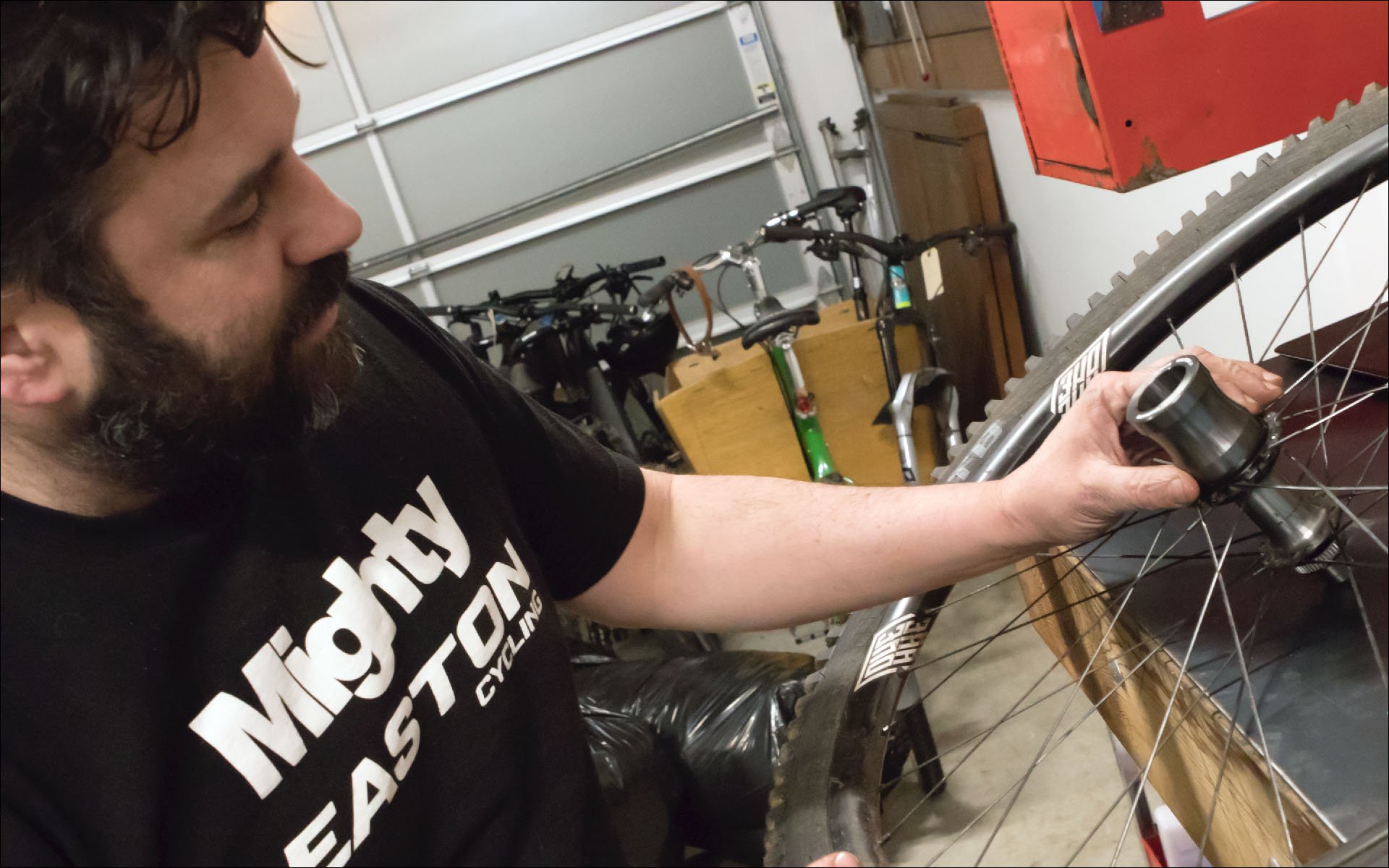 Teardown and Overhaul Procedure
Teardown - Shimano XTR M9100 Hubs
I wrote recently about rebuilding a bike for my sister-in-law, and how it made me realize how clean and straightforward many elements of modern bike maintenance are, with the obvious exceptions of hydraulics, electronics, and suspension. There are certainly bits I miss however, and one of them is the satisfaction of overhauling a set of cup and cone hubs. This got me thinking about the XTR M9100s on my Yeti SB150 and doing a teardown article with (surprise!) the incomparable Jeff Bryson of Wheelthing here in North Van.
This is an area I have experience with, but Jeff is the sort of mechanic who has travelled on theEWS circuit and wrenched for the Canadian team at World Championships. On top of that, I can take photos while he reveals the many tricks up his sleeves.
When I got in touch with Shimano about sourcing replacement bearings, which are caged in nylon rather than loose, they wanted to make sure I had all the right tools. They sent some cone wrenches (22mm for most of this job), a gratuitously pretty seal press, some made in Germany grease, some seal grease (who knew?) and of course the bearings needed. The Shimano tools are very nice, and the seal press works well, but nothing proprietary was needed to do the job. Another brand of cone wrenches will work just fine, and the padded blunt end of a crescent wrench or something similar would replace the press adequately if used carefully.* I'm not sure about the seal grease, but another high quality bearing grease could replace the Shimano lube.
*Nick Murdick from Shimano told me that it's quite easy to bend the metal spine inside this seal and almost impossible to straighten it once it's bent, so clearly the fancy tool is the best way to go.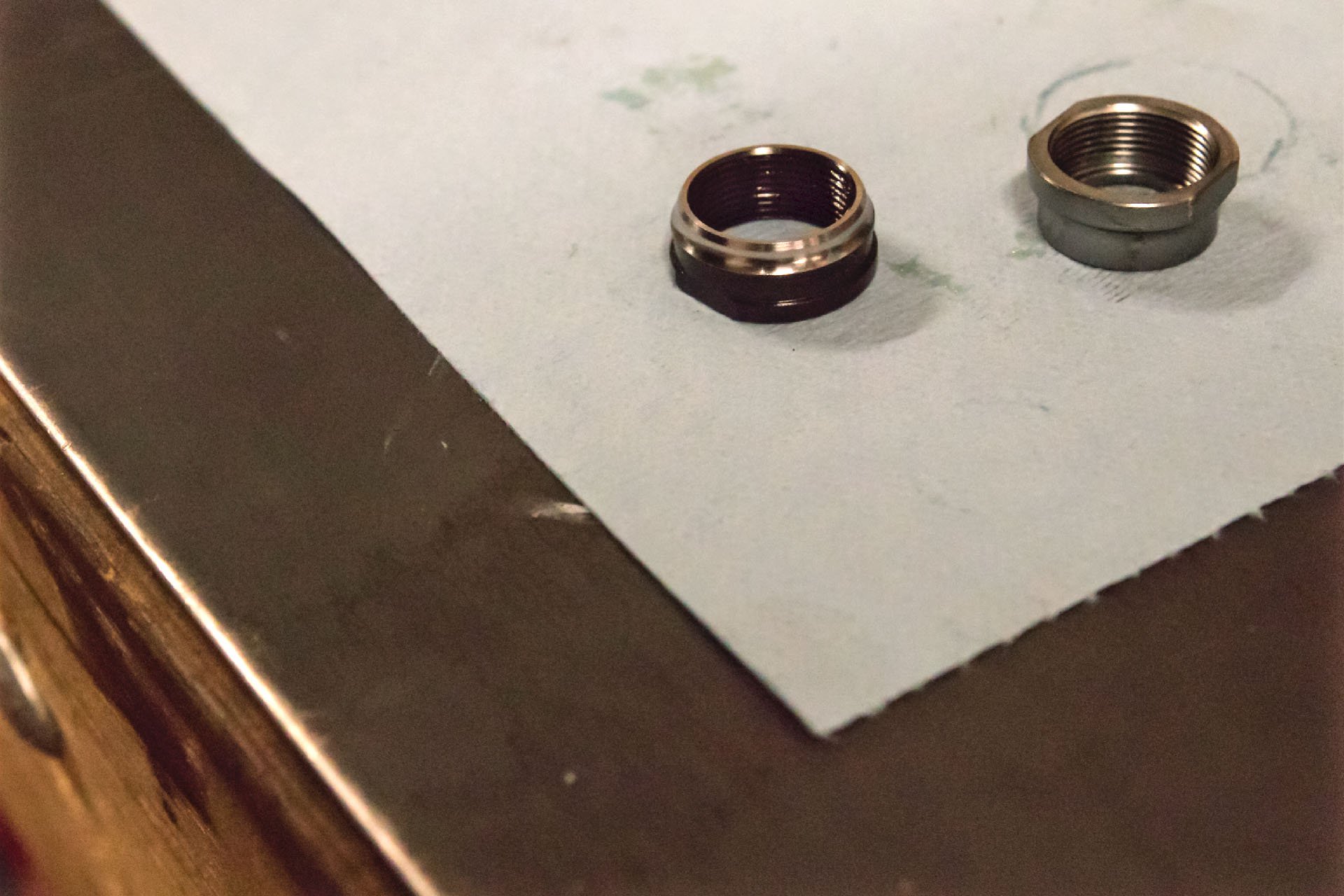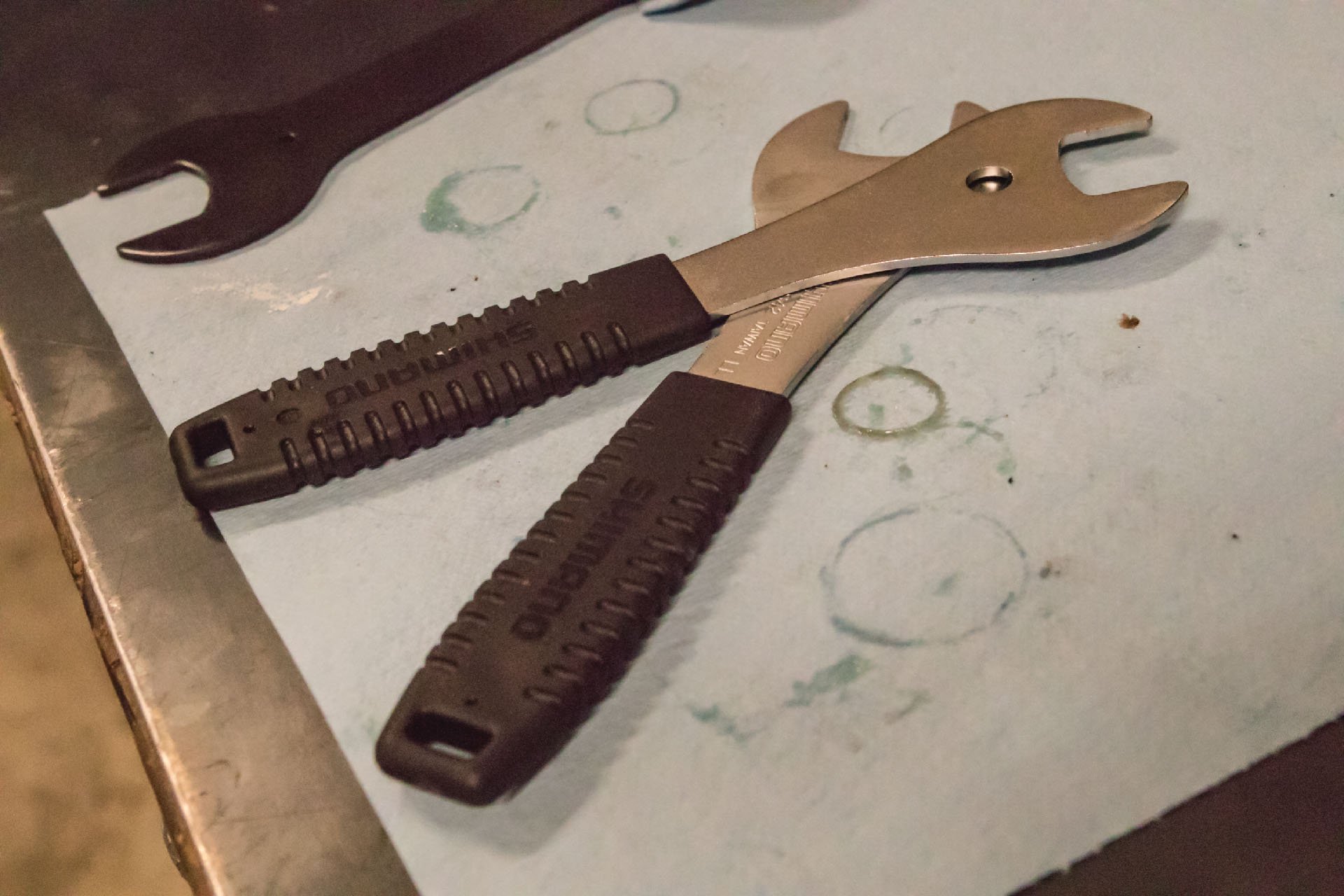 At first, when all of these tools were on the way and I discovered the balls were caged, I thought the biggest advantage of cup and cone hubs, as I see it, had been erased; the ability to get replacement bearings almost anywhere in the world. As it turns out this still holds true as you can either pop the old balls out of the carrier or simply install balls with no carrier at all but that may not be the best plan. Studies indicate that caged ball bearings actually reduce rolling resistance because the balls are never in contact with one another.
The Teardown and Overhaul
If only hubs had been so cleverly designed when I was in a damp windowless bike shop basement regreasing and adjusting the bearings on bikes I was building back in the 80s. It used to be that each side had a lockring and a cone threaded against each other, but with these hubs one side is non-adjustable, simplifying the process.
Front Hub
And it's really as easy as it was in the 80s, and easier in some respects. For the front hub you simply loosen the drive side of the axle, remove the lockring and cone, remove the axle and caged bearings, clean everything off, reassemble with fresh grease and new bearings and adjust appropriately.
In order to achieve perfect adjustment without any play or binding, the hub should be adjusted with a small amount of play at the axle before assembly. For Fox 36 forks, the 15QR or Kabolt axles will both apply a small amount of compression to the axle to cinch up that remaining play. Check at the axle, readjust if necessary, and you're done.
Rear Hub
The rear hub is certainly more complex to work on than hubs in the old days, because the freehub body must be removed. On some hubs, like DT Swiss, this is a tool free job that involves a simple pull. With XTR 9100 rear hubs the process is more involved, but nothing a competent home mechanic can't handle.
The right cap, on the freehub side, can be pulled off using a 17mm cone wrench. It has a splined fit on the axle and does not rotate. After that a pin tool is required to remove the C-ring with outer dust cover. And then the parts can be removed by hand by carefully.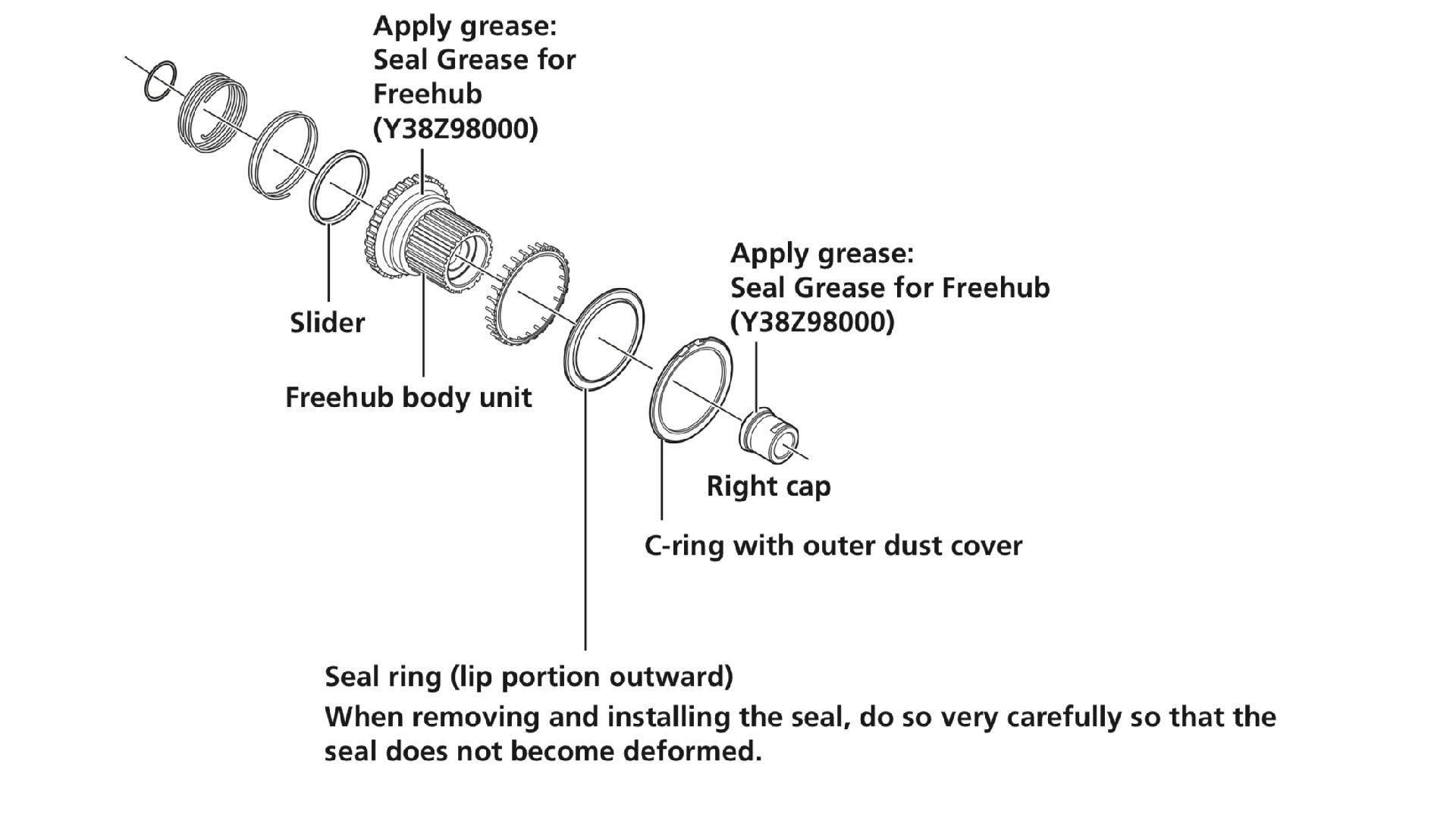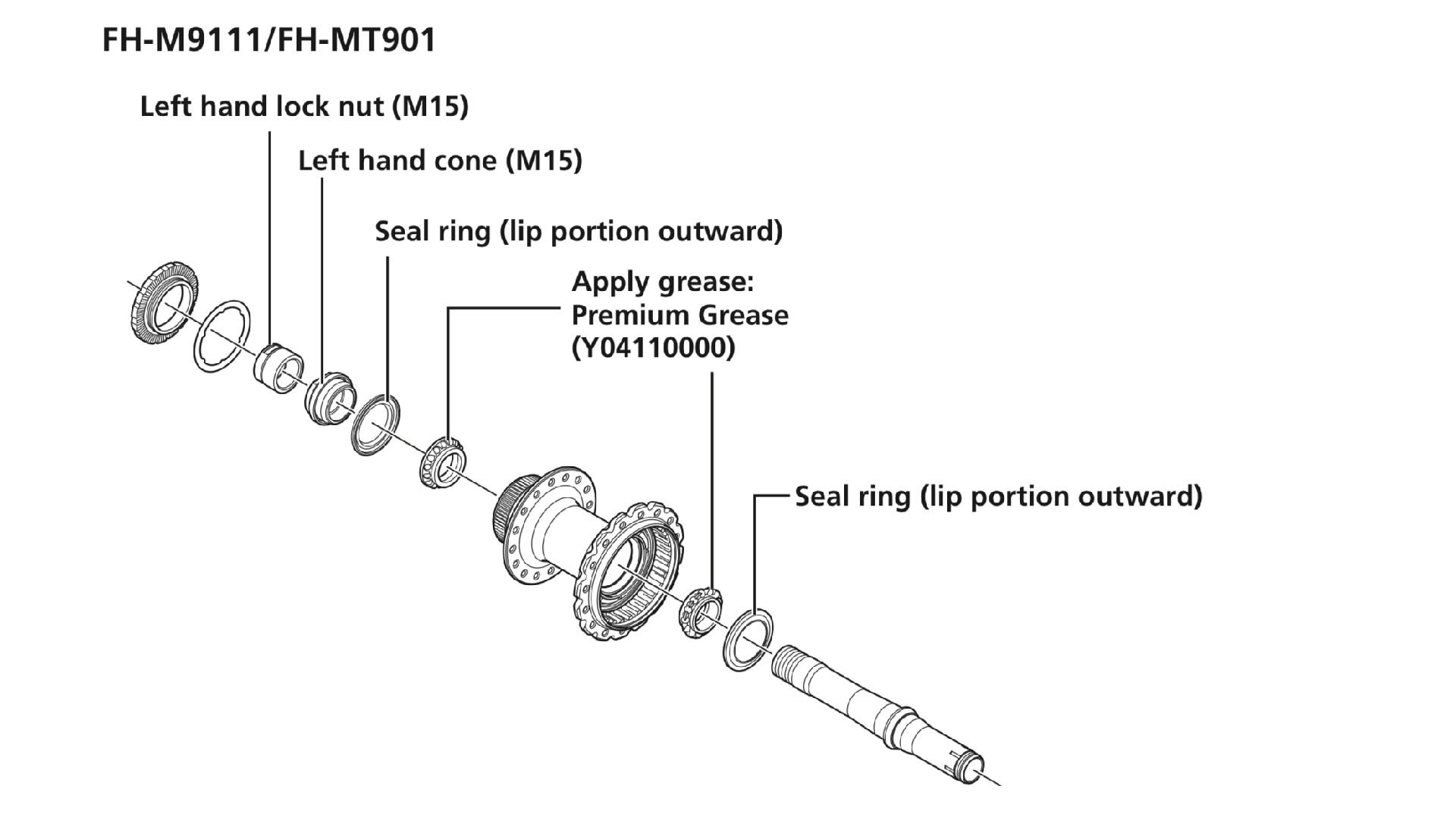 An experienced mechanic will lay out the parts in the order they were removed for ease of assembly. If you are like me, and sometimes neglect that level of organization, or spill your beer on everything and leaving it in disarray, the Shimano online manuals for these procedures are a godsend.
Like your dad's electric razor when you were a kid, taking the rear hub apart is an easy operation. Putting everything back together requires some precision, assuming you want everything to spin when it's supposed to and engage when it isn't.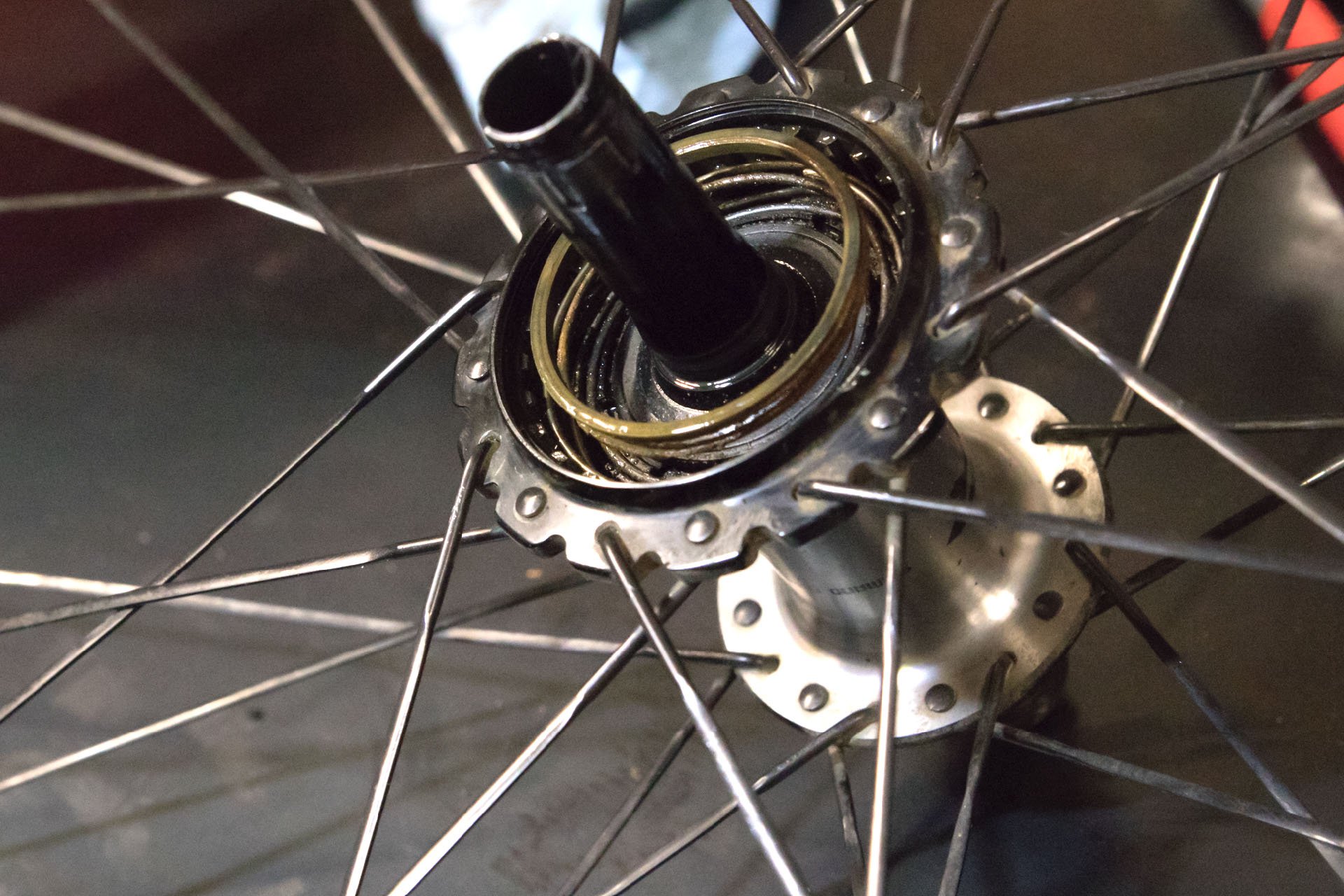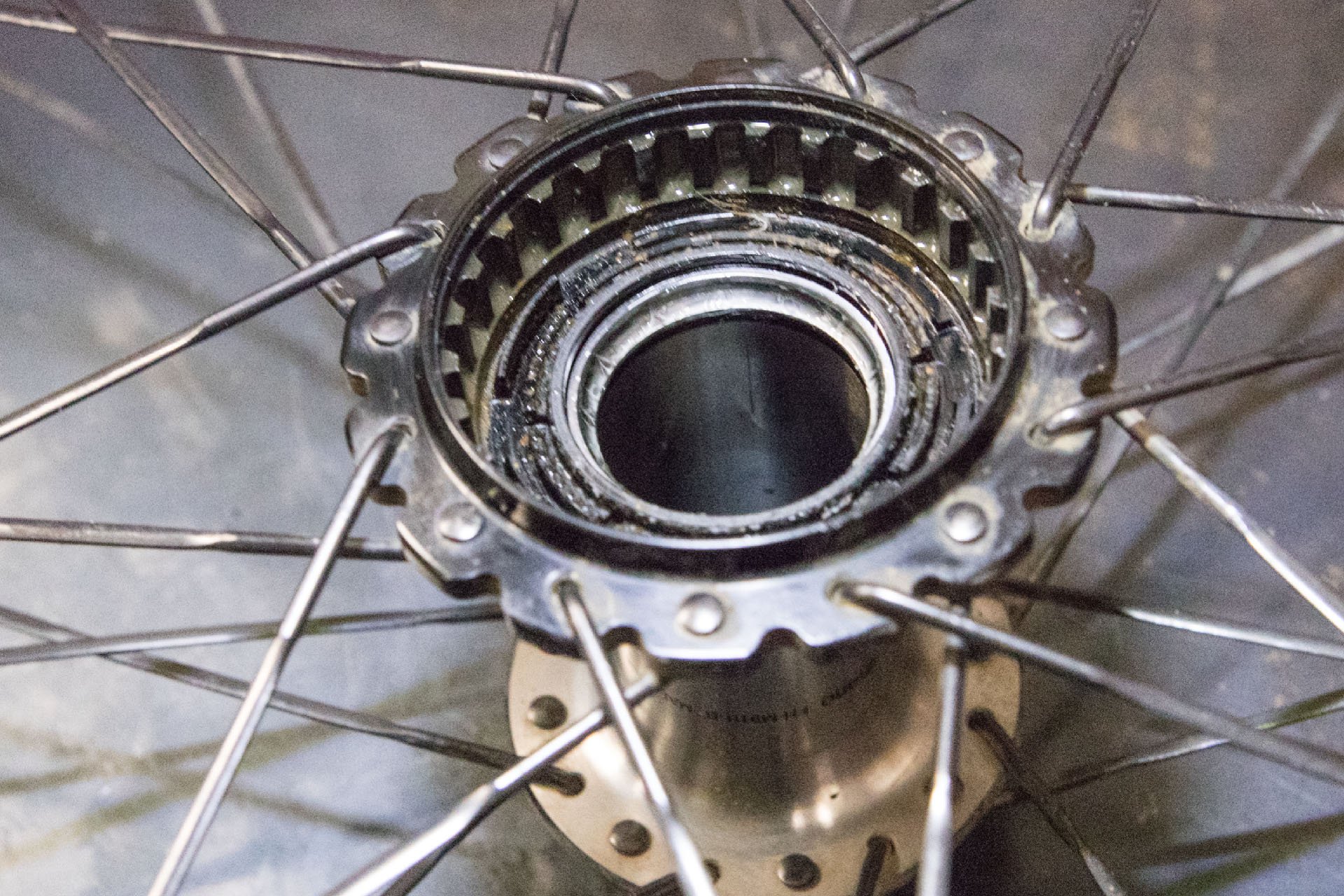 Once the springs, seals and the the freehub are removed, the seals can be popped and the bearings removed so everything can be cleaned and expected. As with the front hub, the grease was still in good shape despite my irresponsible and intentional use of the hose sprayed carelessly after most muddy rides.
Another reason to do this teardown was to try and determine the source of an odd, weather dependent malfunction. On a very chilly ride on a very snowy evening, my freehub stopped engaging. It freewheeled perfectly, only it did it in both directions. The snow depth prevented us from pedalling to the top so we were pushing our bikes up for over an hour. The lack of movement allowed something to freeze in a disengaged position. Obviously this isn't the sort of thing that's likely to happen unless conditions are perfect, but it's something to be aware of nonetheless. Fortunately for me very little pedalling was needed on the descent because I wasn't about to urinate on that beautiful XTR hub.
There are a couple of tricky moves in the final stages of reassembly, or at least ones that need to be executed correctly or your hub may explode. Probably not explode actually but Shimano is pretty serious about you getting this stuff right, which is what you want from a user manual.
That's it, that's all. Cartridge bearings have their upsides to be sure, but pulling bearings can be a nightmare, not to mention finding the size and type you need (Chris King for example) in far flung locations can be impossible. Fear not cup and and cone hubs!
This procedure differs very little for XT and SLX hubs and with a some TLC these hubs from yesteryear will easily last long enough for your axles, wheel size and headset standard to all become obsolete.
Stay tuned for an in depth look, with XTR Product manager Nick Murdick and a special guest, at why Shimano, continues to use this traditional hub design while virtually every other manufacturer has gone to cartridge bearings.