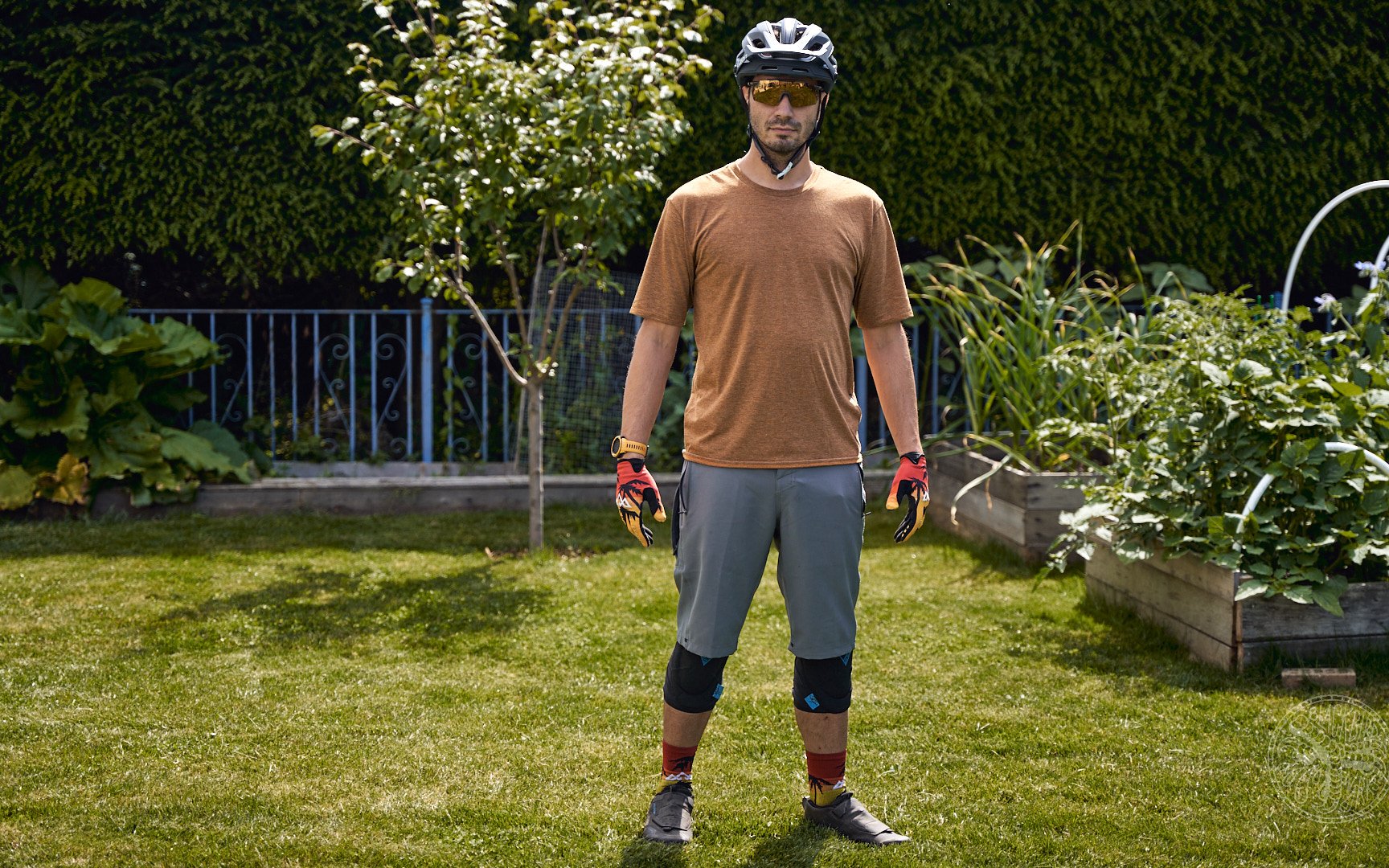 Head to toe Review
Tasco MTB Apparel - Shirt, Shorts, Gloves and Socks
Tasco Effect
At Sea Otter, a very friendly, mountain of a man put his hand on my shoulder and told me all about Tasco MTB clothing. That was Nate, founder and the only employee of Tasco at the time. The small, unassuming booth was tidy and clad with colourful clothing. I wasn't expecting much, Nate encouraged me to try a couple of pairs of outfits to take home to test.
The kit included
Sessions DriRelease Tee
This size Medium Burnt Orange t-shirt is 85% Polyester and 15% Cotton. The stretchy fabric is incredibly soft to the touch. The ad says it can be worn to the taqueria after your ride and I believe them. I have worn this shirt around town more than I care to admit but the colour and the comfort has encouraged me to do so. While riding however, the material shows sweat rather quickly. As a summer top worn without a backpack, I appreciate the moisture wicking characteristics. It soaks up alot of moisture and keeps you cool if there is any breeze. On the E-MTB especially I noticed the constant breeze you can generate by moving quickly, this shirt feels excellent.
It's a 45 USD piece and comes in a bunch of cool colours. I like the lack of branding and logos on this and the small Tasco tag is classy and efficient.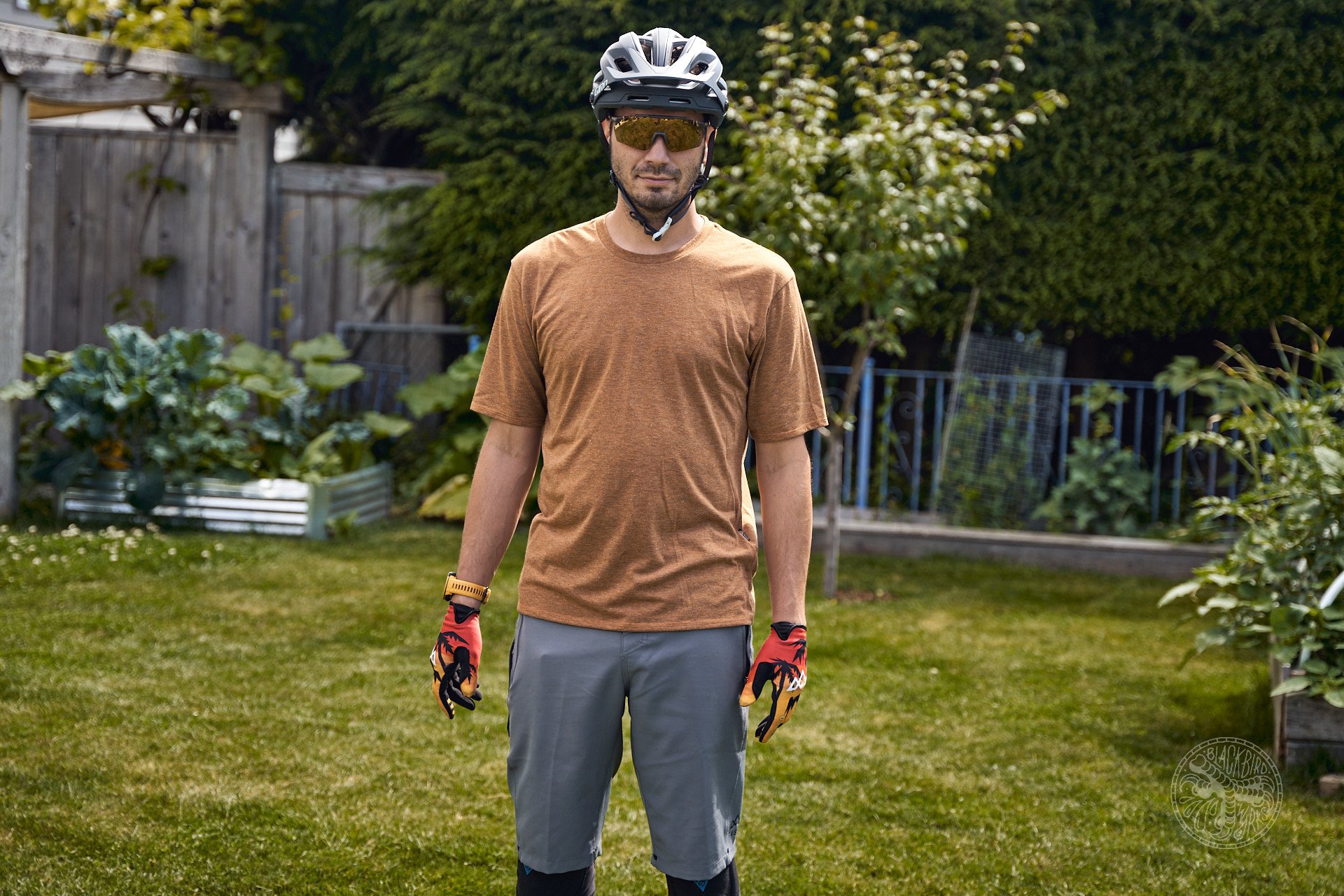 Scout MTB Shorts
When you find good clothing that fits and works well, you kind of want to stock up. For me that's Stance socks, 7IDp kneepads, and TLD Skyline shorts. I think I have to add the Tasco Scout Shorts to that list. Size 32 is what I went with and the fit is excellent. I don't have much of a derriere and the stretchy fabric complements my physique nicely. I am 5'8" with mountain biker legs, and there is plenty of room for kneepads while keeping the leg opening a manageable size. Nobody wants fire hose cut on their shorts. Give us stretchy and narrow openings anyday. Double button enclosure up front and a lycra webbing where the zipper and fly would be. I like this approach to short design. There is no need for a zipper on riding shorts, and the Tasco design with buttons and velcro makes sense. I would probably suggest a magnet alternative to the velcro as mine seemed to fall apart a little prematurely. It will be a quick fix but a magnet flap would have eliminated that. It seems like an isolated incident but one that happened nonetheless.
The 12" inseam on my size 32s are the perfect length and will eliminate the kneepad gap. There are belt loops if you want to keep it business casual on the trails but there are also adjustment tabs on the inside of the waistband. The cool thing is the adjustment is done from the back of the shorts, so you don't get unwanted bunching up front spoiling the look. A small but awesome little detail.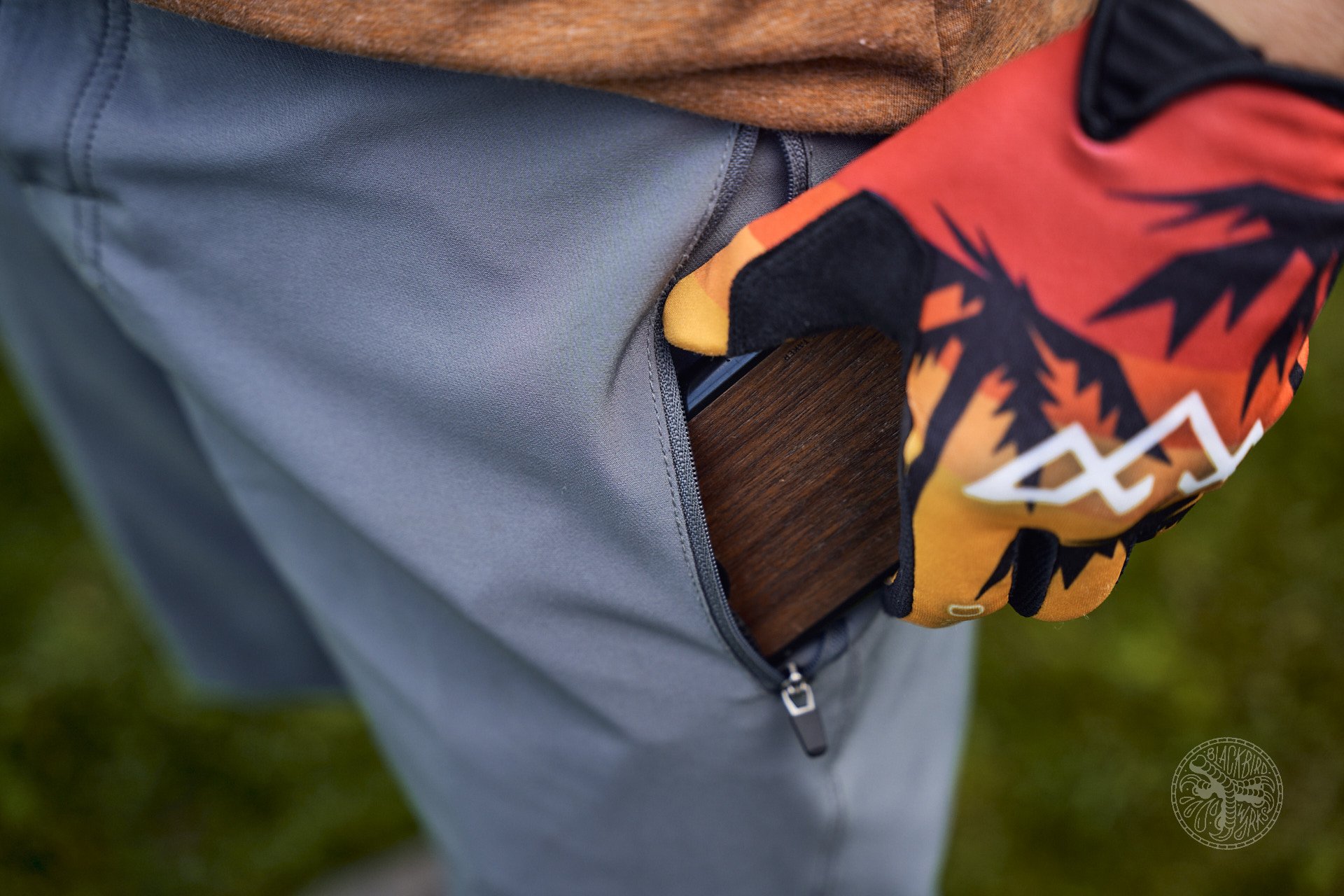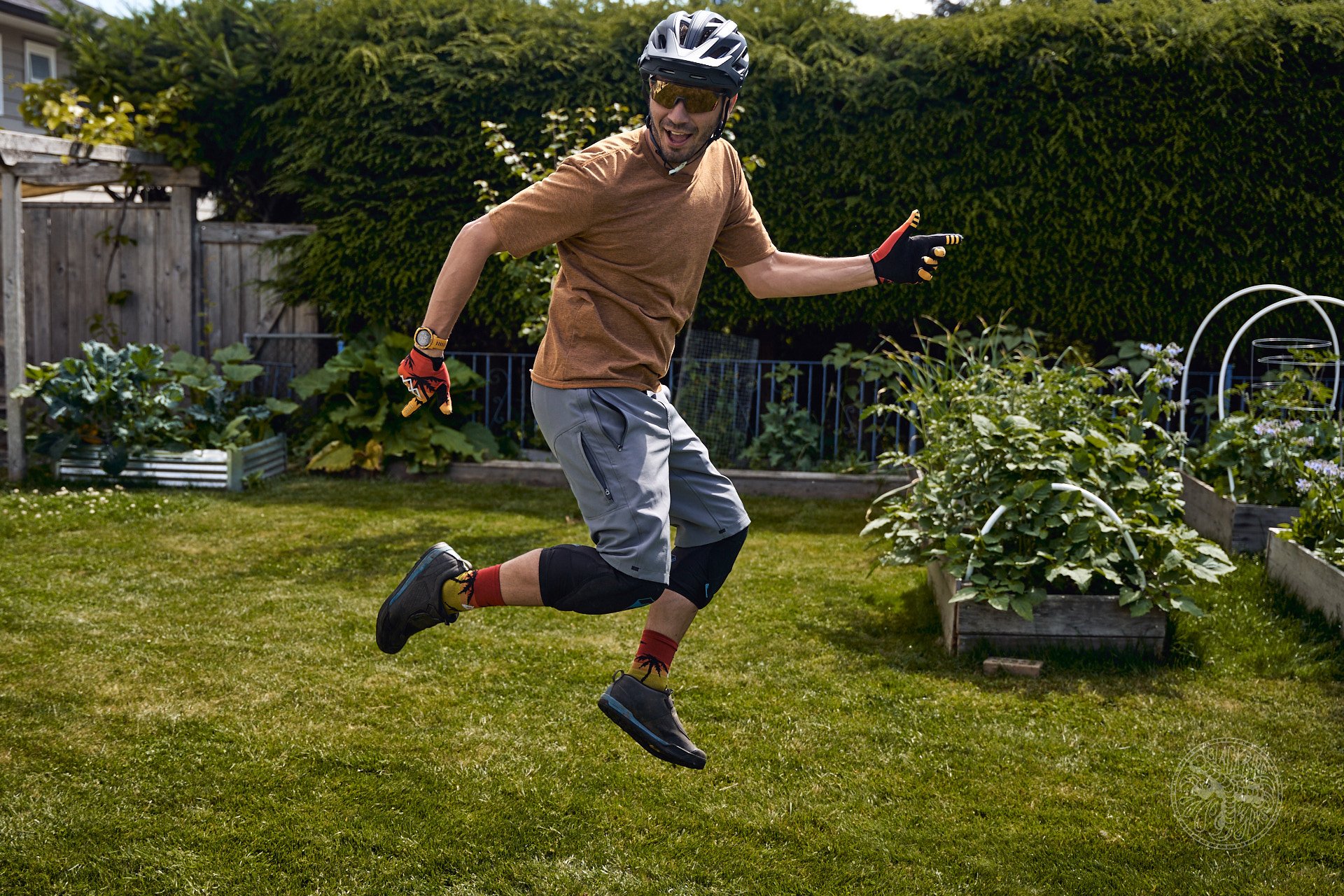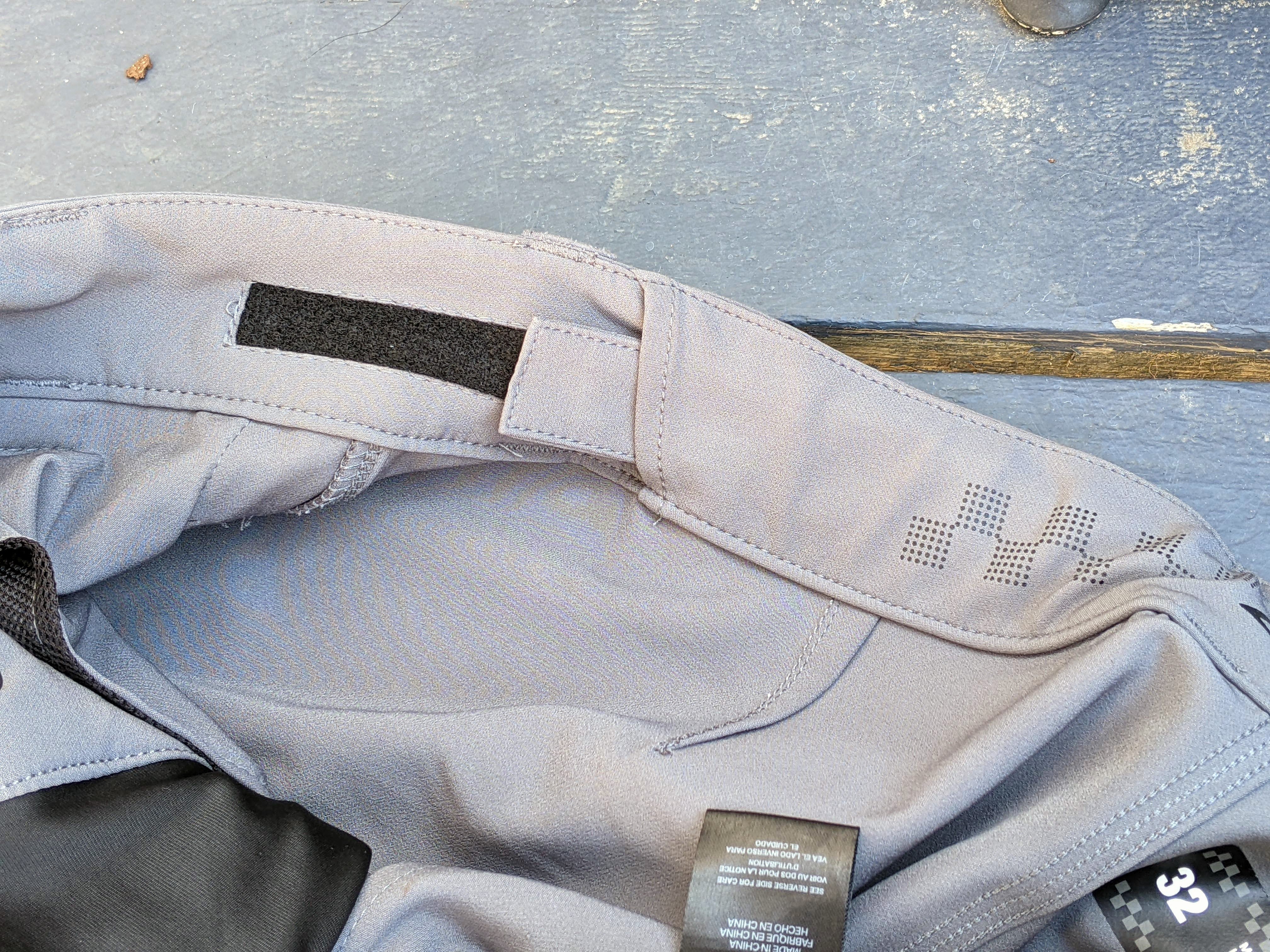 The material is not ultralight, but not what I would consider heavy either. A great balance of durability and lightweight freedom. It is water repellent and doesn't display your ass sweat like many other light-coloured shorts do. With all the zippered pockets, it makes for a great adventure garment where you may need to carry a bunch of things. I generally have my phone on the left and my wallet on the right, with the thigh pocket saved for my shades. This works for me and I'll take all the pockets I can get on shorts. Minimal branding is again spot on and I've been wearing these shorts around town more than I'd like to admit.
Ridgeline Gloves and Socks
Not going to lie:, I was quite excited for the opportunity to match the gloves to my socks. I love fun socks and am constantly fishing for attention when I wear my fun ones. Tasco delivers on the fun factor with their gloves and socks.
The medium-weight Ridgeline gloves use a few tricks to help them acheive both durability and airflow. The vented Fourchettes (sides of the fingers) and durable palm material feel secure and slim. There is no bunching in the palm and the velcro-free cuff is really easy to get in and out of.
With the temperatures reaching upper 20s celsius (mid 80s F) these gloves just about reach their upper comfort limit here in the humid west. They have been excellent companions throughout the shoulder season and even on drier winter days. They work well with phones and you just kind of forget they are there most of the time. I left them on for multi-hour rides and their presence has not bothered me in the slightest. They are holding up well to washing and abuse, but as with most garments , I air dry them on a rack.
Ridgeline Gloves in Socal colourway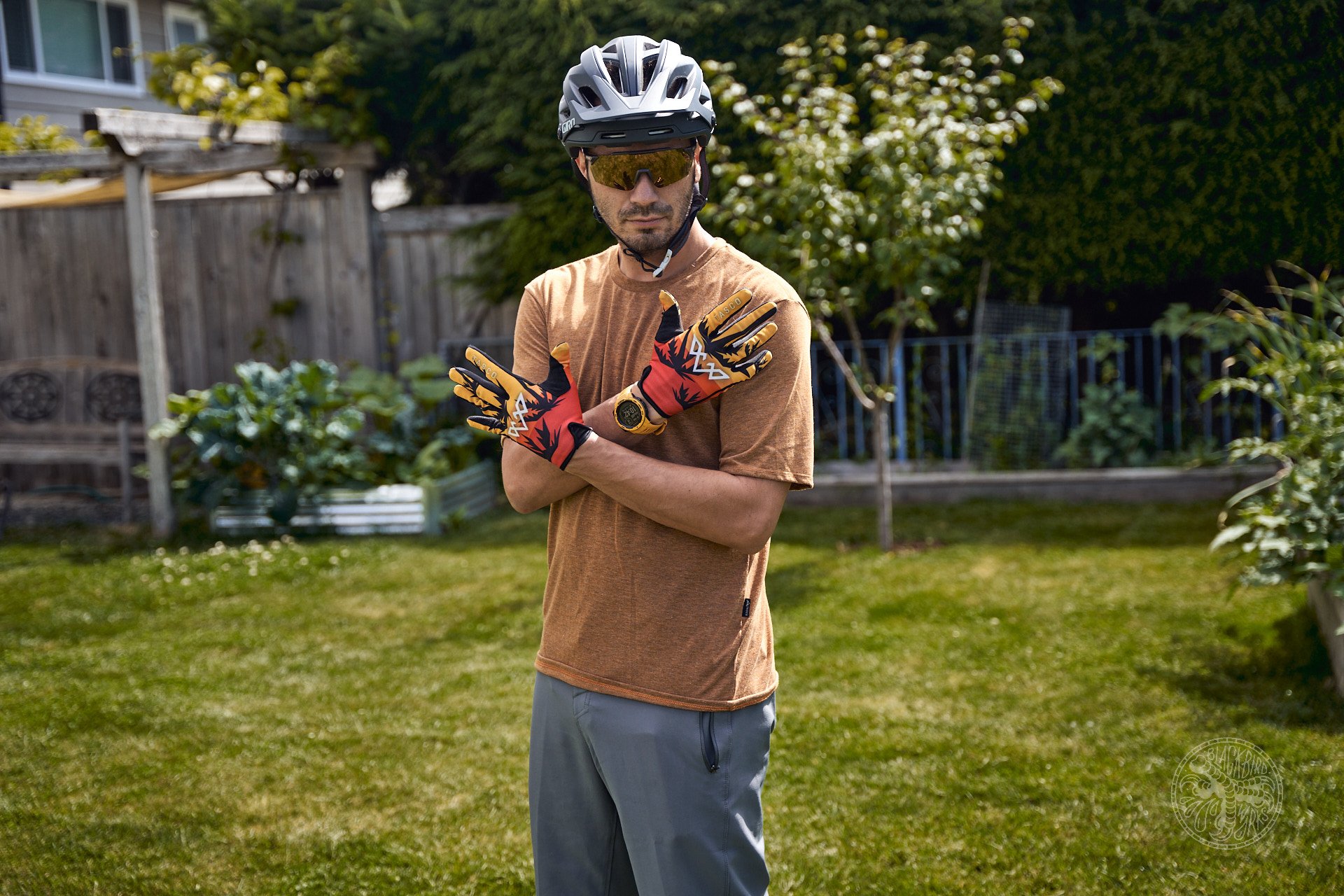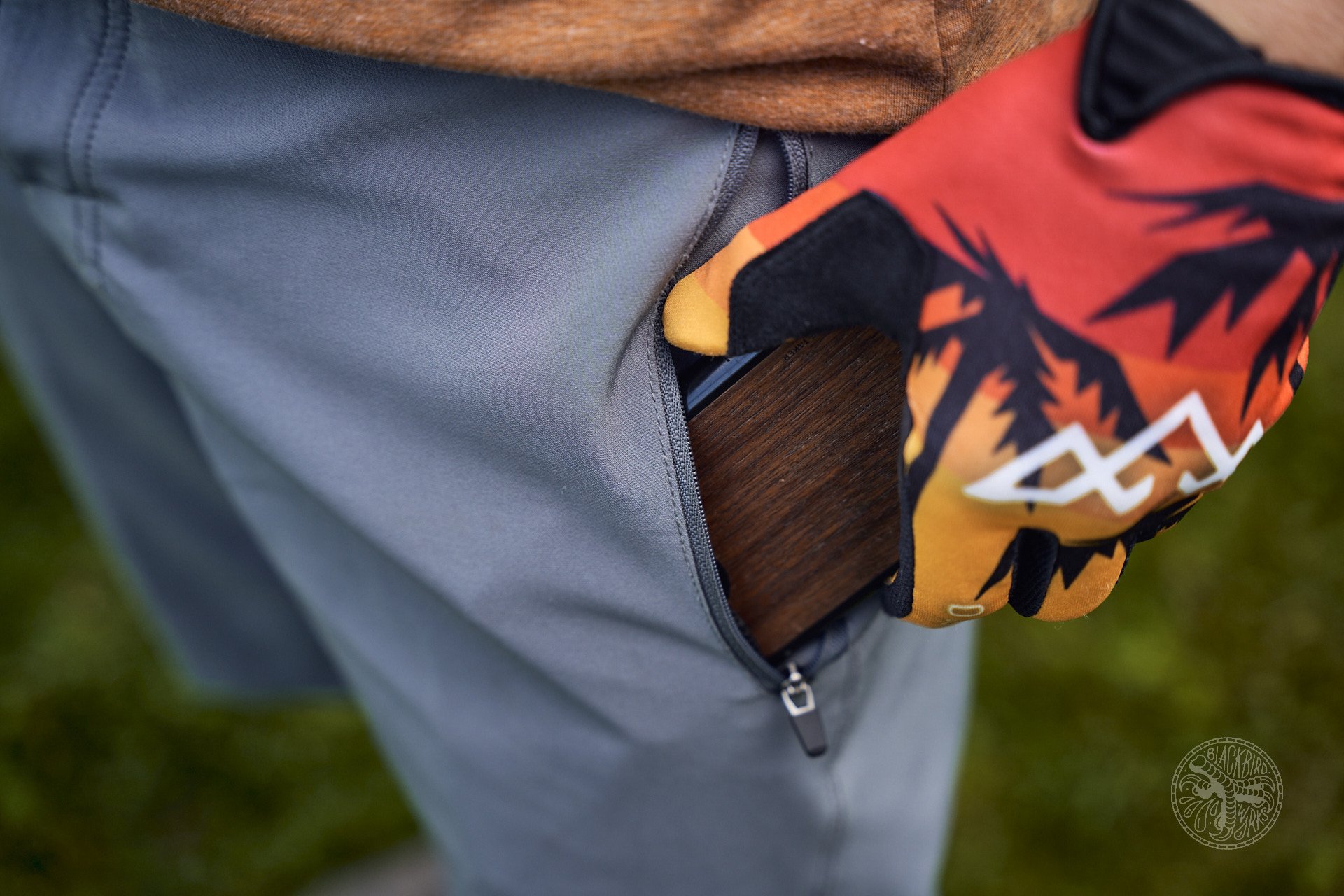 Along with the matching socks, I like what Tasco brought to the table in MTB clothing. Without pretending to solve all the technical issues of bike-related clothing, they offer smart, functional and objectively good looking gear.
The shorts are especially a favourite of mine and the gloves are doing many rounds too. The shirt is great for whatever occasion which increases its value. Wear this stuff wherever, whenever.
Also they release small batch designs monthly to change things up a little. It's a fun way to add flair to your gear