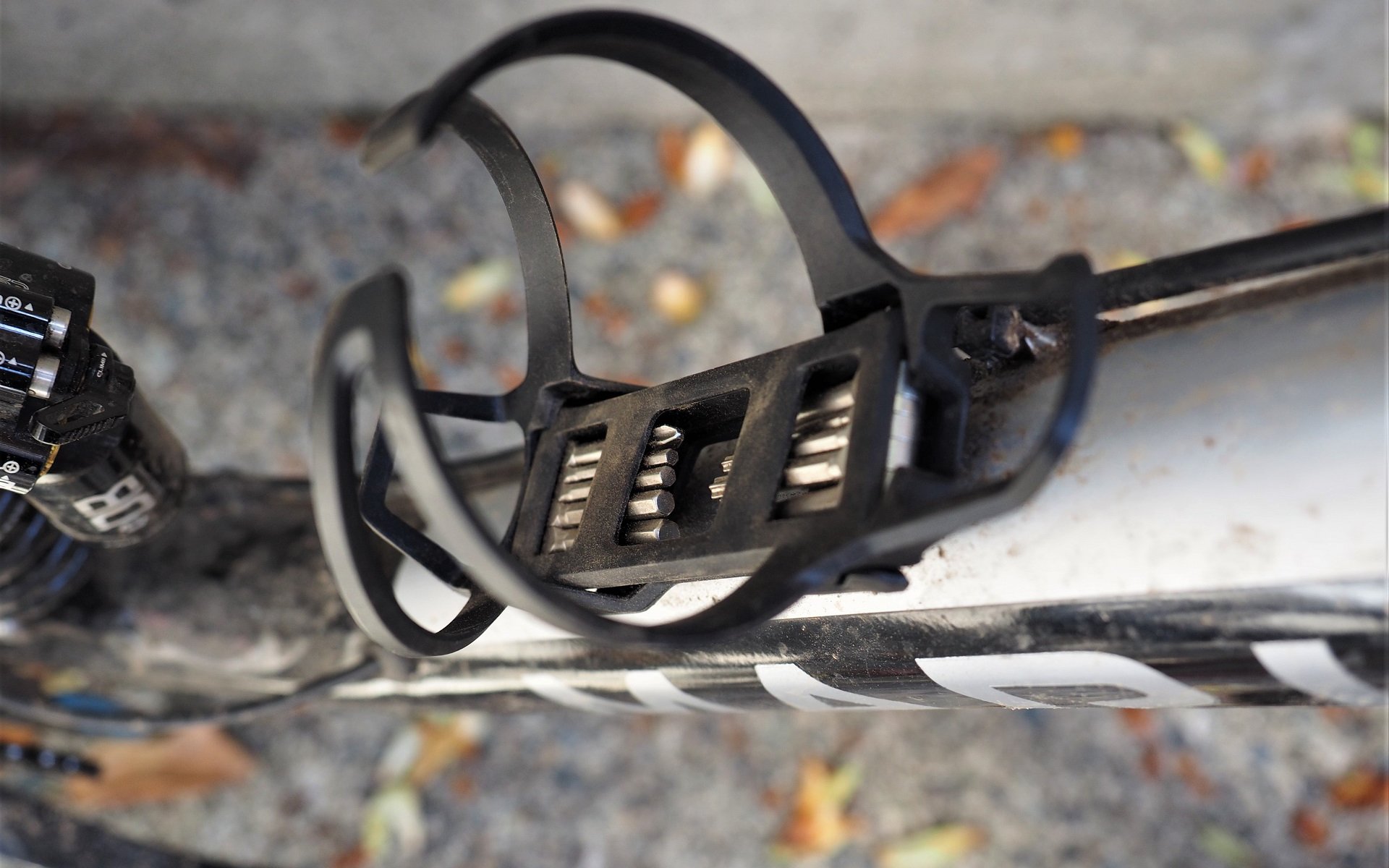 TWO-MINUTE REVIEW
Syncros Integrated Matchbox Coupe Cage
It's a Mini-Tool... 
not a Mirco-Tool and yet there is a fully-tucked-away elegance to this simple Syncros solution to always having a tool along for my rides. 
There is nothing new about a water bottle cage mounted multi-tool but the repair friendly size of the integrated Matchbox tool is much appreciated each time I use it. It's quick to remove and at the same time secure and silent whether my water bottle is installed or not.
I haven't ridden off road without a bottle in the cage. What would be the point? But I do suspect when trails are truly treacherous the tool could pop loose. That's based on how fast it is to remove the tool once my bottle is out. Speaking of which, install and removal of the few different bottles I use is thankfully tighter than other similar composite cages. In this case, the nylon and glass fiber combo snuggles a bottle tightly. Riding with a pack, I'm still very attached to my 20-years-true King Cage but a few friends who know my standard retort have been surprised how confident I am in this cage. No bottles dropped to date. 
The tool selection is not perfect for me. The hex keys include 2mm, 2.5mm, 3mm, 4mm, and 5mm. There are both three Torx keys sized T-10, T-20, and T-25 and a pair of screwdrivers one Phillips and one flat-head. The individual bits are very high quality, fit nicely into bolts and are long wearing. I'd like to trade the flat-head for a 6mm hex, the T-20 for a T-30, and, while I like to have a T-10 with me, I think a lot of riders would love to see an 8mm either in the form of a cap on the 6mm I just added. 
The bikes that I ride that still use chainring bolts are T-30 as do the brake caliper bolts on one of my bikes. My bolt-on axles use 6mm hex heads. So those are both mandatory tools for me in the woods. I think it's a testament to how conveniently un-buried this Syncros tool is that I've added a separate stubby 6mm hex and T-30 Torx key to my kit to make up the difference and I'm happy with that setup.  
The tool is protected from direct rain and sweat ingress and stored in a heated room but I'm curious about how nice the Matchbox multi-tool will look after a lot of wet months on my bike. The resin body will not be an issue and the hex keys are plated so that concern may be unfounded. I will report back if there are any issues down the line.
As it stands now I think the 100-gram package is a good option for an always-there tool. With a couple of bit changes, it would be a fantastic package given the quality. For the all-around cyclists here, I think it's a brilliant tool for road riding and commuting that's easily transferred between bikes with a hex tool. 
Whether a minimalist looking to maximize the usability of their stash tool or a forgetful rider tryng to always have a tool on their bike for more information please check out the Integrate Coupe Cage here.