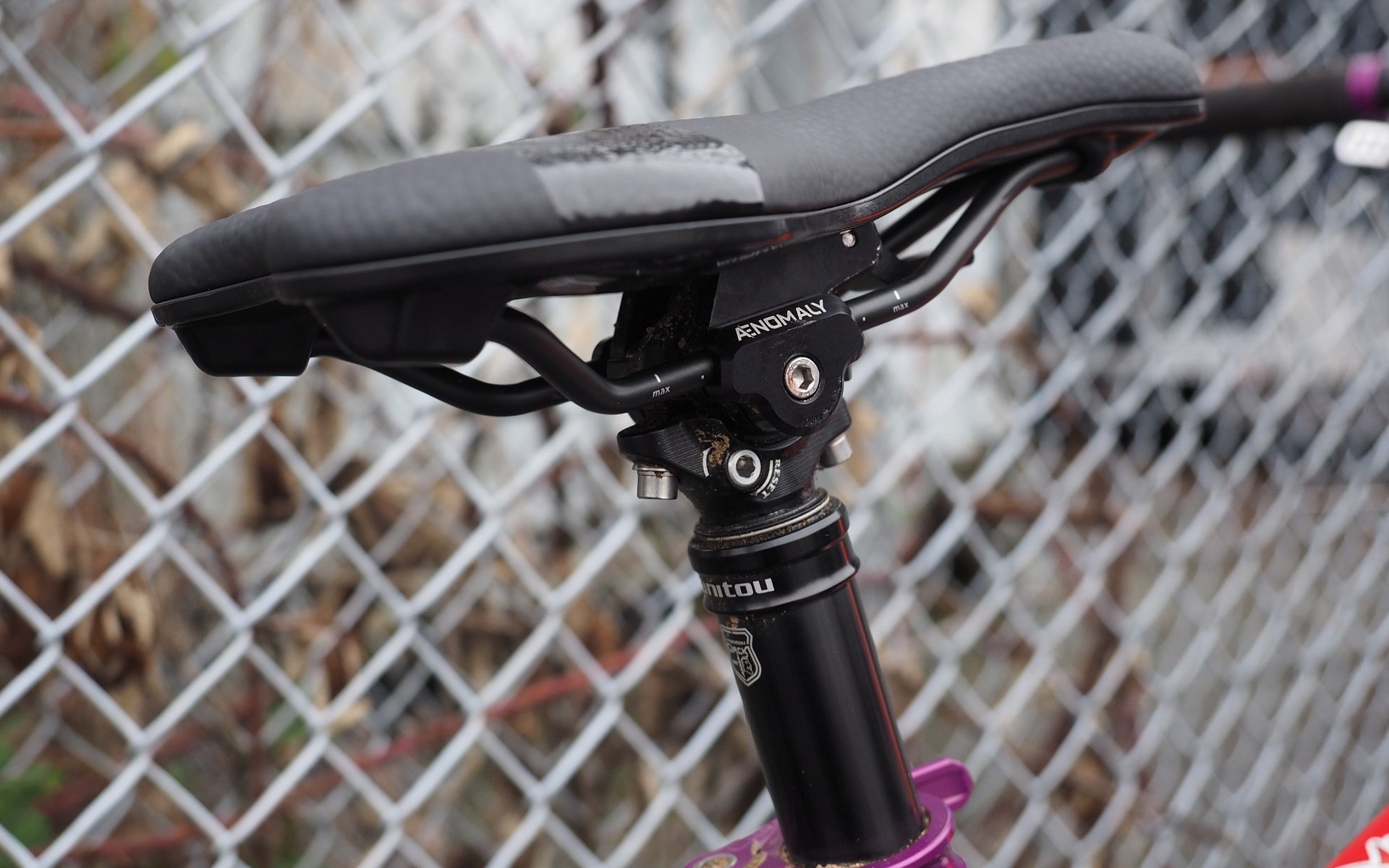 REVIEW
SwitchGrade - Tilting Saddles
Aenomaly Revisted
Aenomaly Constructs is a bold attempt at addressing a series of questions that many mountain bikers have asked themselves. Do other riders share my need? Can I find a company to make it for me? If I invested the time, and the money, will anybody buy it?
The SwitchGrade, the company's three position, on-the-fly adjustable, saddle tilt adjuster is not inexpensive. However, it is designed, machined, and assembled in B.C., and the quality is tops. For riders who angle their saddle noses down aggressively, it presents the option for better power production and ergonomics on flat terrain and a better position on downhills.
If you missed my first impression & teardown piece on the SwitchGrade, you may want to give it a look to learn how Aenomaly's saddle tilt adjust works, but if the what & why are more important, then please read on.
On The Fly
My first dropper post had a manual trigger under the saddle instead of a remote, and eventually I became decently proficient at riding one-handed across technical terrain as I raised or lowered it. Keep in mind it only had to go up or down some 75mm or so; it's not like I was guiding a 200mm dropper into position on the fly.
It's a skill I rediscovered quickly with the SwitchGrade saddle tilt adjuster, and generally I could smoothly transition between the three saddle positions without missing a beat. My friends almost had the chance to witness some one-handed yard sales but I saved it every time, and who is to say what 'almost' is in mountain biking?
Despite how tucked away the lever is, I was impressed with how quick and easy, yet solid it was to adjust the angle. After months of grimy winter riding, it still functions as new and no play has developed in the system.
Short & Tall
As I suspected, the -10° Climb setting on the angle-adjusting post head was truly wasted on me. It didn't matter that I could easily get into and out of it, there are simply too few situations steep enough for me to truly take advantage of it versus just sliding forward on my saddle slightly. This comes down to bike setup, and the bar and saddle relationship in particular.
I run my saddle and bars very nearly level, with the saddle at full climbing height, so I don't get any hot spots or discomfort from running my saddle flat, which is where I find I create the most power. It doesn't matter if a bike has an old-school slack or beyond steep seat tube angle, this works for me.
I have a few friends, generally taller than I, though not universally, who are riding around with their saddle noses angled down all the time. They have a more significant drop from their full-mast saddle height and their bars. I believe the SwitchGrade would be a revelation for them on flat terrain and especially when descending but I couldn't put together a clamp swap with anyone riding a BikeYoke post.
I've talked to a few riders for whom the SwitchGrade was a massive step toward more comfortable climbing, so while it's not for me, I have no doubt about its benefit for others.
Shred Mode
Looking beyond the -10° climb setting, I'm conflicted by the +12° descending mode. I use it regularly for steep trails and love the extra effective drop, the leg-steering position, and how it changes the way I interface with my saddle. I can envision Aenomaly Constructs putting out 2-position descend-only and 2-position climb-only versions of the SwitchGrade.
My conflict comes from the added cost and complexity of the system. I like my bikes to be as simple as possible without sacrificing fun - hence why I run a dropper post instead of a straight post and quick-release setup. I only have the SwitchGrade installed on one bike and it's not that I'm not getting along fine riding other rigs, but I would have loved to have the descending mode on the We Are One Arrival, so I can't claim that I don't miss it.
On Quality
The Aenomaly SwitchGrade is a significant investment at 284 CAD, no argument. At this price there are riders with their saddles doing duck-dives who will not be able to justify a better riding position on flat and downhill terrain. But, it's also impossible for me to envision a product built with cheaper materials, less focus on tolerances, and poor assembly that will hold up well enough to make the experience worthwhile.
Maybe there are areas for Aenomaly to simplify the design and assembly, and maybe if they sell enough units, quantity discounts will be possible, but in the meantime for a product that is designed, machined, and assembled in the most expensive region of British Columbia I don't think one can argue the price isn't fair.
Given the potential benefits for the large number of riders I see with their saddles tilted down, I wonder if lower-priced competitors will enter the market. Time will tell if those products will act as a gateway to SwitchGrade or simply turn people off the idea through a combination of noise and slop.
The SwitchGrade will have buyers who experience no net benefit. There will also be riders for whom it's experience-changing. And some will be in between, noticing an improvement but perhaps not enough to justify the investment.
The difficulty is determining what category you belong to. If you have room in your bicycle budget to cover the almost three-hundred Canuck-bucks, you appreciate really nicely made things, and the nose of your saddle comes with a grade warning for heavy trucks, then you'll be delighted with your new gadget.
For the rest, I'd find an opportunity to test one out before dropping three bills.
For more information on SwitchGrade check out Aenomaly Constructs.